FAQs on Freshwater Maintenance/Operation 5

Related Articles: Freshwater Algae & Control, Tips for Beginners, pH, alkalinity, acidity, Treating Tap Water, Freshwater Aquarium Water Quality,

Related FAQs: Freshwater Maintenance 1, Freshwater Maintenance 2, Freshwater Maintenance 3, Freshwater Maintenance 4, Freshwater Maintenance 6, & Freshwater Aquarium Water Quality, Treating Tap Water for Aquarium Use, pH, Alkalinity, Acidity, Freshwater Algae Control, Algae Control, Foods, Feeding, Aquatic Nutrition, Disease, Freshwater "Scavengers",

FW, reading 5/6/13

Hello again.. i have another question to ask.. ok like i said i have a 500 gallon freshwater fish tank.. Ok well i have added sand to my tank bout 10 days ago. So at first it was really cloudy but it settled but now it still has a touch of cloudiness to it... So would you have an idea what could be causing this . My pump is a 2000 gallon a hr.. so i know my pump are good ones for the size of my tank.. Thank You for your time again...
<Could be a few things; but most likely particulates and/or incomplete recycling....
Please follow directions: Search, read on WWM ahead of writing us... Start here this time:
http://www.wetwebmedia.com/FWSubWebIndex/cloudywaterfw.htm
BobF>
Easy Balance and cycling questions 10/16/12

Hi folks
<Gordon>
Right, I'll ask the quick one first. I recently bought a new 70 litre tank and it came with whatever Tetra's version of tap safe is, a small tub of food and some mystery product called "Easy Balance" that claims I only need to do water changes once every six months if I use it. It also seems to "stabilise pH and KH". Is this stuff snake-oil, consignable only to the bin or is it worth using it until the bottle is empty? I'm always hesitant to believe extraordinary claims and anything that mucks with my water chemistry makes me uneasy.
<Personally, I'd probably donate it to a local fish club for the next auction. Nothing can replace water changes in my opinion.>
I won't buy any more of it, anyway, since I'm not paying for something that elbow grease can accomplish just as easily, just curious.
<Set up another small tank and play with it if you are curious.>
The purpose of the tank was to set up the Betta Splendens "Sorority" scenario as per this thread (amongst others):
http://www.ultimatebettas.com/index.php?showtopic=12193
I know it's a risk but I am keeping a really close eye on them and have backup nanos to use as hospital tanks or outright isolation tanks. So far, I've not seen any real open aggression, just a few nips, chases and a bit of flaring. No worse than Danios, so far. Fingers crossed! I've got some lovely specimens too, with some of them really similar in colouration to wild betas.
<Females can often live in a sorority tank. Depends on the individuals.>
Into this new tank went a mature bubbler filter and a new All Pond Solutions 600 litres per hour internal filter. I rubbed the wetted media from the 600lph over mature filter media from my other tanks. The media from each mature filter was also rinsed in the new aquarium's water with the "pumps running". I want to go with the 600lph since the trick to this setup seems to be slight overstocking to disperse aggression. I thought over filtering might not be a bad plan in this situation!
<Just watch your water currents. Bettas are still water fish.>
I didn't expect the bubbler to keep up with 8 female betas in a 70 litre tank, but I didn't expect it too be too harsh on them either, especially with frequent partial water changes (plan was 10% per day, depending on analysis) and light feeding. Sort of an "assisted" fish in cycle. Well, it seems like the bubbler is keeping up after all, two weeks in and not a jot of ammonia in my daily tests. I'm now feeding normal amounts and doing my standard 20% weekly water change. The issue I have is that I'm not sure how long to leave the bubbler running in parallel with the new filter. Normally I'd set up a tank with a new filter, go fishless and be able to monitor the cycle but this isn't really an option here.
<I have a sponge filter going in all my tanks in tandem with HOB filters, unless I don't want currents, then it's only sponge filters. I think you can just use common sense here. Just turn it off for a few days and leave it in the tank so you don't lose the bacteria. If trouble starts, turn it back on.>
Just as an aside, so far I really like these internal filters from All Pond Solutions for Betta setups. They come with an optional spray bar that you can adjust the angle of egress on. The spray bar really reduces the force of water and with the outlet holes angled toward the back of the tank it does so even further. I have another smaller one cycling in another tank to use with my male Betta. I can get rid of the ugly home-made baffle on the outside of his internal filter soon. Still, they are dirt cheap, so I'll be interested to see how much life I get out of them.
<Have not used them myself.>
Anyroad, thanks for any advice you can give, both on the new filter cycle issue, the Easy Balance and anything else you might spot that I've overlooked. Also, thanks again for all the help you've given me in the past.
<I think you are right on track.>
Cheers
<Rick>
Re: Easy Balance and cycling questions 10/16/12 10/18/12
Hi Rick
<Gord>
Thanks for your input. I always like an experiment, so I might just do that!
I'll stick the bubbler in it's final destination (a soon-to-be cherry shrimp nano) and once I'm sure the Bettas are fine then go ahead with that.
Thanks again, your advice and reassurance is very much appreciated.
<Let us know how it turns out.>
Cheers
Gord
<Rick>
Oxygen level in sealed tank - 5/9/2012
Hello, I recently ( 4 weeks ago) set up a 102 gal tank (probably 90 gal of water). It is a freshwater setup and I used gravel, decorations and seeded filter from my 55 gallon which I replaced with this new tank. Tank has bulkheads in it so I set up two Fluval 400 series filters. Higher outside corner bulkheads have returns with spray bars, inside lower more centered bulkheads have the intakes set up. Canisters are below tank but within the limit for height, only 12" lift difference between intake and return bulkheads. Tank is acrylic and has plastic tops to seal it.
WWM:
Presumably not sealed completely? Air must get in somehow, and likewise power cables for the heater, pipes from the filter.
I have had no issues with water parameters, ammonia and nitrites are 0, nitrates about 10-15, ph is in neutral range. I have the tank lightly planted and only add liquid carbon.
WWM:
If the tank is lightly planted, the carbon is probably redundant.
I have two Rena 400's attached to 12" bubble wands that come on when the daytime lights go off. Currently have 1-48" Coralife 10000K bulb and 1-48" 6500K full spectrum.
WWM:
How are the plants doing? My guess is indifferently, unless you stick to low-light species. For a tank this size, depth you will probably need 4 tubes the full length of the hood.
Night light is a 36" (puts out a purplish look). Plants I do have are low light - java ferns,
WWM:
The ferns at the back look like "umbrella ferns" -- a non-aquatic species with long, thin woody stems and finely-divided leaves. These die underwater.
Vallisneria,
WWM:
These prefer bright light.
Anubias and a wisteria.
WWM:
Hygrophila difformis? Definitely a bright light species!
I wanted mainly a livestock tank but wanted some live and plastic plants as accents. Mixed 40 lbs of Eco Complete in with existing gravel. Livestock is as follows: 1-8" black ghost (my favourite),
WWM:
Difficult to maintain.
3 4" clown loaches,
WWM:
May eat plants; do need some green foods to prevent this.
4 Corys, 1 Flagtail porthole catfish (only because I can't find any more to give him company), 7 Rummynose tetras, 3 white skirt tetras, 4 angels, 2 Siamese algae eaters, 1-5" Pleco who I plan on rehoming because of my plants,
WWM:
Good!
and my new additions: 2 rope fish ( or reedfish).
WWM:
Lovely fish. Difficult to feed though; research thoroughly.
Matured size fish include the ghost, clowns, tetras, and the Flagtail cat, which I have had for several years, other fish will probably do some growing. Have never had an issue with my rummynoses "disappearing" - ghost behaves himself.
WWM:
Good.
Due to the rope fish, this tank is sealed pretty tight and I am concerned about oxygen levels given the canister filters. I know that plants help out in lighted hours, and bubble wands in dark hours, but it is pretty much sealed.
WWM:
Unlikely the "seal" is enough to keep air out.
The tank dimensions are: 64"L x 15"W x 24"H. Should I be concerned about oxygen levels
WWM:
No. But keep the tank understocked and not too warm (definitely not above 25 C/77 F).
- I have about 3" of airspace between lids and water level? Picture is enclosed. Cindy
WWM:
Hope this helps. Cheers, Neale.
Re: Oxygen level in sealed tank - 5/9/2012 Hi Neal,
WWM:
Cindy.
Thanks for getting back to me.
WWM:
Most welcome.
I am addressing the issues you pointed out. There is one 1" hole for the heater that I have plugged up except for the area of the power cable. Intakes from bulkheads, output to spray bars but does not pick up any air outside of tank lid, airline tubes to bubble wands fit tightly at small drilled holes in top.
WWM:
That hole should be big enough. If you can though, add another, and cover with plastic mesh or gauze to stop animals (fish) getting out.
Regarding the plants, the one you see as an umbrella is plastic, all live plants are the smaller ones seen in the front and a XL Anubias in the back are real. All had a little waste within the first couple weeks but all are showing new growth, Vallisneria directly under bulb has now grown to top of the water level.
WWM:
Fine. But do remember plants store starch, and can often put forth weeks of growth without from these reserves. You may be fine with the lights you have. But honestly, I've never found Water Wisteria easy to grow, and certainly not under dim/mediocre lighting.
I have had the black ghost several years now and he lives in the ceramic stump w/mushroom horizontal pieces that is on the right side of the tank, he pretty much takes up the entire length of it now. My clown loaches reside in the stump with him. No problem so far with anyone munching on the plants, I feed a variety of frozen, freeze dried, pellet, flake in protein and vegetable based versions. Also feed fresh veggies (peas, zucchini). Finding what the Ropefish will eat has been challenging, the first one I got (a female) just wouldn't eat anything, even frozen bloodworms, until I put a freeze dried tubeflex cube in her area - bingo. I just got a male and he loves frozen shrimp (not brine shrimp, pieces of regular shrimp - I buy the small bags of frozen salad shrimp).
WWM:
Do use more than shrimps. Shrimp contains Thiaminase, which destroys vitamin B1. Fine as an occasional treat -- once a week, say -- but the rest of the time use Thiaminase-free foods, e.g., tilapia fillet (cheap!), cockles, earthworms.
I do, however, have to feed by either placing food very near their den or actually inside it after everyone else is full. A little trying so far.
WWM:
Yes.
I am hoping they may try a few other options once they have been settled in for a few weeks. I have been keeping temp at 79 degrees, Corys seem OK with this, but is it too warm for oxygen concerns?
WWM:
I would turn it down a notch, but if everyone is fine, you may want to leave things be. Unless there's a damn good reason otherwise, virtually all tropical fish will be best kept at 25 C/77 F, and some (Neons, Danios, Platies, most Corydoras species) are actually better kept somewhat cooler, 22-24 C/72-75 F. Cooler water = more oxygen and less expense! Clown Loaches do prefer warm water though, which is why I wouldn't keep them below 25 C/77 F.
I appreciate all your help. Cindy
WWM:
Good luck, Neale.
Something funky in my tank
Something funky in my tank (bacteria; Whitespot) 12/1/11
Hi there!
I am a little concerned, I have a 200gallon tank with 1bgk, 6 mollies, 3 platys, 2 Corydoras, 2 gouramis, 8 ghost shrimp & 6 black skirt tetras. I recently noticed I have this white stuff growing on my tank glass. It seems to be attached, but sways with the movement of the water. Originally I thought it was an algae build up so I just cleaned the glass & went on with my weekly water changes. Its back this week and seems to be more than the last week, also it seems that now my all my fish have lil white spots like grains of salt on them. What can I do to treat my tank & not harm my bgk or my shrimp? Can you help?
Ashley
<Hello Ashley. The wafting, thread-like stuff is fungus and/or bacteria and/or "blue-green" algae (Cyanobacteria). Telling these three things apart if difficult, but in short, fungus tends to grow on rotting things like (improperly cured) bogwood, dead fish and faeces. It doesn't grow on plastic or rocks. Bacteria will grow anywhere, and whereas fungi tend to look like cotton wool threads, bacteria have a slimy, matted, often fibrous appearance. Regular bacteria become a pest in tanks that aren't properly cleaned, because they're feeding on organic muck of various kinds.
Blue-green algae are also bacteria, despite their name, and tend to grow where there is light and nutrients but poor plant growth. Poor water circulation favour all kinds of bacteria. Chances are your tank doesn't have enough cleaning and indifferent water circulation (air-powered filters and hang-on-the-back filters are notorious for this). The fact your fish have Whitespot now also suggests environmental stress. Review water quality carefully, my guess is that your filtration just isn't as good as you think. The salt/heat method is the safest approach where Apteronotus or shrimps are being kept, as copper and formalin will quickly kill them.
http://www.wetwebmedia.com/FWSubWebindex/SaltUseFWArtNeale.htm
http://www.wetwebmedia.com/FWSubWebindex/SaltUseIchF.htm
Cheers, Neale.>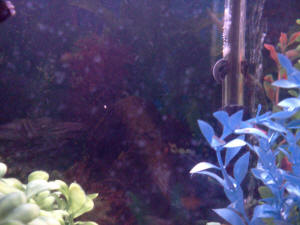 55 Gallon Help, FW... maint. 9/28/11
I have a 55 gal. tank with 2 Giant Danios, 3 Bala Sharks, 2 Plecostomus and 1 Senegal Bichir. I am currently feeding them with flakes, sinking algae pellets and shrimp pellets. I use a sand substrate with 6 fake plants and 3 large lava rocks. I use 2 Aqueon 30 gal filters and keep my water temp around 82 degrees F.
<Insanely warm. For this mix of things, the default 25 C/77 F is ample, and perhaps even a degree cooler in winter.>
I do a 20 percent water change once a week and a 50 percent change once a month, and I have a few questions.
<Fire away.>
1) Is this set-up ok for the fish that I have?
<For now, yes, but the Bala Sharks will get MUCH too large for this tank within a year or so, and the Plecostomus will turn a 55-gallon tank into a swamp, and wouldn't be my recommendation for this system. A plain vanilla Ancistrus (Bristlenose Cat) makes infinitely more sense. Ancistrus are better algae eaters as well as smaller and less messy.>
2) My Bichir seems healthy but I wondering if feeder fish or some other type of food would be better than shrimp pellets?
<Never, ever use feeder fish. They're the single best way to introduce parasites into your aquarium. Bichirs do best on a varied diet based around Thiaminase-free foods such as earthworms, tilapia fillet, Pollack fillet, and cockles. Occasionally, you can use foods that contain Thiaminase, such as mussels, prawns and shrimps, but these must be no more than 25% of their diet.>
3) What fish would be a good addition? Because my tank seems rather empty.
<It will soon be overstocked, so cool your rockets.>
4) What is the best way to clean my sand?
<You shouldn't need to. Given the sand need only be 1 cm/0.5 inches deep, the catfish will sift out any uneaten food without problems. So if you find detritus sitting on top of the sand, then that's a sign your filtration isn't sufficiently strong. For a mix of species like this, anything less than 8 times the volume of the tank in turnover per hour would be inadequate; in other words, for your 55 gallon tank, your filter needs to be rated at not less than 440 gallons/hour.>
5) How often should I change my sand?
<Never.>
Thanks,
Dana
<Glad to help, Neale.>
White fuzzy film/fungus (?) in newly cycled puffer tank 9/12/11
Hi Crew,
I love your site and can usually find the answers I need but am struggling and concerned by this one. I recently upgraded to a bigger tank and passed on my 65L tank to my boyfriend, who bought a new silent filter for it as we want to keep it in our bedroom. We have been cycling the tank and maturing the new filter using squeezing from my old filter sponges (I still need the old filter in my new tank while my new filter establishes), fish food flakes and a load of gunk washed from the old gravel substrate (he has created an aquascape using sand so didn't want to take the gravel). We also added Nutrafin Cycle bacteria and after that Interpet Filter Start. There are lots of plants in there and also some tadpole snails for a few days before we were sure the tank was cycled (0 ammonia, 0 nitrite and, after water change a trace of nitrate).
A couple of days before we added the puffers (and the snails, nothing living in there at this point apart from plants) I suddenly noticed an alarming amount of what appears to be mould on a large piece of drift wood - this mould is very fluffy, rising probably about half a centimetre from the wood, and also some white mould completely covering the sucker pads that are holding the heater in place. The white mould on the sucker pads was actually wafting around on the surface of the pads in the water current.
We then introduced the tadpole snails...... they seemed unfazed.... possibly even enjoyed the mould and were frequently observed passing through it and apparently eating it.
With the tank being cycled my boyfriend was keen to get his dwarf puffers so he used a syphon to remove all visible trace of the mould from the wood and suction pads, and as much of the partially decomposed fish food as he could, collected the puffers and introduced them yesterday.
However, today I notice that the white mould has regrown on the suction pads and on the wood! The dwarf puffers seem to love the wood and 'peck' it quite a lot...... It even appears that they might be eating the mould?!
My question is, there being so much mould in the tank, are the puffers in danger? Could they become infected by it? If so what can we do to get rid of it without harming the puffers? Suctioning only seemed to solve the problem for 2 days!
Thank you for any suggestions you can make.
Jo
<White fungus develops on wood that hasn't been cured. It can also grow on uneaten food and fish faeces. If you see fungus in the tank, it's almost certain your tank is "dirty" in the sense that the filter isn't adequate for the size/numbers of fish being kept, and that you aren't keeping it clean. Review filtration, scale back feeding, remove uneaten food and any organic matter, stir the gravel weekly and siphon out detritus, and generally improve the cleanliness of the aquarium. Do contrast fungus (which is white and fluffy) with bacterial threads (which are usually grey and distinctly slimy and smelly when removed from the water). Also recognise blue-green algae that, despite their name, can be all sorts of colours. Bacterial threads grow for the same reason as fungi, but are even more worrying in terms of cleanliness. Blue-green algae favour tanks with poor or too much lighting, minimal water movement, and high nitrate and phosphate levels. Cheers, Neale.>
Re: White fuzzy film/fungus (?) in newly cycled puffer tank 9/13/11
Thanks Neale,
<Most welcome.>
The fungus appeared before we had introduced the fish - only 3 baby dwarf puffers in a 65L tank which has a Fluval U2 filter. As far as my research reveals we are understocked and have more than adequate filtration.
<Okay.>
I guess it makes sense then that the method of fishless cycling we used (fish food and fish poo from my tank) resulted in growth of fungus while the filter was maturing. The readings for water cleanliness are good (no ammonia, no nitrates and lowest reading of nitrate).
<Cool.>
But what about the fungus? Will it harm the fish?
<No.>
Why won't it go away???
<It will, once all organic matter is consumed. Usually fungus grows on uncured wood. Throw out such wood, or at least cure elsewhere, like in a bucket in the garden.>
Is there still some rotting waste in there?
<If fungus, the threads only grow through organic matter. Think of mould on old bread. Fungus won't grow on inorganic matter unless there's something there for them to eat. Now, blue-green algae will grow anywhere there is sluggish water flow and adequate light. So do think about that.>
And if so, why is the fungus growing on the suction pads????? And not on the actual waste????
I'm worried I will come home to find them infected with the same fungus as they are new to the tank so presumably slightly weakened....
Jo
<Cheers, Neale.>
Mysterious substance in freshwater tank 8/23/11
Tank: 45 gallon hexagon its been setup for 3 weeks, its well aerated, I have an Aqueon quite flow 30 ( it only came with a single carbon cartridge so I added a bio-media bag) it sat for 3 years and before that I used it for 2 1\2 years. It has a sand substrate bottom and minimal gravel. Lots of rocks
and 2 caves.
Lighting: single 15 watt aquarium bulb 14 to 16 hours a day.
<Very little lighting; do bear in mind what Mbuna need to eat, green algae, and act accordingly. A good amount is around 1 watt per gallon if you aren't growing plants.>
pH. balance: 6.6 ( rapidly dropped was 7.8 until water change 2 days ago)
<Lethal for Mbuna and Rift Valley cichlids generally. Please read up on what these fish need!
http://www.wetwebmedia.com/FWSubWebIndex/StkgLkMalawiTksArtBailey.htm
http://www.wetwebmedia.com/FWSubWebIndex/MalawiPeacocksAulonocaraMaryB.htm
http://www.wetwebmedia.com/FWSubWebIndex/DwarfMbunaArtMaryB.htm
http://www.wetwebmedia.com/ca/volume_5/volume_5_2/malawian_cichlids.htm
It sounds like you have very little, if any, carbonate hardness is the pH can drop from 7.8 to 6.6 within two days.
http://www.wetwebmedia.com/fwsubwebindex/fwh2oquality.htm
How do you prepare aquarium water? What Rift Valley salt mix do you use? Do you have calcareous media in the filter? How often do you clean that media?>
Ammonia: 0 ( it was .05 until water change 2 days ago, I added AmmoLock to the water and ammonia remover bag to the filter)
Nitrites: ?
Nitrates: ?
<Why aren't you tracking at least nitrite? Essential when starting a new aquarium!>
Fish in tank: ( I know its to many for being uncycled)
1x johanni
1x Malawi eye biter
<Doesn't really belong here.>
1x acei
1x ahli
1x striped julie
<Tanganyikan cichlid; doesn't belong here at all.>
1x pearly white compricep
<Nor does this.>
1x Mbuna hybrid
1x gar fish
<Why????>
2x peacock ( 1 jacobfreibergi and 1 ?)
<Shouldn't be kept with Mbuna.>
Problem:
<Just the one problem! Surprised really. Your tank sounds like it has lots of potential problems. I guess you're a lucky person!>
About 6 days ago I noticed this white jelly fish\cobweb looking substance on the glass so I cleaned it and the next day it was back. I waited a couple days cleaned the glass and it came back the next day. Then cleaned the glass very thoroughly and did a water change and it came back the very next day, now I noticed it on the rocks too. I have city water so I added stress coat to remove chlorine and chloramines, aquarium salt too. My water is very clear but has little white things floating in it ( I believe it is this substance, how can it not be) however this substance DOES NOT move on its own but does move in the current from the pump. It is on all 6 sides of the tank and all rocks and structures. I don't know what it is and haven't treated for anything ( don't want to treat for a disease they don't have. I'm stumped and don't know what to do. Not sure if it harmful to the fish or not. You can't see it from a distance, only if u are 2 inches away and purposely looking for it. I had Planaria in a separate tank and this is not Planaria. I don't see ANY worms at all. Please help and thank u very much.
<This white stuff is likely bacterial in origin; my guess would be that this tank experiences dramatic changes in water chemistry and quality, and together with the high stocking and doubtless heavy feeding, you've got the perfect situation for bacterial blooms. Diatoms may be in the mix too. In any event, such things aren't uncommon in (dare I say it) not terribly well set-up aquaria, in part because you've added far too much livestock far too quickly. Do read the articles linked above, and in particular pay close attention to what Mary Bailey suggests with regard to Mbuna, Dwarf Mbuna, and Rift Valley cichlids generally. Your selection of fish will eventually mature and try to kill off one another, until you're left with a few dominant fish and the rest will be either dead or battered. There are lots of books about Rift Valley cichlids, and you can start by learning the difference between Malawian and Tanganyikan species, and why you DON'T keep them in the same aquarium. Then find out what Mbuna are, and why you DON'T keep them with Peacocks or other non-Mbuna Malawians. Then bone up on water chemistry, in particular carbonate hardness and how to keep a high pH in a Rift Valley cichlid system. Once you've done all of that, you'll see where you're going wrong, and as if by magic, you'll see why your tank is working, and what you need to do to fix it. Hope this helps. Cheers, Neale.>