All "framed" images are linked to desktop sizes.


We ask that, before submitting a query, you refer to Neale Monk's: Before You Write; A Checklist of Common Problems with Freshwater Aquaria, Bettas, Goldfish, and Freshwater Turtles (Terrapins), Tips on Asking Questions, Ask the WWM Crew a Question, FAQs on FAQs. EDFP, TBPFWFAQs, Last Few Days Accrued FAQs, Subscribe to the Daily Pics

Astronotus ocellatus (Agassiz 1831), the Oscar. To seventeen inches (45.7 cm). South America: Rio Amazonas basin in Peru, Colombia, Brazil, Northern Paraguay and French Guiana. Freshwater: pH range: 6.0 - 8.0; dH range: 5.0 - 19.0, temp. 22 - 25°C. Wild type at the Shedd Aq. 2015


Freshwater Pix Archive Link

Freshwater FAQs, Ask us a question: Crew@WetWebMedia.com
Updated 11/18/2017

Other Specialized Daily FAQs Blogs: General, Planted Tanks, Ponds, Brackish, Last Few Days Accrued FAQs,
Daily Q&A replies/input from the WWM crew: Darrel Barton, Neale Monks, Marco Lichtenberger,

Bob Fenner, are posted here. Moved about, re-organized daily

Current Crew Bios., Not so current Crew Bios
____________________________________________________________

Betta Success


Doing what it takes to keep Bettas healthy long-term

by Robert (Bob) Fenner
Small tank; stocking, FW 11/18/17
Hi.
<Hello Sandy,>
Are there any fish that are suitable for a 2 gallon tank?
<Not really. Bettas can be kept in tanks this size of course, though I'd prefer more space simply because it makes steady water conditions easier to maintain. Most people with these 'nano' tanks go with various plants and
some of the smaller freshwater shrimps.>
I currently have a red wag platy male all by himself.
<Hopefully not in the 2 gallon tank!? Much too small for that species. Even 10 gallons is a bit tight for Platies.>
Thanks
<Most welcome.>
Sent from my iPad
<Sent from my computer. Cheers, Neale.>
query in regards to filtration; FW, bio. 11/18/17
Dear sir, I got your email id from your website and request your advise on the following I wanted to know whether biological bacteria which are on substrate enough for my aquarium if my filter fails for any reason ? I am asking this as I am planning to install a top filter which is kept above the tank as I have read that it provides a better biological filtration in comparison to sponge filters ( which I have in my tank ) due to air contact . But only thing that worries me is that in case of current failure or power head failure the Media may dry up in couple of hrs and my tank may lose all BB .Kindly suggest Thanking you Regards, Raj
<Hello Raj! Thanks for writing, and for what's a really useful question.
The short answer is that in a freshwater aquarium, the gravel or sand by itself WILL NOT provide enough biological filtration except in a very lightly loaded tank with plenty of fast-growing plants. By lightly loaded,
I'm talking about six Guppies in 200 litres or something like that! Almost nobody keeps an aquarium like that, hence the answer is, 99.9% of the time, "no". The reason is that bacteria live in and on surfaces with lots of oxygenated water. Only the very top of the gravel, the first few mm really, have that sort of environment. So while bacteria on the surface of the gravel will do some filtration, it's not enough by itself. Inside filters we have honeycomb-like sponges and things that provide much more surface for the bacteria, and the pump ensures it all gets lots of oxygenated water. That's why we need filters! Now, the filter bacteria are delicate in some ways, but tough in others. If the pump stops and the media dries out, the bacteria will stop working almost at once. Some writers suggest as little as 20 minutes without oxygenated water is enough for this to happen.
If the pump stops, it's a good idea to remove the media and place in a bucket of water simply so that it stays wet, and stir and splash periodically to ensure the water doesn't become 'stale'. This will keep the bacteria alive just fine. Even if the media dries out, the bacteria become dormant, and will spring back to life once they're wet. Not immediately of course, but in less time than the typical "new tank cycle" of 6 weeks. Hope this helps. Cheers, Neale.>
Common Ancistrus losing interest in food 11/17/17
Hello crew,
<Hello Jacob, and apologies for being slow to reply.>
I'm writing about my ~2.5 year old female Bristlenose Pleco. I purchased her when she was a juvenile, around 2 inches long if memory serves. She's now about 4" - 4.25" total length. Here's some background info about her and her tank(mates):
<Sure.>
She has been in the same 29 gallon tank since I bought her and until a few months ago, had shared this tank with 2 German Blue Rams, 8 Rummynose tetras, 5 common Otos, and about 10 Corydoras habrosus. This wasn't a perfect grouping of species in retrospect and I had to kind of square the circle in terms of temperature by keeping it at about 78-79 F, which is obviously on the high end for Ancistrus, at or above the maximum for the C. habrosus, and at or below the minimum for the GBRs. A few months ago, the male GBR died after a fairly long, slow deterioration during which he spent most of his time in quarantine. About a month after that, the female GBR died rather quickly (from the time she began showing signs of illness). Her death coincided with several of the C. habrosus dying as well, in my estimation 5 of them dying over the course of a month (I had lost 2 others over the years). That left the Rummynoses, the Otos, the Ancistrus, and 3 C. habrosus. I dropped the temp to 75 F and while the die-off was occurring the tank was treated with Praziquantel because the GBR and one of the C. habrosus looked emaciated and I knew the scaleless fish shouldn't have any particular sensitivity to it. All of these fish were purchased at about the same time and so were a little over 2 years old.
<The tank sounds fine, though German Blue Rams do need more warmth than your Corydoras and Ancistrus, so weren't likely to thrive in this tank. Both like soft water, of course, but for the Rams it's essential, whereas Corydoras and Ancistrus can do perfectly well in even quite hard water. Some species of Corydoras and Ancistrus might be a little picky, especially for breeding, but your standard issue farmed varieties will handle anything up to pH 8, 20 degrees dH.>
Now after having a couple months pass with no further deaths or other problems, I've started the process of rebooting the tank. This involved cleaning things up in case this long-running tank had some stuff going on in the substrate, so I completely replaced the Eco-Complete topped with sand with just black sand.
<Do check the sand is smooth, not sharp. Sharp sand can/will abrade the stomachs and whiskers of catfish, making them more prone to bacterial infections. You will spot reddish patches on the stomach, and shorter than normal whiskers, when this happens.>
The tank was and is planted and has a large amount of driftwood, which is often where you would find the Ancistrus. Typical pH is 6.5, gH is 6 degrees out of the tap and usually 3-4 in the tank. I do 50% water changes every 7-10 days. Filtration is an AquaClear 70 (no carbon used, just sponge and extra biomedia) and a small sponge filter that is mostly just an insurance policy in case something happens to the main filter.
<All sounds fine. Do check your carbonate hardness though, and if it's very low (less than 3 degrees KH) I'd be using Discus Buffer or similar to keep the pH steady between water changes.>
Here's the problem: This Ancistrus loved vegetables. I usually rotate between zucchini and broccoli stems, usually blanched but sometimes just cleaned and put into the tank. More often than not, by the time I had closed the lid she would be on the vegetable already. But this hasn't been the case for the past few weeks to a month. She has been far more reclusive and I have seen her several times do something unusual that I'd only seen once or twice before: lying on her back on the substrate, not suctioned to anything (but usually underneath driftwood that she would suction onto if startled). And when I put veggies in the tank, she ignores them.
<Odd. It might be the change in the tank that's spooked her. Loricariids are very sensitive to changes. My Panaque is quite bold and will happily come out during the day to feed -- if she's left alone. If I rearrange the rocks or temporarily move her into a bucket for some reason, she will become very shy for weeks at a time. Provided the Loricariid catfish is otherwise normal -- e.g., fins are whole, no red marks, and the belly and eyes are not sunken -- there's nothing much to worry about. Just allow some time for said catfish to settle back in.>
I haven't seen her get near them and I strongly doubt she eats them overnight since usually she leaves very visible bite marks, especially on the skin of zucchini. I know there's nothing wrong with the veggies because the Otos still eat them relentlessly. I do put other foods into the tank for her on occasion, a commercial algae wafer (one low on protein and with minimal meat ingredients) and Spirulina flakes from Ken's Fish. I think I've seen her show interest in these, but she was never as enthusiastic about chasing those prepared foods even in the best of times. There's not nearly enough algae in this tank to sustain her. And yet, surely she cannot go so long without eating, so she's eating something. I know Ancistrus may eat some driftwood, but I always assumed this was more "roughage" than nutrition. Her stomach against the glass looks as full as ever. I've attached a few photos, though I couldn't get one with her on the glass), to show that she seems as robust and healthy as ever from the outside.
<I agree, she looks fine. Have you tried some meaty fare? Ancistrus are aufwuchs feeders, consuming green algae AND the small invertebrates found therein, such as insect larvae and tiny crustaceans. Alternatively, a prawn or mussel will often be nibbled on happily.>
I've speculated that perhaps the reduced stocking levels over time made her more anxious, that the GBRs and larger group of C. habrosus had acted as dithers. It's certainly true that the Rummynoses were more confident with the GBRs around. I now have a group of juvenile C. habrosus in quarantine to bring up the numbers.
<Understood, but I think Corydoras habrosus are too small and too nervous to fulfill this role. You really want something bold and active; Pristella maxillaris is a useful default tetra for most systems, being hardy, adaptable, bold and attractive.>
I also just added a pair of Laetacara curviceps (well that's what they're sold as, I think they are in fact L. dorsigera) since I wanted another dwarf cichlid for this tank, these seem more appropriate for the conditions the other fish prefer, and I hope it may help the dynamics in the tank.
<Laetacara are lovely, but shy; they're also a bit prone to Hexamita infections, so keep an eye out for that and medicate accordingly.>
They haven't been around long enough for me to draw any hard conclusions, though the Ancistrus has been out and about some more and the Rummynoses are exploring more of the tank. Still, though, she pays no mind to the vegetables.
<Maybe try something new?>
At this point, I don't think it's an emergency problem, but I'm at a loss for how she's getting her nutrition and don't want to be overlooking some obvious thing I should be doing to help her out. Do you have any ideas or suggestions for what I should do going forward?
<For now, I'd wait and see. I'd look at her belly to see if it's sunken -- if not, she's eating something!>
Thanks for all the help you folks provide,
Jacob
<Most welcome. Neale.>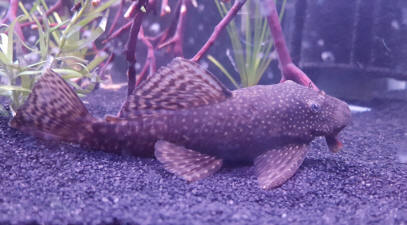 Re: Betta PopEye question 11/15/17
Hi,
<Hello Elle>
I wanted to send an update on my Betta with chronic pop eye.
<Ahh. Such is the case at times>
His condition has remained the same over the past year, despite numerous and varied treatments, and he now also appears to have a swollen area on his right side (photo is attached) that I've noticed for the past few weeks.
He has a very controlled diet, and since the swelling is confined to one side, I assumed it wasn't weight-related or constipation. However, I did try a series of Epsom salt treatments (1 TBSP/gallon) just to see if I could get him to "go" and hopefully improve the swelling.
<Worth trying>
Unfortunately there has been no change. Do you think I should increase the Epsom dose and try again? Or should I begin to worry that it's a tumor? (I've given up on trying to treat his pop eye, and it hasn't appeared to worsen without treatment.)
<Again, such entrenched infections.... I would not treat this fish further>
This little guy has had a difficult year but I'm trying to give him the best care I can for as long as I'm lucky enough to have him.
Thank you,
-Elle
<Welcome. Bob Fenner>
Painted Fire Red Cherry Shrimp 11/15/17
Hello, this is Jinoo Kim. I have been breeding regular cherry shrimp for about 2 years.
<Nice beasts!>
With a long time breeding and proper culling, I finally managed to reach Painted Fire Reds. I have three (one male and 2 females) so far in a ten gallon. I had to sell all my hard work to start working with these guys and
expand into higher grade shrimps such as Taiwan Bees.
<Understood.>
How long would it take for the three shrimps to reach a high population in the 10 gallon?
<When I start with about 6-10 shrimps, I find it takes about a year to get to the point that the shrimps are "common" enough (in an 8-10 gallon tank) that there's enough to spare. By that I mean you can remove 10-20 specimens and still have a viable population in the tank. Bear in mind it takes 3-4 months to reach sexual maturity, and even if each female produces a couple dozen offspring a month that survive to adult size, which is a generous
estimate, it's still going to be, say, 4 months for first generation of offspring to reach maturity, then another 4 months for the next, so at least a year before we're talking about a population measured in the hundreds.>
I never started so little since I started breeding with 30 cherry shrimps in a 20 gallon. I need to fill up the ten gallon so I can sell the shrimps and have more money for the higher grade shrimps.
<Understood. But to actually make serious money, you want populations in the hundreds if not thousands, so you can take big bags of shrimps to the retailer. So with just 3 really good specimens that have the genes you want, it's going to be probably 4-5 generations before you get big enough populations you can The ten gallon is super established, there is algae literally on every wall of the tank. The tank also has a blue Stiphodon, which I don't think eats shrimp.
<Should not eat adults, but tiny babies might be at risk, so provide cover.
Stiphodon are mostly aufwuchs feeders though, so competing for the same food as the shrimps. Good luck, Neale.>
Re: Painted Fire Red Cherry Shrimp 11/15/17
Thank you for the answer!
<Welcome.>
I'm breeding the Painted Fire Reds as a hobby now (I might sell some, I'll even send you some shrimp for thanks if you want, that way I can test shipping).
<Kind of you to offer, but not necessary. A photo or two of your collection
would be just fine!>
I'm going to move them to a display tank after I reach a good population, with a Betta (to control population, I don't see them eating adults plus a lot of hiding space). I'm going to use the ten gallon as a cull tank. Now I
am breeding a bunch of Taiwan Bees (most notably the Galaxy Pinto, which is a hybrid) in 20 gallon longs.
<All sounds very promising and professional! Good luck.>
Again, thanks for the help.
<No problem. Cheers, Neale.>
Discus just not 'happy' :( 11/13/17
Hi Crew,
<Greetings Liese>
Apologies for the tale of woe, but the more forums I check for 'advice' the more confused I get, so I hope you guys might be able to untangle the reasons for my Discus being generally 'off'. So, I have a 60 gallon (280 litre) tank with, as of the last few weeks, 4 adult Stendker discus (had 5 for the last 3 years but recently one died, perhaps all part of the same issue here?).
<Maybe; let's see your data>
I do 3 partial water changes a week (overall works out about 30-35% a week), using aged tap water, treated with Prime and warmed before adding. I used to do larger water changes (20% 3 times a week) using water directly from the tap (I did use Prime and warm water too!) but when my fish first started to look unhappy I was advised to age it for 24 hours, so now storage issues mean I can only change 35-40 litres at a time.
<Storing the new water for a week (or even more) is advised>
Water parameters currently and for many months are: ammonia and nitrite zero, nitrate somewhere between 10 and 20ppm,
<Well; I should mention, so I am... even cultured Discus don't like NO3. I'd have you read on WWM re methods of reducing, keeping this metabolite under 10 ppm>
pH 7, temperature 83F. I have also had the water checked at the local fish store just in case my test kits were wrong, but no problems there. Water out of the tap is pretty soft. I feed a mix of beef heart, flake, pellet food.
<Mmm; I made MANY pounds of beef heart mix for my Symphysodon decades back, but this component has largely fallen out of favour>
So, compared to a few months ago, my fish are all so much darker in colour, almost black at times, I can see strands of slime coat coming off a couple of them, and they're not eating with as much gusto as previously :(
<Something wrong here. I suspect, as usual, first and foremost, issue/s with the environment>
At various points over the last few months I've treated for Hex, internal bacterial infection, worms, flukes,
<? All these fish have been in captivity for years? Where would pathogens be introduced here?>
trying to eliminate obvious issues first, but nothing has made any noticeable difference so I have to assume that there is another reason for their stress/symptoms? I know 6 is the magic Discus number, but my 5 were always OK and I was reluctant to upset the status quo since I know my tank is only 'just' big enough for 6.
<I would not add more to a sixty gallon>
I will get another couple if you think that will help, but I'd really like to get to the bottom of the current issue before throwing more fish into the unhappy mix. Since getting my discus 3 years ago, I added a shoal of 10 Corydoras sterbai about 6-8 months ago who are doing really well, breeding regularly (very cute babies!) and zooming around on the tank bottom.
<Ahh, a good sign... at least conditions suit them. Am curious as to your water temperature; as C. sterbai is a cooler water species (typically 70-77 F) and Discus warmer>>
So, this has now got me thinking. Could all the Cory 'action' on the bottom of the tank be upsetting my Discus?
<Doubtful, but a remote possible influence>
I'd say there is a pretty 'normal' amount of aggression between my discus generally, although recently the biggest one has been chasing two of the others around. Maybe now there are only 4 the hierarchy is being re-established?
<I think you'd see over aggression here if this were so>
I'd really appreciate your advice as I'm at a point now where I don't know what to do for the best. I have no space in my house for a bigger tank so can't go down that route (I would if I could!), but it upsets me to see my once-beautiful Discus shadows of their former selves :(
Thanks in advance,
Liese
<If it were my system; I'd try to systematically reason out the source of the trouble via elimination, manipulation of one variable at a time. Do you use chemical filtrants? Near the top of my trials, I'd use a pad of PolyFilter, and/or a unit of ChemiPure in your filter/flow path, and see (it should be obvious w/in a few days) if improved water quality is an/the issue here; next... I'd raise the temperature a few degrees F.
Please do report back with your further observations. Bob Fenner>
Please need your help about rope fish 11/11/17
Hello WetWebMedia team.
<Hello!>
I have a rope fish for about 3 years in my 270 liters tank. She lives alone. Recently I have noticed the problem with her eye, it seems blush and a bit of blur and bluish.
<Possibly physical damage, e.g., from scratching against a rock or gravel. Physical damage usually heals on its own, assuming good water quality.>
I change 1/3 of the water every 1.5 weeks. The food: fish tilapia, shrimps, blood worms.
<Sounds fine.>
1 month ago I did one stupid thing, i found grass worms near to my apartment, but i did not realise that they could not be dirty because my apartment was located near to the big road, so maybe worms was polluted.
<It is possible, yes.>
In that time i had 2 fishes alive. They felt bad after i fed them worms, fishes tried to jump and leave the tank, was hanging on the top of water and their bodies was reddish. One of them unfortunately left the tank at night and died.
<This does not sound like a problem with the worms. The redness of the body sounds more like a bacterial infection, or possibly exposure to a toxin in the water or poor water quality.>
Unfortunately i also discovered that net secure of tank also was not safe
:(
<Ropefish are notorious for escaping. This is natural behaviour, unfortunately. A good idea is to keep the tank only half-filled with water.
Ropefish only need 20 cm/8 inches water depth.>
During this month, the remaining fish seemed to feel better (i put coal in tank),
<Do you mean carbon? That will certainly help remove poisons from the water. Big water changes are useful, too -- but of course keep water chemistry and temperature the same. Ropefish may benefit from a small amount of salt in the water. Non-iodised cooking salt is fine. Something like 3-4 grams per litre will work nicely.>
before last week when i discovered this clouding. Please help me. I realize that her health is now very weak after poisoning. What can i do to make her feel better?
<Time will help, and of course good water quality. Warm, humid air is also important. I would certainly use salt as described above, for at least until the cloudy eye clears up.>
Changing water more often could help?
<See above.>
Irina
<Cheers, Neale.>
Re: please need your help about rope fish 11/15/17
Thank you so much for your advice and help, Neale, all the best regards to you and WetWebMedia
Irina
<Most welcome and good luck! Neale.>
Adding fish 11/7/17
So, we had an incident. The week before Canadian Thanksgiving weekend, I noticed a dripping leak.
<Uh-oh!>
I think it was at the bottom of the tank, but not quite sure. After scouring Kijiji and the like with no results, I ended up buying a new 45 gallon tank and stand on clearance.
<Nice size tank.>
I had intended to rehome fish, but several students upset, so....I purchased what was needed to restart.
<I see...>
Went from 40 gallon cube like tank to 45 gallon long tank.
<A much better shape, plus more water capacity! Sounds a definite upgrade.>
We used as much water as we could from the original tank.
<Neither here nor there, really. Assuming the water chemistry and temperature are kept about the same, may as well use conditioned tap water.
On the other hand, do try and keep as much biological filter media as possible, because that's where the 'good' bacteria are.>
All 11 silver tip tetras survived. It is now November 4th. Now looking to add corys and one Bristlenose Pleco.
<Excellent choices.>
Originally the tetras stayed in mid-upper level of cube tank. This changed before aquarium change. They go everywhere; up, down, middle.
<Neat!>
I suspect I only have a couple of female tetras.
<So get some more! This tank will easily house, say, 20 of the Tetras, 6-8 Corydoras, and 2-3 Bristlenose Plecs without any problems at all. Maybe not add them all at once, but across a month, that'd be fine.>
I attached picture because I am not sure if enough cover is available for Corys.
<They'll be fine. For sure they prefer sand to gravel, but your gravel looks smooth. I'd avoid the hothouse flower species such as Corydoras sterbai, but most of the other species are good at the 22-25 C temperature range Bristlenose Plecs enjoy.>
The Stump has multiple entries at bottom and from top, but tetras enjoy too. The barrel has multiple entrances; but for one, tetras not really interested.
<Indeed. Tetras like floating vegetation for shade, but caves not so much.>
Bridges for cover- but tetras zoom there too. Do have extra bridge- no space. The brick wall is an inside wall (other side, stage, gym). On previous aquarium I put aquarium picture; still budgeting with this one. Is the environment good for Corys....if so, how many and what type...
<Looks a great home! Corydoras aeneus is a good default species, undemanding and cheap. Corydoras panda, Corydoras julii, and Corydoras trilineatus are some other species that might be considered. They're a little less hardy, but easily maintained in mature tanks where the water isn't too hard. I'm also a fan of Brochis species, such as Brochis splendens, which look a lot like big, stocky Corydoras aeneus and do especially well in deep aquaria. Corydoras don't really like swimming upwards more than 30 cm/12 inches, especially if the water current is
strong. Cheers, Neale.>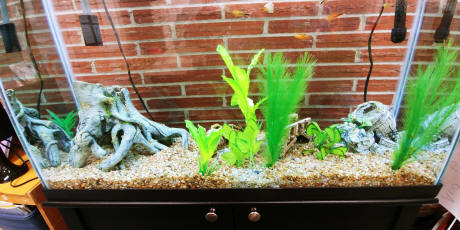 White colors; feeding Bettas 11/7/17
Hello, this is Jinoo Kim. I know that there are varieties of food (and other things such as water quality) that can affect color, but what improves white color?
<Nothing specifically. The well-known situation is red colour, which is enhanced with extra beta carotene in the diet. But the white layer on Bettas isn't a pigment as such, but a normal protein layer that causes opacity. Healthy Bettas will produce an adequate amount of the opaque protein without any specific dietary supplement, and there's no specific precursor food known that produces more. That being the case, simply ensure your fish are fed a good range of healthy foods and nature -- and genetics!
-- will take care of the rest.>
I am breeding a pair of Pure White Dumbo Ear HMPK Bettas and I want the best of colors. Thank you.
Jinoo Kim
<Most welcome, Neale.>
Thin Platy 11/7/17
Good morning,
I suspect that I may have a problem with one of my Coral/Sunset Platies.
He is very small compared to my other varieties of Platy and he does not seem to put any weight on regardless of his healthy appetite.
Behaviour:
His behaviour is nothing out of the ordinary; he is active, feeds well and doesn't hide away. He does however like to stay close to the surface, a little more than the others but not so much as to cause worry.
Appearance:
His appearance is where my concern comes from. As mentioned he is small and slender (as is the other Coral/Sunset) but he doesn't have the rounded belly that a normal, healthy Platy would. His fins are not clamped, he has no scales missing, sores or anything of that nature. His faeces is not stringy or clear and he has no protrusions from his anus.
My thoughts were that this is likely some kind of internal parasite but after doing some research, I am very worried that this may be a mycobacterium infection.
Now, I don't want to jump to any conclusions (some forums seem to think every ailment is TB these days) but because of his flat belly, this alters his shape somewhat. I do not believe that his spine is bent though.
Environment and tank history:
The tank is 180 litres with an external filter.
It was cycled without fish for 2 months almost a year ago, with 4 fish being added every 2 to 3 weeks thereafter.
Weekly 30% water changes (once a month 50 %)
Current stock:
8 Platies of various strains.
6 Dwarf Chain Loaches.
The tank is moderately planted and is maintained at 24 degrees centigrade.
Ammonia 0
Nitrite 0
Nitrate approx 10ppm.
Ph 8
I live in a hard water area but I have no means of testing the hardness.
History of illness:
Stringy, long, white faeces in most fish.
This was successfully treated with Octozin about 4 months ago and has not returned. After investigating I realised this was due to feeding frozen brine shrimp. It has not returned since I stopped feeding this.
Now I feed Spirulina flake and various premium flakes and occasional live foods.
Fungal infection of small wound on the side of Mickey Mouse Platy, the wound was from aggression. The fish was removed, put in a hospital tank with aquarium salt added. Fish given Methylene blue bath weekly until fully
healed. The treatment was successful and the fish was returned to main aquarium after being clear of symptoms for a month.
The tank did have a pair of Dwarf Gouramis who died without explanation within 2 months of purchase. I think these were very weak fish with the problems that most DGs seem to have now.
Another Platy died with similar symptoms to those described above approximately 2 months ago.
Initially I dosed Myxazin in case it was bacterial but this had no effect.
I then tried to worm the tank with medication added to the water in accordance with the instructions (2 weeks after the Myxazin) I have since read on your site wormers should be added to the food so maybe that is why I was unsuccessful.
He had the symptoms for approximately 4 weeks before he died, in my opinion he didn't appear to be suffering so I decided against euthanasia.
Finally to my questions!
I do not want to have a knee jerk reaction and dump in anti bacterial medication, followed by anti parasite medication and so on and so on.
Does this sound like parasites or bacterial infection to you? Could he just be a genetically weak fish?
What course of action would you recommend and what medication, if any, would you suggest? I am based in the UK.
In the event of a suspected case of fish TB, what actions would you take?
I have read conflicting information on Mycobacterium. Some say it is present in most tanks but only raises its head when the fish are in a stressed state with a compromised immune system. Others say it has to be introduced somehow, what are your thoughts on this?
If the fish are not showing symptoms and live in otherwise good conditions, is it really necessary to euthanise and start again? (this is the opinion of many forums) I have spoken to a vet who says I just need to be aware that it is in the environment and make sure that there is no cross contamination to other tanks. The fish can lead normal and healthy lives.
The latter is my intention.
If mycobacterium is as infectious as everyone seems to think and as widespread, wouldn't it be safe to assume that it's in most tanks, especially since it can often be present without symptoms?
At the moment I do not intend to stock any more fish unless I can get an 'all clear' somehow in the tank. In a few years when my last fish has gone, what is the best way to disinfect as I understand mycobacterium is resistant to heat and bleach. I have read alcohol is the way to go, would you concur?
My apologies for how long winded this was. I have done extensive reading which has given conflicting advice and left me with more questions than answers..
I hope your fantastic team can clear this up for me.
I am a big fan of your site, thank you so much for sharing your knowledge.
Regards
Colin
<Hello Colin, and thanks for the kind words. I fear this is a common problem with Platies, especially the more inbred strains such as Sunset and Coral Platies. May be genetic, the old "runt in the litter" situation, but more than likely some type of Mycobacteria-like wasting disease. Often seen in livebearers. Environment may be a factor: when I maintain tanks of livebearers, but neglect maintenance for a few months, I find more example of these runt-like fish within the group. High nitrate, low oxygen, high temperatures, and monotonous diet are all things I think about in this situation, and try to remedy. Sometimes the fish recover, sometimes not. In any case, Mycobacteria isn't treatable, certainly not without access to antibiotics. There is indeed some debate about where this bacterial infection comes from and whether it's in all tanks all the time -- but I think it probably is, and being highly contagious, even if it isn't in your tank when you set it up, sooner or later something brings it in. That said,
Mycobacteria-like infections are rare, and it's that combination of their rarity and the fact they appear out of nowhere sometimes years after you add new fish that is odd -- and why I personally believe the Mycobacteria
are in most/all tanks, but some stress factor causes the fish to get sick.
There's no real point trying to eliminate it from the aquarium given that healthy fish shrug it off without any problems, and even if you sterilise your tank, the filter and your fish may carry the bacteria anyways. Bottom
line, while you can certainly try to use an internal bacterial medication to deal with the Mycobacteria, isolating the sick fish, even in a floating breeding trap, is probably easier and cheaper. The bacteria will probably have got to the other fish by now, so unless you treat the whole tank, hospitalising the one sick fish isn't going to change anything. Besides, healthy fish aren't going to succumb to Mycobacteria, all else being equal.
As I say, there does seem to be a stress (and perhaps genetics) factor at work here, with Mycobacteria not being a major threat to most fish most of the time. The one alternative that might bear thinking about is Hexamita, a
parasite that infects the gut (preventing proper absorption of the food, among other things) and its most distinctive symptom is indeed white, stringy faeces. Metronidazole is the classic medication here, but in the UK and EU, you'll find it easier to get hold of something called eSHa HEXAMITA that is cheaper and available at pet shops. Good luck, Neale.>
Re Thin Platy 11/8/17
Hi Neale,
Thank you very much indeed for your response.
<Most welcome.>
It would make sense for mycobacterium to be in most tanks; I buy all of my fish from a reputable source who's husbandry is first class but I suppose all it would take is one infected fish (or even a net) and before you know
it, the entire system has the bacteria.
<Quite so.>
I am very happy I asked the questions now because, like I mentioned before, most forums would have you reaching for the clove oil at the first sign of trouble!
<Which isn't a bad approach in terms of humanely destroying sick fish -- something the hobby hasn't always been good at. Plus, identifying and destroying sick fish does, at the very least, reduce the chances of other fish becoming infected. So in a sense, that's what happens in the wild where the "old and sick" would be picked off by predators.>
I will ensure that I keep up the maintenance and look to give them an improved diet.
<Cool.>
Whether or not I put more fish in this tank or not remains to be seen, I think I will let it run down naturally, get rid of all hardscape, plants and filter and convert it to a FOWLR tank in a few years time.
<Understandable. Freshwater fishkeeping can be harder than marine fishkeeping in some ways -- the fact fish are bred to be as cheap as possible does mean that diseases are more of a risk. If you compare a $2 guppy with a $50 Butterflyfish, the whole economics is going to be different, with the retailer making much more effort to ensure his stock is healthy so that doesn't lose money when the fish is in his tanks. Flip side though is that marine tanks are more expensive to set up and maintain, and every bit as prone to problems, whether health issues, algae, or whatever. There's something to be said for brackish water in this issue, in that you can set up the basics as marine (limestone rock, coral sand, a skimmer) and keep a few interesting fish just for fun, like Puffers or Scats, and then, when the time comes, transition these to a FOWLR system by adding your live rock and whatever marine fish you want.>
I really appreciate you taking the time to respond to me, I can stop stressing and just get back to enjoying my fish.
Thanks again
Colin
<And thanks for the kind words. Cheers, Neale.>
Thin Platy 11/8/17
Hello again Neale,
I forgot to say, thank you for recommending the medication, I will purchase that straight away.
<No problem. I'm just aware that not all the medications recommended by Americans are available in other parts of the world.>
Regards
Colin
<Good luck! Neale.>
Re: Thin Platy 11/9/17
Hi Neale
Keeping brackish species is something I have always wanted to try, especially Bumblebee Gobies or some kind of Puffer.
<Figure 8s and BBGs get along well. Neither is suitable for marine, but a lot of the hardware itself can be used for a future marine tank; the salt, hydrometer, limestone rocks, etc. There are a lot more species out there, maybe not traded widely, but available if you know where to ask, including some that can/should go marine at some point, such as Chelonodon patoca, one of the prettiest of all the puffers.>
This is definitely something to consider!
Regards
Colin
<Cheers, Neale.>
Re: bloated Betta 11/6/17
Hi Bob
Thank you for all your help! Sadly my Betta continues to not do well. I have been doing daily water changes but he continues to get thinner although his appetite is fine and he is now becoming lethargic. I decided to worm him with ESHa Ndx Levamisole and have continued with daily water changes, varied his diet and added Indian almond leaves but he's declining.
I wonder if I used the wrong type of wormer?
<Mmm; possibly. Am a bigger fan of Praziquantel products; but... what makes you think this fish has a worm problem? Exposing organisms to treatments w/o cause is deleterious to their health>
I've attached a picture of him. Anything else you can recommend?
<If memory serves, you've tried purposeful antibiotics. This issue, IF it is internal, bacterial, may prove almost intractable.... I would only continue to provide stable, optimized conditions and good nutrition here>
Water parameters are 80 deg, Am 0 Nit 0 Nitrates 20 ph 8.2
Thank you
Karan
<Welcome. Bob Fenner>
Re: bloated Betta 11/6/17
Thanks for your reply Bob. I wormed him after much deliberation as he was getting thinner whilst eating fine and was doing long thin poos. Is there really nothing else I can do for him?
<Take a read on WWM re Metronidazole and Bettas>
Maybe do water changes every other day instead of daily?
<Once a week s/b fine. Please, READ on WWM re Betta care. B>
Thanks for all your help!
Baby YBS not eating! 11/6/17
Hello All,
<Hiya, Darrel here>
I want to know what's wrong with my turtle. He hasn't been eating for about two weeks now. He never goes in the water anymore and basks all day. This also has been for about two weeks.
<Doe she move at all? From one place in the basking area to another? Is she awake and alert? If you pick her up and set her down outside her tank, does she look around and then move a little … after she calms down?>
<What I'm trying to find out if she's specifically off her routine or genuinely so sick she can't or won't move. It's a pure guess on our part, but worth considering.>
I noticed a very small whitish spot on him a long time ago. Now the spot is no longer white. It looks black on that area and is considerably bigger. The shell is hard and doesn't smell.
<The picture you sent shows a darken spot on the shell which is nothing ordinary or anything to worry about. As she grows her shell will darken like that all over.>
Also, the underbelly of the turtle is a bit pinkish. What does this mean?
<That can mean a lot. The worst case is that pinkish can mean a systemic infection … but the worst case I ever saw, one of my own babies, turned out to be stains from a red brick I was using as a basking stone! Logs, anything wood, any coloration in the substrate can rub off on the plastron and won't rub or wash off easily>
I've been doing my own research and can't figure it out? I'm so confused. Is it shell rot, shell just growing, is it healing, or is it mineral deposits?
<Treating any patient that can't tell you where it hurts – is a challenge>
<Let's start at the basics. Did anything in her environment change? Anything in the tank? What about outside the tank? Remember they 'hear' via physical vibrations, so any fan, motor, speaker … anything that changes can intimidate them>
<Ruling out physical changes, what about light & heat? Any changes in the tank or outside the tank?>
<If we rule out everything else, then we get back to diet and environment and the first thing I do is raise the temperature a bit. Move the light an inch closer, set the timer for an hour longer, etc. Generally speaking a warmer world makes them tend to be more active. Now just to be sure, take her and give her a bath every day. Put her in a luke-warm bowl of SHALLOW water (not up past her nose) and let her soak for 10 minutes. At first she'll be terrified but if you leave her and let her calm down, see if she walks around in the shallow water. In any case, just the water that enters her cloaca will help hydrate her.>
<Temp her to eat with a TINY (and I mean TIE NEE!) piece of beef or chicken liver … something very high in vitamins. If she refuses, put her back on her basking area and try it all again tomorrow …. Try for 7 days before getting more concerned.>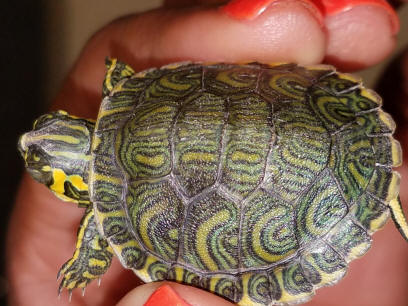 Re: turtle tank water 11/6/17
Just wanted you to know Mrs. T is better!! Thanks so much sorry I didn't thank you before now. Just cleaning up email and found your help.
-Richi Horne
<Glad we could help Richi!!
When you get rich and famous (or win the lottery or both) remember to hit the {DONATE} button on our home page.>
LFS is doing a huge import... opinions? Hard/soft water on wild collected fishes 11/4/17
Hello crew, I hope you are doing well.
<Thank you Roberto; yes>
As the title implies, a lfs is doing a huge import of south American fish. The list consists of more than 40 species of fish.
<Neat!>
I, as the enthusiast that I am, want to get my hands on some fish, but, judging by past experiences with soft water fish kept in hard water (my water is normally 10 GH, 9 KH, ph anything from 7.5 to 7.9). Decided to ask you first on input on whether the species I plan to get can adapt in this kind of water. After all, some soft water fish do adapt to moderately hard water, but a lot don't.
<Yes; agreed. Tienes razon>
There is not much information online on these fish. I do not know if these fish are wild specimens or captive bred, and the lfs is not to trust with this information (they claim their altums were bred and raised in alkaline water...., even simple concepts like ph get tangled in their lies).
The list of fish I am interested in are:
1- Biotodoma Cupido
2-Geophagus pellegrini
3-a few, rare Corydoras species like concolor (well, those are a first here!)
4- Panda Uarus (I find this hard to believe)
5-Pterophyllum leopoldi
6-dicrossus filamentosus
7-axelrodia riesei
8-Moenkhausia copei
9-heterocharax virgulatus
10-Bunocephalus verrocosus
11-Hoplarchus psittacus
<The cichlids of #s 4,5,6 coming from soft/native waters concern me... The others I have seen/occasioned in harder waters. ALL I'd leave at the dealers for a few weeks to assure they're going to live>
I am sorry to put you through this, but you are probably the only safe source of information. I obviously wouldn't get all these fish even if I could, and I run several tanks for each of them (planted tanks for the tetras and cories... cichlid tanks for the cichlids... and so). I'm mostly concerned about the whole hard water adaptability.
Thanks again, crew.
Roberto.
<Welcome. Bob Fenner>
Glofish coloring problems. Velvet? 11/3/17
Hello to the crew. I have searched for an answer all over the web and WWM, but nothing has fit my question or problem. So I would like to apologize ahead of time if this has been previously discussed.
<Okay!>
I have 6 Glofish Tiger Barbs in a 24 gal. AquaPod. The tank was cycled before they were put into the tank. The tank has now been running for about 4 months. My readings are 0 ammonia, 0 nitrite, 10 nitrate, and the pH is
7.0. I have a Fluval 204 external canister filter. I normally do water changes one time per week at 25%.
<A good regimen>
I clean the filter once a month and replenish the charcoal. I feed them a small variety of foods such as Omega
One brine shrimp, Omega One bloodworms, Omega One freshwater community squares, Fluval's Bug Bites, and once in a while if I am in a super hurry some tropical flake. I keep the tank at 76 degrees Fahrenheit normally. I
used to have gravel on the bottom but since the problem started I have removed it.
<Sounds/reads good thus far>
About 10 weeks ago one of my fish died, but he was the runt and I always had a feeling like he was going to perish. Due to the other picking on him always. So like a moron I went and bought one to replace him, because I
have read that they like to be in a group of 6 or more. I did not quarantine him. I know, shame on me. I am not sure if it came from him or not, but still shame on me. A few days after putting him in there I noticed that one of the others was glancing off of the air stone hose. Then I noticed that one of them began to act like the one who died, hiding all the time and only coming out for feeding time. I started to check out my fish more closely but could not see any visible parasites, and the symptoms were like Ich but no white dots. I read somewhere to take a light and shine it on the fish to check for Velvet. That Velvet would have a shiny, gold appearance on the fish. Well, lo and behold, my fish looked like they were dipped in gold with the light on them. I researched what methods work the best to cure it, and chose CopperSafe. I used the CopperSafe for about 5-7 days with the tank covered and temperature up to 82 degrees and did not notice any difference. I asked the LFS what was I doing wrong and how to cure it. They said keep in the CopperSafe but also add in Rid Ich and that should work. I waited another week with that treatment, still no improvement (meaning the gold was all still there).
<Mmm; I'd like to have you take your light and visit the pet store, shine the light on the Glofish barbs there. The dust you see may not be Velvet; some glancing behavior is natural, not indicative of disease>
I began my research again committed to helping cure my babies. I did 3 Methylene Blue dips, and nothing. I ​put the fish in another tank without gravel and everything all new so I could clean their tank & hopefully remove the Velvet. I know I killed my biofilter but I have other tanks that I borrowed media from to help with cycling. I chose to give my babies a break from the treatments until I found the for sure cure.
<Again.... Does your fish store have a microscope; offer services to look at samples? I'd ask about and have them take a look on a fish you bring in>
After a week and a half I bought a medicated Wonder Shell from American Aquarium Products that states it kills Velvet in all forms. I did a 25% water change before I put it in the tank. That has now been in the tank for 1 week. The directions say to keep it in there for 3 weeks preferably without water changes because it would lessen the strength of the medication​. Tonight, I decided to get out my flashlight and check out my fish. It's still there. It has not lessened at all.
<... am pretty to very sure at this point that there is no Velvet present here>
So now I am starting to wonder if at all possible that this golden sheen on them is the results of them being genetically altered.
<Ahh! Yes>
The gold does not look like dust on them. It is more like how goldfish have that opalescent look to their scales. Is this a possibility that this is their coloring and the glancing could have been due to some other problem,
<Or nothing; really. The same as you and I scratching at times>
that mostly has been cure with everything I have done to them. Any help or advice or just words of wisdom would be appreciated so much. Thank you,
Sincerely desperate,.
Debra
<I would cease treatments, resume water change regimens, and slowly lower the temperature back down.
Bob Fenner>
Re: Glofish coloring problems 11/4/17
To Bob,
<Deb>
Thank you so much for getting back to me. I was thinking the same thing you suggested, about ceasing treatment.
<Yes I would>
I am also going to go to the LFS and bring my flashlight to check it out, just to see if we are right. Your website is a blessing and very much appreciated. If there is some link you could give me I would like to donate to WWM.
<Ahh: https://www.paypal.com/donate/?token=u5YSaty1lBF486Gv6F1mpqupCKpDRuImZ-nXzndjbDAuXL_uHU40krHWf5BJkQUFHy6oC0&country.x=US&locale.x=US
You and the crew are so worth it. Thank you again.
Best regards and blessings to you , the crew and your families,
Debra
<And you and yours. BobF>
Glofish coloring problems /Neale 11/6/17
Hello to the crew. I have searched for an answer all over the web and WWM, but nothing has fit my question or problem. So I would like to apologize ahead of time if this has been previously discussed.
<No problem.>
I have 6 Glofish Tiger Barbs in a 24 gal. AquaPod. The tank was cycled before they were put into the tank. The tank has now been running for about 4 months. My readings are 0 ammonia, 0 nitrite, 10 nitrate, and the pH is 7.0. I have a Fluval 204 external canister filter. I normally do water changes one time per week at 25%. I clean the filter once a month and replenish the charcoal. I feed them a small variety of foods such as Omega One brine shrimp, Omega One bloodworms, Omega One freshwater community squares, Fluval's Bug Bites, and once in a while if I am in a super hurry some tropical flake. I keep the tank at 76 degrees Fahrenheit normally. I used to have gravel on the bottom but since the problem started I have removed it.
<All sounds fine, though a little warm for Danios; ideally, keep them at 24C/74F, with plenty of oxygen above all else.>
About 10 weeks ago one of my fish died, but he was the runt and I always had a feeling like he was going to perish.
<Indeed.>
Due to the other picking on him always. So like a moron I went and bought one to replace him, because I have read that they like to be in a group of 6 or more.
<They do. Or more specifically, in smaller groups, males can become bullies, harassing the other Danios, even to the point of killing them.>
I did not quarantine him. I know, shame on me. I am not sure if it came from him or not, but still shame on me.
<Quarantining is certainly the ideal, but I do accept that if you have just the one tank, it isn't practical, and we just have to trust our retailer has quarantined the fish for us. Sadly, not all of them do.>
A few days after putting him in there I noticed that one of the others was glancing off of the air stone hose.
<A good first sign of either Velvet or Whitespot.>
Then I noticed that one of them began to act like the one who died, hiding all the time and only coming out for feeding time. I started to check out my fish more closely but could not see any visible parasites, and the symptoms were like Ich but no white dots. I read somewhere to take a light and shine it on the fish to check for Velvet. That Velvet would have a shiny, gold appearance on the fish. Well, low and behold, my fish looked like they were dipped in gold with the light on them.
<Plus, Velvet is notorious for getting at the gills before it infests the skin.>
I researched what methods work the best to cure it, and chose CopperSafe. I used the CopperSafe for about 5-7 days with the tank covered and temperature up to 82 degrees and did not notice any difference. I asked the LFS what was I doing wrong and how to cure it. They said keep in the CopperSafe but also add in Rid Ich and that should work.
<Did your aquarium have carbon in the filter? As a reminder: carbon will remove most medicines, preventing a cure. If used correctly, however, CopperSafe, and indeed any commercial anti-Velvet medication, should work well. Some people do prefer the old heat/salt method, which has the advantage of being cheap and less toxic.>
I waited another week with that treatment, still no improvement (meaning the gold was all still there). I began my research again committed to helping cure my babies. I did 3 Methylene Blue dips, and nothing.
<Methylene Blue is pretty much only useful for Fungus.>
I ​put the fish in another tank without gravel and everything all new so I could clean their tank & hopefully remove the Velvet.
<Possibly...>
I know I killed my biofilter but I have other tanks that I borrowed media from to help with cycling. I chose to give my babies a break from the treatments until I found the for sure cure. After a week and a half I bought a medicated Wonder Shell from American Aquarium Products that states it kills Velvet in all forms.
<Medicated Wonder Shells contain malachite green, Acriflavine, copper sulphate, and Methylene blue. Should work, but I'm not a huge fan of these soluble shells because they ALSO raise the pH and hardness. If the tank is empty, you may as well use bleach to kill everything. Obviously rinse thoroughly. Once done, set back up like a new aquarium, cycling the tank if necessary. Meantime, the quarantined fish can be medicated with something effective; perhaps salt/heat, or else something copper-based, as copper really is the best anti-protozoan medication out there. Copper is very toxic though, so use as directed, especially with regard to dosages.>
I did a 25% water change before I put it in the tank. That has now been in the tank for 1 week. The directions say to keep it in there for 3 weeks preferably without water changes because it would lessen the strength of the medication​.
<Indeed.>
Tonight, I decided to get out my flashlight and check out my fish. It's still there. It has not lessened at all. So now I am starting to wonder if at all possible that this golden sheen on them is the results of them being genetically altered.
<Good question. There are fish -- like the Golden Tetra, Hemigrammus rodwayi -- that have specific colouration precisely because an infection has damaged their scales. I don't know enough about GloFish to be sure in your case, but if the fish is healthy now, but the colouration has changed, it's not beyond the realms of possibility that the scales may well be "off colour" until they are repaired or replaced. Unfortunately, fish don't normally replace scales like we shed hair, but as the fish grows, the damaged scales will become proportionally less obvious, new scales being added as the fish gets bigger.>
The gold does not look like dust on them. It is more like how goldfish have that opalescent look to their scales. Is this a possibility that this is their coloring and the glancing could have been due to some other problem, that mostly has been cure with everything I have done to them. Any help or advice or just words of wisdom would be appreciated so much. Thank you,
Sincerely desperate,.
Debra
<Most welcome. Neale.>
Thiamine deficiency in large fish /Marco 10/31/17
Having a problem with a client who has number of large tanks containing predatory fish. Have lost a number of large fresh water fish such as peacock bass, Arowana, and tiger shovelnose catfish, all fish were long term inhabitants two+ years. Symptoms are bloating, lost of balance and stoppage of eating.
<Especially bloating is not a typical symptom of a thiamine deficiency syndrome (see http://www.wetwebmedia.com/ca/volume_6/volume_6_1/thiaminase.htm ). Maybe something else is the culprit here.>
Within a week or two the fish perish. After doing research I suspected thiaminase poisoning, fish were being fed strictly smelt. I have since changed food to a silver side that does not contain thiaminase and some Hikari Pellets.
<Keep it as varied as possible.>
This week there is a saltwater Queen Trigger that's showing the same symptoms is there a good way to get Thiamine (Vitamin B1) into the fish? Injectable? In a bath? Do realize this fish is about 18-20" and weighs 4-5pounds.
<Injections (by a vet) are possible but the usual way is to add it to food. Most vitamin substitutes for fishes contain sufficient amounts of thiamine.>
Thanks in advance for any help. Jeff
<Good luck. Marco.>
Thiamine deficiency in large fish /Neale 11/1/17
Having a problem with a client who has number of large tanks containing predatory fish. Have lost a number of large fresh water fish such as peacock bass, Arowana, and tiger shovelnose catfish, all fish were long term inhabitants two+ years. Symptoms are bloating, lost of balance and stoppage of eating. Within a week or two the fish perish. After doing research I suspected thiaminase poisoning, fish were being fed strictly smelt.
<A single food item, regardless of what it is, would easily explain the symptoms you describe; i.e., some sort of vitamin or mineral deficiency. Whether thiamine (vitamin B1) deficiency or some other, hard to say; but I do believe your analysis here is a good bet.>
I have since changed food to a silver side that does not contain thiaminase and some Hikari Pellets.
<These latter are excellent, among the best foods in the business, and a combination of them (for all-round nutrient balance) and frozen food (to keep the fish interested) is the way to go with all predatory fish in my opinion. Even better if you can stuff some pellets inside the silversides, especially plant-based foods such as Spirulina. Do remember that carnivores consume a lot of fresh greens -- albeit via the intestines of their prey!>
This week there is a saltwater Queen Trigger that's showing the same symptoms is there a good way to get Thiamine ( Vitamin B1) into the fish?
<There are marine aquarium vitamin supplements, such as those from Selcon, Kent Marine, Waterlife and others. Some, like the Kent-C product, are added to the water (bear in mind fish drink continually, so this is more effective than it sounds) while others, like the Selcon vitamins, are used to "soak" freeze-dried foods before use. Basically, follow the instructions on the packaging. Short-term, stuffing/gut-loading frozen or live food, such as cockles or river shrimp, with Spirulina flake is a good way to quickly get a bunch of vitamins into a fish. Because many vitamins, including B1, are water soluble, the body can't store them, so you can't get more into an animal faster than it can assimilate and use them. So while injections do exist (a vet will have to do these) they have a short-term effect and are more about crisis management than recovery. For a fish that's basically fine, if a bit off-colour, a day-to-day offering of vitamin-enriched food should gradually turn things around. Fresh greens always help, though Triggers aren't particularly herbivorous beyond a bit of calcareous algae, so you might need to shove something like Sushi Nori or Spirulina into a cockle or mussel and hope he takes them that way. Vitamin deficiencies aren't normally fatal if caught early enough, though deformities caused by them may be.>
Injectable? In a bath? Do realize this fish is about 18-20" and weighs 4-5 pounds.
<Vitamin-enriched food as described above should do the trick.>
Thanks in advance for any help.
Jeff
<Most welcome. Have asked Bob to chime in if anything missed. Cheers, Neale.>
Echidna rhodochilus, finally. Feeding 10/28/17
Hello Bob, Neale, Marco and all you good people in WetWebMedia, After years of searching, I finally obtained a small Echidna rhodochilus (35cm), and I'd like to share its pictures with you. It's a lovely eel, but very amusing, just minutes after being released in my aquarium, it already terrorized my shrimps and ate two of them.
The previous owner hand-caught this eel from a river mouth called Muara Tawar in North Bekasi, a neighboring city of Jakarta. He already kept this eel in his aquarium for about a year, in the same water from the river where he caught it, and haven't weaned it off live food yet. This particular Echidna won't eat dead shrimp. Since I have steady access to live shrimps, I don't mind this. But I heard that eels love a variety of different foods, so, If I put Sailfin mollies in the aquarium, will they causes harm to the Echidna if it eats them?
Thank you and have a nice weekend!
Best Regards,
Ben
<Hello Ben. Congratulations on getting hold of this fish! Nope, Poecilia species are harmless, at least in terms of thiaminase. They are, of course, the same risk as any other farmed fish in terms of internal parasites and pathogens. Home-bred specimens should be safer, so if you have the space and inclination, producing your own livebearer or killifish feeders is relatively safe (though Poeciliids seem to be plagued with Camallanus worms that could transfer from mother to offspring, so even here, I'd be careful). Gut-loaded shrimps are a safer and more natural foodstuff for Echidna species that have, on the whole, crushing dentition for invertebrate prey compared to the pointed teeth of the piscivorous morays from other genera. Gut-loading is important though because crustaceans tend to be high in thiaminase, hence shrimp and prawn meat being considered an unsafe staple diet for these (and other) carnivores. I will also remind you that 'freshwater' morays lose their appetite when the salinity is too low, so kicking up the salinity may be helpful. Bob and Marco have written extensively on this/these fish; see here:
http://www.wetwebmedia.com/FWSubWebIndex/fwmorayeels.htm
http://www.wetwebmedia.com/FWSubWebIndex/fwmorayart.htm
Cheers, Neale.>
Re: Echidna rhodochilus, finally 10/28/17
Hello Neal!
<Ben,>
Thank you for the kind words & advice. That was fast!
<Thanks for the kind words.>
Again many thanks. I think I don't have the inclination to breed the mollies myself, so I'll have to stick with fortified shrimps for now.
Anyway, there are still some shrimps left in the eel tank, and seems like they'll all be consumed within a few days, so, after they're all gone, how
many days should I wait until I put on some more live shrimp?
<I would not overfeed; with subadult to adult predatory fish, the aim is to offer food only when they're actively hunting. Personally, I prefer the "little but often" approach with predators, offering them small daily meals
rather than infrequent big meals, simply because it limits the risk of regurgitation or uneaten food being left in the tank. Other people prefer a more 'natural' approach where the fish receives a substantial meal, but maybe 2-3 times a week, but taking care to remove any regurgitated or leftover food before water quality was compromised. But whatever approach you take, a couple notes about Morays. First, they hunt by smell. Adding too many food items at once means the 'smell' gets spread around the tank, and the Moray can have trouble finding it. So get some long forceps or something like a kebob or satay skewer, use this to hold a single food item, and place the item somewhere just upstream of the Moray. Wiggling the food enticingly can help, especially if the food is silvery, like a small piece of fish. If the Moray is settled and hungry, it will start hunting.
The second time is to keep the food bite-sized. Morays can't chew, and despite their ferocious reputation, they actually favour small, easily swallowed food items. Once the food item is taken, repeat a few minutes later. If the Moray shows no interest, it's probably had enough, and you can skip feeding until tomorrow or the next day.>
This particular Echidna Rhodochilus is already 30 cm in length so I assume it is an adult, which shouldn't be overfeed, right?
<Quite so.>
And thank you also for the advice for raising salinity when necessary. I'll try to find a hydrometer so I know exactly what is the salinity rate of my eel tank & adjust accordingly. I have access to seawater (the blessed life of people who lives in coastal cities & not far from estuaries :D ) so it's not inconvenient to mix some seawater to the eel tank.
<Indeed! Sounds nice, especially if you can vary the salinity periodically, up or down, as you see fit. Brackish water fish appreciate this, even though they don't need it. Often you'll see them perk up their behaviour almost as if they're exploring a new tank.>
Best Regards,
Ben
<And to you. Cheers, Neale.>
Re: Echidna rhodochilus, finally 10/28/17
Hello Neale,
Again, many thanks for the feeding info & salinity tips!
<Welcome.>
Speaking of feeding, the remaining shrimps are rather large, and when I turn down the lights, they gather above the Echidna's cave. I wonder what's going on? Are they teasing the eel?
<Nope. More than likely scavenging, and if the Moray withdraws to his cave to eat his food, there could be all sorts of small food fragments thereabouts attracting them.>
As in "hah, we're too big for you, you cant eat us, heh heh!"? Should I evict them later?
<Unless they recognise the Moray as a threat, there's no reason for prey animals to keep away.>
Best Regards,
Ben
<Those are quite big shrimps, for sure! But gut-loading with traditional fish flake, Spirulina and, if you can get it, Sushi Nori algae sheets, will all help to boost their vitamin content and turn them into useful food items. There are marine-grade vitamin supplements, such as Selcon, that can be used -- sparingly -- to good effect as well. With freshwater and marine carnivores, a lot of failure over the long term -- months, years after purchase -- may be explained by lack of vitamins, including Thiamine.
Longer term of course, getting your Moray onto a fresh and frozen diet will be helpful. Cheers, Neale.>
Re: Echidna rhodochilus, finally 10/29/17
Good day Neale!
<Ben,>
Thank you for the tips for fortifying the feeder shrimps. I can give them both fish flakes (available here) and the nori seaweed (I think I saw them on a mall somewhere). The Echidna is so cute, it is worth all the efforts to give it a good home.
<Quite so. A nice fish, and like all Morays, amply rewards good care.>
Speaking of home, I just find this video on YouTube, of a Gymnothorax Tile sharing an aquarium with a Polypterus, both seemed to be at peace with each other, and both still retain their huge appetite for food (though their owner seems to be able to wean the G. Tile away from live food & able to give it frozen shrimp...)
https://www.youtube.com/watch?v=bFXue8NHFRs
Is this some kind of black magic, or is there some kind of chemical stuffs involved?
<No, just luck and time. Gymnothorax tile WILL NOT live its full lifespan in freshwater, and that specimens just a baby.>
G. Tiles are supposed to be brackish water to marine species, while Polypterus are totally freshwater species.
<Yes and yes.>
How could they share the same aquarium like this, without affecting their appetite and behavior?
<The "freshwater" Morays certainly do live some months in freshwater, and youngsters maybe even a year or more. But eventually, without fail, they stop eating. Aquarists who fail to give them brackish water usually end up with a starved, then dead, Moray.>
If this is a brackish water setup, maybe the Polypterus has some tolerance to higher salinity?
<Unlikely. While the Ropefish, Erpetoichthys calabaricus, has some tolerance for slightly brackish conditions, I'm not aware of any true Bichirs in even slightly brackish habitats.>
If yes, maybe I'll introduce a Polypterus or two to keep my Echidna accompanied. What do you think?
<Bad idea. Morays make poor companions. The fact they hunt by smell means they sometimes bite their tankmates! I'd tend to keep yours either singly, or in due course, with some large, robust brackish or marine companions --
big sleeper gobies, brackish water lionfish, toadfish, that sort of thing, maybe even Scats and Monos if you had enough swimming space for them. In low-end marine tanks, pretty much anything will work, including robust
Damsels and Sergeant Majors. Any of these would make more realistic companions.>
Best Regards,
Ben
<Welcome. Neale.>
Re: Echidna rhodochilus, finally 10/30/17
Hello Neale,
<Ben,>
Thank you for confirming my thoughts. Everything I read about G. Tile online pointed out that this particular fish is more brackish to marine than freshwater.
<Quite possibly migratory; Fishbase suggests an anadromous life cycle, living in the sea or estuaries, but spawning in the freshwater parts of rivers. In any event, the experience of those keeping this species suggests brackish will work fine long term, but freshwater doesn't.>
So, I understand that combination of Polypterus and G. Tile is "suicidal", if it's too brackish, the Polypterus would eventually suffer, if it's too fresh, the G. Tile will suffer. Not good!
<Indeed. Suicidal would suggest either of the fish are choosing to die in the wrong conditions -- not the case here!>
As for my Echidna, for now I will let it enjoy the tank by itself and its prey shrimps. This little guy really has personality, I noticed that if the lights are bright, it will behave like a dragon on its lair, sitting nicely on its cave. But when the lights are dimmed, after awhile it will start to "patrol" its surroundings & terrorizing the shrimps. Fascinating isn't it?
<Absolutely, and precisely how they behave in the wild. During the daytime Morays are inactive but not asleep, and will indeed lurk with their heads poking out, showing an interest in what's happening in their part of the world. At night they become active, and that's when they hunt.>
I will eventually get a friend for the Echidna. Sleeper goby sounds cool, and it's a fierce-looking fish, just like the Echidna, so they will make a great conversation piece.
<There are some excellent large Sleepers out there, but do bear in mind such tankmates need to be at least as big as the Moray, otherwise biting is a risk; even if the Moray doesn't actually kill the target, its bites can quickly become infected.>
I am thinking to get myself a G. Polyuranodon, but I wonder, will they get along together?
<Morays can get along in very large systems with plenty of caves, but they can be unpredictable, so I would tend to keep them singly. Do read here: http://www.wetwebmedia.com/fwsubwebindex/fwmorayart.htm
There's a section on tankmates.>
Have a wonderful day!
Ben
<It's almost bedtime here, so will save that for tomorrow! Cheers, Neale.>
Re: Echidna rhodochilus, finally 10/31/17
Hello Neale,
<Ben,>
Thank you for the interesting info about G. Tile behavior. Of all three species that is labeled "Freshwater Moray", perhaps G. Tile is the least deserving of the title. G. Polyuranodon perhaps is the most deserving, but even so, I think G. Polyuranodon and E. Rhodochilus will do better in slightly brackish water, as it's their natural habitat.
<Indeed. But I'm not sure any true eel (Anguilliformes) is 100% freshwater -- even the true freshwater eels, Anguilla spp., return to the sea to breed. My assumption would be that freshwater morays will have a marine
stage to their life cycle, at the very least, and even Gymnothorax polyuranodon is rarely found more than a few km inland, indicating that even though adults do seem to be primarily freshwater to low-end brackish, they do need to be able to get to the sea to breed properly (whether directly or via planktonic larvae I do not know, and don't think anyone else does either). Do see, for example, here:
https://www.ncbi.nlm.nih.gov/pubmed/21722111
Plus the various Fishbase articles on freshwater morays.>
Today I went to the seashore to collect some seawater (about two bottles of 600 milliliters), will mix some of it to my Echidna Rhodochilus aquarium sometime later, to change the salinity, and let's see how the Echidna behaves afterwards.
<Cool.>
I am still unable to find any local fish store which even know what a Hydrometer is, and I am too poor (for now) to buy it online from abroad, but I'll keep searching.
<For brackish, they're not essential. If you mix, say, one bucket of seawater with three buckets of freshwater, you'll have around 25% normal seawater, i.e., SG 1.005 at 25 C. That's fine for most brackish water fish.
Provided each water change is done with something along these lines, one part seawater to three parts freshwater, any slight discrepancy in specific gravity (or salinity) won't be enough to cause harm to your fish or filter.>
Thank you and have a nice day!
Ben
<Welcome! Neale.>
Re: Echidna rhodochilus, finally 11/1/17
Good day Neale,
<Hi Ben!>
Yesterday I have mixed approx 1000 ml of seawater, taken from the beach of Jakarta, to the Echidna aquarium. I also decided to take out the ugly white pipe and replace it with two shorter, darker pipes, which matches my
aquarium better. Echidna seems to like it better, as he seem to enjoy chasing shrimps round and round the two pipes.
<No doubt. PVC pipes are fine, but they do reflect light unnaturally. Can work nicely once covered with a bit of algae though, or if buried in coral rubble.>
After the seawater addition, Echidna still behaves more or less before, except for a few changes. I notice that it is now "calmer", not darting around quickly during its "patrols" as often as before. And it seems to leave its cave more often, in favor of the two new pipes. My friend, the one who own a Polyuranodon that I've been trying to buy for years (unsuccessfully), noted that Polyuranodon also behaves more or less the same, if it has more than one hiding places, it will use all of them, not just stuck to one place. Have you observed this with other morays you have seen/kept?
<Yes; Morays are definitely territorial, but they are also curious, and in their way, intelligent. Anyone who has kept Freshwater Eels (Anguilla spp.) will have noticed the same thing. These are 'cunning' animals that learn their territories well, and expect to have a 'get-away' burrow or two that they can use if chased or otherwise molested.>
Anyway, according to Google, my home in Pulomas Jakarta is only 12 km from the sea. The North Bekasi area where my Echidna were caught, has more or less the same distance from the sea, so maybe our rivers here in Pulomas and North Bekasi are not pure freshwater, but perhaps have some brackish water mixed in.
<Possibly, but it may well be that it's plain vanilla freshwater, and the proximity to the sea is more about reproduction, as we've discussed before.
Or it could be these fish are casually migratory. By that I mean they simply swim up or down river as the mood takes them, perhaps several times a year. Adult Scats, for example, certainly do this, and can be found 50 km
inland, even though they are more common in the sea or estuaries. The truth is that we don't really know very much about how brackish water fish live.
They are not well studied by scientists, and fishkeepers are not as experienced with them as reef fish or rainforest fish. People keeping freshwater Morays are doing groundbreaking stuff here, and it's useful to keep notes and discuss with other fishkeepers.>
I'd love to check their salinity once I get my hands on a proper Hydrometer.
<And I'd love to hear what you learn!>
If it's true, that explains how my friend is able to keep Polyuranodon for years simply by using the water from the river, no marine salt required.
<Quite so.>
Thank you for pointing me to Fishbase and the scientific paper. I also find your interesting comment in this forum:
http://www.fishforums.net/threads/identify-my-brackish-moray-eel.105762/
<Oh! That's going back a while.>
You said: "...Gymnothorax polyuranodon for example is said to be a catadromous species, that is, while adults may inhabit brackish or fresh waters for extended periods, they return to the sea to breed. This agrees with Schafer's records of these fish being found 'a long way upstream in completely fresh water'....Gymnothorax tile on the other hand is *suggested* to be anadromous, meaning that it inhabits brackish and marine waters as an adult but breeds in brackish or fresh water....Echidna rhodochilus isn't referred to as either, so by implication may be euryhaline, swimming and breeding wherever it wants..."
<Hmm...>
I found it so fascinating. So, there are not much scientific infos about Echidna Rhodochilus?
<Not really, no. If you Google 'Echidna rhodochilus' you will get some links, including a first report of the species from mangroves of the
Andaman & Nicobar Islands, which is cool. I do suspect they're simply plain vanilla euryhaline brackish water Morays, rather than true freshwater species, as might be the case for (adult) Gymnothorax polyuranodon.>
That's too bad. I hope my observations here on my own aquarium will help to shed some lights on this fascinating fish.
<As do I.>
I also hope that someday people would find a way to breed Echidna Rhodochilus. I think it's the ideal pet moray. It stays small, not so aggressive, it's freshwater to brackish, it's very cute and it has long live if taken care properly.
<It does seem to be a very good aquarium fish, given the right conditions.
Some of the smaller marine Morays have a well-earned place as rock-solid aquarium residents, and with a bit of care, Echidna rhodochilus would seem to be much the same sort of fish. Healthy specimens are really gorgeous,
with a lovely velvety sheen, and as you say, they're relatively mellow -- though I wouldn't trust them with small or delicate tankmates.>
Well, have a nice day and thank you again for your wonderful discussions, you're very kind & a true expert of this field!
<Thanks for the kind words.>
Best Regards,
Ben
<Cheers, Neale.>
Re: Echidna rhodochilus, finally 11/3/17
Hello Neale,
<Ben,>
Thank you for your advice about the PVC pipe. Tonight I took out Echidna's cave and replaced the PVC pipe back in. I noticed that the cave has rough edges and I am afraid Echidna will scrape and hurt itself on those edges.
<Can certainly be a risk, but these eels do inhabit oyster reefs and mangroves, so probably have some common sense here. Nonetheless, "safety first" is a good maxim!>
Here is a clip of my lovely Echidna before I took out its cave. I hope it will forgive me. My friend told me that Echidna Rhodhocilus are not as easily stressed as other morays, is that true?
<Probably; they are physiologically adaptable, that is sure. Morays are hardy anyway, and among the tougher marine fish, so a euryhaline one is likely to be remarkably durable. The flip side though is that they've been
abused a bit over the years, kept in freshwater systems for too long, and surely some have died prematurely because of that. We don't really know that much about their diet and reproduction either, so might be missing
important things in those directions.>
https://www.youtube.com/watch?v=McgRWm92xN8
<Nice!>
I am fascinated with your info that it is us, Freshwater Moray keepers, who are leading the (informal) research on FW moray behavior. I want to share this video clip with you, sent to me by my friend who keep several Polyuranodons.... in "FRESHWATER" for years ("Freshwater" because I he said he just fill his aquarium with the water from the river where he caught the eels, but I never ran a salinity check on those waters).....and after
years, he was able to train his Polyuranodons to eat BLOODWORMS... Isn't it amazing? Here is the clip:
https://www.youtube.com/watch?v=816Z5mD9NDs
<Likely a major source of nutrition in the wild. Mosquito larvae are very common -- and very important -- parts of the freshwater food chain. They are also common in brackish water habitats too.>
Now you can put it on your notes, that there is a prove case from Indonesia, of Polyuranodons actually kept in "freshwater" for years and trained to eat bloodworms!
<Your messages are shared with everyone who reads WWM, whether now or in the future!>
Off course, we have to take into account that this is Indonesia, the natural habitat of these eels, and they are being kept in the water from their own rivers, and the surrounding temperature is pretty much the same
(they are literally being kept in a city of the same island where they were taken from). Therefore this should not be interpreted that I am advising fish lovers in other countries (especially Western!) to start keeping Polyuranodon on freshwater and feed them bloodworms, I don't! Because what works here in Indonesia might not work in other places.
<Quite so. Your specimens have endured less handling and shipping -- it can easily be months between capture and ending up in an American or European aquarist's fish tank. That will make a difference.>
Well, thank you for your continuing attention and support!
Best Regards,
Ben
<Always glad to talk. Cheers, Neale.>
Re: Echidna rhodochilus, finally 11/6/17
Hello Neale,
Again, many thanks for your input & continuing support! WetWebMedia is really blessing for all of us fish-lovers everywhere!
<Thanks for the kind words.>
Now I am inspired to train my Echidna to eat bloodworm too. Will post here the results, though I am sure it will take a while. Maybe I will get another Echidna as well, because what's better than one Echidna Rhodochilus? TWO Echidna Rhodochilus! :D
<If they get along, at least...>
I will also try to acquire a G. Polyuranodon for the same purpose. Maybe when I get two Echidnas, I will trade one for a G. Polyuranodon :D
I have thoughts on obtaining a G. Tile, however this species grows big, and I don't have that much space in my current house for another aquarium.
Plus, though it is a known species in this part of Indonesia where I live, G. tile and E. Rhodochilus are harder to find than G. Polyuranodon or even E. Nebulosa.
<Really?>
Getting an FW moray around here is a bit tricky, because these days most of our local fish catchers who supply ornamental fishes for fish shops, does not really understand the taxonomy of the fishes. They use "catch-all"
terms for the fishes, for example, any eel types they caught in the estuarium, they will say "It's a Belut Muara" (estuarian eel), whether it's Gymnothorax Tile or Gymnothorax Undulatus or Echidna Nebulosa or even Gymnothorax javanicus. I have to inspect what they caught, and sort the fishes by myself.
<Interestingly, when I Google the "Belut Muara" name I end up with mostly Synbranchus-type swamp eels, such as Macrotrema caligans. These are brackish-tolerant freshwater fish, more of low-end systems than mid-to-high
salinity systems. Synbranchus eels tend to be extremely aggressive and predatory, so approach with care.>
It's much more effective to buy the fishes from hobbyists who hand-caught their stocks, and know enough taxonomy to identify what they have caught... but then, these hobbyists often developed emotional attachments to their pets & won't sell their favorite ones.
<Indeed.>
Well, this has been a wonderful discussion, I hope it will be useful for WetWebMedia readers & all "FW" moray lovers everywhere.
Thank you & Best Regards,
Ben
<And you; cheers! Neale.>
Re: Echidna rhodochilus, finally 11/15/17
Hello Neale and all you good people in WetWebMedia,
<Hello Ben,>
As I promised, here is the latest update of my Echidna Rhodochilus.
1. After I raised the salinity by pouring in seawater gradually, I noticed that sand sticks on echidna's slime coat. I thought it was some kind of disease, but when i gently touched the echidna, the sand came off. So I stopped raising the salinity, at the weekly water change I no longer add seawater & did the water change using freshwater from my well. Just a few days after, echidna went back to normal with no more sticking sands.
<Quite normal behaviour. Mucous production is one way that scale-less fishes like eels adapt to their environment. It's perfectly normal for them to produce extra mucous at times, and eels of all kinds are famous for
doing this. It may well be that salinity changes trigger mucous production, perhaps because it slows down water loss in more saline water.>
2. Echidna Rhodochilus are amongst the smallest of the moray, but they are actually strong enough to rearrange their aquarium. My echidna is able to uproot my bogwood ornament and moving its home pipes around as it sees fit. It is more active now than weeks ago when I first got it.
<Again, eels are noted for their strength. Despite their sluggish behaviour during the day time, they are actually effective and powerful predators at night.>
3. It is very docile though, it never made any attempt to bite me whenever I stick my hands inside the aquarium to put the pipes and bogwood back in place.
<On the whole Morays are known to be curious rather than aggressive towards people, even wild Morays in the oceans.>
4. Maybe later, I'll temporarily (not long-term, maybe just days) put docile pet fish from my other aquarium to test their compatibility with Echidna in a semi/low-end brackish condition. I have a Monopterus albus which are larger than the Echidna, and whose docility are guaranteed, it has been housed for years with two Polypterus palmas, three clown loaches and two yo-yo loaches, and it never caused trouble. Seems like a perfect candidate for the experiment. Or maybe I put the clown loaches, as they have grown rather big and I am sure echidna won't see them as food.
<Does sound like a good candidate for this, but I will caution you that Synbranchids are often reported to bite companion fish, so keep a close eye on things.>
And thank you for the tips in selecting caught fish. We never know what got caught by local fish catcher here. Besides aggressive eels. sometimes even marine food-fish like ikan layur/ribbon fish (Trichiurus lepturus) end up
in estuarium and get caught. Those fishes has nasty teeth!
<What a cool beast! One of the neatest fish I've seen in aquarium shops in England is another eel, Congresox talabonoides, sometimes called the Pike Conger Eel. It's a brackish to marine fish, and seems quite hardy and
peaceful. But it is predatory, and apparently sometimes reaches over 200 cm in length!>
Best Regards,
Ben
<Thanks for the photos. Cheers, Neale.>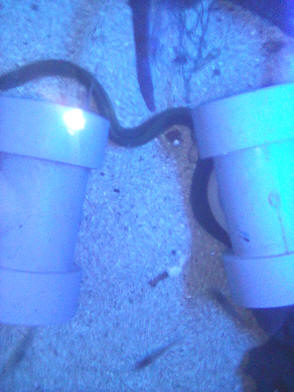 -------------------------------------------------------------------------------------------------------------------------------------
Freshwater Aquarium Articles & FAQs
Set-Up: Gear/Components:, Set-Up, Tanks, Stands, Covers:, Water, Filtration of All Sorts, Sumps, Refugiums:, Circulation, Pumps, Powerheads, Aeration, Electricity, Heating/Chilling, Light/Lighting:; Types of Systems:, Substrates, Aquascaping:
Livestock 1: Stocking/Selection, Biotopes, Quarantine, Acclimation. Fishes: Stingrays, Inadvanced Bony Fishes, Eels, Tetras & Their Relatives, Killifishes, Livebearers, Catfishes, Goldfish, Barbs, Danios, Rasboras, Minnow Sharks, Loaches, Misc. Fish Groups



What it takes to keep goldfish healthy long-term

by Robert (Bob) Fenner


Livestock 2: Gouramis, Bettas, Cichlids, Fresh to Brackish Water Fishes, Invertebrates (Hydra, Worms, Snails, Insects, Crustaceans...),



New Print and eBook on Amazon

Betta Success
Doing what it takes to keep Bettas healthy long-term

by Robert (Bob) Fenner



Herps: Amphibians, Turtles,
Maintenance/Operation: General Maintenance, Algae, Foods/Feeding/Nutrition, Disease/Health,
Freshwater Aquarium Science: Behavior, Topics, Reference and Aquatics Writing Business, Reviews,