Please need your help about rope fish 11/11/17
Hello WetWebMedia team.
<Hello!>
I have a rope fish for about 3 years in my 270 liters tank. She lives alone. Recently I have noticed the problem with her eye, it seems blush and a bit of blur and bluish.
<Possibly physical damage, e.g., from scratching against a rock or gravel. Physical damage usually heals on its own, assuming good water quality.>
I change 1/3 of the water every 1.5 weeks. The food: fish tilapia, shrimps, blood worms.
<Sounds fine.>
1 month ago I did one stupid thing, i found grass worms near to my apartment, but i did not realise that they could not be dirty because my apartment was located near to the big road, so maybe worms was polluted.
<It is possible, yes.>
In that time i had 2 fishes alive. They felt bad after i fed them worms, fishes tried to jump and leave the tank, was hanging on the top of water and their bodies was reddish. One of them unfortunately left the tank at night and died.
<This does not sound like a problem with the worms. The redness of the body sounds more like a bacterial infection, or possibly exposure to a toxin in the water or poor water quality.>
Unfortunately i also discovered that net secure of tank also was not safe
:(
<Ropefish are notorious for escaping. This is natural behaviour, unfortunately. A good idea is to keep the tank only half-filled with water.
Ropefish only need 20 cm/8 inches water depth.>
During this month, the remaining fish seemed to feel better (i put coal in tank),
<Do you mean carbon? That will certainly help remove poisons from the water. Big water changes are useful, too -- but of course keep water chemistry and temperature the same. Ropefish may benefit from a small amount of salt in the water. Non-iodised cooking salt is fine. Something like 3-4 grams per litre will work nicely.>
before last week when i discovered this clouding. Please help me. I realize that her health is now very weak after poisoning. What can i do to make her feel better?
<Time will help, and of course good water quality. Warm, humid air is also important. I would certainly use salt as described above, for at least until the cloudy eye clears up.>
Changing water more often could help?
<See above.>
Irina
<Cheers, Neale.>
New Fish (Tang) - Quarantine 11/9/17
Good afternoon Crew,
I feel your forum has a mixed bag of answers,
<... we don't have a forum>
and although I was pretty confident with my previous decision, I'm now undecided. I've successfully treated numerous fish for crypt via Cupramine in the past and have yet to experience a loss during that process.
<Acanthurids don't tolerate copper exposure well>
I enjoy the comfort of knowing I have a crypt free tank.
<I doubt this is the case... Most all hobbyist systems (99 plus percent) have resident Cryptocaryon et al. infestations>
In Sept I bought a Kole Tang that I knew had Crypt, and requested both a guaranty on the fish and $ discount from the store because of this. The Tang was active, alert, plump, and feeding... thus I figured he'd be a good
candidate to QT and utilize Cupramine to get him healthy for my display.
Finished the 16 day treatment and he was still feeding and looked vibrant and healthy, so I introduced him to my display tank. 60g with two Picasso clowns, yellow watchman goby, royal gramma, and a rose BTA. Everyone left
him alone and for the first few days he was somewhat shy, but still active.
Approaching the two week mark in the display tank he remained hidden and I can't recall seeing him eat in the display tank ever, although I purposely left some hair algae alone for him to pick at. Roughly two weeks, the Kole
Tang died. I know I used the proper dosage of Cupramine, and if I was slightly off... I was likely slightly a lower dose than higher. Previously Bob Fenner suggested that Tangs are definitely more sensitive to copper treatments than other fish.
<Ah yes>
Maybe it was the Cupramine?
<Quite possibly a contributor>
Maybe it was something from the collection process - but then I'd suspect perhaps this fish wouldn't have been active and feeding for the first few weeks. Maybe he grazed my BTA, but I wonder if touching my BTA could cause a two week decline and death in my Tang? Stumped.
<I agree w/ all your speculations>
So, in a long winded question... I'm afraid to add a new Tang directly to my display tank. This seems like the least stressful way to introduce a Tang, but I'm very concerned with a new Tang bringing crypt back into my
tank.
<You are wise here>
If it was you, how would you introduce a new tang?
<Isolation, sans treatment for a few weeks, lowered spg (1.012). Possibly CP feeding>
I do have a 20g bare bottom QT available. I hate any fish loss, and just want to do what's best for my existing reef community as well as any new acquisition. Thanks again!!
Dave
<Welcome. Bob Fenner>
Re: New Fish (Tang) - Quarantine 11/9/17
Thanks. So, I assume gradually lower salinity from store water to the 1.012, and then eventually up it to my tank that sits at 1.023?
<Yes>
Possibly CP Feedings?
<... Please search WWM re Chloroquine Phosphate use>
Not following you there.
Dave
<Sorry re. BobF>
Re: Thin Platy 11/9/17
Hi Neale
Keeping brackish species is something I have always wanted to try, especially Bumblebee Gobies or some kind of Puffer.
<Figure 8s and BBGs get along well. Neither is suitable for marine, but a lot of the hardware itself can be used for a future marine tank; the salt, hydrometer, limestone rocks, etc. There are a lot more species out there, maybe not traded widely, but available if you know where to ask, including some that can/should go marine at some point, such as Chelonodon patoca, one of the prettiest of all the puffers.>
This is definitely something to consider!
Regards
Colin
<Cheers, Neale.>
Re: Can I write for your site? 11/8/17
Hello Bob,
Thanks for considering this. I will have the article written and get back to you once done.
Katie
<Real good. B>
Thin Platy 11/8/17
Hi Neale,
Thank you very much indeed for your response.
<Most welcome.>
It would make sense for mycobacterium to be in most tanks; I buy all of my fish from a reputable source who's husbandry is first class but I suppose all it would take is one infected fish (or even a net) and before you know
it, the entire system has the bacteria.
<Quite so.>
I am very happy I asked the questions now because, like I mentioned before, most forums would have you reaching for the clove oil at the first sign of trouble!
<Which isn't a bad approach in terms of humanely destroying sick fish -- something the hobby hasn't always been good at. Plus, identifying and destroying sick fish does, at the very least, reduce the chances of other fish becoming infected. So in a sense, that's what happens in the wild where the "old and sick" would be picked off by predators.>
I will ensure that I keep up the maintenance and look to give them an improved diet.
<Cool.>
Whether or not I put more fish in this tank or not remains to be seen, I think I will let it run down naturally, get rid of all hardscape, plants and filter and convert it to a FOWLR tank in a few years time.
<Understandable. Freshwater fishkeeping can be harder than marine fishkeeping in some ways -- the fact fish are bred to be as cheap as possible does mean that diseases are more of a risk. If you compare a $2 guppy with a $50 Butterflyfish, the whole economics is going to be different, with the retailer making much more effort to ensure his stock is healthy so that doesn't lose money when the fish is in his tanks. Flip side though is that marine tanks are more expensive to set up and maintain, and every bit as prone to problems, whether health issues, algae, or whatever. There's something to be said for brackish water in this issue, in that you can set up the basics as marine (limestone rock, coral sand, a skimmer) and keep a few interesting fish just for fun, like Puffers or Scats, and then, when the time comes, transition these to a FOWLR system by adding your live rock and whatever marine fish you want.>
I really appreciate you taking the time to respond to me, I can stop stressing and just get back to enjoying my fish.
Thanks again
Colin
<And thanks for the kind words. Cheers, Neale.>
Thin Platy 11/8/17
Hello again Neale,
I forgot to say, thank you for recommending the medication, I will purchase that straight away.
<No problem. I'm just aware that not all the medications recommended by Americans are available in other parts of the world.>
Regards
Colin
<Good luck! Neale.>
Adding fish 11/7/17
So, we had an incident. The week before Canadian Thanksgiving weekend, I noticed a dripping leak.
<Uh-oh!>
I think it was at the bottom of the tank, but not quite sure. After scouring Kijiji and the like with no results, I ended up buying a new 45 gallon tank and stand on clearance.
<Nice size tank.>
I had intended to rehome fish, but several students upset, so....I purchased what was needed to restart.
<I see...>
Went from 40 gallon cube like tank to 45 gallon long tank.
<A much better shape, plus more water capacity! Sounds a definite upgrade.>
We used as much water as we could from the original tank.
<Neither here nor there, really. Assuming the water chemistry and temperature are kept about the same, may as well use conditioned tap water.
On the other hand, do try and keep as much biological filter media as possible, because that's where the 'good' bacteria are.>
All 11 silver tip tetras survived. It is now November 4th. Now looking to add corys and one Bristlenose Pleco.
<Excellent choices.>
Originally the tetras stayed in mid-upper level of cube tank. This changed before aquarium change. They go everywhere; up, down, middle.
<Neat!>
I suspect I only have a couple of female tetras.
<So get some more! This tank will easily house, say, 20 of the Tetras, 6-8 Corydoras, and 2-3 Bristlenose Plecs without any problems at all. Maybe not add them all at once, but across a month, that'd be fine.>
I attached picture because I am not sure if enough cover is available for Corys.
<They'll be fine. For sure they prefer sand to gravel, but your gravel looks smooth. I'd avoid the hothouse flower species such as Corydoras sterbai, but most of the other species are good at the 22-25 C temperature range Bristlenose Plecs enjoy.>
The Stump has multiple entries at bottom and from top, but tetras enjoy too. The barrel has multiple entrances; but for one, tetras not really interested.
<Indeed. Tetras like floating vegetation for shade, but caves not so much.>
Bridges for cover- but tetras zoom there too. Do have extra bridge- no space. The brick wall is an inside wall (other side, stage, gym). On previous aquarium I put aquarium picture; still budgeting with this one. Is the environment good for Corys....if so, how many and what type...
<Looks a great home! Corydoras aeneus is a good default species, undemanding and cheap. Corydoras panda, Corydoras julii, and Corydoras trilineatus are some other species that might be considered. They're a little less hardy, but easily maintained in mature tanks where the water isn't too hard. I'm also a fan of Brochis species, such as Brochis splendens, which look a lot like big, stocky Corydoras aeneus and do especially well in deep aquaria. Corydoras don't really like swimming upwards more than 30 cm/12 inches, especially if the water current is
strong. Cheers, Neale.>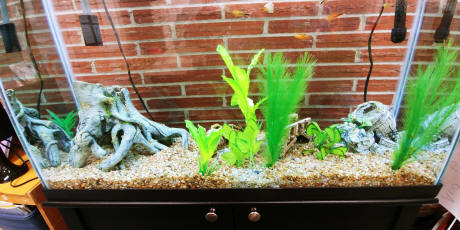 White colors 11/7/17
Hello, this is Jinoo Kim. I know that there are varieties of food (and other things such as water quality) that can affect color, but what improves white color?
<Nothing specifically. The well-known situation is red colour, which is enhanced with extra beta carotene in the diet. But the white layer on Bettas isn't a pigment as such, but a normal protein layer that causes opacity. Healthy Bettas will produce an adequate amount of the opaque protein without any specific dietary supplement, and there's no specific precursor food known that produces more. That being the case, simply ensure your fish are fed a good range of healthy foods and nature -- and genetics!
-- will take care of the rest.>
I am breeding a pair of Pure White Dumbo Ear HMPK Bettas and I want the best of colors. Thank you.
Jinoo Kim
<Most welcome, Neale.>
Thin Platy 11/7/17
Good morning,
I suspect that I may have a problem with one of my Coral/Sunset Platies.
He is very small compared to my other varieties of Platy and he does not seem to put any weight on regardless of his healthy appetite.
Behaviour:
His behaviour is nothing out of the ordinary; he is active, feeds well and doesn't hide away. He does however like to stay close to the surface, a little more than the others but not so much as to cause worry.
Appearance:
His appearance is where my concern comes from. As mentioned he is small and slender (as is the other Coral/Sunset) but he doesn't have the rounded belly that a normal, healthy Platy would. His fins are not clamped, he has no scales missing, sores or anything of that nature. His faeces is not stringy or clear and he has no protrusions from his anus.
My thoughts were that this is likely some kind of internal parasite but after doing some research, I am very worried that this may be a mycobacterium infection.
Now, I don't want to jump to any conclusions (some forums seem to think every ailment is TB these days) but because of his flat belly, this alters his shape somewhat. I do not believe that his spine is bent though.
Environment and tank history:
The tank is 180 litres with an external filter.
It was cycled without fish for 2 months almost a year ago, with 4 fish being added every 2 to 3 weeks thereafter.
Weekly 30% water changes (once a month 50 %)
Current stock:
8 Platies of various strains.
6 Dwarf Chain Loaches.
The tank is moderately planted and is maintained at 24 degrees centigrade.
Ammonia 0
Nitrite 0
Nitrate approx 10ppm.
Ph 8
I live in a hard water area but I have no means of testing the hardness.
History of illness:
Stringy, long, white faeces in most fish.
This was successfully treated with Octozin about 4 months ago and has not returned. After investigating I realised this was due to feeding frozen brine shrimp. It has not returned since I stopped feeding this.
Now I feed Spirulina flake and various premium flakes and occasional live foods.
Fungal infection of small wound on the side of Mickey Mouse Platy, the wound was from aggression. The fish was removed, put in a hospital tank with aquarium salt added. Fish given Methylene blue bath weekly until fully
healed. The treatment was successful and the fish was returned to main aquarium after being clear of symptoms for a month.
The tank did have a pair of Dwarf Gouramis who died without explanation within 2 months of purchase. I think these were very weak fish with the problems that most DGs seem to have now.
Another Platy died with similar symptoms to those described above approximately 2 months ago.
Initially I dosed Myxazin in case it was bacterial but this had no effect.
I then tried to worm the tank with medication added to the water in accordance with the instructions (2 weeks after the Myxazin) I have since read on your site wormers should be added to the food so maybe that is why I was unsuccessful.
He had the symptoms for approximately 4 weeks before he died, in my opinion he didn't appear to be suffering so I decided against euthanasia.
Finally to my questions!
I do not want to have a knee jerk reaction and dump in anti bacterial medication, followed by anti parasite medication and so on and so on.
Does this sound like parasites or bacterial infection to you? Could he just be a genetically weak fish?
What course of action would you recommend and what medication, if any, would you suggest? I am based in the UK.
In the event of a suspected case of fish TB, what actions would you take?
I have read conflicting information on Mycobacterium. Some say it is present in most tanks but only raises its head when the fish are in a stressed state with a compromised immune system. Others say it has to be introduced somehow, what are your thoughts on this?
If the fish are not showing symptoms and live in otherwise good conditions, is it really necessary to euthanise and start again? (this is the opinion of many forums) I have spoken to a vet who says I just need to be aware that it is in the environment and make sure that there is no cross contamination to other tanks. The fish can lead normal and healthy lives.
The latter is my intention.
If mycobacterium is as infectious as everyone seems to think and as widespread, wouldn't it be safe to assume that it's in most tanks, especially since it can often be present without symptoms?
At the moment I do not intend to stock any more fish unless I can get an 'all clear' somehow in the tank. In a few years when my last fish has gone, what is the best way to disinfect as I understand mycobacterium is resistant to heat and bleach. I have read alcohol is the way to go, would you concur?
My apologies for how long winded this was. I have done extensive reading which has given conflicting advice and left me with more questions than answers..
I hope your fantastic team can clear this up for me.
I am a big fan of your site, thank you so much for sharing your knowledge.
Regards
Colin
<Hello Colin, and thanks for the kind words. I fear this is a common problem with Platies, especially the more inbred strains such as Sunset and Coral Platies. May be genetic, the old "runt in the litter" situation, but more than likely some type of Mycobacteria-like wasting disease. Often seen in livebearers. Environment may be a factor: when I maintain tanks of livebearers, but neglect maintenance for a few months, I find more example of these runt-like fish within the group. High nitrate, low oxygen, high temperatures, and monotonous diet are all things I think about in this situation, and try to remedy. Sometimes the fish recover, sometimes not. In any case, Mycobacteria isn't treatable, certainly not without access to antibiotics. There is indeed some debate about where this bacterial infection comes from and whether it's in all tanks all the time -- but I think it probably is, and being highly contagious, even if it isn't in your tank when you set it up, sooner or later something brings it in. That said,
Mycobacteria-like infections are rare, and it's that combination of their rarity and the fact they appear out of nowhere sometimes years after you add new fish that is odd -- and why I personally believe the Mycobacteria
are in most/all tanks, but some stress factor causes the fish to get sick.
There's no real point trying to eliminate it from the aquarium given that healthy fish shrug it off without any problems, and even if you sterilise your tank, the filter and your fish may carry the bacteria anyways. Bottom
line, while you can certainly try to use an internal bacterial medication to deal with the Mycobacteria, isolating the sick fish, even in a floating breeding trap, is probably easier and cheaper. The bacteria will probably have got to the other fish by now, so unless you treat the whole tank, hospitalising the one sick fish isn't going to change anything. Besides, healthy fish aren't going to succumb to Mycobacteria, all else being equal.
As I say, there does seem to be a stress (and perhaps genetics) factor at work here, with Mycobacteria not being a major threat to most fish most of the time. The one alternative that might bear thinking about is Hexamita, a
parasite that infects the gut (preventing proper absorption of the food, among other things) and its most distinctive symptom is indeed white, stringy faeces. Metronidazole is the classic medication here, but in the UK and EU, you'll find it easier to get hold of something called eSHa HEXAMITA that is cheaper and available at pet shops. Good luck, Neale.>
55 gallon glass cross brace 11/7/17
Dear Crew
I purchased a used 55 gallon aquarium made of 3/8" glass with outside dimensions: L=48" x W=12 1/2" x H=20". It was up and running for 3 weeks.
Our goldfish was happy. We were happy. This is my first big tank.
<Ahh!>
I was just finished my weekly water change. Because of the way I was filling the tank I was directly above and close to the back of the tank and I noticed that the glass top brace had pulled away from the back panel (it
was still attached quite nicely to the front panel). Horrified, I measured and the front was bowed out by 1/8". Frantic, I started draining the tank and I moved the fish and all bio media to a 10 gallon. I drained the 55 gallon tank completely and the bow went away.
<Yes; can likely do/be fine about half filled>
We spent all the next day completely removing the cross brace and all traces of black sealant which had been holding the cross brace in place.
We used razor blades and vinegar. We used aquarium safe silicone and after several attempts managed to get the cross brace back to where it was and held in place with two bar clamps which had a piece of wood between the
clamp ends and the glass The clamps were left on for 24 hours. The silicone has now been curing for an additional 24 hours. The tank is still empty (except for about 1/2" of gravel)
<Mmm; I wish you would have written first. Are you familiar with "Euro-bracing"? I suggest you add long strips (2" wide should do) along the upper pieces of glass. Can run under the current brace if you'd like>
The cross brace was made up of three pieces of 3/8" glass. One piece is 2 1/2" wide and 12 1/2 inches long. The other two pieces are 2 1/2" wide and 6" long. The two shorter pieces are sealed across the top and bottom end of the long piece in the shape of a Roman Numeral One or a capital "I". I assume this shape would give a larger surface area for silicone to adhere to and have more strength than the single 2 1/2 " straight across the inside of the tank.( Correct me if I am wrong ).
<Not wrong... and though I've been in this trade/industry for decades, have never encountered this bracing scheme on a commercially made tank>
Unfortunately, the cross pieces were not exactly flush at the ends nor exactly square to each other nor exactly the measurement of the inside of the tank so there was no way to get an exactly even amount of silicone between the panels and the brace. I hope this makes sense to you.
<I think so; yes>
So my problems/questions:
1) Now that the wood blocks and clamps are removed I can see that there is now a slight indent in the front panel. It is now approximately 1/32" narrower across the top of the centre of the tank. Is this 1/32" indent a problem?
<Could be; yes>
2) Should we remove the cross brace and try it again?
<I would do the Euro brace as mentioned. Use the search tool on WWM and you will see/find several examples>
3) Should we remove this cross brace and remove the sealant holding the three pieces together and make it flush and square and try again?
4) Should we remove this cross brace, throw it out and have new glass cut which is the exact measurement of the inside of the tank?
5) Why would this brace come unglued? Is it primarily a result of the shoddy nature of the brace?
<Can't say w/ the info. provided>
6) Could it be a result of it having just been moved? ( It was up and running until a couple hours before we picked it up and apparently the seller bought it new only two years ago. It does not have any apparent label on it but it is supposed to be from a Fluval 55 gallon LED kit. It is possible that it was like this when we bought it because until I looked from directly above it was hard to tell that the sealant wasn't actually attached.)
7) The black sealant in the corner joints all appear to be fine and there has been no leaks so far but now that it has bowed out 1/8" and is now bent
in 1/32" has this caused irreparable damage?
8) The aquarium is level front to back and side to side but how do I test if the stand is fully supporting the aquarium. The stand also came with the tank. It is the bottom of a china cabinet which has been reinforced with
1 x 3 lumber on the ends and in the middle.
<Set the tank on the stand, empty... and see if you can jam a credit card twixt it and the stand. Oh, and read here:
http://www.wetwebmedia.com/aqstands.htm
I'm sorry to be freaking out but this is my first big tank. I live in Canada in a very small town. There are no local aquarium professionals. It is winter here. I can not do an outside test fill. I do not have a basement. I have to fill it up in my living room. Depending on your answers to the above, when it comes time to fill it up should I do a slow fill? i.e., fill it 1/3 wait 24 hours, fill it 2/3, wait 24 hours etc.
<Perhaps a good idea to do the slow fill as you mention>
I know there are no absolutes, in anything, in life, but I could really use your expert opinions on how to deal with this situation. Besides, my poor fish is very sad to have been evicted from his lovely new mansion. Any advice would be greatly appreciated. Thank you. Lee
<And I would use clear Silastic/Silicone rather than the black here. The Clear has more "body", viscosity. Do please write back if any of this is unclear. Bob Fenner>
Re: 55 gallon glass cross brace 11/7/17
Hello. Thank you so much for responding and so quickly. This is an absolutely amazing resource. I am vaguely familiar with the concept of euro bracing (utube, diy aquarium sites etc) but I do not think I can use euro bracing because I have two HOB filters (rated for 70 gallons each). If I were to euro brace I would need to cut holes in the back brace to accommodate the filters. I assume this would defeat the structural integrity of the back brace, would it not?
<Yes to losing the integrity of the brace by cutting it. The choice is EITHER the brace OR hang-on filtration>
You suggested I could install the euro brace under the existing cross brace, however, as described above, that brace is now pulling the center inward by 1/32". Don't I need to remove this brace and try to get the width to be the same all the way along the length?
<The longer, more complete, the better>
If I can not use a euro brace set up, I have an idea that I want your opinion on. I was thinking I could make three glass and silicone sandwiches (so to speak). The top slice would be 3/8" longer (than the bottom slice)
on both ends (my glass is 3/8"). They would be sandwiched together by silicone allowing them to cure and seal to each other before installing. I could then silicone one at each end and one across the middle. This way the long slice would be sealed to the top edge and the shorter slice would seal to the inside of both front and back panels. Sorry but I do not know how to draw this in computer language. I am from the age of pen and paper. I hope you understand my description =)?
<I think I do; and I like this idea>
My questions: 1) would this be enough to support the front panel and would
it add some stability to the corners?
<I do think it would>
My tank does not have a top frame
2) if I can find a glass company locally, exactly what kind of glass do I ask for? will any 3/8" glass do?
<Yes; just "float glass", non-tempered... nothing special. Bob Fenner>
Re: 55 gallon glass cross brace 11/7/17
Hi again Bob. Thank you so much for taking the time to respond to my questions. I now feel very confident that I can build and apply braces to support my tank.
<Ah, very good>
As I stated in my original e-mail, the original cross brace came unglued and we siliconed it back in place. However, the original cross brace pieces were not flush or squared to each other and the brace (in places) was almost 1/8" shorter than the inside dimensions of my tank.
Now, after the repair, the measurement across the top of the tank, in the middle of the tank, where the cross brace has been reinstalled, is 1/32" shorter than across the ends of the tank. When I asked if this was a problem you said: <Could be; yes>. When I asked: Don't I need to remove this brace and try to get the width to be the same all the way along the length? You said:<The longer, more complete, the better> I do not understand this response. Can you elaborate?
<Yes; and sorry for the lack of clarity. I mean/t that the closer (and longer) the connection (i.e. the closer-smaller the gap twixt the brace and front and back panels) the better the adhesion, functionality of the brace>
You also said that the tank would probably be fine half full. I am considering refilling to half full and transferring my fish, and filters back to the 55 gallon. That would give him at least twice as much space as the 10 gallon I frantically moved him into. Would you advice for or against this idea?
<I would do this; i.e., move the goldfish back into the half-filled 55>
I would have to find a way to temporarily extend the filter out-put spouts to lessen the noise of the water coming back into the tank, but I have a few ideas. Should I take the "too short" cross brace out before I add any water? Should I take it out now?
<The new pieces are to overlap this, no? IF so, then I would leave the current "too-short" brace in place and install the new with it>
It will probably be a week or two before I can order and pick-up and install my glass and silicone "sandwich" braces (the joys of rural living--life moves much slower). When I do order them, I assume the piece that will be siliconed between the front and the back panel should be as close as possible to the inside dimensions of the tank, yes?
<Yes>
Thank you all so much for your dedication to this hobby and especially to us poor first-large-tank newbies=)
<A pleasure to aid you, others. Bob Fenner>
Re: Emperor Angel with sore mouth 11/7/17
Thanks Bob. Much appreciated.
<Glad to share>
Glofish coloring problems /Neale 11/6/17
Hello to the crew. I have searched for an answer all over the web and WWM, but nothing has fit my question or problem. So I would like to apologize ahead of time if this has been previously discussed.
<No problem.>
I have 6 Glofish Tiger Barbs in a 24 gal. AquaPod. The tank was cycled before they were put into the tank. The tank has now been running for about 4 months. My readings are 0 ammonia, 0 nitrite, 10 nitrate, and the pH is 7.0. I have a Fluval 204 external canister filter. I normally do water changes one time per week at 25%. I clean the filter once a month and replenish the charcoal. I feed them a small variety of foods such as Omega One brine shrimp, Omega One bloodworms, Omega One freshwater community squares, Fluval's Bug Bites, and once in a while if I am in a super hurry some tropical flake. I keep the tank at 76 degrees Fahrenheit normally. I used to have gravel on the bottom but since the problem started I have removed it.
<All sounds fine, though a little warm for Danios; ideally, keep them at 24C/74F, with plenty of oxygen above all else.>
About 10 weeks ago one of my fish died, but he was the runt and I always had a feeling like he was going to perish.
<Indeed.>
Due to the other picking on him always. So like a moron I went and bought one to replace him, because I have read that they like to be in a group of 6 or more.
<They do. Or more specifically, in smaller groups, males can become bullies, harassing the other Danios, even to the point of killing them.>
I did not quarantine him. I know, shame on me. I am not sure if it came from him or not, but still shame on me.
<Quarantining is certainly the ideal, but I do accept that if you have just the one tank, it isn't practical, and we just have to trust our retailer has quarantined the fish for us. Sadly, not all of them do.>
A few days after putting him in there I noticed that one of the others was glancing off of the air stone hose.
<A good first sign of either Velvet or Whitespot.>
Then I noticed that one of them began to act like the one who died, hiding all the time and only coming out for feeding time. I started to check out my fish more closely but could not see any visible parasites, and the symptoms were like Ich but no white dots. I read somewhere to take a light and shine it on the fish to check for Velvet. That Velvet would have a shiny, gold appearance on the fish. Well, low and behold, my fish looked like they were dipped in gold with the light on them.
<Plus, Velvet is notorious for getting at the gills before it infests the skin.>
I researched what methods work the best to cure it, and chose CopperSafe. I used the CopperSafe for about 5-7 days with the tank covered and temperature up to 82 degrees and did not notice any difference. I asked the LFS what was I doing wrong and how to cure it. They said keep in the CopperSafe but also add in Rid Ich and that should work.
<Did your aquarium have carbon in the filter? As a reminder: carbon will remove most medicines, preventing a cure. If used correctly, however, CopperSafe, and indeed any commercial anti-Velvet medication, should work well. Some people do prefer the old heat/salt method, which has the advantage of being cheap and less toxic.>
I waited another week with that treatment, still no improvement (meaning the gold was all still there). I began my research again committed to helping cure my babies. I did 3 Methylene Blue dips, and nothing.
<Methylene Blue is pretty much only useful for Fungus.>
I ​put the fish in another tank without gravel and everything all new so I could clean their tank & hopefully remove the Velvet.
<Possibly...>
I know I killed my biofilter but I have other tanks that I borrowed media from to help with cycling. I chose to give my babies a break from the treatments until I found the for sure cure. After a week and a half I bought a medicated Wonder Shell from American Aquarium Products that states it kills Velvet in all forms.
<Medicated Wonder Shells contain malachite green, Acriflavine, copper sulphate, and Methylene blue. Should work, but I'm not a huge fan of these soluble shells because they ALSO raise the pH and hardness. If the tank is empty, you may as well use bleach to kill everything. Obviously rinse thoroughly. Once done, set back up like a new aquarium, cycling the tank if necessary. Meantime, the quarantined fish can be medicated with something effective; perhaps salt/heat, or else something copper-based, as copper really is the best anti-protozoan medication out there. Copper is very toxic though, so use as directed, especially with regard to dosages.>
I did a 25% water change before I put it in the tank. That has now been in the tank for 1 week. The directions say to keep it in there for 3 weeks preferably without water changes because it would lessen the strength of the medication​.
<Indeed.>
Tonight, I decided to get out my flashlight and check out my fish. It's still there. It has not lessened at all. So now I am starting to wonder if at all possible that this golden sheen on them is the results of them being genetically altered.
<Good question. There are fish -- like the Golden Tetra, Hemigrammus rodwayi -- that have specific colouration precisely because an infection has damaged their scales. I don't know enough about GloFish to be sure in your case, but if the fish is healthy now, but the colouration has changed, it's not beyond the realms of possibility that the scales may well be "off colour" until they are repaired or replaced. Unfortunately, fish don't normally replace scales like we shed hair, but as the fish grows, the damaged scales will become proportionally less obvious, new scales being added as the fish gets bigger.>
The gold does not look like dust on them. It is more like how goldfish have that opalescent look to their scales. Is this a possibility that this is their coloring and the glancing could have been due to some other problem, that mostly has been cure with everything I have done to them. Any help or advice or just words of wisdom would be appreciated so much. Thank you,
Sincerely desperate,.
Debra
<Most welcome. Neale.>
Re: Echidna rhodochilus, finally 11/6/17
Hello Neale,
Again, many thanks for your input & continuing support! WetWebMedia is really blessing for all of us fish-lovers everywhere!
<Thanks for the kind words.>
Now I am inspired to train my Echidna to eat bloodworm too. Will post here the results, though I am sure it will take a while. Maybe I will get another Echidna as well, because what's better than one Echidna Rhodochilus? TWO Echidna Rhodochilus! :D
<If they get along, at least...>
I will also try to acquire a G. Polyuranodon for the same purpose. Maybe when I get two Echidnas, I will trade one for a G. Polyuranodon :D
I have thoughts on obtaining a G. Tile, however this species grows big, and I don't have that much space in my current house for another aquarium.
Plus, though it is a known species in this part of Indonesia where I live, G. tile and E. Rhodochilus are harder to find than G. Polyuranodon or even E. Nebulosa.
<Really?>
Getting an FW moray around here is a bit tricky, because these days most of our local fish catchers who supply ornamental fishes for fish shops, does not really understand the taxonomy of the fishes. They use "catch-all"
terms for the fishes, for example, any eel types they caught in the estuarium, they will say "It's a Belut Muara" (estuarian eel), whether it's Gymnothorax Tile or Gymnothorax Undulatus or Echidna Nebulosa or even Gymnothorax javanicus. I have to inspect what they caught, and sort the fishes by myself.
<Interestingly, when I Google the "Belut Muara" name I end up with mostly Synbranchus-type swamp eels, such as Macrotrema caligans. These are brackish-tolerant freshwater fish, more of low-end systems than mid-to-high
salinity systems. Synbranchus eels tend to be extremely aggressive and predatory, so approach with care.>
It's much more effective to buy the fishes from hobbyists who hand-caught their stocks, and know enough taxonomy to identify what they have caught... but then, these hobbyists often developed emotional attachments to their pets & won't sell their favorite ones.
<Indeed.>
Well, this has been a wonderful discussion, I hope it will be useful for WetWebMedia readers & all "FW" moray lovers everywhere.
Thank you & Best Regards,
Ben
<And you; cheers! Neale.>
Baby YBS not eating! 11/6/17
Hello All,
<Hiya, Darrel here>
I want to know what's wrong with my turtle. He hasn't been eating for about two weeks now. He never goes in the water anymore and basks all day. This also has been for about two weeks.
<Doe she move at all? From one place in the basking area to another? Is she awake and alert? If you pick her up and set her down outside her tank, does she look around and then move a little … after she calms down?>
<What I'm trying to find out if she's specifically off her routine or genuinely so sick she can't or won't move. It's a pure guess on our part, but worth considering.>
I noticed a very small whitish spot on him a long time ago. Now the spot is no longer white. It looks black on that area and is considerably bigger. The shell is hard and doesn't smell.
<The picture you sent shows a darken spot on the shell which is nothing ordinary or anything to worry about. As she grows her shell will darken like that all over.>
Also, the underbelly of the turtle is a bit pinkish. What does this mean?
<That can mean a lot. The worst case is that pinkish can mean a systemic infection … but the worst case I ever saw, one of my own babies, turned out to be stains from a red brick I was using as a basking stone! Logs, anything wood, any coloration in the substrate can rub off on the plastron and won't rub or wash off easily>
I've been doing my own research and can't figure it out? I'm so confused. Is it shell rot, shell just growing, is it healing, or is it mineral deposits?
<Treating any patient that can't tell you where it hurts – is a challenge>
<Let's start at the basics. Did anything in her environment change? Anything in the tank? What about outside the tank? Remember they 'hear' via physical vibrations, so any fan, motor, speaker … anything that changes can intimidate them>
<Ruling out physical changes, what about light & heat? Any changes in the tank or outside the tank?>
<If we rule out everything else, then we get back to diet and environment and the first thing I do is raise the temperature a bit. Move the light an inch closer, set the timer for an hour longer, etc. Generally speaking a warmer world makes them tend to be more active. Now just to be sure, take her and give her a bath every day. Put her in a luke-warm bowl of SHALLOW water (not up past her nose) and let her soak for 10 minutes. At first she'll be terrified but if you leave her and let her calm down, see if she walks around in the shallow water. In any case, just the water that enters her cloaca will help hydrate her.>
<Temp her to eat with a TINY (and I mean TIE NEE!) piece of beef or chicken liver … something very high in vitamins. If she refuses, put her back on her basking area and try it all again tomorrow …. Try for 7 days before getting more concerned.>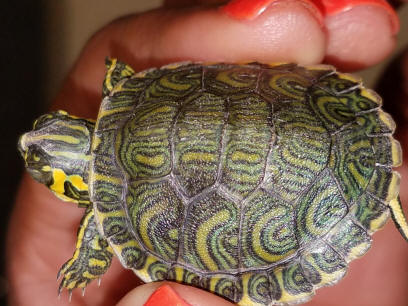 Re: turtle tank water 11/6/17
Just wanted you to know Mrs. T is better!! Thanks so much sorry I didn't thank you before now. Just cleaning up email and found your help.
-Richi Horne
<Glad we could help Richi!!
When you get rich and famous (or win the lottery or both) remember to hit the {DONATE} button on our home page.>
Re: bloated Betta 11/6/17
Hi Bob
Thank you for all your help! Sadly my Betta continues to not do well. I have been doing daily water changes but he continues to get thinner although his appetite is fine and he is now becoming lethargic. I decided to worm him with ESHa Ndx Levamisole and have continued with daily water changes, varied his diet and added Indian almond leaves but he's declining.
I wonder if I used the wrong type of wormer?
<Mmm; possibly. Am a bigger fan of Praziquantel products; but... what makes you think this fish has a worm problem? Exposing organisms to treatments w/o cause is deleterious to their health>
I've attached a picture of him. Anything else you can recommend?
<If memory serves, you've tried purposeful antibiotics. This issue, IF it is internal, bacterial, may prove almost intractable.... I would only continue to provide stable, optimized conditions and good nutrition here>
Water parameters are 80 deg, Am 0 Nit 0 Nitrates 20 ph 8.2
Thank you
Karan
<Welcome. Bob Fenner>
Re: bloated Betta 11/6/17
Thanks for your reply Bob. I wormed him after much deliberation as he was getting thinner whilst eating fine and was doing long thin poos. Is there really nothing else I can do for him?
<Take a read on WWM re Metronidazole and Bettas>
Maybe do water changes every other day instead of daily?
<Once a week s/b fine. Please, READ on WWM re Betta care. B>
Thanks for all your help!
Triggerfish growth rate 11/6/17
Hello, this is Jinoo Kim. I have 2 juvenile triggerfish in my 29 gallon refugium. I want to grow them out before they get to the main display so they don't get eaten by the bigger fish in there. I have a Black Durgon Triggerfish and a Red Sea Niger Triggerfish (aka pink tail niger triggerfish). How fast do these guys grow?
<Mmm; not quickly... a couple inches per year, perhaps three if pushed>
Right now they're about 3 inches and I want them to be at least 6 inches so they don't get destroyed by the
other predator fish. Thank you.
Jinoo Kim
<I'd count on a year plus here. Bob Fenner>
Deep sand bed lighting 11/6/17
Hi all,
I Apologize if this was already covered in FAQ, but is there a need to light a deep sand bed in a sump? If not a need, then is there a benefit?
<Uh, really nice to have one down there just to be able to see; but unless you have a refugium w/ photosynthetic life, no functional reason>
Thanks,
David
<Welcome. Bob Fenner>
Emperor Angel with sore mouth 11/6/17
Hi,
<Sagen>
I have an emperor angel who's currently being quarantined in Cupramine.
<Pomacanthids really don't like Cu exposure... Please see (read) on WWM re>
He's on his 6th day and doing well at 0.35ppm. He eats well, no heavy breathing, swims around as usual. However recently he has started to develop some kind of sore on his lower lip.
<I cannot emphasize how DANGEROUS this is. I would remove (use GAC likely) all copper and take great care that this fish is feeding, and having more cover for this fish to hide, feel secure. IF the mouth continues to be infected... this specimen will die>
Attached is a picture of him.
Bit shy of the camera however you can see his lips on the reflection.
Please help me identify what this is, the cause and how to treat while in Cupramine. Any help on this would really be appreciated.
--
Kind Regards,
Sagen George
<And you, Bob Fenner>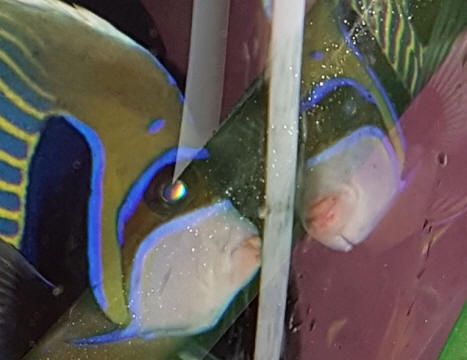 Re: Can I write for your site? 11/6/17
Hello,
<Katie>
Great to hear from you! I do offer specialized guest posts and here's a topic I can write about:
7 Ideas to Choose the Best Decoration for Your Fish Aquarium
Do you think this will work for your website? Do let me know please.
Thanks!
<Possibly. Would have to see. This work is original, and you have graphics I take it>
Katie
<Bob Fenner>
goldfish breeding...and breeding 11/5/17
Hello,
I have an 8' by 12' by 4' deep pond. I stocked it with 3 pet store variety goldfish this past May and now I have approximately 50 fish!
Will goldfish breed to the volume the pond can bare or will I have 300 fish next Spring and so on and so on?
<Likely you will have more next season... the one after? Not so many more.
A bit of Malthusian experience coming your way. A useful lesson for humans>
Thanks!
<Welcome. Bob Fenner>
Re[2]: goldfish breeding...and breeding
Thanks for your prompt reply!
I thought that might be the case, along the lines of goldfish growing to the size of their environment.
<Ah yes>
Thank-you.
<Welcome. BobF>
Queen Angel/ORP 11/4/17
Hi Bob and Crew,
<Hey Eric>
I have a somewhat tangled question. I recently had a mystery queen angel death in my 400g DT. The queen had spent about 6 weeks in a 55g QT tank and was prophylactically treated with Chloroquine Phosphate and PraziPro.
The fish was eating well, had good colors, and seemed to engage with me when I would approach the tank. The queen got bullied for a few days by my powder blue tang but everything calmed down. About a month later I noticed
the queen would not leave her favored nook and had stopped eating.
Breathing didn't seem abnormal. Colors didn't look as brilliant as they previously had either. I knew things were bleak so in a last ditch effort I dosed the DT with PraziPro (hoping it was something that would magically treated by one of the only reef safe meds out there). Also note there was no way I was going to be able to catch him in my DT - removing and treating in a QT would clearly have been preferred.
I don't expect you to diagnose what occurred from my description above.
But the mystery death had me wondering, so I decided to refer to your (Bob's) book "Angelfishes for Marine Aquariums: Diversity, Selection & Care". One thing that stood out to me as something I have never considered
before is ORP. In my 10ish years in the marine hobby I have never monitored or thought about ORP. In fact it seems like it has kind of become less popular to monitor and control over the last 10 years.
<A shame this is so. ORP IS the measure of a system's capacity to support life. ALL public aquaria, commercial aquaculture facilities utilize ozone, measure ORP/RedOx>
So I was somewhat surprised to see the comment "The very best measure of overall water suitability, ORP (RedOx) should be 330-380 mv/cm." I have no detectible NO3 or PO4,
<Mmm; N, P, K are absolutely necessary (in some detectable concentration) for chemo-photosynthetic life. Zero, zip, nada are NOT healthy>
and pH stays pretty consistently around 8.1-8.3 so I had never really considered a water quality issue. Note I also periodically have other parameters checked via Triton labs so I don't suspect there's anything like a magnet which broke a seal and is poisoning the tank. Do you believe ORP is worth monitoring in a basic system which employs a refugium and skimmer for filtration with no fancy supplementation equipment (no Ca Rx, Kalk Rx, two part dosing, etc)?
<ORP is an extremely useful "window" to looking at overall system viability. ALL folks with much money or emotional investment in their systems should measure>
Is it possible that this metric could be at a level that is hazardous to fish health while all of the other common parameters appear to be in good shape?
<Mmm; reading, re-reading the sentence above: Not likely, but possible>
Sorry, that turned out to be longer winded than I had intended!
Thanks,
Eric
<A bit more reading on ORP, ozone use is what I advise; but, the one fish may have died for anomalous (thus far) reasons. Do you still have the body of the Queen? I'd open it and at least check stomach contents, the kidneys
and liver (grossly); or have someone who knows more help you with this dissection. Bob Fenner>
Re: Glofish coloring problems 11/4/17
To Bob,
<Deb>
Thank you so much for getting back to me. I was thinking the same thing you suggested, about ceasing treatment.
<Yes I would>
I am also going to go to the LFS and bring my flashlight to check it out, just to see if we are right. Your website is a blessing and very much appreciated. If there is some link you could give me I would like to donate to WWM.
<Ahh: https://www.paypal.com/donate/?token=u5YSaty1lBF486Gv6F1mpqupCKpDRuImZ-nXzndjbDAuXL_uHU40krHWf5BJkQUFHy6oC0&country.x=US&locale.x=US
You and the crew are so worth it. Thank you again.
Best regards and blessings to you , the crew and your families,
Debra
<And you and yours. BobF>
LFS is doing a huge import... opinions? Hard/soft water on wild collected fishes 11/4/17
Hello crew, I hope you are doing well.
<Thank you Roberto; yes>
As the title implies, a lfs is doing a huge import of south American fish. The list consists of more than 40 species of fish.
<Neat!>
I, as the enthusiast that I am, want to get my hands on some fish, but, judging by past experiences with soft water fish kept in hard water (my water is normally 10 GH, 9 KH, ph anything from 7.5 to 7.9). Decided to ask you first on input on whether the species I plan to get can adapt in this kind of water. After all, some soft water fish do adapt to moderately hard water, but a lot don't.
<Yes; agreed. Tienes razon>
There is not much information online on these fish. I do not know if these fish are wild specimens or captive bred, and the lfs is not to trust with this information (they claim their altums were bred and raised in alkaline water...., even simple concepts like ph get tangled in their lies).
The list of fish I am interested in are:
1- Biotodoma Cupido
2-Geophagus pellegrini
3-a few, rare Corydoras species like concolor (well, those are a first here!)
4- Panda Uarus (I find this hard to believe)
5-Pterophyllum leopoldi
6-dicrossus filamentosus
7-axelrodia riesei
8-Moenkhausia copei
9-heterocharax virgulatus
10-Bunocephalus verrocosus
11-Hoplarchus psittacus
<The cichlids of #s 4,5,6 coming from soft/native waters concern me... The others I have seen/occasioned in harder waters. ALL I'd leave at the dealers for a few weeks to assure they're going to live>
I am sorry to put you through this, but you are probably the only safe source of information. I obviously wouldn't get all these fish even if I could, and I run several tanks for each of them (planted tanks for the tetras and cories... cichlid tanks for the cichlids... and so). I'm mostly concerned about the whole hard water adaptability.
Thanks again, crew.
Roberto.
<Welcome. Bob Fenner>
Re: Echidna rhodochilus, finally 11/3/17
Hello Neale,
<Ben,>
Thank you for your advice about the PVC pipe. Tonight I took out Echidna's cave and replaced the PVC pipe back in. I noticed that the cave has rough edges and I am afraid Echidna will scrape and hurt itself on those edges.
<Can certainly be a risk, but these eels do inhabit oyster reefs and mangroves, so probably have some common sense here. Nonetheless, "safety first" is a good maxim!>
Here is a clip of my lovely Echidna before I took out its cave. I hope it will forgive me. My friend told me that Echidna Rhodhocilus are not as easily stressed as other morays, is that true?
<Probably; they are physiologically adaptable, that is sure. Morays are hardy anyway, and among the tougher marine fish, so a euryhaline one is likely to be remarkably durable. The flip side though is that they've been
abused a bit over the years, kept in freshwater systems for too long, and surely some have died prematurely because of that. We don't really know that much about their diet and reproduction either, so might be missing
important things in those directions.>
https://www.youtube.com/watch?v=McgRWm92xN8
<Nice!>
I am fascinated with your info that it is us, Freshwater Moray keepers, who are leading the (informal) research on FW moray behavior. I want to share this video clip with you, sent to me by my friend who keep several Polyuranodons.... in "FRESHWATER" for years ("Freshwater" because I he said he just fill his aquarium with the water from the river where he caught the eels, but I never ran a salinity check on those waters).....and after
years, he was able to train his Polyuranodons to eat BLOODWORMS... Isn't it amazing? Here is the clip:
https://www.youtube.com/watch?v=816Z5mD9NDs
<Likely a major source of nutrition in the wild. Mosquito larvae are very common -- and very important -- parts of the freshwater food chain. They are also common in brackish water habitats too.>
Now you can put it on your notes, that there is a prove case from Indonesia, of Polyuranodons actually kept in "freshwater" for years and trained to eat bloodworms!
<Your messages are shared with everyone who reads WWM, whether now or in the future!>
Off course, we have to take into account that this is Indonesia, the natural habitat of these eels, and they are being kept in the water from their own rivers, and the surrounding temperature is pretty much the same
(they are literally being kept in a city of the same island where they were taken from). Therefore this should not be interpreted that I am advising fish lovers in other countries (especially Western!) to start keeping Polyuranodon on freshwater and feed them bloodworms, I don't! Because what works here in Indonesia might not work in other places.
<Quite so. Your specimens have endured less handling and shipping -- it can easily be months between capture and ending up in an American or European aquarist's fish tank. That will make a difference.>
Well, thank you for your continuing attention and support!
Best Regards,
Ben
<Always glad to talk. Cheers, Neale.>
Fwd: Sick hatchling YBslider won't eat (33 megs) 11/3/17
I'm sorry, but your email is WAY too large and has to be deleted. Can't be forwarded... RESIZE to an order of magnitude or less and RESEND. BobF
Can I write for your site? 11/3/17
Hi!,
<Katie>
I noticed you accept guest posts! If you still do, I'd love to submit a post for publishing on your site.
If you're interested, please let me know and I can put together a draft for your approval.
I look forward to hearing from you.
Kind regards,
Katie
<The content is specialized; submit what you think might work. Bob Fenner>
Glofish coloring problems. Velvet? 11/3/17
Hello to the crew. I have searched for an answer all over the web and WWM, but nothing has fit my question or problem. So I would like to apologize ahead of time if this has been previously discussed.
<Okay!>
I have 6 Glofish Tiger Barbs in a 24 gal. AquaPod. The tank was cycled before they were put into the tank. The tank has now been running for about 4 months. My readings are 0 ammonia, 0 nitrite, 10 nitrate, and the pH is
7.0. I have a Fluval 204 external canister filter. I normally do water changes one time per week at 25%.
<A good regimen>
I clean the filter once a month and replenish the charcoal. I feed them a small variety of foods such as Omega
One brine shrimp, Omega One bloodworms, Omega One freshwater community squares, Fluval's Bug Bites, and once in a while if I am in a super hurry some tropical flake. I keep the tank at 76 degrees Fahrenheit normally. I
used to have gravel on the bottom but since the problem started I have removed it.
<Sounds/reads good thus far>
About 10 weeks ago one of my fish died, but he was the runt and I always had a feeling like he was going to perish. Due to the other picking on him always. So like a moron I went and bought one to replace him, because I
have read that they like to be in a group of 6 or more. I did not quarantine him. I know, shame on me. I am not sure if it came from him or not, but still shame on me. A few days after putting him in there I noticed that one of the others was glancing off of the air stone hose. Then I noticed that one of them began to act like the one who died, hiding all the time and only coming out for feeding time. I started to check out my fish more closely but could not see any visible parasites, and the symptoms were like Ich but no white dots. I read somewhere to take a light and shine it on the fish to check for Velvet. That Velvet would have a shiny, gold appearance on the fish. Well, lo and behold, my fish looked like they were dipped in gold with the light on them. I researched what methods work the best to cure it, and chose CopperSafe. I used the CopperSafe for about 5-7 days with the tank covered and temperature up to 82 degrees and did not notice any difference. I asked the LFS what was I doing wrong and how to cure it. They said keep in the CopperSafe but also add in Rid Ich and that should work. I waited another week with that treatment, still no improvement (meaning the gold was all still there).
<Mmm; I'd like to have you take your light and visit the pet store, shine the light on the Glofish barbs there. The dust you see may not be Velvet; some glancing behavior is natural, not indicative of disease>
I began my research again committed to helping cure my babies. I did 3 Methylene Blue dips, and nothing. I ​put the fish in another tank without gravel and everything all new so I could clean their tank & hopefully remove the Velvet. I know I killed my biofilter but I have other tanks that I borrowed media from to help with cycling. I chose to give my babies a break from the treatments until I found the for sure cure.
<Again.... Does your fish store have a microscope; offer services to look at samples? I'd ask about and have them take a look on a fish you bring in>
After a week and a half I bought a medicated Wonder Shell from American Aquarium Products that states it kills Velvet in all forms. I did a 25% water change before I put it in the tank. That has now been in the tank for 1 week. The directions say to keep it in there for 3 weeks preferably without water changes because it would lessen the strength of the medication​. Tonight, I decided to get out my flashlight and check out my fish. It's still there. It has not lessened at all.
<... am pretty to very sure at this point that there is no Velvet present here>
So now I am starting to wonder if at all possible that this golden sheen on them is the results of them being genetically altered.
<Ahh! Yes>
The gold does not look like dust on them. It is more like how goldfish have that opalescent look to their scales. Is this a possibility that this is their coloring and the glancing could have been due to some other problem,
<Or nothing; really. The same as you and I scratching at times>
that mostly has been cure with everything I have done to them. Any help or advice or just words of wisdom would be appreciated so much. Thank you,
Sincerely desperate,.
Debra
<I would cease treatments, resume water change regimens, and slowly lower the temperature back down.
Bob Fenner>
November Calendar 11/2/17
Here is a November calendar for the WWM.
Mike
<Thanks Mike. B>
Re: Plant Question 11/1/17
Great! I didn't want to take away what has become the loaches 2nd favorite toy (they love "surfing" in their powerhead current the best.) I don't know if they are Pistia stratiotes, but they look like the pictures of that species in the photos I've found online.
<Mmm; the curse of common names... Pistia doesn't generally do well in aquariums; due to lighting issues mainly... either burned or not getting enough, due to arrangement and proximity to lamps>
I was down at a local pond store and they had this tub of what they called water lettuce outside in their nursery area. Evidently the remaining plants did not sell over the summer, so the store was going to leave them to freeze to death over the winter (stupid, stupid, stupid).
Most of them were already dead and rotting (our overnight temperature has been down in the upper 20's for the last couple of weeks) but I was able to salvage 14 plants and I've put two in each tank (4 in the loach tank) because I understand that they will reproduce quickly once fully recovered. I don't understand why they're not more popular in aquariums as they are a beautiful, low maintenance (no Co2 required) plant, and fish love them!.
Thank you for the great news!
<Welcome! BobF>
Re: Plant Question 11/1/17
Great information - my aquariums don't have the standard aquarium lights on them. Mine have your regular fluorescent lights (a solely economic choice) with plant bulbs in them. They hang about 4 - 6 inches off the top of the tanks.
<Ah good>
The lids on my tanks are not standard glass lids either (all of my tanks have "obligate air breathers" in them loaches, rope fish, Senegal bichirs), so my lids are egg crate covers (normally for fluorescent lights) cut to fit the tank with 1/4 inch squares, so there is a certain amount of light diffuse and air circulation, but I can still maintain 51% humidity in the tank.
<Very good indeed>
Also, I keep the water levels about an inch from the surface. All of the tanks have canister filters with spray bars and either powerheads or air stone bubblers to keep current moving in otherwise stagnant areas. But I'll make whatever adjustments I need to make to ensure the plant's health and growth. Do you see anything
above that you think I should change/adjust?
<I do not Renee. There is some seasonal die-back with this (and many other
surface plants) species. You'll see this as yellowing, darkening of outer
leaf areas, slow down in growth. Bob Fenner>
Re: Plant Question
Great! Thank you again! Have a great day!
<And you Renee. B>
Thiamine deficiency in large fish /Neale 11/1/17
Having a problem with a client who has number of large tanks containing predatory fish. Have lost a number of large fresh water fish such as peacock bass, Arowana, and tiger shovelnose catfish, all fish were long term inhabitants two+ years. Symptoms are bloating, lost of balance and stoppage of eating. Within a week or two the fish perish. After doing research I suspected thiaminase poisoning, fish were being fed strictly smelt.
<A single food item, regardless of what it is, would easily explain the symptoms you describe; i.e., some sort of vitamin or mineral deficiency. Whether thiamine (vitamin B1) deficiency or some other, hard to say; but I do believe your analysis here is a good bet.>
I have since changed food to a silver side that does not contain thiaminase and some Hikari Pellets.
<These latter are excellent, among the best foods in the business, and a combination of them (for all-round nutrient balance) and frozen food (to keep the fish interested) is the way to go with all predatory fish in my opinion. Even better if you can stuff some pellets inside the silversides, especially plant-based foods such as Spirulina. Do remember that carnivores consume a lot of fresh greens -- albeit via the intestines of their prey!>
This week there is a saltwater Queen Trigger that's showing the same symptoms is there a good way to get Thiamine ( Vitamin B1) into the fish?
<There are marine aquarium vitamin supplements, such as those from Selcon, Kent Marine, Waterlife and others. Some, like the Kent-C product, are added to the water (bear in mind fish drink continually, so this is more effective than it sounds) while others, like the Selcon vitamins, are used to "soak" freeze-dried foods before use. Basically, follow the instructions on the packaging. Short-term, stuffing/gut-loading frozen or live food, such as cockles or river shrimp, with Spirulina flake is a good way to quickly get a bunch of vitamins into a fish. Because many vitamins, including B1, are water soluble, the body can't store them, so you can't get more into an animal faster than it can assimilate and use them. So while injections do exist (a vet will have to do these) they have a short-term effect and are more about crisis management than recovery. For a fish that's basically fine, if a bit off-colour, a day-to-day offering of vitamin-enriched food should gradually turn things around. Fresh greens always help, though Triggers aren't particularly herbivorous beyond a bit of calcareous algae, so you might need to shove something like Sushi Nori or Spirulina into a cockle or mussel and hope he takes them that way. Vitamin deficiencies aren't normally fatal if caught early enough, though deformities caused by them may be.>
Injectable? In a bath? Do realize this fish is about 18-20" and weighs 4-5 pounds.
<Vitamin-enriched food as described above should do the trick.>
Thanks in advance for any help.
Jeff
<Most welcome. Have asked Bob to chime in if anything missed. Cheers, Neale.>
Re: Echidna rhodochilus, finally 11/1/17
Good day Neale,
<Hi Ben!>
Yesterday I have mixed approx 1000 ml of seawater, taken from the beach of Jakarta, to the Echidna aquarium. I also decided to take out the ugly white pipe and replace it with two shorter, darker pipes, which matches my
aquarium better. Echidna seems to like it better, as he seem to enjoy chasing shrimps round and round the two pipes.
<No doubt. PVC pipes are fine, but they do reflect light unnaturally. Can work nicely once covered with a bit of algae though, or if buried in coral rubble.>
After the seawater addition, Echidna still behaves more or less before, except for a few changes. I notice that it is now "calmer", not darting around quickly during its "patrols" as often as before. And it seems to leave its cave more often, in favor of the two new pipes. My friend, the one who own a Polyuranodon that I've been trying to buy for years (unsuccessfully), noted that Polyuranodon also behaves more or less the same, if it has more than one hiding places, it will use all of them, not just stuck to one place. Have you observed this with other morays you have seen/kept?
<Yes; Morays are definitely territorial, but they are also curious, and in their way, intelligent. Anyone who has kept Freshwater Eels (Anguilla spp.) will have noticed the same thing. These are 'cunning' animals that learn their territories well, and expect to have a 'get-away' burrow or two that they can use if chased or otherwise molested.>
Anyway, according to Google, my home in Pulomas Jakarta is only 12 km from the sea. The North Bekasi area where my Echidna were caught, has more or less the same distance from the sea, so maybe our rivers here in Pulomas and North Bekasi are not pure freshwater, but perhaps have some brackish water mixed in.
<Possibly, but it may well be that it's plain vanilla freshwater, and the proximity to the sea is more about reproduction, as we've discussed before.
Or it could be these fish are casually migratory. By that I mean they simply swim up or down river as the mood takes them, perhaps several times a year. Adult Scats, for example, certainly do this, and can be found 50 km
inland, even though they are more common in the sea or estuaries. The truth is that we don't really know very much about how brackish water fish live.
They are not well studied by scientists, and fishkeepers are not as experienced with them as reef fish or rainforest fish. People keeping freshwater Morays are doing groundbreaking stuff here, and it's useful to keep notes and discuss with other fishkeepers.>
I'd love to check their salinity once I get my hands on a proper Hydrometer.
<And I'd love to hear what you learn!>
If it's true, that explains how my friend is able to keep Polyuranodon for years simply by using the water from the river, no marine salt required.
<Quite so.>
Thank you for pointing me to Fishbase and the scientific paper. I also find your interesting comment in this forum:
http://www.fishforums.net/threads/identify-my-brackish-moray-eel.105762/
<Oh! That's going back a while.>
You said: "...Gymnothorax polyuranodon for example is said to be a catadromous species, that is, while adults may inhabit brackish or fresh waters for extended periods, they return to the sea to breed. This agrees with Schafer's records of these fish being found 'a long way upstream in completely fresh water'....Gymnothorax tile on the other hand is *suggested* to be anadromous, meaning that it inhabits brackish and marine waters as an adult but breeds in brackish or fresh water....Echidna rhodochilus isn't referred to as either, so by implication may be euryhaline, swimming and breeding wherever it wants..."
<Hmm...>
I found it so fascinating. So, there are not much scientific infos about Echidna Rhodochilus?
<Not really, no. If you Google 'Echidna rhodochilus' you will get some links, including a first report of the species from mangroves of the
Andaman & Nicobar Islands, which is cool. I do suspect they're simply plain vanilla euryhaline brackish water Morays, rather than true freshwater species, as might be the case for (adult) Gymnothorax polyuranodon.>
That's too bad. I hope my observations here on my own aquarium will help to shed some lights on this fascinating fish.
<As do I.>
I also hope that someday people would find a way to breed Echidna Rhodochilus. I think it's the ideal pet moray. It stays small, not so aggressive, it's freshwater to brackish, it's very cute and it has long live if taken care properly.
<It does seem to be a very good aquarium fish, given the right conditions.
Some of the smaller marine Morays have a well-earned place as rock-solid aquarium residents, and with a bit of care, Echidna rhodochilus would seem to be much the same sort of fish. Healthy specimens are really gorgeous,
with a lovely velvety sheen, and as you say, they're relatively mellow -- though I wouldn't trust them with small or delicate tankmates.>
Well, have a nice day and thank you again for your wonderful discussions, you're very kind & a true expert of this field!
<Thanks for the kind words.>
Best Regards,
Ben
<Cheers, Neale.>
Polychaete identification help, photo attached 11/1/17
Hi crew,
<Edith>
I have been reading your archive of helpful answers on all things related to bristle worms/Polychaetes/etc since I found 3 larger specimens in my 75 gallon marine tank. I have photographed one, this one is new to me today.
(The other two I have been trying to get photos of but they sense any movement and suck back under the rocks at lightning speeds.)
<Oh yes>
The one I am attaching a photo of is softer looking, and less scary while the other two seem harder bodied, more officially segmented and have shorter firm protrusions that may be "hairs?" These ones leave trails of slime and sand on the sand bed each morning and stretch the length of the tank at times.
Any help with either identification is greatly appreciated. I will send a photo of the other worms if/when I can get them on camera.
-Edith
<My best guess, as to family is Amphinomidae. Bob Fenner>
cropped, spiffed...
Re: Achilles Tang 11/1/17
Hi Bob or Crew at WWM,
<Hey Dan>
Thank you for the quick response with my last correspondence and your invitation to report back on my quest to find an Achilles tang. As you know, the Hawaiian legislation is making the search difficult with all my LFS. Luckily, I just found a suitable size, 3 ½ inch Achilles at LiveAquaria.
<Ah yes, and good>
I have the following questions regarding the quarantine process:
1. I have a 15 gallon quarantine tank that has served me well in terms of acclimating difficult to keep fishes like my leopard wrasses. What are your thoughts in terms of a 3 ½ inch Achilles, would it be more beneficial to have a short QT period (~ 1 week) vs. a full QT period (2+ weeks)?
<Likely somewhere either one or two weeks; only to be determined by your observations of the fish's apparent health, stability>
The thought here is to get the Achilles in a larger, surging display tank with stable water parameters asap.
<Yes>
My methodology is always to observe and then react based on how the fish is behaving.
<Mine as well>
2. When it comes to treating delicate fishes with medication, I do not treat my QT tank if the fish does not show any sign of parasite/disease. I think copper, etc. will cause undue stress and maybe more deleterious, especially when it is not necessary.
<Very harsh on this species. I would resort to other (albeit less effective treatment moda: extreme drop in spg... 1.010; perhaps consecutive pH adjusted freshwater dips/baths, and moves to re-set up system... to exclude intermediate phases>
I may perform a preventive dip prior to transferring it to the main display tank.
<Yes I would; as well as one on the way into quarantine from shipping>
I use Blue Life Safety Stop, it is a 2-parts dip (part 1 is formalin and part 2 is Methylene blue).
<Ah yes; am very familiar>
If the Achilles shows no sign of parasite/disease, should I even use the dip at all?
<I would dip unless the fish is shaky from being moved>
Again, I want to minimize as much stress as possible.
<Understood>
Being in this hobby for years, I always appreciate your work & contribution to help hobbyists like myself and further this niche, challenging, but rewarding hobby.
Best,
Dan
<Cheers, Bob Fenner>
Re: Echidna rhodochilus, finally 10/31/17
Hello Neale,
<Ben,>
Thank you for the interesting info about G. Tile behavior. Of all three species that is labeled "Freshwater Moray", perhaps G. Tile is the least deserving of the title. G. Polyuranodon perhaps is the most deserving, but even so, I think G. Polyuranodon and E. Rhodochilus will do better in slightly brackish water, as it's their natural habitat.
<Indeed. But I'm not sure any true eel (Anguilliformes) is 100% freshwater -- even the true freshwater eels, Anguilla spp., return to the sea to breed. My assumption would be that freshwater morays will have a marine
stage to their life cycle, at the very least, and even Gymnothorax polyuranodon is rarely found more than a few km inland, indicating that even though adults do seem to be primarily freshwater to low-end brackish, they do need to be able to get to the sea to breed properly (whether directly or via planktonic larvae I do not know, and don't think anyone else does either). Do see, for example, here:
https://www.ncbi.nlm.nih.gov/pubmed/21722111
Plus the various Fishbase articles on freshwater morays.>
Today I went to the seashore to collect some seawater (about two bottles of 600 milliliters), will mix some of it to my Echidna Rhodochilus aquarium sometime later, to change the salinity, and let's see how the Echidna behaves afterwards.
<Cool.>
I am still unable to find any local fish store which even know what a Hydrometer is, and I am too poor (for now) to buy it online from abroad, but I'll keep searching.
<For brackish, they're not essential. If you mix, say, one bucket of seawater with three buckets of freshwater, you'll have around 25% normal seawater, i.e., SG 1.005 at 25 C. That's fine for most brackish water fish.
Provided each water change is done with something along these lines, one part seawater to three parts freshwater, any slight discrepancy in specific gravity (or salinity) won't be enough to cause harm to your fish or filter.>
Thank you and have a nice day!
Ben
<Welcome! Neale.>
Re: Wrasse encounter with fireworm 10/31/17
Good Afternoon Bob,
<Adam>
Much worse today. Colors are muted and he is swimming erratically, falling headfirst onto the substrate and crashing into things, coming to rest vertically wherever he runs out of energy. He did not take food at all, and definitely looks like a fish near the end now.
Thanks,
Adam
<Not good signs. B>
Re: Wrasse encounter with fireworm 10/31/17
Unfortunately, he didn't make it through yesterday. I've known the worm was in there for years, but had never seen a need to remove it despite its size (Almost as thick as my pinky, probably around a foot long, though it's never come all the way out) as it had never shown any interest in any of the living inhabitants.
<Oh; the encounter was likely started by the Wrasse>
Even now, this was just an unfortunate accident, not an attack. But it's making me consider trying to trap it and move it to the sump to prevent future such occurrences. There's also a good chance there was something else going on that contributed.
<Sounds good. Do see WWM re Polychaete Compatibility/Removal FAQs for input on traps here>
Thanks,
Adam
<Thank you, Bob Fenner>
Thiamine deficiency in large fish 10/31/17
Having a problem with a client who has number of large tanks containing predatory fish. Have lost a number of large fresh water fish such as peacock bass, Arowana, and tiger shovelnose catfish, all fish were long term inhabitants two+ years. Symptoms are bloating, lost of balance and stoppage of eating.
<Especially bloating is not a typical symptom of a thiamine deficiency syndrome (see http://www.wetwebmedia.com/ca/volume_6/volume_6_1/thiaminase.htm ). Maybe something else is the culprit here.>
Within a week or two the fish perish. After doing research I suspected thiaminase poisoning, fish were being fed strictly smelt. I have since changed food to a silver side that does not contain thiaminase and some Hikari Pellets.
<Keep it as varied as possible.>
This week there is a saltwater Queen Trigger that's showing the same symptoms is there a good way to get Thiamine (Vitamin B1) into the fish? Injectable? In a bath? Do realize this fish is about 18-20" and weighs 4-5pounds.
<Injections (by a vet) are possible but the usual way is to add it to food. Most vitamin substitutes for fishes contain sufficient amounts of thiamine.>
Thanks in advance for any help. Jeff
<Good luck. Marco.>
Plant Question 10/31/17
Hello Crew! Hope all is well with you and that you can clarify a point of aquarium plant care for me. I recently added water lettuce to my 125 gallon tank that houses 7 fairly large (9 - 11 inches)
weather loaches to help keep the nitrates under 20 ppm.
<For all (and me), this is Pistia stratiotes, right?>
They're beautiful plants and I did my research, so I think my situation will suit them very well as far as lighting, temperature, and water parameters. Also, the loaches love playing with them.
<Yes; both are cool, really pond organisms; that enjoy moderately hard, alkaline water>
They push them around the tank in what appears to be a game of "fishy soccer." One fish pushes the plant around until another fish sneaks up and steals it away to push it in another direction. It's actually fun to watch!
But a friend of mine who saw them playing their game told me I should not let them do that (Seriously?) because as they push the plants around the surface of the water, and sometimes pull them under for a brief moment, will flood the plant. He told me the top of the plant cannot get wet or it will rot. Is that true?
<I don't think so. Have used this plant by the thousands (in ponds and lakes principally) in conditions where they were rained on, irrigated often; no worries>
If it is true, I'll have to remove the plants, but they seem to have very waxy leaves and I don't see the water penetrating through that - but you have the final say!
*Renee *
<I'd leave all as is. Bob Fenner>
Re: Echidna rhodochilus, finally 10/30/17
Hello Neale,
<Ben,>
Thank you for confirming my thoughts. Everything I read about G. Tile online pointed out that this particular fish is more brackish to marine than freshwater.
<Quite possibly migratory; Fishbase suggests an anadromous life cycle, living in the sea or estuaries, but spawning in the freshwater parts of rivers. In any event, the experience of those keeping this species suggests brackish will work fine long term, but freshwater doesn't.>
So, I understand that combination of Polypterus and G. Tile is "suicidal", if it's too brackish, the Polypterus would eventually suffer, if it's too fresh, the G. Tile will suffer. Not good!
<Indeed. Suicidal would suggest either of the fish are choosing to die in the wrong conditions -- not the case here!>
As for my Echidna, for now I will let it enjoy the tank by itself and its prey shrimps. This little guy really has personality, I noticed that if the lights are bright, it will behave like a dragon on its lair, sitting nicely on its cave. But when the lights are dimmed, after awhile it will start to "patrol" its surroundings & terrorizing the shrimps. Fascinating isn't it?
<Absolutely, and precisely how they behave in the wild. During the daytime Morays are inactive but not asleep, and will indeed lurk with their heads poking out, showing an interest in what's happening in their part of the world. At night they become active, and that's when they hunt.>
I will eventually get a friend for the Echidna. Sleeper goby sounds cool, and it's a fierce-looking fish, just like the Echidna, so they will make a great conversation piece.
<There are some excellent large Sleepers out there, but do bear in mind such tankmates need to be at least as big as the Moray, otherwise biting is a risk; even if the Moray doesn't actually kill the target, its bites can quickly become infected.>
I am thinking to get myself a G. Polyuranodon, but I wonder, will they get along together?
<Morays can get along in very large systems with plenty of caves, but they can be unpredictable, so I would tend to keep them singly. Do read here: http://www.wetwebmedia.com/fwsubwebindex/fwmorayart.htm
There's a section on tankmates.>
Have a wonderful day!
Ben
<It's almost bedtime here, so will save that for tomorrow! Cheers, Neale.>
Re: Betta Breeding 10/29/17
Thank you for the answer but I need a little bit more clarification. So all of the offspring will be the same depending on dominant alleles, is that what you are saying?
<In the general sense, yes, phenotype (what you see) will always be that of the dominant allele if the organism is homozygous dominant (i.e., AA) or heterozygous (i.e., Aa) whereas the recessive allele can only express itself in the homozygous conditions (i.e., aa). This assumes complete dominance, of course, which is not always the case. Furthermore, very few traits are controlled by a single allele, so other genes will have to be considered in most cases. With Bettas, "whiteness" is governed by several different genes, probably at least five, including the presence/absence of melanocyte (black) colour and the presence/absence of the iridocyte (blue) colour. These colour genes control the 'layers' of pigment cells that Bettas display, and by switching these colours on or off we get all the different Betta colours we're familiar with. So a white fish is one that has (at minimum) the red, blue, black and yellow pigment cells all switched off, but the pigment cells in the opaque layer still switched on, which is
how they are different to albino fish, which have the opaque layer cells switched off as well. With me so far? Now, I believe, but am not 100% sure, that the allele for the genes that switch off the red, blue, black and yellow layers are all recessive; i.e., RR or Rr would have red pigment in the red layer, while rr would have no red in the red pigment layer. I do not know what the situation is with the opaque layer, so you'd have to do some research here. Furthermore, some pigment layers are almost certainly polygenes, i.e., multiple genes, and therefore multiple pairs of alleles, would need to be considered. That's certainly the case for the yellow pigment cell layer, and probably some of the others too, given how, for example, red pigment can be normal or more intense than normal ('super red'
or similar such names are used here). There are several books and many websites dedicated to Betta genetics, and I'd encourage you to have a read of these. Here are a couple good starting points:
http://www.bettaterritory.nl/BT-AABcolorgenetics.htm
http://www.ingloriousbettas.com/betta-genetics-color-and-form.html
Most modern Betta books will have extensive sections on genetics as opposed to mere breeding, including "The Betta Bible: The Art and Science of Keeping Bettas" by Martin Brammah.
Certainly, in the UK high school education covers Punnet Squares, which is really all you need to work out the probabilities of certainly alleles being expressed by any given pair of parents, so I'm guess the basics will be something you're familiar with. Without knowing the genotype of the parents, it really is impossible to predict the outcome of such crosses, which is why I can't give a simple, 100% accurate answer! Hope this helps nonetheless, Neale.>
Re: Betta Breeding 10/29/17
Wow, thanks for the answer!
<Most welcome.>
I'm guessing I need another White Dumbo HMPK female so I can be 100% sure to keep the plakat form. Don't really want to waste a few months just to find out that the offspring is only regular HMs.
<Indeed.>
Again, thank you.
<Good luck with your breeding project! Neale.>
Re: Wrasse encounter with fireworm 10/29/17
Thanks for your reply. Unfortunately he seems to be getting worse instead of better. He was eating several days ago, but now I'm not sure if he is or not. He's not reacted to food placed in the tank when I've been watching,
I'll try to target feed him tomorrow if I can get to where he's hiding with a baster.
<Good>
Tonight he was just laying on the sand in the front corner of the tank.
<A normal behavior to extents>
His breathing seems normal, possibly some minor dorsal fin damage. He's just super lethargic. My biggest concern is that 4-5 days after the incident he seemed almost back to normal, but he now seems to be getting progressively worse.
<Again; it is my experience that moving traumatized fishes as this is worse than leaving them in place. Bob Fenner>
Re: Wrasse encounter with fireworm 10/29/17
Follow up to my earlier email below:
<Ok>
Fed some frozen by targeting the area where he was resting with a baster.
He grabbed the largest piece he could, but almost seemed like he was winded afterwards. He rested on a piece of live rock and was breathing more rapidly, before hiding behind the rockwork.
<Might be "winded". Fishes have hematocrits (packed cell volume; percentage of cells to liquid/plasma per their blood; but their environment has little oxygen (7-8 ppm, vs. 21,000 in our terrestrial/surface world). If/when they
are "damaged" and/or "leak" their capacity for "breathing" is diminished... Trouble. BobF>
Re: Wrasse encounter with fireworm 10/29/17
Thanks Bob. That was my feeling too, but I wanted to double check with you and your crew. I'll just keep an eye on him and make sure he gets targeted feedings until he's back to normal. I'll be sure to e-mail you with the results.
Thanks,
Adam
<Thank you. This is what I'd do as well Adam. B>
Re: Echidna rhodochilus, finally 10/29/17
Good day Neale!
<Ben,>
Thank you for the tips for fortifying the feeder shrimps. I can give them both fish flakes (available here) and the nori seaweed (I think I saw them on a mall somewhere). The Echidna is so cute, it is worth all the efforts to give it a good home.
<Quite so. A nice fish, and like all Morays, amply rewards good care.>
Speaking of home, I just find this video on YouTube, of a Gymnothorax Tile sharing an aquarium with a Polypterus, both seemed to be at peace with each other, and both still retain their huge appetite for food (though their owner seems to be able to wean the G. Tile away from live food & able to give it frozen shrimp...)
https://www.youtube.com/watch?v=bFXue8NHFRs
Is this some kind of black magic, or is there some kind of chemical stuffs involved?
<No, just luck and time. Gymnothorax tile WILL NOT live its full lifespan in freshwater, and that specimens just a baby.>
G. Tiles are supposed to be brackish water to marine species, while Polypterus are totally freshwater species.
<Yes and yes.>
How could they share the same aquarium like this, without affecting their appetite and behavior?
<The "freshwater" Morays certainly do live some months in freshwater, and youngsters maybe even a year or more. But eventually, without fail, they stop eating. Aquarists who fail to give them brackish water usually end up with a starved, then dead, Moray.>
If this is a brackish water setup, maybe the Polypterus has some tolerance to higher salinity?
<Unlikely. While the Ropefish, Erpetoichthys calabaricus, has some tolerance for slightly brackish conditions, I'm not aware of any true Bichirs in even slightly brackish habitats.>
If yes, maybe I'll introduce a Polypterus or two to keep my Echidna accompanied. What do you think?
<Bad idea. Morays make poor companions. The fact they hunt by smell means they sometimes bite their tankmates! I'd tend to keep yours either singly, or in due course, with some large, robust brackish or marine companions --
big sleeper gobies, brackish water lionfish, toadfish, that sort of thing, maybe even Scats and Monos if you had enough swimming space for them. In low-end marine tanks, pretty much anything will work, including robust
Damsels and Sergeant Majors. Any of these would make more realistic companions.>
Best Regards,
Ben
<Welcome. Neale.>
Echidna rhodochilus, finally. Feeding 10/28/17
Hello Bob, Neale, Marco and all you good people in WetWebMedia, After years of searching, I finally obtained a small Echidna rhodochilus (35cm), and I'd like to share its pictures with you. It's a lovely eel, but very amusing, just minutes after being released in my aquarium, it already terrorized my shrimps and ate two of them.
The previous owner hand-caught this eel from a river mouth called Muara Tawar in North Bekasi, a neighboring city of Jakarta. He already kept this eel in his aquarium for about a year, in the same water from the river where he caught it, and haven't weaned it off live food yet. This particular Echidna won't eat dead shrimp. Since I have steady access to live shrimps, I don't mind this. But I heard that eels love a variety of different foods, so, If I put Sailfin mollies in the aquarium, will they causes harm to the Echidna if it eats them?
Thank you and have a nice weekend!
Best Regards,
Ben
<Hello Ben. Congratulations on getting hold of this fish! Nope, Poecilia species are harmless, at least in terms of thiaminase. They are, of course, the same risk as any other farmed fish in terms of internal parasites and pathogens. Home-bred specimens should be safer, so if you have the space and inclination, producing your own livebearer or killifish feeders is relatively safe (though Poeciliids seem to be plagued with Camallanus worms that could transfer from mother to offspring, so even here, I'd be careful). Gut-loaded shrimps are a safer and more natural foodstuff for Echidna species that have, on the whole, crushing dentition for invertebrate prey compared to the pointed teeth of the piscivorous morays from other genera. Gut-loading is important though because crustaceans tend to be high in thiaminase, hence shrimp and prawn meat being considered an unsafe staple diet for these (and other) carnivores. I will also remind you that 'freshwater' morays lose their appetite when the salinity is too low, so kicking up the salinity may be helpful. Bob and Marco have written extensively on this/these fish; see here:
http://www.wetwebmedia.com/FWSubWebIndex/fwmorayeels.htm
http://www.wetwebmedia.com/FWSubWebIndex/fwmorayart.htm
Cheers, Neale.>
Re: Echidna rhodochilus, finally 10/28/17
Hello Neal!
<Ben,>
Thank you for the kind words & advice. That was fast!
<Thanks for the kind words.>
Again many thanks. I think I don't have the inclination to breed the mollies myself, so I'll have to stick with fortified shrimps for now.
Anyway, there are still some shrimps left in the eel tank, and seems like they'll all be consumed within a few days, so, after they're all gone, how
many days should I wait until I put on some more live shrimp?
<I would not overfeed; with subadult to adult predatory fish, the aim is to offer food only when they're actively hunting. Personally, I prefer the "little but often" approach with predators, offering them small daily meals
rather than infrequent big meals, simply because it limits the risk of regurgitation or uneaten food being left in the tank. Other people prefer a more 'natural' approach where the fish receives a substantial meal, but maybe 2-3 times a week, but taking care to remove any regurgitated or leftover food before water quality was compromised. But whatever approach you take, a couple notes about Morays. First, they hunt by smell. Adding too many food items at once means the 'smell' gets spread around the tank, and the Moray can have trouble finding it. So get some long forceps or something like a kebob or satay skewer, use this to hold a single food item, and place the item somewhere just upstream of the Moray. Wiggling the food enticingly can help, especially if the food is silvery, like a small
piece of fish. If the Moray is settled and hungry, it will start hunting.
The second time is to keep the food bite-sized. Morays can't chew, and despite their ferocious reputation, they actually favour small, easily swallowed food items. Once the food item is taken, repeat a few minutes later. If the Moray shows no interest, it's probably had enough, and you can skip feeding until tomorrow or the next day.>
This particular Echidna Rhodochilus is already 30 cm in length so I assume it is an adult, which shouldn't be overfeed, right?
<Quite so.>
And thank you also for the advice for raising salinity when necessary. I'll try to find a hydrometer so I know exactly what is the salinity rate of my eel tank & adjust accordingly. I have access to seawater (the blessed life of people who lives in coastal cities & not far from estuaries :D ) so it's not inconvenient to mix some seawater to the eel tank.
<Indeed! Sounds nice, especially if you can vary the salinity periodically, up or down, as you see fit. Brackish water fish appreciate this, even though they don't need it. Often you'll see them perk up their behaviour almost as if they're exploring a new tank.>
Best Regards,
Ben
<And to you. Cheers, Neale.>
Re: Echidna rhodochilus, finally 10/28/17
Hello Neale,
Again, many thanks for the feeding info & salinity tips!
<Welcome.>
Speaking of feeding, the remaining shrimps are rather large, and when I turn down the lights, they gather above the Echidna's cave. I wonder what's going on? Are they teasing the eel?
<Nope. More than likely scavenging, and if the Moray withdraws to his cave to eat his food, there could be all sorts of small food fragments thereabouts attracting them.>
As in "hah, we're too big for you, you cant eat us, heh heh!"? Should I evict them later?
<Unless they recognise the Moray as a threat, there's no reason for prey animals to keep away.>
Best Regards,
Ben
<Those are quite big shrimps, for sure! But gut-loading with traditional fish flake, Spirulina and, if you can get it, Sushi Nori algae sheets, will all help to boost their vitamin content and turn them into useful food items. There are marine-grade vitamin supplements, such as Selcon, that can be used -- sparingly -- to good effect as well. With freshwater and marine carnivores, a lot of failure over the long term -- months, years after purchase -- may be explained by lack of vitamins, including Thiamine.
Longer term of course, getting your Moray onto a fresh and frozen diet will be helpful. Cheers, Neale.>
Wrasse encounter with fireworm 10/28/17
Good morning Crew,
<Adam>
I have a Solon Wrasse that had a run in with a large fireworm a few weeks ago.
<Yowch!>
The bristles were very obvious, but they eventually dissolved as expected.
However, he's never really seemed to come back around.
<Ahh, this takes a while... >
He'll get out and swim around in spurts, but generally hides out the majority of the day. At this point, I suspect a secondary infection, and am thinking I should remove him to a hospital tank for treatment.
<Mmm; if this fish is eating (as a base line behavior), I'd leave it where it is>
My two questions are, is this prudent, as while his behavior has changed, he does not seem to have any obvious issues such as weight loss or outward physical damage, and I'm worried about stressing him more.
<You are wise here>
Second, if I do remove him for treatment, what should I treat with? There are so many antibacterials around.
<Yes; and none...>
Thanks,
Adam
<Please do report back with your further observations. Bob Fenner>
Achilles Tang 10/27/17
Greetings WWM Crew!
<Hey Dan!>
I hope all is well. I have been wanting to keep a small (~4") Achilles tang in my 5-ft. mixed reef tank. I understand I will have to move the Achilles at some point, but I think I will be able to enjoy a small one for a couple of years.
<At least... if raised from small, a five foot long system might do for several years>
My aquascape is open with swim throughs. Strong, non-linear flow. I have an efficient nutrient export system where my nitrates (<5ppm) and phosphate (<0.03ppm) are low.
<All good>
All my inhabitants are healthy and happy with an occasional spat between the purple & yellow tangs.
<Ah, yes>
I have a lot of wrasse for pest control & aesthetic reasons: 3 leopard wrasses (bipartitus, meleagris, and choati) ~4" each, red Coris wrasse ~7", 2 different fairy wrasses ~ 4" each, yellow Coris ~4", melanurus wrasse ~4"
2 Zebrasomas for algae control: purple tang ~6" and yellow tang ~4"
2 cleaner shrimps
10-12 peppermint shrimps for Aiptasia control
various snails
My husbandry in terms of feeding is 4-5 different types of algae based pellets in the morning and then LRS, Rods, & PE Mysis at night.
<Tres bien!>
My main concern is aggression with the Zebrasomas, particularly with the yellow tang. He is just territorial with a particular cave in my reef
tank, otherwise he does not bother anyone. I can always use my acclimation
box and/or mirror on the side of the tank trick to reduce aggression, but
re-aquascaping is highly unlikely due to my corals. So, I want your
opinion if it is a good, worthwhile endeavor to try a small achilles tang?
<If the Achilles is small; as you state, about four inches overall or less,
you should see only minor "jousting" twixt it and the Zebrasomas>
Many thanks in advance.
Dan
<As many welcomes. Do please write back w/ your observations. Bob Fenner>
Betta Breeding 10/27/17
Hello, this is Jinoo Kim. Can you breed a HMPK with regular HM?
<Sure.>
Will there be any deformities?
<Likely some, given pedigree Bettas of all types are, by definition, inbred. But given the large number of offspring per brood, judicious (humane) culling of deformed fry should be part of the process anyway.>
The male is the HMPK and the female is a regular HM. They are both pure white and dumbo ear. Will there be a variety (for example, some of them will be HMPKs and some of them will be HMs)? Or will they all be the same depending on alleles?
<The latter fact is always true, phenotype is always down to the alleles!
But without knowing if the white colouration is dominant, partially dominant, or recessive it's impossible to predict what'll happen. Some time spent online/looking into books should reveal whether the white allele is dominant or not, and from there, a Punnet Square will help you predict proportions of phenotypes from any two parents of known genotypes. Many, MANY books on genetics out there, including some aimed at fish breeders.
That said, if white is recessive, then a cross between any two white Bettas will produce 100% white offspring. This assumes, of course, colouration is a single gene -- likely not the case, since very few things are. So it may
well be you need to dihybrid cross Punnet Squares.>
Thank you.
Jinoo Kim
<Most welcome. Neale.>
Re: Acrylic Aquarium Question- help 10/26/17
Hi Bob-
<Hey David>
Is there reason for concern after seeing the pics of the bottom joints?
<Mmm; not much; no. I would have stated (shouted) emphatically if so>
If there were to be a failure, what do you think the signs would be if this is only the bottom piece?
<Whiting out of the joint, with the creeping whiteness extending the entire width of the joint... DANGER>
Is the bottom piece the least stressed since it's got full concrete support underneath?
<Not the least... this would likely be the top. It's not too late to anneal another panel to both top and bottom if you're concerned>
How would I place the doweling (if needed) if I already put a thick bead of #16 around all the inside bottom joints?
<Mmm; you're not going to like this; but gingerly using a tool to chip, grind out the material that would be in the way of the dowel. Another/alternative would be to affix another bottom all the way around, enclosing the present one and a small area of the viewing panels. This is often done with large, very large circular acrylic fiberglass tanks. Where to send you for further input.... oh, for sure: http://www.waterdogproducts.com/
Bob Fenner>
Re: Hawaiian Aquarium Fish Collecting Ban 10/26/17
Good ideas Bob… check out the footage I got in Thailand free diving with the SCUBA Divers ;-)
https://www.youtube.com/watch?v=ynJQ2HF4nhU <https://www.youtube.com/watch?v=ynJQ2HF4nhU >
In Gratitude,
Sky Kubby
<Ahh; very nice. Like the change ups on editing, transitions, and choices in music. B>
Re: New Pandas also Re: Epsom salts, peacock gudgeons and blockages 10/26/17
Hi Crew!
<Hello Bronwen,>
Further update on the Corydoras white blobby patch disease saga. Somehow, despite the disease failing to respond to anything I've thrown at it so far, the only loss I've had has been from someone jumping out of the tank.
I do think despite not being curative, the treatments and baths did stop things from getting worse, temporarily at least. The ulcerations I noticed on the sterbai Corydoras faces actually cleared up during the tetracycline treatment, however nothing has shaken the white blobby patches.
<Oh dear. Presumably indicates not a bacterial infection. Next most common causes are either fungal or protozoan; the former is relatively easy to identify, if not by eye, then with even a low power microscope because of the hyphae. Protozoans difficult to see directly, so mucous and cysts will be what you can see with the naked eye. I'd be choosing medications accordingly, perhaps going with the protozoan option first, as this would
tend to be a bit more blobby than the usually fluffy appearance you get with fungi. That said, if you're dealing with an effectively untreatable bacterial infection, like a Mycobacteriosis, or a viral infection, then nothing much will help. Viral infections (look up Fish Pox and Lymphocystis for examples) do produce blister-looking things, but otherwise don't normally cause actual physical harm, and may clear up in time -- though usually across months if not years in some cases. Viruses in fishes do seem to be stress related as often as not, contact with heavy metals in the water or substrate being one example known in the wild.>
I still have 4 mostly okay panda Corydoras with either just fins or no obvious infection, and 4 severely affected ones. Of the rasboras that were also quarantining in that tank, 8 are fine, one jumped out, and one has a small white patch on his lower lip. One of the sterbai Corydoras has an extremely small white patch at the tip of one fin. I would say the tetracycline was pretty harsh and the fish are not as well or perky in attitude as they were at the start but they are still eating. A quick recap for any crew who haven't seen this case so far: New panda Corydoras started showing white patches on day 2 in quarantine. Treated with Multicure (malachite green, Acriflavine, Methylene blue) in case of fungus or Costia, no effect noted after a few days. Treated with triple sulfa, full course as per label, slight improvement then worsening. Treated with tetracycline for 5 days, once again slight improvement then worsening. Treated with aminacrine (desperate measures while waiting for more medication to arrive) and once again slight improvement followed by worsening symptoms. I have pretty much exhausted every medication available to me over the counter and a trip to the vet for help resulted in an unwilling shrug as he was not willing to prescribe anything due to being unable to diagnose anything. Due to my location that exhausted my local options.
<Understood; see above.>
A couple of weeks ago I ordered both Furan 2 and Kanaplex online (I am in a country where these aren't available) hoping for at least some of the fish to survive long enough to be treated with either of these, and aiming to use both to achieve as broad a coverage as possible and get the reputed synergistic effect of these medications used together. However the Furan 2 arrived first and I am not sure how much longer I can wait before the worst
affected fish start dying. I have enough medication to do 2 full 4-day treatments with Furan 2 and I don't know when the Kanaplex will arrive. It could be another 2 weeks according to the worst case scenario shipping
estimate and I don't think anything will last that long. Even if it comes Monday that might not be soon enough for some of these fish.
<I would medicate with what you have rather than waiting for something else. Synergies between medications do exist, of course, but are vague, at best, in standard issue aquarium fish drugs.>
I am considering doing one four day course of Furan 2 to at least see if it is effective, and if not, save the remainder for when the Kanaplex arrives.
However it occurred to me that perhaps this would merely strengthen the bacteria further if it is not sufficient to kill it off. Do you think this is possible?
<Nope. Not the way antibiotic resistance works.>
I think if I treat with Furan 2 and it does not cure or reduce the symptoms in the 4 worst panda corys, I will have to euthanize them to remove them as a bacteria source in the tank and hopefully ensure the survival of everyone
else. I do have a hope that since this medication is not readily available around here, the bacteria should not be resistant to it but I can't help but think ahead.
<I would only euthanise if the fish are actually distressed -- but isolating them does make sense. As stated above, viral infections for example are environmental issues and as such not usually catchy (some exceptions of course, like Dwarf Gourami Iridovirus) and the dratted Mycobacteria problem is also more environmental than anything else, the bacteria being latent in many aquaria and fish farms, but only a problem when the fish are otherwise weakened.>
Tough times! I was not expecting this to last so long, particularly due to panda Corydoras' reputation for being less hardy. I thought the medication would kill them even if the disease did not and yet they are stubbornly holding on. I am almost certain the medication I have put them through hasn't done them much good in the long term, the tetracycline in particular seemed to shake them up a fair bit.
<Possibly.>
Anyway what are your thoughts regarding starting to treat with Furan 2? I do not plan to start anything until tomorrow at earliest as I would like to do a water change and run carbon in the tank for a bit beforehand to remove any traces of previous medication.
<Makes sense. But do remove after use; before adding new medications.>
Cheers, Bronwen @ South Australia, amateur fish nurse
<Good luck! Neale.>
Ornate Trunkfish swallowed air! 10/26/17
I need help! Pauline is scaring me. Her buoyancy seems off. She's spending a lot of time floating with her back nearly out of the water, and it seems like it's taking her a lot of energy to swim down from the top of the tank to explore. She seems to be less interested in chasing her food too, and her appetite isn't good today. It seems like she may have ingested air. She is still swimming symmetrically if that makes sense, but definitely being floated back to the surface. I've turned off the power head to conserve her energy. A few moments ago, I gently held her between my fingers underwater and pointed her head toward the top of the tank to see if any air would come out, and it wasn't successful. I understand "massaging" her, like some do with puffers would not be appropriate because she has a hard, bony body. I have attached a video for reference. Parameters are within normal limits and temperature is around 60 F.
Thanks in advance!
Neil
<The holding the fish with its head is what I would have done; along w/ a bit of gentle side to side shaking...
Do try this daily. Bob Fenner>
Marine to Bathwater Conversion.. for FW, Piranha! 10/26/17
Howzit from South Africa,
<Right backatcha Gar; from S. Cal.!>
After a spot of research on keeping piranha I came across your site, 'bonus'! and thought I'd get your opinion/advice on my future plans.. I currently run a 1'000ltr marine system complete with all it's bits n bobs,
and a 400ltr sump, but unfortunately can't keep up with the maintenance regimen or associated costs. My thoughts are these;
Dump the salt water after removing the inmates and surviving corals Rinse/wash off the existing live rock mainly with the purpose of re-scaping the tank
Fill the tank with tapwater and treat with stabilizers etc.
Allow to cycle for 3-4 weeks
Add a clean-up crew (Pleco, fresh water shrimp, crab, snails etc.)
Considering adding a few black mollies to the sump for future feeding requirement
Add a few plants, and then the piranha.
With this game plan in mind a few assumptions had to be made; The live rock can be re-used in the tropical tank
<I'd switch this and the sand substrate as these are highly likely carbonate based, and will add too much to alkalinity and elevated pH here to be healthful for the livestock you list>
After cleaning the sand substrate in the dt that'll be good to go <Again, I'd sell or store, and replace this with something less reactive.
See WWM re freshwater substrate selection>
The current circulation pump and skimmer will suffice
<Yes; likely so>
I can remove the dsb(deep sand bed) and broken coral chamber in the sump
<Yes I would>
I can remove the 2x chillers and the water should be around 24C- 26C at most
(I'm assuming tropical/piranha are not as dependant on stable temperature as marines)
<They can tolerate a much wider range and fluctuation by and large>
I've been told I can lose the sump, skimmer, and circulation pump, and just put a submerged filter system in my existing Durso chamber, where I could also add a heater or 2 for winter.
<Good ideas; but I'd keep the sump and circulation pump... and likely use or have as back up. The skimmer can go into storage>
So that's about that then, it would be greatly appreciated if you could offer comment and assistance on my master plan.
Kind Regards
Gary
<Thank you for sharing. Please do send along pix, further observations as your project goes forward. Bob Fenner>
Adf not swimming properly 10/25/27
Hello!
I have had 2 ADFs for about 6 weeks and one seems to be doing very well (eating, active, growing) and the other is not. The other seems to have a hard time swimming (flips around erratically, struggles to maintain direction and seems to even struggle with crawling along the bottom) it almost seems as if she is partially parylized, but in different limbs at some times and sometimes she just falls on her back at the bottom. She seems to be interested in food but is struggling to find it.
Nitrates, nitrites and ammonia are all 0 according to my test strips. I can't find any info on what might be causing this issue. She is very thin as well. I have separated her into a smaller tank so its easier to reach the top and so I can monitor her food intake.
Is there anything else I need to be doing? Does she maybe have an injury?
She doesn't seem to have any physical signs of injury or infection.
Thank you so much!
-Kelsey
<Hello Kelsey. African Dwarf Frogs are not fond of deep water or strong water currents, so your first thing to check is that neither apply here.
The fact your frog is underweight would tend to suggest the lack of stability is more weakness than anything else. Optimising diet will help here: live or frozen bloodworms and brine shrimps are good starting points, and if necessary, separate the two frogs, as you're doing -- though do ensure the second tank has water quality at least as good as the main tank. Isolating frogs and fish in 'hospital tanks' that aren't properly heated and filtered will only make things worse. African Dwarf Frogs are fairly hardy animals, but they are prone to starvation, so I will direct you to
some reading, here:
http://wetwebmedia.com/FWSubWebIndex/FrogsArtNeale.htm
Medicating or treating sick frogs is difficult, but there are a few options. But first, get the frog feeding! Cheers, Neale.>
Question on Nerite snails and KH/GH 10/25/27
Good day to you! I have a 10 gallon Half Moon aquarium, established since February 2017. It houses 4 golden white clouds, one clown Pleco, 12 years of age, one black Kuhlii loach, 12 years of age, one black neon, 3 years of age, one baby banded Kuhlii loach, one female Betta, approximately 1 year old, 3 tiger blood Nerite snails and 1 zebra Nerite snail. I know it's a bit overstocked, but it has two filters running, media is changed at least every two weeks, and it gets a weekly partial water change and vacuum around 25% each time.
<Understood; but yes, it is a bit busy.>
Maybe a bit less on occasion. Parameters are pH - 6.8, KH - 0 (I use tap and this is the tap reading as well, in fact the readings match the tap except for the nitrates), GH - 75 ppm, ammonia and nitrite are both 0 of course, and nitrates stay around 20. Oh, and this is a live planted tank as well with natural gravel, natural rock décor from local streams in Virginia, and driftwood.
So now you know the set up, my question is what is the best way to raise the KH (and GH if you feel it needs raising) so my snails will thrive without harming plants and the soft water fish species?
<If you have an aquarium that works, and it's a bit overstocked, diddling about with water chemistry probably isn't the best idea. But in this instance, here's the Rift Valley salt mix, per 5 gallons (20 litres):
1 teaspoon baking soda (sodium bicarbonate) -- raises KH
1 tablespoon Epsom salt (magnesium sulfate) -- raises GH
Now, I would not use the full dose here! For each subsequent water change, I'd start with just a quarter these amounts, and go no higher than half. I'd then use your water chemistry test kits to see what you get. Reduce or raise whatever necessary to get what you want, which is a medium level of general hardness and a carbonate hardness around 5 degrees KH. The pH will probably go up to about 7.5. Either way, you're going to get water with enough hardness to keep snails happy. But I stress, if the tank works, and the snails aren't showing evidence of 'pitting' in their shells, as things are might well be fine. Chuck in a bit of cuttlebone instead, and see if they chomp on that.>
One other thing I forgot to mention - I read all over the internet that Nerite snails will not breed in freshwater, but that appears to be wrong as I do have about 4-6 baby Nerites roaming my tank.
<Very unusual, but probably not unique. Here's the deal: most of the Nerites sold are Asian and African species with a marine (or at least planktonic) stage to their life cycle. These will be difficult if not impossible to breed. Either the salinity will be wrong for the larvae, or the filter will crunch up the larvae, or both. But a few species may well breed in freshwater tanks, rather like the well-known European species Theodoxus fluviatilis. That species at least will lay little egg cases just like those of our tropical Nerites, out of which hatch perfect miniatures of the adults rather than planktonic larvae. The range of Nerite species offered to aquarists is huge, with numerous species primarily from the genera Neritina (the standard Nerites) and Clithon (the spiny Nerites, Batman Snails, and so on). I would encourage you to use the tools at your disposal to identify the species you have, and then write up your experiences!>
They are one week old. I do not want to add anything to this tank that may harm them or the parents, which I assume are the tiger bloods.
<These are probably Neritina natalensis, as are common Zebra Nerites, but without seeing your specimens, hard to say. In any event, Neritina natalensis is said to breed only in brackish water. It is extremely variable, hence all the different common names. Quite a typical thing with Nerites in general.>
Also, I bought Flourish as my plants are looking a bit unhappy with brown splotches on the leaves but am afraid to add it as well even though SeaChem says it is safe for inverts. The plants, by the way, are also at least 12 years old. I do not supplement CO2 as these are java fern, Anubias, etc., low light plants and have always done well till now. I do have a plant light, however, with the requisite 6500K. I am an intermediate hobbyist who has kept a lot of tanks over the years, including marine, but planted bio topes are typically my favorite (I realize this one isn't exactly a bio tope, it just sort of happened if you will).
<Understood.>
Hope you can help, thank you for taking the time to read my inquiry! There is a lot of info about raising the KH, etc., which is all good, but I am worried about harming the snails, loaches and plants.
Barbara
<Good luck! Neale.>
Re: Hawaiian Aquarium Fish Collecting Ban 10/25/27
Really!? That's great to hear the Gov. Vetoes that bill. They went from totally unregulated to trying to ban all aquarium collecting.
<... have dealt w/ Snarky Bob and Rene Umberger for too many years re>
There's got to be a middle ground.
<Agreed; there is enough science to effectively manage the resource. I would limit licensing on Kona... and hire more personnel for census>
Bob, It definitely would be a pleasure to dive with you and catch some dinner.
<Ahh! I see us getting together Sky!>
I haven't gone SCUBA in years but am starting to warm up to it. I'm realizing even if I do a 100 ft. free dive drop like I do spearfishing and collect some Anthias, I can't just bring them up.
<Correct. Would have to stow in a container; haul up slowly>
Diving with tanks would allow me to properly decompress them. But 20 min.s every 6 feet!! - is that really necessary?
<No... About five-ten min.s every 20 feet is good enough>
Who would you recommend I connect with to get back in with tanks?
<I was good friends w/ Norm at Big Island Divers, but he sold a few years ago. I mostly use Jack's when visiting there nowayears, for renting tanks and weights, putting friends on a boat for the manta go at Keohole>
I haven't SCUBA'd since St. Croix when I was 15years old ;-) My wife is interested now too! ;-)
In Gratitude,
Sky Kubby
<I say get on out there! There is a pretty active scuba club in Kailua; but there... well they used to be a bit clique-ish. BobF>
Re: bloated Betta 10/25/27
Hi wwm! Am after some more advice please as I'm unsure what to do next. I couldn't get hold of Kanaplex as advised by Bob for fin rot but had Furan 2 so have treated him in a hospital tank with that. I think the fin rot/melt has halted but his top fin looks stiff now. He also has done a couple of clear poos and appears a bit more lethargic. The poo yesterday was clear and very long and stringy and took ages to come off. Would you think this indicates internal bacteria or internal Parasites?
<Might be or no. The only way to tell for sure is to look at a sample under a microscope>
He has had brine shrimp which may account for clear poo. My problem is I have Kanaplex arriving in the next few days but not sure to use it or worm him or leave him with daily water changes for a bit?
<I'd stick w/ just the water changes>
Here's a pic of him now after the Furan 2
Pic of him before Furan 2
<Bob Fenner>
Coral inquiry 10/25/27
These came in with a shipment of Dendronephthya but I'm not too sure exactly what they are. Any help?
<I do think these are soft corals, of the family Nidaliidae, perhaps of the genus Siphonogorgia.
From WWM: "Superficially resemble Gorgonians. Polyps clustered toward ends of branches, absent from lower trunk, branches. No internal "axis" like sea fans. Can be completely withdrawn. Western Pacific; Philippines, Belau,
Solomon Islands. Common on reef slopes, overhangs at times. "
Thank you for sharing. Bob Fenner>
Acrylic Aquarium Question- help 10/25/27
Hello-
<Howsit?>
I've been reading your forum on Acrylic seams, cracks, etc and wanted to ask Bob Fenner a question. I can't see where to post a question and was wondering how to reach him? I just built my first aquarium, it's 300 gallons and I have some concerns about the seams that I wanted to ask him. Can you advise where to ask?
<This is it mate. Please ask away. Bob Fenner>
Thank you!
David
Re: Acrylic Aquarium Question- help 10/25/27
Hey Bob! So, like I said I just finished my first build, of a 300G acrylic for my home. It's 1" acrylic on all sides and 1/2" on the top and bottom.
<? I encourage folks to have tops, bottoms of acrylic tanks at least the thickness of the rest... thicker if the tank is tall>
It will be set on top of a solid wood stand with a 2" thick concrete countertop. Dimensions are 72x24x30. Everything was cut with CNC machine and all the pieces are square/plumb, etc.
<Good>
All my sides came together perfectly and my top went on perfectly... my only concerns are with the bottom piece. I did the bottom last, and with all the weight (even using the pins method) the weld-on #4 didn't create solid clear joints like everywhere else. There were like 5-6 spots total around the whole base where it created pockets that sealed and I just couldn't wick it in there. Doing this over, I think I would've used the 2-part epoxy, but overall the solvent did really well considering it's 1" thick acrylic. So, all things considered I'm happy that the joint pockets happened on the bottom piece rather than the corners or the top (I think?) take a look at the attached pics and let me know your thoughts. Would a catastrophic failure be possible if only the bottom seams are like this, since it's fully supported underneath? Like I said, 90% of the bottom piece is good, but there are several pockets that are there.
Thank you for your help!
David
Ps. After reading all the forums, I realize I could have added doweling if need be, but I already added a thick bead of #16 around all the bottom seams for extra support. I filled the tank twice and let it sit for a couple days and had no leaks, no movement, no cracks or hazing, etc.
<Mmm; okay... IF there is further concern (or reason for concern!), I would add the doweling all around the inside bottom. Bob Fenner>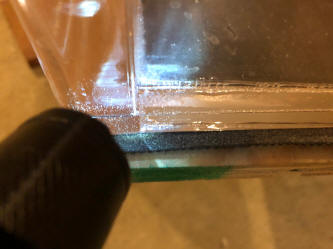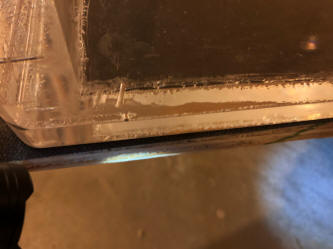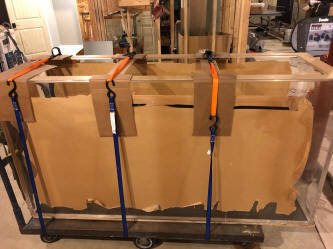 Fwd: Bubble tip anemone Eating its tentacles 10/25/27
Hi Bob,
<Hey Matt>
I thought i would give you an update and share for the benefit of the readers. I'm happy to say the anemone has turned around and stopped it's self destructive behavior of eating it's own tentacles.
<Ah, good>
This happened after i rescaped my tank as per my first message and i have since discovered it was in a hot spot under my leds. It's quite interesting because rather than expelling Zooxanthellae and bleaching it the anemone shed it own mass instead. Although it's recovering slowly I'm not out of the woods but very glad to say i have not observed any filaments consumed by the anemone and i have high hopes for a full recovery.
Many thanks,
Matt
<As many welcomes. B>
Critter ID 10/25/27
Hi there, I've got a funny little dude on one of my corals. I've asked every reefing group I can find and no one has an idea. It started off between these two heads of hammer coral and looked like a Chiton at first--it's a series of armored plates. Then it sort of curved as you can see here in the photo and it's growing fast. There are three of them now.
It is very, very hard--harder than the coral stalk and absolutely nothing budges it, even trying to slide a razor blade under the edge hasn't been successful. The picture below shows it just opened its 'mouth' end which is usually shut tight. Any ideas what it could be? I'd hate to kill it if it's a reef safe critter. Thank you!!!
<Mmm; can't quite make out in your pix, but would have guessed at first glance that these were Chitons as you mention, and with the clue that they can't be removed with a razor blade either limpets of some sort or, my final guess (for now) that these are a species of calcareous tube-building worm. I would leave them here.
Thank you for sharing. Bob Fenner>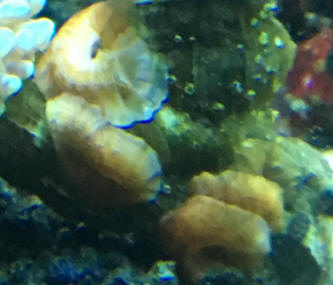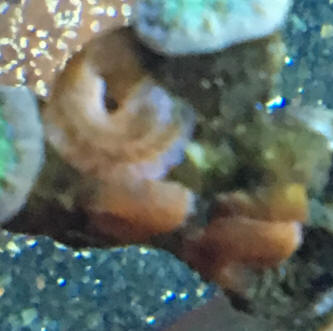 Aquarium Website 10/24/17
Hi WWM Team,
<Hey Luca>
I have checking your site for some time and it is very informative - congrats!
<Thank you>
I am running a website ( https://www.fishtankworld.com ) that provides information to aquarists as well and was wondering if you can add it to General Links to Aquatic/Aquarium Internet Sites
Thanks in advance
Luca
<Will certainly do. Thank you for your efforts. Bob Fenner>
Mailing Address 10/24/17
Hello Bob,
Thank you for speaking at REEF A PALOOZA California. We hope that everyone enjoyed your presentation and that you enjoyed everything as well. Could I please have your mailing address? We would like to send you some important information.
--
Thank you,
Brock Goines
<Hey Brock! Was amongst the best-received presentations I've given! And the Hilton!!!
8586 Menkar Rd.
San Diego, CA 92126
Bob Fenner>
Re: Mailing Address 10/24/17
That's absolutely awesome Bob!!! I'm stoked bud!
<Cheers Brock!>
DSB Results & Mixed Reef With Anemones 10/24/17
Thank you Bob and WWM Crew for all the knowledge and support! First, will you give a link where the best place to buy your books, Bob?
<I suspect Amazon.com, Createspace.com, bookfinder.com might be the best. Tis a treasure/tool for me>
I'm pleased to share that my outdoor 150g. tide pool w/ 6" DSB and 100g. DT with 4" DSB is working like a charm! Nitrate and Phosphates are practically nonexistent. However due to this "natural" there seems to be lots of nutrients in the system as frags friends have given me seem to always have maximum polyp extension. I "lightly" siphon off the top of the crushed coral substrate and quarterly and rotationally, "deep clean" a small section. Recently a friend gave my a Sebae Anemone and a Long Tentacle Anemone. Bob, you suggested the Crushed Coral for my situation as that's what I have access too. I've read that they can be too rough for these "sand dwelling" norms to bury there foot in.
<Mmm; not so much if fine grained; a bit of mulm twixt>
Since there's a lot of fines in the sand as well, should we be okay?
<Likely so>
After having them in the DT for a moment and doing research here, I've moved them outside to the Tidepool/Refugium. There I grow Macro Alga for scrubbing and don't have any corals. They will also have the space to grow 12" and not have anything around them. I also Have a BTA and a Long Tentacle Plate Coral in a separate 20g. tank plumbed in-line with the system. Now that the corals are separate in the DT, at least in proximity, from the Nems, am I still likely to have chemical warfare in this system?
<You tell me/us>
I know I have stacked the odds in my favor by removing them to the refugium but would like some insight into long-term success.
<Should be obvious/indicated w/in a few days>
Also, I recently caught a small tear-drop butterfly. I know he's a coral-nipper she's in my daughter's 20g until she gets bigger, then she's going in the 150g. tide pool (The BFF, not my daughter! ;-) As long as I keep her well fed, will her nipping on the Nems or mushrooms likely cause serious issues?
<Hopefully not>
She hasn't begun nipping yet but I'm sure she will as I've read they have voracious appetites. Basically, am I doomed? ;-)
In Gratitude,
Sky Kubby
<Not doomed... the price of liberty my friend? Constant vigilance. B>
Re: DSB Results & Mixed Reef With Anemones 10/24/17
Well it's been about a weeks with the Nems in the system and so far so good.. The tentacle tips sure purpled up in the outdoor/full sun on the Sebae. I am having a heck of a time getting it and the LTA to settle into the sand and have the Jebao powerhead on as low as it can go from fear of it blowing around and getting sucked into the pump. Any suggestions here?
<Surround it with structure... rock likely>
I almost want to bring the Sebae back into the reef tank, but I'll go with the wisdom here and refrain. The best part is the Clarkii Clown isn't stirring up the DSB in he display every 5 min.s! The Teardrop BFF has nipped at Gorgonian polyps but so far no Shrooms.
In Gratitude,
Sky Kubby
<Me too. BobF>
Hawaiian Aquarium Fish Collecting Ban 10/24/17
Aloha Bob, I'm a free-diver and have gotten better at catching fish underwater over the years here on the Big Island.
<Definitely a learned skill! And am a BIG fan of the big island>
Its definitely challenging! I use two hand nets and have refrained from using a barrier net over the years. But with interest in collecting harder to capture specimens I been thinking about getting or making one.
<I have articles on such on WWM>
Just when I decided to give it a go they ban aquarium fish collecting.
<Actually; the governor vetoed that bill, thank goodness>
Now I know it's for retail sale but I can't get a clear sense if you can still get a license for collecting for personal use.
<I think a fishing license will do it here>
I know the restrictions state that use of a net over 3 feet requires a collectors license. Do you happen to know the status of collecting for personal use out here?
<As stated>
If not, I'll be contacting DLNR.
<Good idea>
I wanted to get a larger Raccoon BFF for my tide pool / fuge to eat all those Aiptasia! I could keep my extra catches in the Fuge but eventually I'd have to add more water volume, I know. If were to plumb into my existing system a larger display for BFF and Angels would you suggest to keep it a FOWLR system?
<Mmm; I'd keep them in your main/display>
I want to avoid using copper so would be going for prevention with tying it into the existing system for bigger volume / stability. It's just an idea for now but we all must dream, right!
<Prophylactic pH adjusted freshwater dips should prevent the worst of parasitic introductions. Again, archived on WWM>
This hobby keeps me sane in-between work mode. ;-) With all the cray cray stuff going on in the world we all know we can use a little more peace. Looking forward to ordering and readying your book on BFF! ;-)
In Gratitude,
Sky Kubby
<Be chatting Sky! Hope to be back visiting in Kailua soon. BobF>
Am I being a jerk? Oscar sitting 10/23/17
A friend of mine is going across the country (from Idaho to Virginia) for a training program with the company she works for. She'll be gone for about 6 months and has asked me to take care of her Oscar fish while she's gone. I told her I'd come by her house and feed, spend time with, and do the water changes while she's gone (this fish is beautiful, tons of fun, and very people friendly.) She said no, that she wanted to bring him to my house because she is not going to keep the home she currently rents while she's gone. I told her ok, I'd make room for his 125 gallon tank and we'd bring the fish, the tank, the water, etc. over here while she was gone. She doesn't want to do that, she wants me to put him in one of my tanks and put her tank in "storage." I told her the only tank I have that is both open (no fish in it) and cycled is a 55 gallon with a Cascade 700 canister filter on it and that it wouldn't be big enough for her fish (close to a foot long). She insists that for 6 months, that it would be alright, but from the research I've done on your site, I believe she's wrong. This tank is too small for this fish even for 6 months. I got angry (mostly because I believe this is her sneaky way of dumping a fish on me that I'm not prepared to care for well) and told her no.
Was this appropriate or am I being a jerk?
<Mmm; not a jerk. Asking to do a favor... and offering to do so; per your understanding of the needs of this Oscar. It could be kept in the four foot long 55... barely; by being careful re feeding, doing water changes
weekly/religiously... But if there's trouble, like a power outage; there could be a disaster. I'd ask that she allow you to set up her tank, use it for this half year. Bob Fenner>
--
*Renee *
Re: Am I being a jerk? 10/23/17
Ok, I'll try again to get her to bring the tank over with him, but she was pretty adamant she didn't want to do that (said she didn't want the "hassle"). The 55 gallon that I have open was, until two days ago, inhabited by my axolotls (I found them new homes because I was struggling to maintain their water temperature - and failing.) I
haven't cleaned the filter since they left, but it was cleaned at the first of the month. I know very little (ok, nothing) about Oscars, but is there any chance of the Oscar be affected by residual waste from the axolotls if I do a 25% water change and clean the filter before the Oscar arrives?
<I would change most all the water out here via gravel vacuuming.
Oscars/Astronotus are VERY tough/hardy>
They were healthy and fine before they left. This fish is such a great animal, he loves to be petted, eats
from your hand, fetches plastic cat toys you throw in his tank, just really special. If I'm going to do this, I want to be sure he'll survive me!
<I have high confidence in you. Bob Fenner>
Re: Am I being a jerk? 10/23/17
I always put 2 ml of Stability in my replacement water when I do water changes, so how much water do you think I can remove without crashing the biological filter in the tank?
<Likely most all of it. I would add all the transfer water from moving the Oscar. B>
Re: Am I being a jerk? 10/23/17
Oh, of course! That's brilliant, thank you!
<Welcome Renee. BobF>
Help with disease
I'll try and make this concise....
<Ok>
Couple month old 160 gallon reef tank. All parameters are very good.
About 10 days ago noticed something wrong with Sargassum trigger.
Started treating with Kick Ich (10 days ago), Rally (4 days ago), Metroplex in food (3 days ago).
<The first two are shams/scams... the Metronidazole for what?>
I think the blue spotted puffer had the blotch in the pic from the when I got him. Other fish have no signs of issues (yellow tang, 2 clowns, potters angel, Anthias)
<A useful clue>
Not sure if the disease is the same. They act as if nothing is wrong. (no flashing, scratching, etc.) Eat like pigs (mix of shrimp, scallop, Mysis, flake, etc)
<Good sign>
Only event that happened before I noticed trigger was I added a copper banded butterfly and the tang attacked him creating stress in the tank.
I'll never get a butterfly again... depressing.
<Ahh>
SO....... Any idea what's wrong with the fish?
<I don't "think" this is a pathogenic issue (biological disease)... but if it were me/mine, I'd sample and look under a 'scope (as gone over and over on WWM, ref. books.)>
Do I need to treat them?
<Don't think so. At least... what I mean; is I would not>
Would you wait and see?
<Yes I would>
I haven't seen improvement but I haven't seen it get worst.
This hobby can be frustrating!!!!
<Ah yes. And fulfilling!>
Thanks
Michael in Boston
<Welcome. Bob Fenner, who asks that you report back your further observations, actions>
Re: Help with disease
Tx. I will wait and see. You know kick ick is a scam based on analysis of product, research, testing?
<Contents and anecdotal evidence. Not science>
Just curious.
Is their Hydroplex dip junk too?
<Yes; unfortunately. "Medicines", therapeutic agents are not regulated in ornamental aquatics. Unlike human medicine, there is no standard for efficacy; nor testing. Bob Fenner>
1" thick acrylic is warped over a 5 ft Span 10/20/17
Hi
I'm building my own tank and have a slight issue with a warped piece of acrylic. The piece is 12" wide by 60" long and 1" thick. I picked up the 1" stuff for the tank. I looked at the coast to coast external overflow box pieces. 12"x60". In the picture you can see that across the length I have a warp of about 3mm. The "right" end of the picture is with both pieces laying flat and you can see the warp. The edge is straight on the piece it will attach to. Checked with a straight edge. Thinner stuff no prob to straighten it out. 1" not so easy. Is it do able with clamps, shims and heat?
<Mmm; is the warp just in the "run", not the "rise" of this 1" material? IF so, then I'd leave as is. IF the rise is off this much, you'll need to do something.... re-cut it to flush before solventing>
I don't really want to router off 3mm extra in the middle after glue up (wood term :)))). Right now I have placed a small 3mm spacer under the middle of the warped piece and weighted the ends. If it gets warm enough outside today do you think the warp will fix itself or is it something that requires more than 90 degree heat? Heat gun or hair dryer? Any ideas?
<Heat and time will help the material to relax. Heating with a hair dryer I don't recommend. Do you have a plastics fabricator/shop nearby? They may have an oven to do this job for you>
Cheers
Dana
<And you, Bob Fenner>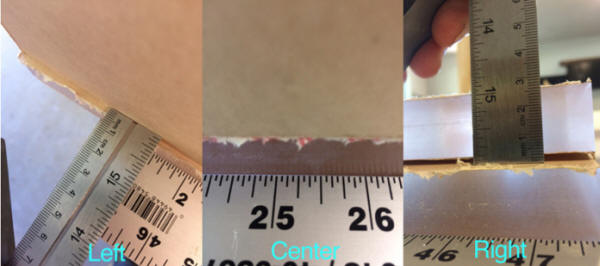 Thank you! 10/20/17
Needed info on bacterial infections and read article by Myron Roth. It was both detailed and helpful. Very much appreciated.
Best Regards,
Adrianna Laszlo
--
<Have sent on your kind words to Myron. Bob Fenner>
re: 90 gallon reef tank 10/18/17
These are the best I can get.
<.... wouldn't worry re these. IF/when the system is empty, dry, perhaps some Weld-On 4 as gone over on WWM. BobF>
re: 90 gallon reef tank 10/18/17
So this tank is ok to use as my main tank?
<Yes>
Also if we're get some weld on 4 how would I get it into the cracks since they are not open to the tank inside or out?
<Only at the seams. B>
re: 90 gallon reef tank 10/18/17
Ok you are awesome thank you so much
<Welcome. B>
Kole Tang; hlth., and Cu f' 10/18/17
Good afternoon Crew,
<Dave>
I unfortunately experienced a loss in my tank last night - my Kole tang.
I've had a Kole Tang previously for years... a curious outgoing fish that was constantly on the move. I have a shallow 60g tank, 79f, 1.024 salinity, no signs of nitrates/nitrites/ammonia - although I have been purposely
allowing a little hair algae to grow for the upcoming arrival of my Kole Tang. I'd say overall I feed rather lightly, sometimes every second day (but am observing my fish growing/fattening up), and only enough that just
a small amount of thawed frozen Mysis/brine/etc... falls to the substrate for my snails/crabs/serpent star, etc
I currently have a few corals, bta, two clowns, yellow watchman goby, royal gramma... I noticed a plump Kole Tang with what appeared to be ICK at my LFS and offered to buy him at a greatly reduced price because I've
successfully QT and treated ICKY fish with Cupramine in the past, and without losses. The Kole Tang went straight into my 30g QT bare bottom tank and I followed the Cupramine instructions as always. The Kole Tang would sometimes eat, sometimes not, but frequently picking away at scraps that had stuck to the foam cover on the filter. He remained active and plump for the 16day QT. With the Cupramine treatment over and no signs of white spots, and what looked like a healthy active fish... I introduced him to my display tank.
The Kole Tang's been shy, not as active, and while I've witnessed him picking away at the glass and rocks from time to time, I rarely saw him feeding with the other fish. Almost two weeks later... Last night, he was on his side in the corner of my tank and breathing rapidly. He still looked to be of a healthy size, but something was obviously wrong. I felt that removing him at that point would cause more stress and certain death.
Watched my cleaner shrimp jump on him at that point, and the Kole Tang swam away. I checked on him this morning and his outer body had been completely picked away by hermit crabs and my serpent starfish.
Question... do you think the death may still be Ick related, even though he appeared to have successfully finished a Cupramine treatment?
<Ick/Crypt might have been a factor... to extent here. As well as the copper exposure. I suspect this fish had a trauma issue though. Perhaps from collection, holding, transport...>
I don't think anything in my tank could've harmed him, and he had no wounds of any sort. I'm assuming my small to medium sized bubble tip anemone wouldn't have been the culprit (unless the BTA had actually caught him and was eating him)?
<Could have had a brush here as well>
I'm stumped... I thought I had success in saving this fish from the store.
Dave
<Sometimes Dave, sometimes not. Bob Fenner>
Re: Kole Tang 10/18/17
Could a simple brush from the BTA have done something like that?
<Not likely a Ctenochaetus tang would perish from glancing a BTA; no; not of/by itself>
I was thinking possibly trauma from collection, but in the QT he was really active, breathing at what I perceived to be a normal rate, etc... Cupramine indicates to treat at .5mg/l, and that toxic levels exist at .8mg/l My
treatment was definitely at .5mg/l, having checked multiple times throughout the 16 days. Are some fish (tangs?) more delicate with copper treatments?
Dave
<Re copper exposure; there is no sub-physiological dose. Akin to old treatments of humans by mercuricals and arsenicals; you're killing the host by degrees along w/ the parasite. Tangs are amongst the most sensitive fishes to copper poisoning. Bob Fenner>
90 gallon reef tank... cracks. Crazing? 10/17/17
I have a used 90 gallon reef tank with these cracks at the top of the tank at the overflow. The overflow is on the side. You can't feel them from the inside or outside. Or these fixable or is my tank done and should be
trashed
<.... I take it this system is acrylic... Need to see well-resolved images of the "bad areas" to give much of a solid opinion. Please read here: http://www.wetwebmedia.com/acraqleaks.htm
and the linked files (above, in blue), and send along the images when you can. Bob Fenner>
Care on Thorichthys helleri? 10/16/17
Hello, crew.
<Hello again Roberto,>
Last time I contacted you about my Uaru, I guess an updated is needed. He didn't make it lamentably, so this is a lesson for me on keeping delicate soft water species, and staying away from unnecessarily small fish (I got him at probably less than 3 cm). The bigger Uaru (19-20 cm) is as lively as ever. I do in fact keep him in warmer water and gets his share of greens.
<Lesson learned, I guess!>
Anyway, on a new topic, a local hobbyist has brought in what supposedly are wild caught Thorichthys helleri, but as far as I know its way more possible for them to be aureus. They are from rio Izabal, Guatemala. They range from 4 to 6 cm.
<There are several Thorichthys species, and identifying juveniles is very hard. Will direct you here, to Fishbase:
http://www.fishbase.org/identification/SpeciesList.php?genus=Thorichthys
According to Fishbase at least, the only Thorichthys species in Guatemala are Thorichthys affinis, Thorichthys aureus, Thorichthys meeki, and Thorichthys pasionis.>
I've read conflicting information about them. Fish base cites them as hard, alkaline water fish, in the range of 23 to 26C, but a couple other sources cites them at the upper ranges, 28, 29 C. which doesn't sound quite right to me, Guatemala is quite cool.
<Indeed, but often the temperature is more to do with the immediate environment. Shallow, still pools in grasslands tend to get hot, while shaded rainforest streams are cooler, and fast water upland streams will be cooler still.>
There is not much information about these guys online, could you shed some light?
<So far as temperature goes, 25 C will be a useful default. All Thorichthys species are sand-sifters, so a tank with a soft substrate rather than gravel is required. Their tall body shape is indicative of slower to still water, so avoid turbulent currents, but as with all cichlids, decent turnover is required to manage the nitrogen cycle properly and ensure there's lots of oxygen. The diet in the wild of all Thorichthys is a mix of algae, organic detritus, and small benthic invertebrates such as insect larvae and worms, so structure their diet accordingly. Because of their delicate sand-sifting jaw structures, do not mix with other cichlids likely to pick fights. Dwarf cichlids are usually fine though.>
I have a spare 45 gal where I might try a small group for breeding purposes, but not sure if these are alike their cousins the meeki. We catch wild meeki, not hard at all to keep, but I've heard the other, rarer species are more delicate.
<The Thorichthys meeki are only hardier because they've been bred for so many generations. Otherwise Thorichthys are much of a muchness: sensitive to nitrate, but not especially delicate.>
Thanks, as always.
Roberto
<Welcome. Neale.>
Re: Complete Wipe Out of Most of My Fish 10/16/17
The service's explanation was they used too much dechlorinator, but that sounds doubtful to me.
<Indeed, but see previous reply.>
My family carefully meters out the food, and the amount of green beans was only a couple of small slices. They've done it many times before so I doubt it was the cause.
<Agreed, that being the case.>
The water is well oxygenated with a lot of water movement. The tank also doesn't get any direct sunlight.
<Good.>
I'm personally leaning towards the bleach, or at least overcleaning the biofilter media.
<Quite so.>
I've never seen them use bleach before, so it is very possible the person using it wasn't very experienced with it.
<Agreed.>
I'm honestly not sure exactly what to do now. I know I at least need to replace the giant Danios soon (there is a sole survivor, and he is not happy at all without his school) but if the biofilter has been reduced a lot I guess I need to do this very slowly.
<Yes, but in fairness, even if the filter is down to 10% of the bacteria it originally had, it'll "cycle" within a few days. It's not like starting a filter from scratch. Plenty of bacteria in the tank to colonise the sterilised filter media.>
-Lynnie
<Cheers, Neale.>
Re: Need help with dying Uaru; also Gold Saum/Green Terror compatibility 10/16/17
Funny, I decided to check the filtered messages of my inbox and three of them were from WetWebMedia, and here I was thinking there was a bit of inconsistence with the emails!
<Oh!>
Thanks by the way, now that I realize, I have quite a few tanks, but I have the space and caring for them doesn't take long, really. I would like to reduce the number of tanks into bigger ones. I find it easier to care for a single 100 gal than say, 4 x25 gals. This is the reason I am aiming at keeping a single south American tank, but I was really unsure of the green terrors.
<Agree that one big tank is easier than four smaller ones, but does assume all the fish get alone/share the same requirements.>
As you said, they are commonly kept here with central Americans, but from the look of things they commonly are the punching bags of Midas, red devils, salvinis and... ugh, doviis, those are true demons.
<Correct. But if you combine with less aggressive, but equally robust, Central American cichlids they're fine. In a 200-gallon system I've kept them with Convicts for example, which are smaller than the Green Terror, but able to handle themselves if they need to. I do think keeping singleton cichlids is the way to go here: one Green Terror, one Jewel Cichlid, one Convict, and so on would probably be fine. It's (usually) when cichlids form mated pairs and start defending their nests that things get nasty.>
Actually, many people have trouble raising GTs to adulthood. Most losses I've seen show GTs with sunken stomachs, not sure why is it that people have such hard time with them.
<All sorts of reasons. They're probably pretty inbred by now -- the species isn't a significant target for collection from the wild, so the population of captive fish isn't getting topped up with genes from wild specimens. Green Terrors were never popular -- for reasons of aggression -- so the actual starting populations in most countries was pretty small. So over time you've got a lot of fish descended from a handful of specimens, and combined with all the usual problems with tank-bred cichlids (exposure to bacterial infections, Hexamita, etc.) the quality of what you see today isn't very high.>
In fact, the general consensus of people here is that green terrors are bottom tier in aggressiveness and among the hardest to keep, hence why I thought they would do fine in the future 540 gal with the rest of south Americans.
<In a really big tank, then possibly a singleton or pair might be okay with schools of fast-moving, midwater characins and shy, nocturnal catfish that are essentially invisible and out-of-reach during the day. But I would not think of mixing them with any other South Americans, certainly not other Acaras, or for that matter Pikes, Festivums, or Severums. I'm sure people have combined them with really big South Americans such as Oscars or Peacocks, but neither of these two fish are aggressive as such, but very powerful if pushed, so it's difficult to predict what will happen for sure. I would much prefer to stick with the Green Terrors as the only cichlids, and everything else to be either a characin or a catfish.>
Both my green terrors have grown with the company of Raphael catfish. The biggest, 22 cm one is timid and will most of the time hide in between woodwork and come out when I get away from the tank. The smaller, 15 cm one comes out to receive me and eats (and bites!) from my hand. Two very different personalities.
<Quite so; could they be male and female?>
I also have an aquarium with blue Acara and aequidens diadema, but I was looking which of these fish could go together.
<I would not keep either of these Acaras with Green Terrors. Much too similar in shape, colouration and ecological niche -- but far below them in aggression.>
So, the green terrors are out of the question of the future 540 gal right?
<See above.>
would it be possible to do a single, Acara themed aquarium (diadema, blue Acara, green terrors?) I have never witnessed the actual territoriality of my green terrors as they were never kept with other cichlids, just Loricariids, but I trust you know better.
<Not so much know better -- just more aware, perhaps, of how often the combination can go wrong! Whenever you see a really colourful fish that's easy to keep -- but nobody keeps them -- you have to ask yourself why. Green Terrors and Jewel Cichlids are two examples of this. Look nice, behave badly. Cheers, Neale.>
Complete Wipe Out of Most of My Fish Neale's take 10/15/17
Dear WetWebMedia Crew,
<<Hello Lynnie,>>
While I was away from home, something unexpected happened that wiped out all but four of my fish. I had left my fish in the care of my family, and the monthly aquarium service that comes to do a more thorough clean down, and the fish were perfectly healthy. I had left a care guide for my family, and they were doing weekly water changes and feeding the fish a mix of dry and fresh foods. They had done this for my past two years of grad school without issue.
However, two days after the service came, the tank completely clouded over, becoming opaque white, and almost all the fish abruptly died. I was not there, but my parents complained to the service, and the service claimed they had had accidentally not dechlorinated the water properly. They then came a few more times to clean up the mess, and the water is clear now. The remaining four fish are healthy, and there is no nitrite or ammonia in the water, so it appears the biofilter was not destroyed.
Because I was not there, I do not have a lot of information, so I apologize in advance. However, I have to wonder what it is that could have happened.
Here are the possibilities that were raised:
1. Too much dechlorinator used. This was the excuse the service gave, but I was under the impression that unless aquarium conditions were 'marginal' the deoxygenating effect of dechlorinators is not much of an issue.
<<Unlikely, unless they did something dumb like use the (super-concentrated) pond dechlorinator in your aquarium.>>
2. Faulty heater. Apparently the temperature in the tank got stuck at 82 degrees Fahrenheit after the service came. But again, not sure if that would be enough to wipe the fish out (the tank is 105 gallons, so it's not small.)
<<If the tank thermometer was set this high, and the tank actually warmed up to 28C/82F, then it is certainly possible for low-end tropicals (Danios, Platies, Neons, Corydoras) to become stressed, especially if oxygen
concentration wasn't that high to begin with. On the other hand, short-term (a few days) exposure to high-end tropical temperatures in well-filtered tanks with lots of water movement shouldn't be an issue. Still, if the
heater is set too high, and the tank also receives direct sunlight, it is most than possible for the aquarium to get much, MUCH hotter, and that can/will stress, or kill, fish that aren't adapted to prolonged high temperatures.>>
3. Clorox. Apparently the service used bleach to clean the decor before putting back in the aquarium, and there is the possibility they did not wash it off correctly. The service claimed this is something they regularly do without issue, but I have never seen them use Clorox before.
<<This can/will kill fish very quickly if significant amounts get in the tank. But merely cleaning ornaments, and rinsing thoroughly, shouldn't be a problem. Of course if one of the guys was new to the business, and didn't
know how well to rinse things, then there's a risk.>>
4. The service removed a lot of snail shells that were in the gravel. Is it possible they could have abruptly changed the pH by doing so?
<<Unlikely. While snail shells do dissolve in water, and quite rapidly (a few weeks, even) if the water is soft and acidic, in chemistry terms the process is slow, and unlikely to cause significant changes fast enough to kill the fish.>>
5. The fish are regularly given fresh vegetables. However, one of my family members gave them green bean slices that were in the fridge for 10 days prior. Could they have been rotten and killed the fish?
<<Depends on the amount of greens. Large amounts of decaying vegetation can/will remove oxygen from the water, leading to oxygen stress in the fish. But you'd need serious amounts for this: for a 200 gallon tank say,
I'd be thinking a couple cupfuls of greens rotting away would be necessary, not a couple string beans!>>
I need to acquire a new nitrate, pH, and GH test kit, so all I can say is there is no ammonia and nitrite at this moment, unfortunately.
-Lynnie
<<All very mysterious, but hopefully not likely to be repeated. Did the service company offer any explanations? The fact the tank became white suggests a bacterial or diatom bloom, the former if it was a more milky white, the latter if there was a golden tinge. Anyway, both are connected with environmental instability, the classic being "new tank syndrome" but it could equally easily be a change in water chemistry caused by the addition or removal of some soluble chemical such as lime, or else clumsy maintenance of the filter that removed too much of the mature filter medium. The latter scenario would indeed cause a rapid die-off of the fish, as the filter capacity drops, but once the 'surplus' fish have died and been removed, the remaining biological filter capacity would be adequate for the remaining fish, so you wouldn't detect an ammonia and nitrite spike if you only sampled water quality after the event. Make sense? Cheers, Neale.>>
Stingray pups 10/15/17
Dear WWM Crew,
I've been keeping freshwater stingrays for almost 10 years. Love 'em!
<Certainly rewarding fish, for those with the skills -- which you certainly have!>
One of my female P. motoro gave birth to four large babies last night. All are doing great.
<Well done!>
She's now flat on one side but still kind of bulging on the other side. And four is a small litter for her. So I'm assuming she only gave birth from one uterus and will give birth from the other either today or soon. My
question is, "Is it possible for stingrays to give birth several days apart?"
<Certainly several hours can elapse between first and last pup in a litter, and I guess a day or two might be possible. Still, I'd be getting a bit nervous at this point in case there's a blockage of some sort. A substantial water change, and turning off the lights, would be two obvious things to do. The first to dilute any of the fluids and wastes from birth, and the latter to reduce stress. I'd think about Epsom salt too, as this mild laxative might help delivery the babies if they're not quite out but on their way.>
Thanks as always for your wonderful site.
Margie
<Do think about posting at Monster Fishkeepers. While that forum plays a bit fast-and-loose when it comes to using live food, it's a focal point for the big predatory fish community, and several Stingray breeders post their
regularly. Cheers, Neale.>
Re: New Pandas also Re: Epsom salts, peacock gudgeons and blockages 10/15/17
Hi Crew! I'm still battling the white blobby patches on my new panda Corydoras so here is an update of what's going on.
<Sure!>
The visit to the vet on Wednesday wasn't much use, he was reluctant to supply any medications without a diagnosis, and was unable to provide a diagnosis himself even if he had a fresh sample - he's more of a
cat/dog/horse vet, despite keeping a turtle.
<Often the case. Medicating fish with help from a vet is the ideal, but rarely practical. It can also get expensive given the low cost of fish, though it has to be said there are fish vets out there, usually specialising in Koi, the best of which reach prices comparable with pedigree dogs and horses! My point being if you have a local or national
Koi club, they might be able to point you in the direction of a fish-friendly vet.>
He did suggest some places that might be able to give me a diagnosis and prescription, but they are all quite far away and mostly oriented towards trout farming so it didn't really help. I don't think I'm getting a prescription any time soon, and not soon enough to help my fish anyway.
Once again I'm thwarted by living in the middle of nowhere!
<Oh!>
I did manage to get a better scraping from one of my Corydoras and some of a white patch came off so I had a look at it under my own microscope. I didn't see any movement at all in any of the sample, and I also didn't see
any fibrous structures so I am much more confident now that it is bacterial and not Costia or fungus.
<Understood.>
The white stuff was fairly sticky so I am guessing it is either fish slime or a bacterial film. Zoomed in, it looked a lot like the chunks you get when you stir up gelatin jelly. Not much else to see at x100, my entry level microscope is not so useful this time.
<Certainly fungus should be obvious as x40, let alone x100; Protozoans a bit variable in this regard, but at x100 I'd expect to see something moving about or waving their cilia! As you say though, bacteria are elusive at x100.>
I stopped using Multicure (M. blue, M. green & Acriflavine) in the tank as it was not really working and was making it too hard to see what was going on, and continued with the course of triple sulfa. I found on day 3, the
day before the second dose was due, the patches seemed thicker and were spreading. But the morning after the water change and second dose of triple sulfa, it looked like the start of recovery. Some of the Corys looked
completely clear while the other affected ones seemed slightly better.
However by the following day it was obvious that triple sulfa really was not working - maybe it was just the water change that made them look temporarily better.
<Agreed.>
The white patches are spreading again and some patches were visible on fish that were previously completely clear. The sterbai Corys also are starting to have light markings on their faces which look like they could be ulcers.
I completed the course of triple sulfa but I think at best it merely slowed the spread of the disease.
<Triple-Sulfa contains sulfamethazine, sulfacetamide, sulfathiazole, only one of which, sulfacetamide, is an antibiotic; the other two are antimicrobials. Taken together they're a bit hit-and-miss as an aquarium medication, and not really anyone's first choice. While useful enough as preventatives, for example once a fish is injured and you're concerned it might get infected with Finrot, I'd not recommend Triple-Sulfa for dealing with an established infection.>
In any case, behaviourally the fish are still all eating, acting like they are well and so on so I decided to switch to tetracycline as I think they are well enough to handle the side effects for now. I keep finding conflicting information regarding whether tetracycline will treat Columnaris but I think its worth a try since I don't have anything else at hand right now, and I don't know for sure that I'm dealing with Columnaris anyway - if it is, it must be the slow-acting strain. I have ordered some Kanaplex and furan 2 from the internet and if the tetracycline doesn't work I'll switch to whichever one gets here first - although is it true that they have a synergy effect when dosed together? I will wait and see how dire the situation is and if its not so bad maybe I'll wait for both before
treating.
<Using two antibiotics can have mileage. Being very specific, if you choose one for gram-positive and one for gram-negative, they can provide a two-pronged approach without a risk of poisoning your fish.>
I'm also considering the possibility of using the Multicure product as a bath since the Methylene blue and Acriflavine ingredients might still help and that way I'm not mixing my medications "in tank".
<Agreed; I'd tend to back off the organic dyes (Methylene blue, etc.) while using antibiotics. Whereas antibiotics are focused and have low toxicity, the dyes and antimicrobials are much more akin to poisons, intended to kill
'germs' before they kill the fish. So overuse, or combining them, can pose a risk. Do a water change, stop using the dyes, and then begin the antibiotics -- removing carbon from the filter, if used.>
I hope the tetracycline will work but it wouldn't surprise me at all if this bacteria is also resistant to tetracycline as we don't really have access to much else in Australia. So at this point I'm just planning ways to keep the fish alive until the big guns get here. The bath instructions I've read are to use water from the current tank to fill the "bath", then use the medication at double the strength intended for in-tank use. Bathe fish for 30 min.s, watching and removing back to the main tank if signs of distress are noted.
<Viable, if used carefully alongside the antibiotic.>
Multicure has 0.4% malachite green, 4% Methylene blue and 2% Acriflavine which previously the fish have tolerated fine at the recommended half strength for scaleless fish. Do you think Corydoras would handle a double
dose of this medication (which would actually be a regular dose)? How often is it necessary to bathe, once a day? Uh, don't take that last one out of context, haha.
<In other words bathe them at full dose? Personally, I would try this, but carefully watching for signs of distress.>
These little guys have lasted almost 2 weeks since arrival, and despite their external condition they still seem vigorous and I haven't lost hope that I will be able to get them to be well again, that is, as well as possible after nuking them with so much medication. What do you think of my treatment plan?
<Worth a shot!>
Cheers,
Bronwen
<Cheers, Neale.>
RE: Help please for my African Dwarf Frogs 10/14/17
Hi Neale -
Thank you so much for your response.
<Most welcome.>
I am not sure why but I originally drafted this to you in September but, for some reason, it didn't go through until October 10th. Possibly because I was on a different computer. Anyway, MaryAnn passed a couple weeks ago.
:(
<Oh dear; sorry to hear that.>
I will not be getting another frog to keep Ginger company based on your response below. As long as one frog is happy without another, I am happy with just the one!
<Indeed, this is the case. Good luck with your remaining batrachian buddy!
Cheers, Neale.>
re: White Mountain minoes 10/14/17
Wow, Thanks!
<Welcome Sonja. BobF>
Complete Wipe Out of Most of My Fish 10/14/17
Dear WetWebMedia Crew,
<Lynnie>)
While I was away from home, something unexpected happened that wiped out all but four of my fish. I had left my fish in the care of my family, and the monthly aquarium service that comes to do a more thorough clean down,
and the fish were perfectly healthy. I had left a care guide for my family, and they were doing weekly water changes and feeding the fish a mix of dry and fresh foods. They had done this for my past two years of grad school without issue.
<Rats!>
However, two days after the service came, the tank completely clouded over, becoming opaque white, and almost all the fish abruptly died. I was not there, but my parents complained to the service, and the service claimed they had had accidentally not dechlorinated the water properly. They then came a few more times to clean up the mess, and the water is clear now.
The remaining four fish are healthy, and there is no nitrite or ammonia in the water, so it appears the biofilter was not destroyed.
<Ah, good>
Because I was not there, I do not have a lot of information, so I apologize in advance. However, I have to wonder what it is that could have happened.
Here are the possibilities that were raised:
1. Too much dechlorinator used. This was the excuse the service gave, but
I was under the impression that unless aquarium conditions were 'marginal' the deoxygenating effect of dechlorinators is not much of an issue.
<You are correct; it is very hard to overdose water conditioners>
2. Faulty heater. Apparently the temperature in the tank got stuck at 82 degrees Fahrenheit after the service came. But again, not sure if that would be enough to wipe the fish out (the tank is 105 gallons, so it's not small.)
<I doubt this as a cause>
3. Clorox. Apparently the service used bleach to clean the decor before putting back in the aquarium, and there is the possibility they did not wash it off correctly. The service claimed this is something they regularly do without issue, but I have never seen them use Clorox before.
<Very easy to make mistakes here>
4. The service removed a lot of snail shells that were in the gravel. Is it possible they could have abruptly changed the pH by doing so?
<Very doubtful; the CaCO3 in shells is not very soluble>
5. The fish are regularly given fresh vegetables. However, one of my family members gave them green bean slices that were in the fridge for 10 days prior. Could they have been rotten and killed the fish?
<This I do not know>
I need to acquire a new nitrate, pH, and GH test kit, so all I can say is there is no ammonia and nitrite at this moment, unfortunately.
-Lynnie
<Will share w/ Neale, as he may have other useful input. Bob Fenner>
Pseudomugil cyanodorsalis & Gobioides broussonnetii brackish tank? 10/13/17
Hi all,
<Hello Meghan,>
I have a 14 inch violet dragon goby that I'm very, very slowly planning a large tank for. He's currently in a brackish 55 by himself.
<Cool.>
I'm planning on a 200 gallon or larger. SG 1.015-1.018 so I can use a protein skimmer.
<Understood. Not essential, but useful. However...>
Do you think Pseudomugil cyanodorsalis would do well with him if I set things up properly? I've read that they can be timid & are slow eaters. I'm concerned they'd be terrified of the giant (but completely peaceful) goby.
<I'm sure it would depend on the size of the group. A school of 20-30 would probably feel much more settled than just 6 of them! I'd also be sensitive to where the Pseudomugil were collected -- while the species is listed as euryhaline, sometimes these species include strains pre-adapted to a more narrow range of salinities. While I'd expect them all to do well at SG 1.005, even ones collected from freshwater habitats, I'd be more cautious
about exposing them to near-marine environments without having taken the time to slowly adapt them and observe their behaviour.>
Another concern is that the goby is quite messy - so weekly water changes are a must. Would the blue eyes be able to handle a mild decline in water quality toward the end of the week?
<I do think in a 200 gallon tank a single Violet Goby and a large school of Blue-Eyes are unlikely to place much strain on a decent jumbo canister filter or equivalent.>
Do you have any advice for creating an environment where they'd both be
comfortable?
<I'd perhaps get the Blue-Eyes settled in first, and grown on a bit, and maybe add some other dither fish that might help them feel secure, such as Micropoecilia species. I'd also ensure plenty of hiding places for the
Violet Goby, so it wasn't too frantic when the lights were on. Although I've not seen these two species combined, Violet Gobies do work just fine with Guppies, so the theory is good!>
Thank you.
- Meghan
<Cheers, Neale.>
Re: Acrylic Aquarium Seam Failing ...Did I make it worse? 10/13/17
Thanks Again Bob
Now I need to pass-on the good karma this week ��
<Ahh. B>
--Chris
White Mountain minoes 10/13/17
Hi, I have a 5gal Fluval Chi With 3 minoes 1 micro guppies and a snail since March 2017. One of the minoes has sunk to the bottom this is the 3rd day and is eating, I do weekly water changes, today I did a 75% water
change, temps 74° to 76° add a under water filter system and more plants the fish seem to love it. Since then the bottom dweller tries to swim but goes back to the bottom the other 2 kind of carol her what could be wrong or could she be pregnant if so what can I do.
I love my fish.
Sonja
<I suspect the one fish is defective... perhaps genetically or developmentally; as the others are fine... and your tank appears well-established, stable. I would do nothing treatment-wise here. Bob Fenner>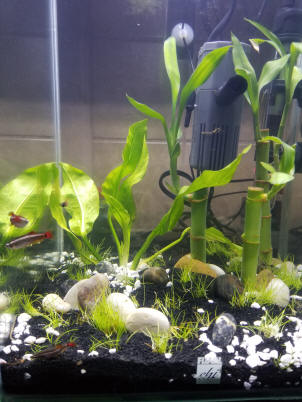 Re: Mixing captive bred Centropyge 10/13/17
Thanks for the quick response. It seems things have deteriorated in the last couple of days, there are no real issues during the daytime but around 1-2 hours before lights out all hell breaks loose with the coral beauty
constantly chasing and attacking the flame. I guess it may be a natural instinct to defend the best/safest sleeping spot on the reef.
<Mmmm>
I think I'll give them one more night but it looks as though I may have to remove the coral beauty unless you have any advice to the contrary. It a real shame to get rid of one of them but if it continues this way I don't
think the flame will cope for long.
<I would separate these two; such overt aggression does not usually abate>
Best regards
Nick
<And you, Bob Fenner>
Re: Nuisance Algae (possibly sponge?) in saltwater tank 10/12/17
<PLEASE: No files more than a few hundred Kbytes... >
A thin layer will cover the glass just within a few days if I leave the lights on. Here are two additional photos I took. I will check it under a microscope and see what I come up with.
<Do send along reduced size, highly resolved pic/x if you can>
Thanks for your help!
-Justin
<Thank you for sharing. BobF>
Re: Nuisance Algae (possibly sponge?) in saltwater tank 10/12/17
I will send the microscope images over when I get them. I was sending full size photos so they were large. I will reduce next time.
<Ahh; I thank you Justin. B>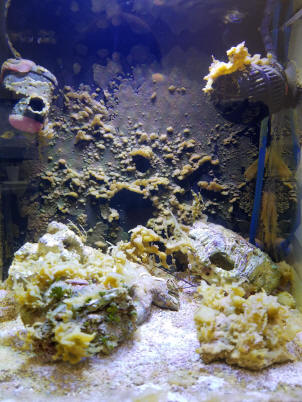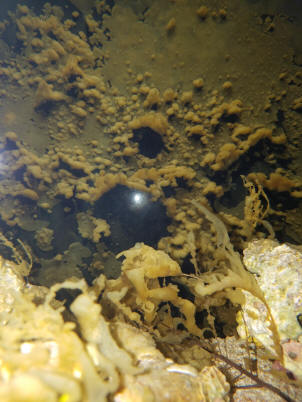 Black algae? /Neale 10/12/17
Hi, could you advise what this black substance is in my tropical tank? It seems to have appeared after topping up my gravel.
<Appears to be Red Algae -- so called because of its appearance in alcohol rather than in life. Various types such as Brush Algae and Beard Algae, among others. Difficult to eliminate, but does tend to be noticeable only in certain conditions -- will direct you to some reading:
http://www.wetwebmedia.com/fwsubwebindex/fwalgcontrol.htm
http://www.wetwebmedia.com/ca/volume_6/volume_6_3/fwalgae.html
Essentially, a combination of good water quality, fast-growing plants, and possibly the use of suitable algae-eating fish, will be the way to keep these algae out of your tank (or at least present in innocuous amounts).
Cheers, Neale.>
Black algae? /RMF 10/12/17
Hi, could you advise what this black substance is in my tropical tank? It seems to have appeared after topping up my gravel.
<Ah yes; does appear to be a Blue-Green "Algae" (Cyanobacteria). Does it feel slimy? Occurs in a few colors, morphologies. Please read here re:
http://www.wetwebmedia.com/ca/volume_6/volume_6_3/fwalgae.html
Bob Fenner>
re: Black algae?
Thank you for the prompt and helpful reply
<Most welcome! Neale.>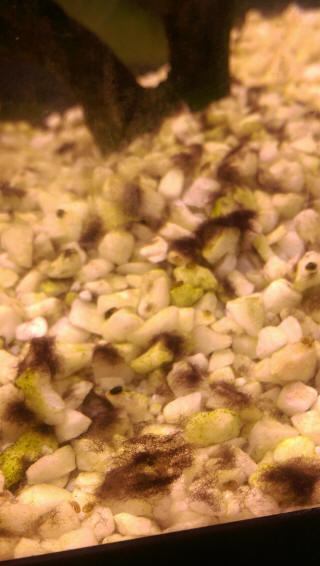 re: Sick Seahorse mystery 10/12/17
Thanks for your quick reply Bob, especially since you are in Mexico.
<Welcome. Can't download these pix either.... Hundreds of Kbytes, NOT megs>
I have looked up Glugea and am not convinced that this is what she has and on reading it seems that there is no cure if it is so I truly hope it isn't that.
I did think it may be a fungal infection but on closer inspection today the spots seem quite flat, unless this just means they have a burst, in which case I fear the male is now infected also.
<... bad news>
The male was a pony that I rescued from a shop and although it was sold to that shop as tank bred I was always suspicious. The female came from a breeder, Nigel Christie. I wanted to get him a new mate asap as his previous one died of snout rot.
<Ahh>
In hindsight I think perhaps I shouldn't have mixed true captive bred with an uncertainty.
<Yes; agreed>
Today the marks have kind of merged together. They are very flat and clean looking. To the point that I had a crazy idea that they were just clean patches appearing. She was this bright white before she got "grubby" in my
recently problematic tank (Cyano bacteria issues).
<Perhaps the seahorse issue is more directly an environmental manifestation>
Attached are pictures from today. They do look like lumps in the pictures but don't feel lumpy today. That is probably a bad sign :(
I guess I'm a dreamer. Is there anything at all that I can try to save
her/them?
<Have you read over this bit on WWM:
http://www.wetwebmedia.com/seahorsecare.htm
She really isn't behaving irritated by this at all, my priority right now is getting some food into her maybe with a canella.
Thanks again,
Georgina
<Welcome. No more large files... we've exceeded our webmail capacity (50 megs...) Folks are getting bounced. BobF>
re: Sick Seahorse mystery 10/12/17
Thanks again Bob. Massive apologies for sending such large files, I must see if I can shrink my pics before sending, I didn't realise they were so big.
<Ahh; I thank you Georgina>
Thanks for the link to the seahorse guide, I most likely have seen it before but it's always worth a reminder (clearly!)
<Good>
I thought I was doing the right thing ensuring that I got him a captive bred seahorse of the same breed but if he turned out to be wild caught maybe not so much of a good idea. I never intended to EVER buy from my LFS
as I know they don't get them from a reputable source. I only ended up with that pair as he had gas trapped in his pouch and was sure to die if I didn't. He has been doing great since I got rid of the gas and has been living with me. Unfortunately his mate died unexpectedly a few weeks after I got them and I panicked he would pine away.
<I see/understand>
My other seahorses are Erectus from Tom Hornsby and they are in a separate system. I have had the females 2 years and recently got them boyfriends.
They are all doing very well together I'm pleased to say, definitely worth getting them from a reputable breeder such as Tom.
<Indeed; agreed>
I have had some issues with the other setup recently so wouldn't be surprised if that's where the infection came from. Too long a story to add here but needless to say I will be doing my best to eradicate said issues before any seahorses should return.
<A wise approach>
I am a stickler for water quality so would be devastated if my husbandry caused this. I believe it was new sand that I put in that caused a bloom, wish I'd never done it.
Thanks so much again and so sorry for blocking your emails with my files.
Georgina.
<Cheers dear. B>
re: Sick Seahorse mystery 10/12/17
Cheers dear :)))) thanks for giving me a well needed chuckle Bob :)
<Welcome Lil G. B>
re: Sick Seahorse mystery 10/12/17
Hi Bob,
<Georgina>
Just thought I'd let you know that sadly I lost the girl and am quite concerned he has it too.
<Am sure you're right. This issue IS pathogenic>
Someone suggested Vibrio....any thoughts? One whole side of her ended up completely white like her original healthy colour and the other side just had big patches (2 or 3) not individual spots anymore. I won't send pics lol
<Vibrio is a possibility>
So so upset that this has happened. Many tough lessons learnt though and I doubt I'll be rescuing anymore from shops after this awful experience sadly
:'(
Thanks for all your help.
Georgina
<Welcome. Bob Fenner>
Re: Need help with dying Uaru; also Gold Saum/Green Terror compatibility 10/12/17
Hello, thanks for the very informative response.
The guy is now swimming upright and is more responsive to stimulus. I may actually believe CO2 overdosing was at play here also. I will be checking on his fins in a while when I arrive home.
some addressing of the points you told me:
this is the tank that receives the most maintenance, it stays at around 7.5 ph, 8 dGH and 8 dh (I know, not optimal).
<For Uaru, likely life-shortening if wild-caught, suboptimal (as you say) for tank-bred specimens. Would review water chemistry here if at all possible.>
I just want to point out I actually have another Uaru, this one is 20 cm adult I got last year and have kept in a south American cichlid aquarium (230 gal), but I got him already at the 15 cm mark.
<The larger size certainly helps, and the sheer size of this second aquarium probably moderates stress factors to some degree too. But simply because one fish did well in suboptimal conditions isn't a guarantee that a second specimen will do equally well.>
The small and big Uarus do get greens, since I also keep a couple fancy Plecos feeding them zucchinis and other greens also involves the Uarus feeding. Also, the small Uaru nibbles on plants, particularly Hygrophila and staurogyne species which he devours happily.
<Precisely.>
I also feed a combination of Spirulina and normal flakes with new life spectrum to all fish, although all in all they do get their share of meaty foods, which probably isn't good as you have pointed out.
<I would avoid, in all honesty. As with Tropheus and other more or less herbivorous cichlids, providing too much meaty foods will cause problems, though to what degree is certainly debatable.>
Water temp of the planted tank stays at 25-26C, so yeah, below what is needed.
<Quite so.>
All in all I reckon he's not in the best of conditions, even less for a 4 cm fish, which are more delicate than adult, robust fish.
<I agree with this analysis and conclusion.>
Thank you, I will probably set up a different tank for him to grow out while he reaches the size to go to the main cichlid tank.
<Wise.>
I will also be upgrading the cichlid tank, the jump will be towards a 540 gal. The current main south American has the adult Uaru, 2 Geophagus steindachneri, 1 Green phantom Pleco,
<A "hothouse flower" of an L-number, so a superb choice for life with Uaru.>
1 blue phantom,
<A definite low-end tropical this time! 22-25 C preferred. So a poor choice for a Uaru tank.>
and a school of 5 Festivums.
<I do think Festivums are rather lovely fish! Happy enough at high-end temperatures, but a bit more omnivorous than the Uaru, so not a perfect companion.>
I have two adult Andinoacara rivulatus in separate tanks. I was wondering if they would be compatible with the rest of the fish in the eventual 540 gal?
<Ah, beautiful fish these, but not easy to keep. These are the old "Gold Saum" of the 1970s/1980s, also known as the "Green Terror" because it was regularly confused with the much more placid, but similar-looking, Blue Acara -- but so aggressive it could decimate your community tank! On the one hand, like (most) other Acaras, it's a good choice for low-end tropical systems, 22-25 C, and tankmates should be chosen accordingly. It won't be happy in the same warm water (25-28 C) that your Uaru or Green Phantom Plec would need. But it is aggressive, and tankmates need to be able to handle themselves. L-numbers of similar size are good choices, as are equally big and robust characins and cyprinids, for example Silver Sharks or Leporinus spp., but only with singletons -- mated pairs are far more destructive and invariably kept alone. For sure odd specimens were docile enough, but in truth most Gold Saums ended up living in rough-and-tumble Central American cichlid tanks or on their own.>
Thank you
Sincerely
Roberto
<Most welcome. Neale.>
Help please for my African Dwarf Frogs 10/12/17
Hi - Just so you know, I am one of those people that Google everything and anything and am usually pretty successful in finding answers to my questions. Well I have been searching for a couple days (at least) to try and figure out what is going on with my ADFs...well one ADF in particular.
I haven't had any luck and it may be that it is an issue that is hard to word in a Google search. I don't have much faith in the knowledge of the staff at my local pet store so I am writing you. I'm sure you are inundated with emails but I figured I'd see if you could help.
<Sure thing!>
I have a 5 gallon, heated and filtered tank and in it are 4 guppies, one mystery snail and now 2 ADF's. I had just one ADF for a few months and then decided she (I assume she is a she as I never hear singing like I have in the past with males) may like to have another ADF to interact with.
<Understood. But like most frogs, they're not really social as such...>
Prior to my adding the 2nd ADF (Ginger), my 1st ADF (MaryAnn) seemed like a happy active frog. She would always come when I tapped on the glass, would follow my finger and dance around for me, and would eat heartily Frozen Bloodworms and/or Brine Shrimp.
<Sounds neat!>
After adding Ginger to the tank, MaryAnn is a different frog. She hides out of sight most of the time, barely eats and seems to want to run from me versus being happy to see me. The new frog (Ginger) is acting normal. Is active and eats heartily.
<Odd.>
What happened to MaryAnn?? Could she be upset that I added another frog?
<Bullying is certainly a possibility, the solution for which, oddly enough, can be adding more -- it's harder for a bully to harass two frogs than just one. On the other hand, a useful trick is to remove the bully, rearrange the tank enough it looks different, then after an hour or so, return the bully. With a bit of luck, this has a "reset button" effect because the bully is now the newcomer again, and the original frog has a chance to assert itself better.>
Ironically, I hesitated at first to get a 2nd frog as I really enjoyed the "special" one on one time I had with MaryAnn. I only got the 2nd thinking it would make her happier to have a little friend.
<Always dangerous imagining animals are people. They're not. Their minds are very different, and animals that aren't gregarious, like frogs, really don't notice or interact with other frogs outside of breeding. Since you're offering the food, you are actually more "interesting" to them than other frogs!>
I don't know if it is my imagination but she does appear to be a tad bloated. That could be due to the fact that I fed her often....not sure.
<Possibly, so do try cutting back the food a bit, or using something with a laxative effect, like Daphnia or Brine Shrimp, to see if it helps.>
Either way, do you have any idea what could be wrong??
Let me know please when you have a chance.
Thanks in advance
Lisa
<Hope this helps, Neale.>
Re: Ghosty the Loach 10/11/17
Thanks Neale!
<Welcome.>
I will turn up the heater while treating then.
<Good-oh.>
I have never had any experience w/fungal infections so I honestly don't know whether it would be better to only turn up the heat a bit to 77 as suggested & watch & wait, or also dose with Furan-2 since his fins did indeed respond quickly to that treatment.
<I'd up the temperature, and use the antibiotics again, especially if they worked once already. As stated earlier: there's no reason to assume a single course of antibiotic will do the trick with resistant strains of bacteria, any more than is the case with humans. A second or third course may be required.>
If he were yours, what would you do?
<See above.>
Thank you again!
Wendy
<Cheers, Neale.>
Re: Ghosty the Loach 10/11/17
Awesome! Will do. Temp to 76 now & will commence antibiotics. Thank you again!
Wendy
<Most welcome and good luck! Cheers, Neale.>
New Pandas also Re: Epsom salts, peacock gudgeons and blockages 10/11/17
Thanks Neale and Bob for your replies. And Hi Crew! Thought you would like an update on how my poor gudgeon is doing, and I have some extra troubles which I will get to later in this email.
<Oh dear.>
I kept watching the display tank after it was treated with Epsom salts and could see the prolapsed portion of the affected gudgeon had shrunk by half overnight and looked much better.
<Good.>
However after a full day many of the other peacock gudgeons were showing some stress colouration and hiding, so I performed the scheduled water change. By the following morning the gudgeons were back to normal, but
prolapse was back to its original size. I took the plunge and managed to catch the affected gudgeon by tricking him with food. If they get the idea they are in trouble they can dart and jump surprisingly quickly but I was
very lucky to catch him off guard. Anyway after 3 or 4 days in his own tank, and after treatment with what I hope is Metronidazole (bought off the internet due to not being readily available in Australia, the packaging is slightly unconvincing), the prolapse had reduced down again but did not yet resolve.
<The Metronidazole is a good thought here, as prolapses of this type are sometimes a reaction to parasites inside the gut.>
The gudgeon was becoming very stressed so I put him back into the display tank. It's been over a week and he is back to his normal self behaviourally. The prolapse has still not resolved but it is not as big as it was, or at least, it looks fleshier and a lot less likely to burst than it used to so I will keep my eye on him and continue to be mindful of what I feed that tank. No one died so I am counting that as a win for now!
<Indeed. Such things do take weeks to resolve. So like Dropsy, if the fish is getting incrementally better, and still eating, that's good!>
I'm writing now about an old familiar problem - trying to keep some new panda Corydoras alive. My existing school of 6 panda Corys is quite happy and doing well (thanks for your help in getting them to that point!) and I
had the idea that the tank they are in has room for a bigger school.
Originally I wanted to try some pygmy Corydoras in a separate species tank but I saw pandas had become available again for quite a cheap price. I ordered 15 expecting to lose a few but hoping to keep enough alive to
eventually expand the existing crew and I'm using the unused pygmy Cory tank for the quarantine tank. The store sent me 16 pandas (and also 2 sterbai Corys by mistake instead of trilineatus), but unfortunately put all
the pandas in the same bag. 4 died in transit, but the rest seemed mostly quite lively and feisty after getting into some fresh water. I lost 1 more from quarantine in the first few hours, one overnight, and then one more on
the following day. This last one had his barbels curled under him and his gill covers looked like they were stuck open. I suspect it was just residual damage from being in poor water conditions during shipping.
<Agreed, but the "cheap price" might also suggest less than perfect breeding conditions. Sometimes fish are maintained poorly, but "juiced" on antibiotics, which keeps them alive on the fish farm. Once shipped, the
drugs where off, and you're stuck with sickly fish. Careful quarantining, good food, and judicious medical treatment as needed can help though, so all is not lost!>
The remaining 8 pandas are still lively and have good appetites, and the 2 sterbai seem much the same although definitely more nervous due to their small school size. The zoomy pandas seem to terrify them even though the
sterbai are three times the size.
<Corydoras sterbai do need warmish water to stay healthy, 25-28 C, so they're not quite as adaptable to lower-end tropical conditions as other members of the genus. On the other hand, they're good choices for Angelfish, Discus and Gourami set-ups where high temperatures are needed.>
I am using the refund from the dead fish/wrong fish to buy a few more sterbai so eventually they will be in a comfortable school size - they definitely behave differently than the pandas and trilineatus that I already have so I am looking forward to setting them up in their own tank.
The current quarantine tank is 65lt with a fine sandy bottom and I have been doing daily 20lt water changes and vacuuming out uneaten food trying to give these guys as clean an environment as possible to recover. They
have been getting live grindal worms and some small pellet food and none of the survivors seem skinny like a few were when they first arrived. I am mixing up their water to be the same as the water my existing panda Corys
live in as that's where I want to move them to after quarantine is over, so medium softness and temp is 24C.
<Understood.>
Anyway now to the problems. After the quarantine population stabilized I noticed 2 of the pandas had thickened white patches on their fins, faces, and one had a coated barbel on one side which was twice as thick as it
should be. Very difficult to see what's going on with white on white but I thought it looked like fungus so began treatment with a Multicure product (malachite green, Methylene blue, Acriflavine, supposed to be good vs.
fungus and some external parasites).
<Sounds about right; Methylene Blue is a good first choice for fungus infections. Low toxicity, even with baby fish and eggs.>
After 2 days of this treatment there was no improvement and the patches were thicker so I began to worry that it was actually the dreaded Columnaris instead. I couldn't actually see any fibrous or fuzzy growths, the white patches seem more flattened and blobby than anything. All I had at hand was some tri-sulfa (which does say it can treat Columnaris on the label) and I remember reading somewhere that Columnaris will not tolerate salt.
<Possibly true, but can't imagine the salt level needed would be tolerated by Corydoras for long. I'd be using a plain vanilla antibacterial treatment here instead. Salt is almost never useful against fungus or bacterial infections at "safe" freshwater levels.>
I also checked to make sure I could mix tri-sulfa and the other product and as far as I could tell all would be well. I have had tri-sulfa and salt in the tank for 2 days now (this is the third day) and re-dosed as required, accounting for the water changes I did (additional to the existing course of Multicure). I added equivalent of 5 tsp of salt on the first day, and another 5 on the second day, dripped it in slowly via airline. The fish are all tolerating this well. I know Corydoras can handle more salt than this after having success treating Ich this way, but I don't know if that level of salt is required to treat Columnaris (or even if that's what I'm fighting here).
<I do suspect you are right: the 2 gram/litre level used for Whitespot is easily tolerated by freshwater fish, but for bacterial and fungal infections you'd surely need a lot more -- bear in mind marine fish can get both!>
I am holding off on adding more salt for now pending further advice.
<See above.>
I'm a bit worried that my water conditioner has reacted with the Multicure as it seems like a lot of it has come out of solution and settled on the sand (or perhaps just the top layer of sand is now dyed green).
<One risk with organic dyes like Malachite Green and Methylene Blue is precisely this. Tends to fade away in time, but not always. The blue is generally overlooked, looking watery I suppose, but the green is more annoying, it is true.>
The first dosage I put in stained the water quite dark for a couple of days but the second dose looks to be almost gone overnight, even though I followed the instructions and didn't use it immediately after the water change. Anyway there is still no improvement and the white patches are spreading to the other Corys. Yesterday one of the sterbai had a patch on his forehead although that is gone today, but a lighter patch of skin is visible in that place. I now realise tri-sulfa is bacteriostatic rather than bacteriocidal and probably won't get rid of Columnaris by itself, but I thought if I kept the Corys eating well they might be able to fight it off. The package for this medication says I can double the dosage for severe cases and I am considering doing this as I only used the single dose to start with.
<Follow the instructions, and remember to remove carbon from the filter, if used.>
Since I've had no success so far and it is spreading, today I had the idea that maybe this is slime coat disease (Costia?) and not a fungus or bacteria. The most notable thing is that it seems the extremities of the fish (fins, barbels) are affected much moreso than their bodies. Where it is on their faces, it's mostly around their nostrils, and it is on the fins that are closest to the substrate.
<This is not uncommon. It's usually explained in terms of a scratchy substrate, or a dirty substrate, or both. The belly and barbels are scratched, bacteria infect the wounds, and something similar to Finrot sets in. Indeed, it probably is the same Aeromonas and Pseudomonas bacteria at work. That said, there are mystery plagues or red-blotch diseases associated with Corydoras that don't have any definite aetiology. A broad spectrum antibiotic is helpful, but with the Corydoras moved to a substrate-free aquarium for the process, so that the skin has time to heal over properly as well.>
The one with a patch on his body seems like it spread there from his fin.
The Cory with one affected barbel now has both barbels coated. It seems like it covers the entire surface of some of their fins. I have not seen any redness anywhere on the Corys but maybe that symptom would not show up
on fins (or can't be seen under the thick coating).
I would have thought Costia would be affected by the ingredients in Multicure, if that's what this disease is, however if the Multicure is being cancelled by the water conditioner it would explain why the disease is spreading. If the disease is Columnaris it also explains why it is spreading quickly, although I would have hoped triple sulfa would have slowed it down. I do have some eSHa Exit available which I didn't use yet, as I am not keen on mixing up my medications. I had assumed it had similar ingredients to Multicure however I found a webpage stating it contains Acridine, Malachite Green, Meth.Violet, Meth. Blue so not quite the same.
So it might work differently I guess?
<Indeed.>
At this point I am wondering what your opinion is of this disease and how I should be treating it. I am fairly sure by now that this is not fungus as the water has been kept quite clean, I haven't seen any obvious hairy fuzz,
and it has not responded to that treatment. I hope it's not Columnaris, but if it is, it's taking its time on killing off all my fish and they aren't really acting unwell. I've had advice that Kanaplex will work on Columnaris but at this point I don't have access to any (although I could ask my vet when I take my cats in tomorrow) however, obviously antibiotics are pointless if this is Costia. But if it's Costia, why didn't the first treatment get rid of it (maybe because it's not as good as eSHa Exit)? I'm hoping you have some ideas or tips as to what to do next.
<Costia is frustrating because it can't be easily diagnosed without a microscope. While some fish are prone to it, others aren't, and to some degree it's "the thing you suspect next" if fungal and Finrot bacterial infections have been dismissed. It's all very annoying.>
I'll attach some pictures but its quite hard to see since everything is kind of green, I have a terrible camera, and the Corys are tiny and won't sit still. They are still very white, reflective and you can see some of their internal structures and iridescent bits showing through which looks like white patches on their bodies but isn't.
<Indeed, I can see what you're talking about clearly. I'd be assuming the substrate and bacteria are somehow the issue, and treating as described above. I'd also double check the tank is Corydoras-safe, e.g., you used smooth silver sand rather than sharp sand.>
When the extra sterbai Cory arrive they are going to have their own separate quarantine well away from this tank since it is a bit of a disaster area. I'm lucky to have a very understanding spouse who has let me set up many tanks around the house!
Thanks as always for your help, your experience and advice is invaluable.
Cheers,
Bronwen
<Hope this helps. Cheers, Neale.>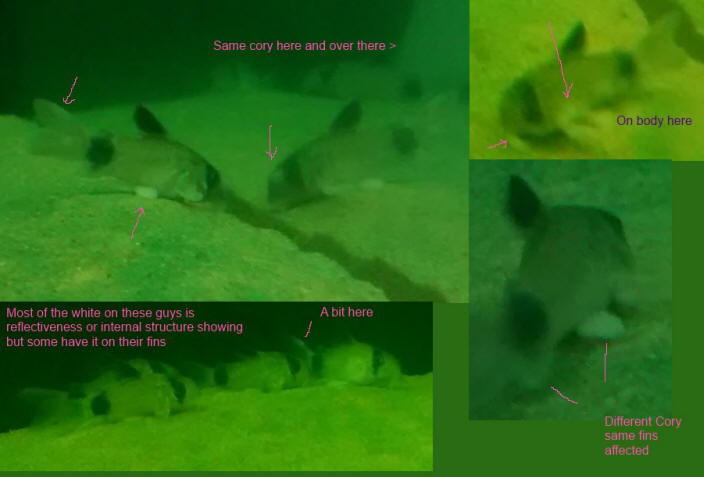 Re: New Pandas also Re: Epsom salts, peacock gudgeons and blockages 10/11/17
Thanks Neale for your quick reply.
<Welcome.>
Regarding the sand, it is an extremely fine river sand which I had left over from my other Corydoras tank which has been running for over a year now, no issues with the sand. It's very smooth and inert and I've put a thin layer for comfort more than anything. Fresh from the bag and rinsed before using here. Only one of the Corys has anything on his barbels but I can see the sense of sucking out the sand for now so that it doesn't provide a hiding place for the bacteria. I can do that during the next water change and it also gives me a chance to see if the green will rinse off.
<Indeed.>
No carbon in the filter at the moment but I have some fresh stuff at hand in case I needed to remove medication from the water.
<Understood, though rarely necessary; most organic medications will decompose rapidly in mature tanks.>
I do have a microscope but I understand Costia are small and hard to identify and my scope only goes to 100x - useful for larger parasites but not so much the tiny stuff. It might be worth a try, if I see anything at all zooming around it is indicative that something is going on at that scale as well as anything at a bacterial level. I'll report back if I find anything.
<Cool. Images of Costia aka Ichthyobodo can be found online.>
I'm going to the vet for my cats yearly check up tomorrow so I will ask if he can prescribe me anything to help. I don't think he is a fishy vet but he does have a huge tank with a turtle in it at his surgery so he might know something about aquarium medications. I found some tetracycline at the back of my supplies cabinet but I'm wary of using it on new fish weakened by shipping. Other medications I've heard could be useful are Kanamycin,
neomycin, Nitrofurazone but I guess I have to wait and see what the vet says.
<Indeed; the old Metronidazole and Nitrofurazone combo is a good one, if you can use it.>
Thanks again, at least I feel like I have a battle plan now.
Cheers,
Bronwen
<Good luck! Neale.>
Need help with dying Uaru Neale's go 10/11/17
Hello crew.
This time I write to you today highly distressed.
I bought an Uaru cichlid, at about the 3 cm mark around 4 months ago. I placed it in my 150 gal planted tank with tetras and other peaceful community fish. The most in terms of aggressiveness are my two male Kribensis, but they hardly get past 6 cm long.
So the Uaru had been eating well. It is not the fastest competitor against the likes of dwarf rainbows or Columbian tetras, but I made sure he ate well. In the 4 months I kept him he's grown about one cm only. Now , I've read Uarus are slow growers but just 1 cm seems too little for 4, almost 5 months. my adult green terrors were raised from the 5 cm mark and they grew to 10-12 cm in a year.
Recently I started noticing small filaments attached to his fins... no damaged fins, just the filaments, I actually thought it was algae or something that was attached, because I actually saw other fish get strands of algae attached before without major issue. Now, the tank is high tech, and I use it to grow out cichlids when I buy them small and then move them to the main cichlid tanks when they are big enough.
A few days ago I did a major trim on the whole tank and got a green water bloom. I normally carry 50% water changes in this tank weekly. This time I started to do 50% water changes every 3 days, and at the 3rd water change I did a 75% one to eradicate the algae. Always use treated water and temps hardly differ more than a Celsius. Well today, the day after the big water change I found my Uaru on the bottom of the tank, gasping heavily, with ragged fins, but no noticeable fungus or bacterial marks (no white spotting, no redness, just ragged fins). He still reacts to my hand, but is very weak, can hardly swim and is gasping.
Besides the water changes, I also tweaked the co2 valve, and I may have gone a little overboard because I noticed my Columbian tetras hanging in a group without moving much (they normally scatter throughout the tank and they normally tell me when co2 is too high with the grouping behavior).
I don't know, it may have been the co2, it may have been the water changes... I don't really know, I tested for nitrogen and the three readings are zero (tank has sump filtration and is very heavily planted, I actually feed quite a bit more than normal to keep the plants happy).
Right now I figured it would not be good for the Uaru to stay at the bottom where decomposition takes place. I have placed him in 2 gallon contained with an airstone and aquarium water, and have medicated with Methylene blue at 50% dose. I'm not sure what else to do, he doesn't seem bloated, but at the state he's in I don't think he's going to make it. No fish that I've seen in that state have made it. But I have to do anything I can to save this guy.
Ill be waiting for your response, sorry for the very long post, I am very distressed, This guy was very hard to get and I've grown very attached to him.
Regards
Roberto
<Roberto, a bunch of things to consider here. The first is that Uaru species are delicate. Right up there with wild-caught Discus, and generally do badly in community tanks. Exposure to parasites and pathogens in "cheap" aquarium fish can be a serious risk, so best avoided. If you've heard the horror stories that come from mixing Discus with Angelfish you'll know what I'm talking about here. Certainly, quarantine any tankmates before adding to the Uaru aquarium. Thirdly, Uaru need a lot of heat -- 28-30 C. Anything below that will weaken their immune systems. Again, this is VERY similar to Discus. Fourthly, they probably need soft, acidic water to do well. Might be some latitude here with locally-bred specimens, but realistically, 1-5 degrees dH, pH 6-7 is what we're aiming for. Yet again, this is Discus-level fishkeeping. Finally, they're herbivores, and substantial amounts of fresh greens are essential. Cooked peas, spinach, cucumber and small bits of fruit, alongside Spirulina-based flake and wafers, are what you want. Avoid using too much protein-rich food, including traditional flake food. There's good evidence that even with Goldfish and Koi, let alone Uaru, offering meaty foods as anything more than occasional treats can cause health issues, from constipation through to serious vitamin deficiencies and fatty deposits around their internal organs. Short term, I'd be treating as per Hexamita infection, using a combination of Metronidazole and an antibiotic (or something like eSHa HEXAMITA if these aren't available) simply as a good general purpose approach to cichlid maladies. Long term, I'd be optimising environmental conditions, removing inappropriate tankmates -- these include not just species unable to handle the heat, but also species that need meaty foods. Review Discus maintenance, and keep Uaru in much the same way, albeit with the accent on plant-based foods. Juvenile Uaru are social it is true, but the adults form pairs, and like Discus, singletons can be maintained successfully in quiet, shady tanks without much noise or activity. Cheers, Neale.>
Re: Need help with dying Uaru RMF 10/11/17
Hello, thanks for the very informative response.
<Welcome>
The guy is now swimming upright and is more responsive to stimulus. I may actually believe CO2 overdosing was at play here also. I will be checking on his fins in a while when I arrive home.
<Agreed, and good>
some addressing of the points you told me:
this is the tank that receives the most maintenance, it stays at around 7.5 ph, 8 dGH and 8 dh (I know, not optimal). I just want to point out I actually have another Uaru, this one is 20 cm adult I got last year and have kept in a south American cichlid aquarium (230 gal), but I got him already at the 15 cm mark. The small and big Uarus do get greens, since I also keep a couple fancy Plecos feeding them zucchinis and other greens also involves the Uarus feeding. Also, the small Uaru nibbles on plants, particularly Hygrophila and staurogyne species which he devours happily. I also feed a combination of Spirulina and normal flakes with new life spectrum to all fish, although all in all they do get their share of meaty foods, which probably isn't good as you have pointed out.
Water temp of the planted tank stays at 25-26C, so yeah, below what is needed. All in all I reckon he's not in the best of conditions, even less for a 4 cm fish, which are more delicate than adult, robust fish.
Thank you, I will probably set up a different tank for him to grow out while he reaches the size to go to the main cichlid tank. I will also be upgrading the cichlid tank, the jump will be towards a 540 gal. The current main south American has the adult Uaru, 2 Geophagus steindachneri, 1 Green phantom Pleco, 1 blue phantom, and a school of 5 Festivums.
I have two adult Andinoacra rivulatus in separate tanks. I was wondering if they would be compatible with the rest of the fish in the eventual 540 gal?
<Will ask Neale to respond here. Bob Fenner>
Thank you
Sincerely
Roberto
Re: Acrylic Aquarium Seam Failing ...Did I make it worse? 10/11/17
Many Thanks Bob
<As many welcomes Chris>
Oh yes, if/when I am ever obliged to move, I'll definitely have that square doweling installed in all the corners before setting up the tank again.
(And have a cement-floored fish room with a drain, ha!)
<And a built-in cabana bar!>
I did draw down the water level to below where the 'white area' seam failures are occurring.
<Good>
You have started me on doing my own research, but in the meantime;
By "most viscous" Weldon product, is there a specific one that you recommend? Is it also applied with the needle applicator?
<The number four is best here: You can buy it from Amazon and use it with the needle applicator:
https://www.amazon.com/Weld-Acrylic-Adhesive-Applicator-Bottle/dp/B0096TWKCW
--Chris
<BobF>
Nuisance Algae (possibly sponge?) in saltwater tank 10/11/17
Hello. I have this weird yellow/tan algae (or sponge?) growing in my 10 gallon work saltwater tank. I have no fish in the tank. Here are some photos and a video of the junk in question. I don't believe it's a sponge,
simply because of how it grows. It looks nothing like the sponge in my big reef tank at home. It covers the glass pretty quickly so I have to clean the glass every few days. It seems to be photosynthetic. Do you have any idea what this is?
<Could be algal, but my guess is on a sponge here. You might consider cutting a piece off and looking under a 'scope... for choanocytes likely. Bob Fenner>
Thanks!!
Justin​
20171010_134636.jpg
<https://drive.google.com/file/d/0BzPR3-najOZBSkxUM25aTXVoX3M/view?usp=drive_web> ​​
20171010_134709.jpg
<https://drive.google.com/file/d/0BzPR3-najOZBUmRLUndvVWhJZTA/view?usp=drive_web>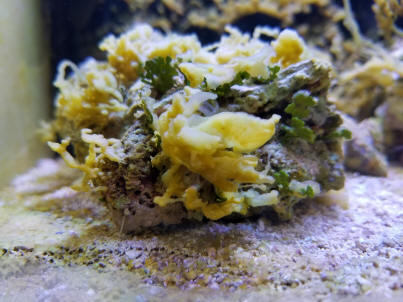 Stinky reef stuff 10/11/17
Hi Bob and Crew. I thank you in advance for your time. You have answered my questions before and have been a huge help to me.
I have a 65 gallon reef tank. I had a 60 for maybe 8 years and switched to this 65 a few months ago. At your advice I got rid of most of her purple mushrooms, they were everywhere! These are the only corals I have, maybe 20 purple mushrooms. I have had a blue jaw trigger and a clown for 8 months now? (Estimate) and added a dwarf angel 2 months back. I also have a random ugly goby that hides most of the time, he's been with me for 7+ years. That is it for stocking. A tiny bit of black sand. Some live rock. A few faux coral inserts, Tsunami brand. I feed 3 cubes of Mysis a week. New life spectrum pellets everyday. I use Selcon. I have an amazing skimmer that pulls lots of dark yuck and a hang on the back filter that I use with a filter cartridge with carbon. I rinse a few times a week, replace every few weeks. Sometimes I just cut a blue bonded filter to fit.
<This protocol should be fine>
It captures so much, If I don't use the filter my glasses sides get filthy, takes many rinses of the filter to get all the brown out. The tank is near a window, no direct sunlight. I switched to a led fixture at the time of the tank change, has 30 watts. Now for the question, I hope I have not bored you. My rocks and faux coral inserts keep getting covered in brown yuck. I'm assuming diatoms.
<Could be>
It smells awful. Awful. I took one of the inserts out yesterday to rinse and the smell is horrific. I'm used to gross stuff with my tank, I've been cleaning out that skimmer cup for years, it's hard to gross me out, but this is otherworldly. My whole house smelled, my daughter in her bedroom, yelled about the smell. What is this?
<Likely a mix of Protists... dinoflagellates, diatoms as you mention, plus other microorganisms... could be the source of the smell alone; but am wondering re the faux corals as well. If it were me/mine, I'd pull and
lightly bleach, wash these and let them air dry for a week; and use a unit of Chemipure in your filter flow path>
I've dealt with every type of algae out there, this I don't know about. It comes off very easily. Is there something I am doing wrong?
<Can't tell from here>
Have you had any experience with this? What is this that smells so bad?
<Again...>
Thank you for any insight you can provide.
Sarah
<Please do keep us informed of your actions, observations. Bob Fenner>
Sick Seahorse mystery 10/11/17
<... 24 megs of pix, what?>
Hi,
<Georgina>
I have a sick female fuscus seahorse, she presented with a white belly and lost interest in her food.
I have been treating her in a hospital tank for the last 6 days using triple sulfa and furan 2.
<Of no use here>
My male is also being treated as he had a white patch on his side.
The male has been very perky and frisky the last couple of days and she seems to have perked up too. I've not seen either of them eat for days but I have been loading the tank with live food.
While my female was dancing for me I was horrified to notice she has lots of spots! They look and feel like blisters and when I was feeling one a bit came away, it may have been skin so I didn't rub anymore.
<Appears to be Glugea to me>
She has no swimming issues at all, in fact she looks the healthiest she has in some time (swimming-wise that is).
She does not seem phased by the spots at all, she's not trying to scratch or shake them off. They don't look like parasites and don't appear to have moved. I thought maybe she had a few more when I took a photo just now but
it may just be that she sat still in a good spot for me to photograph her.
A friend pointed me in your direction as she and many other seahorse experts are stumped as to what this is. Can you help?
<Are these wild-caught animals? Please use the two words: "Glugea Seahorses", and read on WWM, the Net; and soon. DO write back if you have further questions. SANS huge files... am out in Mexico and can't download
easily>
Many thanks in advance,
Kind regards,
Georgina
<And you, Bob Fenner>
Stress from Water Change Worse than having 20ppm Nitrates in new Tank? 10/11/17
Hi Crew,
<Helen et al.>
I'm new to fish-keeping but have done a lot of research and hope I have got my aquarium off to a good start. I cycled it for six weeks using a fishless cycle with fish food for the ammonia source. I have a 20 gallon freshwater
tank with two male Dalmatian mollies, 4 female Dalmatian mollies and two female gold mollies. All but one are less than 1 inch in size, so quite young. I know I may need to move them to a bigger tank in the future. They have been in the tank for eight days and I did a 25% water change four days ago and plan on doing one every week.
<A good interval and percentage. Best to store the new water in advance of your weekly changes; do whatever you intend to supplement (add salt/s, alkalinity...) ahead of time>
I have been testing the water everyday using the API water test kit.
Today's readings were: Ammonia:0; Nitrites: 0; Nitrates: 20; PH 7.6. Temp is 78.4F.
I know mollies are particularly sensitive to nitrates, so I would like to do another 25% water change today to get the nitrates down. However, I have also read that all fish are sensitive to changes in water chemistry so I
am wondering what would be most harmful to the fish - having the nitrates at 20ppm or doing a 25% water change.
<You are right to be concerned here. As you hint/state there are trade-offs in doing too frequent/serial dilutions, and just tolerating nitrogenous et al. accumulation>
I would also like to add some aquarium salt to the water but am again hesitant to change the water chemistry too
much when they have only been in the tank for eight days.
<I WOULD go ahead with the salt addition/s... some every day. This will also reduce the Nitrate toxicity>
Your advice is much appreciated!
Helen
<And gladly rendered. Bob Fenner>
Re: Mixing captive bred Centropyge 10/10/17
Hi Bob,
<Nick>
Hope this finds you well. After a long delay I finally introduced my captive bred flame angel and coral beauty to one another a couple of days ago and was hoping to get your advice once again.
<Sure>
I'm curious to get your opinion as to what constitutes a 'normal' aquarium relationship if there is such a thing between two dwarf angels, are they likely to reach a state of tolerance or indifference to one another or is a
more antagonisitic relationship with occasional bickering be expected?
<Well-worded; and yes re the range of possibilities here... usually accommodation is achieved w/in a few days; or... if it is not going to happen, one fish gets beat, goes into hiding (if there's such habitat)>
Shortly after our last correspondence on the subject I had a persistent bacterial infection in my tank so pulled all my fish out into quarantine, this allowed me to re-introduce the much smaller flame angel several months ahead of the coral beauty so it was well established and much larger than when first purchased but is probably around 1/3 smaller than the coral beauty still. I placed the coral beauty in a fish trap for 48hours to gauge their reactions to one another, re-arranged a bit of rock and released.
Predictably at first there was a lot circling and tail flicking causing some minor fin damage then things largely settled down.
<Ah good>
At the moment they are both out feeding and grazing as normal but the coral beauty has definitely become the dominant fish and occasionally chases the flame into one of its chosen bolt holes, once the coast is clear the flame
pops straight back out and continues grazing.
<Mmm; this is (highly) likely going to be fine>
They seem to have no qualms swimming and feeding near each other when I feed the tank. I introduced the coral beauty around 36 hours ago so I know its still early days and the relationship may change but assuming things
continue as they are do you think it is healthy/normal for them to continue like this long term with some bullying from the coral beauty or should I look at removing one after a week or two if things don't change?
<Again, I believe all will work out>
Clove and Green Star Polyp's with Angels 10/10/17
Hello Bob -
I hope that life is treating you very well! I continue to expand the possibilities within my reef systems. Currently, I am thinking about trying Clove or Green Star Polyp's with my reef set-up's (220 gallon or 265 gallon) where the 265 gallon (excluding sump volume) contains a 7 inch Grey Angel and a 4 inch bi-color angel and the 220 gallon (excluding sump volume) contains a 5 inch Queen Angel.
I've had these Angelfish for close to 2 years in these live rock reefs with soft corals, i.e.; Sinularia (finger leather), mushrooms (mostly hairy), toadstool leather, and devils hand leather with no issues to the coral livestock. Besides occasional treats of frozen food, ..etc., their primary diet is NLS Thera A. They've been very healthy and have grown nicely in a few years.
What odds do you give me if I were to introduce Clove and/or Star Polyp's into these systems as far as living without being eaten up by the angels?
Thank you,
John
<It's quite possible that the Angels will nip to eat the GSPs... and I'll admit, I really don't like Star Polyps, as they are way too invasive. IF you decide to try them I STRONGLY encourage you to isolate them on a rock bommie of their own. Please do write back w/ your further notions and experience/observations. Bob Fenner>
Thanks once again
Nick
<Welcome. Bob Fenner>
Re: re: Clove and Green Star Polyp's with Angels 10/10/17
Will do! Thank you sir.
<Certainly welcome John. Oh; do peruse the site/WWM for much more re "polyps". Bob Fenner>
Acrylic Aquarium Seam Failing ...Did I make it worse? 10/10/17
Thank You all for the FAQs on acrylic aquarium repair.
<Welcome Chris. Am very glad to have accumulated these>
Your site is sure to become a valuable resource for me. I have a used 325 gallon 2mX80cmx80cm acrylic tank. Some of the corner seams have the white crescents and other irregularities which look exactly like those on the
photos on your site at:
http://www.wetwebmedia.com/acraqleaks.htm
FAQs on Acrylic Aquarium Repair and Modifications: Leaks
...<http://www.wetwebmedia.com/acraqleaks.htm>
www.wetwebmedia.com
Acrylic Aquarium Repair 4/15/17 Hello there and thanks for providing such an informative website! I purchased a used acrylic tank whose condition is a bit rough, it ...
I had outlined some of the crescents in marker when I set up the tank in Dec 2015, and noticed yesterday that many had grown considerably and are approaching the interior edge of the seam.
<No bueno>
So I drained the tank about 60% and used a locally-available water-thin plastic solvent in the white areas of the seams (dripped in with a needle applicator) .
<... while the tank had water in it? Yeeikes... the solvent could melt the existing bond!>
I could see the solvent quickly spread by capillary action, but the areas remained white.
<Yes... may be too "whited out" to make a clean joint again... NEED to empty, dry... apply the most viscous Weldon (or equivalent) you can get, tape over the applied areas to give the solvent time to work>
Oh By The Way...I live in Japan. So none of the labeling on the solvent that I used is in roman letters, so I cannot tell exactly what chemical it is.
I am going to try and obtain some Weldon 4. But first I have some questions:
1. Must the white areas turn clear to be fixed?
<Mmm; no... but the "clearer they are", the more fixed>
2. Have I maybe applied a barrier to the Weld-on 4 being able to make a bond?
<Ahh, yes!>
3. Is Plexiglas similar enough to tank acrylic to test adhesives? IE if it works or does not work on Plexiglas, will it work or not work on acrylic?
<The terms acrylic and Plexiglas (both PMMAs) are often used interchangeably. Solvents, tools, methods for one should work on the other.
http://akriform.se/en/news/plastic-acrylic-and-plexiglass-we-explain-the-difference/>
Thanks in advance for any advice,
--Chris
<Welcome. Bob Fenner, who WOULD re-read what we have on WWM, and LIKELY install the square Plexi doweling as gone over here>
Need help with dying Uaru 10/10/17
Hello crew.
<Hey there Roberto. Como que va?>
This time I write to you today highly distressed.
<Oh!>
I bought an Uaru cichlid, at about the 3 cm mark around 4 months ago. I placed it in my 150 gal planted tank with tetras and other peaceful community fish. The most in terms of aggressiveness are my two male Kribensis, but they hardly get past 6 cm long.
So the Uaru had been eating well. It is not the fastest competitor against the likes of dwarf rainbows or Columbian tetras, but I made sure he ate well. In the 4 months I kept him he's grown about one cm only. Now , I've read Uarus are slow growers but just 1 cm seems too little for 4, almost 5 months. my adult green terrors were raised from the 5 cm mark and they grew to 10-12 cm in a year.
Recently I started noticing small filaments attached to his fins... no damaged fins, just the filaments, I actually thought it was algae or something that was attached, because I actually saw other fish get strands of algae attached before without major issue. Now, the tank is high tech, and I use it to grow out cichlids when I buy them small and then move them to the main cichlid tanks when they are big enough.
<Ok>
A few days ago I did a major trim on the whole tank and got a green water bloom. I normally carry 50% water changes in this tank weekly. This time I started to do 50% water changes every 3 days, and at the 3rd water change I did a 75% one to eradicate the algae. Always use treated water and temps hardly differ more than a Celsius. Well today, the day after the big water change I found my Uaru on the bottom of the tank, gasping heavily, with ragged fins, but no noticeable fungus or bacterial marks (no white spotting, no redness, just ragged fins). He still reacts to my hand, but is very weak, can hardly swim and is gasping.
<Let's hope it rallies>
Besides the water changes, I also tweaked the co2 valve, and I may have gone a little overboard because I noticed my Columbian tetras hanging in a group without moving much (they normally scatter throughout the tank and they normally tell me when co2 is too high with the grouping behavior).
<Yikes>
I don't know, it may have been the co2, it may have been the water changes... I don't really know, I tested for nitrogen and the three readings are zero (tank has sump filtration and is very heavily planted, I actually feed quite a bit more than normal to keep the plants happy).
Right now I figured it would not be good for the Uaru to stay at the bottom where decomposition takes place. I have placed him in 2 gallon contained with an airstone and aquarium water, and have medicated with Methylene blue at 50% dose. I'm not sure what else to do, he doesn't seem bloated, but at the state he's in I don't think he's going to make it. No fish that I've seen in that state have made it. But I have to do anything I can to save this guy.
<I'd float the fish in a colander (plastic) in the main tank, with the lights dimmed or off in the area. Much more stable>
Ill be waiting for your response, sorry for the very long post, I am very distressed, This guy was very hard to get and I've grown very attached to him.
Regards
Roberto
<Will also ask Neale to respond. Am sure he'll point out the value of stocking this Cichlid in a small grouping (vs. solitary), ask questions re alkalinity, poss. pH. Bob Fenner>
Re: Ghosty the Loach 10/9/17
Hi there!
<Wendy,>
Just thought I'd give an update on Ghosty as things have been going fine since the end of Furan-2 treatment (final of 4th doses given Sept. 19 with 25% water change on 9/20, carbon filter added back into the tank on 9/23). Ghosty's fins all began to look much clearer about mid-treatment, and I was really hoping that would have been the fix he needed.
<Quite so.>
However, on 10/4 I began to notice his fins looking cloudy again, and another loach named Jake has a very slightly ragged dorsal fin & tail fin now. :-/ Water parameters are pristine with nitrate being kept at 20-40 ppm as I am very consistent with PWC. Ammonia is 0 as are nitrites. Temp in the tank fluctuates with ambient room temp of 72-76 as the tank is on the main level of our home.
<Understood. I would ensure a heater is in the tank, maybe set to 25 C/77 F while medicating. Even for coldwater fish, steady warmth can be beneficial while they're immune systems are working hard. By all means turn it down once the fish are healed, but short term, I'd offer steady warmth.>
I have both Furan-2 and T.C. Tetracycline on hand so I could do either one immediately; am just wondering if a fungal treatment would be more prudent now?
<Only if you suspect fungus; scattergun approaches to medication are no more effective with fish than they are with humans. On the other hand, repeatedly dosing antibiotics may be necessary when medicating against persistent bacterial infections or in situations where some stress factor is causing the bacteria to regain their foothold even after being knocked back successfully.>
All the fish are eating & acting normally but I really don't like the look of Ghosty & Jake's fins. All the other fish are looking great, in fact the 3 Danios are once again looking vibrant & beautiful now, whereas before their color was faded (combination of better water conditions and Furan-2 or water alone?).
<Perhaps a little from column A, a little from column B...>
There are two other loaches in this tank & so far their fins are clear & intact, nothing looking off to them as far as I can see.
<Good.>
Thank you again for all your help! I really appreciate it!
Wendy
<Most welcome. Neale.>
Clove and Green Star Polyp's with Angels 10/9/17
Hello Bob -
I hope that life is treating you very well! I continue to expand the possibilities within my reef systems. Currently, I am thinking about trying Clove or Green Star Polyp's with my reef set-up's (220 gallon or 265 gallon) where the 265 gallon (excluding sump volume) contains a 7 inch Grey Angel and a 4 inch bi-color angel and the 220 gallon (excluding sump volume) contains a 5 inch Queen Angel.
I've had these Angelfish for close to 2 years in these live rock reefs with soft corals, i.e.; Sinularia (finger leather), mushrooms (mostly hairy), toadstool leather, and devils hand leather with no issues to the coral livestock. Besides occasional treats of frozen food, ..etc., their primary diet is NLS Thera A. They've been very healthy and have grown nicely in a few years.
What odds do you give me if I were to introduce Clove and/or Star Polyp's into these systems as far as living without being eaten up by the angels?
Thank you,
John
<It's quite possible that the Angels will nip to eat the GSPs... and I'll admit, I really don't like Star Polyps, as they are way too invasive. IF you decide to try them I STRONGLY encourage you to isolate them on a rock bommie of their own. Please do write back w/ your further notions and experience/observations. Bob Fenner>
Re: Crayfish translucent growths 10/8/2017
Thank you for the reply!!
<Welcome.>
Just adding again but here's another pic of Megatron i took the same day, is this photo better?
<Not really. It's not so much the size of the photo as the fact the bit of interest, the fluff around the legs, is basically a blurry mess with black speckles.>
its got dark spots and it worries me to no end.
<They look like baby crayfish, what with the black spots and all! Cheers, Neale.>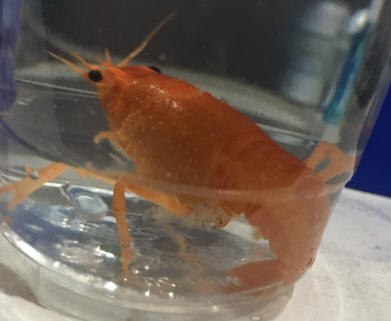 Question about curious white slime growing on Mopani driftwood 10/8/2017
Hi crew!
I have a beautiful piece of Mopani driftwood in my planted tank that has developed a white slimy film all over it. The driftwood was previously soaked for several weeks, then dipped in hydrogen peroxide bath, then boiled for several hours and then soaked again in a bucket with prime before adding it to my tank. The driftwood has Anubias and bucephalandra growing on it. I'm assuming it's bacterial.
<Likely so; or fungal. Harmless either way, but unsightly.>
It has spread to my other large piece of driftwood. I tried taking the piece out and carefully scrubbing it off in a pan of old tank water while doing a water change, but it grew back almost overnight. The tank is cycled, but waiting on fish (Danios and Tetras) who have been delayed because of hurricane Irma who recently came through.
<Yikes!>
Is this harmless to any fish I add to the tank?
<Harmless. But it does add to the 'work' the filter has to do simply by being alive and in the tank, just like adding a fish. It will also be consuming oxygen. So it's best minimised by regularly cleaning the lump of wood under a hot tap. Some animals, such as Plecs, will also consume it, to a degree.>
Will it go away on its own?
<As/when the organic material in the wood is exhausted, yes. This can take months, even years. My guess here is that this bogwood was sold to you uncured. Sometimes happens. Such wood costs the wholesaler or retailer
less, so there's a bit of an incentive.>
Could it lead to a bacterial bloom in my tank?
<Unlikely.>
My ammonia and nitrite are both zero and my nitrates are about 20 ppm.
<All sounds good.>
Thanks guys!
Susan
<Most welcome! Cheers, Neale.>
Re: For Neale Monks and Bob Fenner: Nitrate 10/7/17
Byron, Bob,
<Neale>
I don't have any real insight into this. But I do wonder if there are differences between species and when comparing marine with freshwater fish. My point being that generalist freshwater fish are able to handle bigger water chemistry changes than more specialist species (or most marines) given they'd be exposed to such in the wild. For example, the pH of a pond can vary between around 7 to as high as 9 once photosynthesis kicks in and dissolved CO2 is used up.
<A useful point/speculation. I do think there are differences between salt/fresh, young/old, acclimated and not species, specimens. Have been to public aquariums that fed huge amounts of food to very large animals... that had thousands of PPM of NO3>
I've read before that the idea we can meaningfully acclimate fish to slight pH changes is actually erroneous anyway. The "float them in a bag for an hour" or "drip water into a bucket for an hour" approaches sound good, but supposedly the actual physiology works far more slowly than this. So for fish to actually adapt their blood chemistry (or whatever) actually takes far longer, and what we're really dealing with is the degree to which fish can tolerate abrupt changes (i.e., shock) and then slowly adjust across days or weeks. Does this sound familiar to either of you?
<Yes; it does>
I do believe, Byron, that there's a hierarchy of stress factors, and sometimes to minimise a severe stress (such as nitrite, ammonia or extremes of temperature) you may have to increase a mild stress (such as small pH or hardness changes) simply through doing water changes. Of course the standard advice should remain that water changes need to be made with water as similar to the conditions in the tank as practical.
So far as I know, nitrate toxicity hasn't really been studied across a wide range of ornamental freshwater fish, but experimentally with things like goldfish you really do need quite high levels (100+ mg/l) to cause immediate health issues. In such situations, I think doing moderate water changes across a few days, rather than one giant water change, might be safer in terms of minimising sudden pH, temperature or hardness changes. But that said, if the new water was similar enough to the old, doing 90% water changes has been demonstrated to be perfectly safe in and of itself.
Anyway, keep me posted with what you learn!
Cheers, Neale
<And you, BobF>
Re: For Neale Monks and Bob Fenner 10/7/17
Thanks Neale and Bob.
<Welcome>
So what I take from both of you is that with the proviso that parameters (GH, KH, pH , temperature) are close enough to be called the same, a large water change to reduce nitrate from 160 ppm down to 10 or 20 ppm is not going to harm the fish, and is more advisable than doing smaller changes over weeks. I will assume my understanding is correct unless you say different.
<This is a good summation>
I do appreciate the benefit of your experience and knowledge on these issues.
Byron.
<Welcome. BobF>
Re: For Neale Monks and Bob Fenner /Neale 10/7/17
I would 100% agree with this.
Triage of any kind is about balancing the big dangers against the minor stresses.
Cheers, Neale
Crayfish translucent growths 10/7/17
Good day!
<Bonjour!>
I impulse bought a 3" Tangerine crayfish and now I'm scrambling to buy the materials to cycle a 10g long tank but for now I'm keeping her in a small 2.5 gallon tub with a sponge filter until then. She recently molted (But lost some limbs because she had horrible shell rot from the shop) and now its been 13 days i have noticed growths from the stumps of her lost appendages!
<Indeed. These are likely 'benign' Protozoans, bacteria or fungi that grow wherever there's plenty of dead organic material. They're benign in the sense that they're not aggressive pathogens that will make your crayfish sick, but they're still undesirable. An antibacterial and antifungal medication known to be shrimp-safe (such as eSHa 2000) could be used here, alongside optimising environmental conditions. To a great degree this sort of 'fluff' grows on crayfish in tanks that have less than perfect cleanliness. The more gunk for them to feed on, the more the Protozoans and fungus will spread onto your crayfish.>
i don't have a test kit yet so i cant tell the parameters but i do a lot of partial water changes every other day and feed her veggies and sinking pellets.
<Good.>
She's acting so differently now and she's just scared of everything unlike before (maybe its because she also lost her claws).. but i digress, the growths look feathery and have spots in them, attached here is a photo i took of her in an ice cream container while i was cleaning the sand in her tub (there was rotting broccoli pieces hidden so it was stinking to high heaven)
<The photo isn't sharp enough to see exactly what the problem here, but for now, I'd assume the benign fluff described above rather than an aggressive crayfish parasite. Still, if you can get tack-sharp photos, sites like
PetShrimp.com have active forums with numerous experienced crustacean-keepers.>
Thank you for helping, I've added some antifungal meds (no copper) but i just want to help her get better soon.
<Understood. Good luck, Neale.>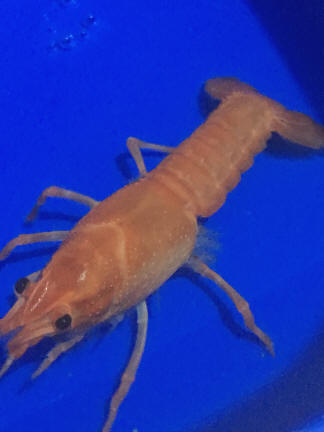 Nitrate... 10/6/17
For Neale Monks and Bob Fenner
Hello again friends,
<Byron>
I'd appreciate your comments and reasoning about a question involving lowering nitrate. I will start by saying that I understand that nitrate like ammonia and nitrite is toxic to fish, though at much different levels/exposures and depending upon species or age of the fish (fry being more susceptible) [please correct me if I am incorrect here or anywhere else].
<This is correct; though the mechanisms, pathways if you will, for poisoning/toxicity of these nitrogenous compounds are different. NO3 in particular can be accommodated; i.e. much higher concentrations can be tolerated with long exposure>
Consequently, if one discovers nitrate levels in an aquarium are high, say 160 ppm [I am using an actual case from my work on TFF, and this is a stable state not something sudden], immediately reducing the nitrate to safe levels (under 20 ppm) is not in itself going to harm fish.
<Usually; yes>
I have been challenged on this, with the suggestion that the nitrate should be lowered gradually over days or weeks, similar to other adjustments.
<Mmm; no. Immediately lowering NO3 concentration is advised>
The idea apparently is that "old tank syndrome" is dangerous and rapid changes can be fatal; but I would respond that the danger with this is due more to pH, and ammonia being ammonium in acidic water and the sudden change to basic pH (pH shock, plus ammonium converting to ammonia) is the problem, not nitrates decreasing. My argument is that nitrate is not like other adjustments (GH, pH, temperature, or whatever) and being toxic the sooner it is lowered the better.
<I concur>
I maintain that any toxin in the water, be it ammonia, nitrite, very high nitrate, substances released from wood or rock that are detrimentally affecting fish, etc, are best corrected rapidly via significant water changes.
Comments please, with thanks.
Byron Hosking.
<Will ask Neale for his separate response here. Bob Fenner>
Re: Bio cube 29 stocking 10/5/17
Thanks so much for the quick and helpful response!
<Glad to share w/ you Bill>
One further question: if I want to start exploring macro algae or the tougher corals you mention, is it safe to get started with stock BioCube lighting and the filtration setup I currently have?
Or do I need to upgrade LEDs, or seriously look at protein skimmer/etc?
<The BioCube gear should suffice for these. I would mount them all near the top of your rock to start, acclimate them, then they can be moved down deeper after a few weeks time. Bob Fenner>
FISH ID 10/5/17
<Ohhhh, where did you get/collect this fish from? BobF>
Not very active he either sits on the ground or he'll hide in the back of the powerhead he tends to go head-to-head with the peppermints but he doesn't attack them he kind of just sits there he's got four black circles on his back and there orange lined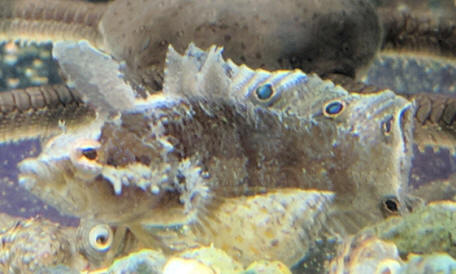 Re: FISH ID 10/5/17
It's a friend of mine LFS someone surrendered it. Why.?
<Brings to mind a local (S. Cal.) Blennioid... found off the coast. Helps me to narrow down the species ID. BobF>
Re: FISH ID 10/5/17
Collected by a diver friend that a local fish store of mine my friend knows from the Gulf of Mexico that's where he's pretty sure but definitely Florida not sure how close toward the keys Gulf of Mexico or if it was like up towards the Panhandle part of the Gulf of Mexico but who knows it could just be near the keys but I don't know it's kind of like shimmies like almost collides on the bottom he's very aware and I watched him literally like not attack but he was going toe-to-toe with the peppermint shrimp and he went forward the peppermint went for it and they both kind of like we're like staring each other down but they never end up hurting each other or even trying to put it was just funny but it's a weird looking fish and has a cup filefish tip with like dragonette qualities
<I do think this fish is Paraclinus marmoratus. Bob Fenner>
Re: FISH ID 10/5/17
Surrendered he didn't.
<?>
I called the LFS my friends who owns the store has his own diver get fish so there humanly caught higher prices but better chance of disease not being an issue.
<Ah good>
He caught this fish in the GULF of Mexico of Florida's West coast,. After weeks of tank animation he hooks up
a box truck retrofitted with a wall of tanks. Inverters connected to battery. To inverters just from Wal-Mart can push 2000 Watts so he runs return pump and heater// our the trucks cooler "like a good truck cooler". after that are tank stabilized for maybe 3/4wks. The other side of the truck is the invert wall.. Heck my 120 with two xr30 radeons of Vectra M1 and MP40 to Jagger 250 maxspect s200 protein skimmer about 4 maxijet 1200 running different reactors to 200w heaters I don't have a cooler because I live in Buffalo if anything I just dropped a Gatorade ice Gatorade bottle instead of the return pump my temperature is always consistently at 79 degrees so I mean all he basically need this is maybe 3 decent size return pumps he put some Maxi Jets lower models in the tanks with fish that need more water flow than others no feeding obviously throughout the time do too obvious reasons but it's only 12 hours so it's not going to hurt anybody this way when they arrive they're not shell
shocked and starving...
>Sounds good<
He doesn't like to collect coral but honestly this has to be the coolest and most humane way to bring fish from Florida to Buffalo.... Each 10-20-29 gal tank has certain fish based on their size aggression Etc but they all have consistently flowing water it's only a 12-hour trip so there's not much need for the worry of ammonia or nitrite
Spike's because he stops halfway and does a like 20% water change and also uses I think some sort of amp well or prime he brings them in catches them bags them and brings them into the store individually from the truck but
like I said there was no surrender
<Matt; I don't know what you're referring to here. Surrender?><<Ahh, Bob, the fish was wild-caught, i.e. NOT surrendered from a former hobbyist/owner>>
I was just assuming the fish he can't really sell it because he doesn't know what it is and he doesn't want to
sell it without getting more information on if it's reef safe what it can and can't be with what it can and cannot kill or what it eats it's been in their few months meaning obviously it eats the basic Frozen but I mean eating like does it eat coral does it eat sponges does it eat you know polyps on corals does he need at pages does it eat whatever that's why I said hey let me message wet web and see what they have to think. As far as it being some sort of blenny he's a very slow-moving I know my bunnies Dart across the tank so fast like a lightning bolt lawnmower blenny should be called John Deere blennies because they're fast as a MF
<Did you not get my prev. email? I think this is Paraclinus marmoratus. Bob Fenner>
Re: FISH ID 10/5/17
Paraclinus marmoratus. I didn't get that. No..... Someone wrote after I days maybe surrendered (why?)
<? I still don't get it>
Re: FISH ID 10/5/17
Exactly right on the identification thank u Bob. Mr. Fenner sorry
Paraclinus marmoratus.
<Cheers Matt. B>
Re: Bubble tip anemone Eating its tentacles 10/5/17
Hi Bob,
<Hey Matt>
Thank you for your response. If i could just pick your brain a bit more and get a little more clarity on the issue.
<Sure>
Firstly have you observed/heard of this behavior of a bubbletip taking it tentacles to it's mouth and extruding filaments which it seems to digest?
<Yes I have... mesenterial filaments are about all the insides of an anemone that there are>
If so what is the purpose of this?
<I consider it to be a pathological event. An indication that something/s wrong>
Is there any benefit to the animal?
<I doubt it. Seems self-destructive>
The only thing that comes to mind is it's feeding of the Zooxanthellae or rearranging the population or it's starving.
<An interesting speculation>
The next question is you say it may be old tank syndrome. What gave you the impression?
<OTS is such a general expression... what could be the cause/s here?>
Rearranging the rock kicking up detritus?
<Perhaps a factor>
The reason I'm asking is to prevent any other anemones from declining. I have heard people say "old tank syndrome" (By no means in regards to your earlier response) when they can't pinpoint the root of a problem and have come across different theories as to what old tank syndrome means.
<I'm one of those folks. Have recently re-read my several hundred pound, thousands of hobbyist magazines; including a later piece in AFI (Aquarium Fish International) re OTS>
Anywhere from excess nutrients built up in rock and substrate leaching back into the system to and imbalance of elements or bacterial populations.
<Ah yes>
I am religious when it comes to water changes and this system get at least 10% weekly and clarification on this will tell me the best way to proceed and prevent healthy anemones remain that way for as long for many more years to come.
<You are wise here; or should I state, that you and I's philosophies and practices appear confluent>
Once again thank you for you time and knowledge.
Matt
<Glad to share. Thank you. Bob Fenner>
Re: Bubble tip anemone Eating its tentacles 10/5/17
Thanks Bob,
<Welcome Matt>
One last question In the cases you are aware of does the decline Spell the end of the animal or can this be reversed and a healthy specimen or is my anemone doomed no matter what i do.
Matt
<If memory serves, there are few incidences of survival>
Re: Angelfish mouth problem 10/4/17
Thank you for your fast reply!
<Welcome.>
I haven't heard of eSHa 2000 before, it certainly isn't available at the local aquarium shops but I should be able to order it online.
<Indeed. It's Dutch, but widely sold in the UK. Other medications for Finrot and Columnaris are available, but I find this one particularly effective and good value. The Waterlife products, such as Protozin, I've just been disappointed by a bit in the past, so tend not to recommend them.>
I was wondering, if you suspect it is bacterial then is there a reason why the tri-sulpha didn't work? As this is a broad spectrum antibiotic and more effective than superficial treatments.
<Difficult to say. Not all antibiotics work against all bacteria -- which is why we have to use so many different kinds. Antibacterials like eSHa 2000 use dyes and other chemicals that are less effective but also more broad acting, so tend to be better bets provided the fish isn't too sick.
Also, some people use all medicines in ways that prevents them working, getting the dose wrong, or worst of all, leaving carbon in the filter (which immediately removes the medicine from the water).>
Kind regards,
Nicola
<Good luck! Neale>
(Back to: Today's FAQs Page)