Related FAQs: Rhinecanthus species, Rhinecanthus Triggers 2, Rhinecanthus Trigger ID, Rhinecanthus Trigger Behavior, Rhinecanthus Trigger Compatibility, Rhinecanthus Trigger Selection, Rhinecanthus Trigger Systems, Rhinecanthus Trigger Feeding, Rhinecanthus Trigger Disease, Rhinecanthus Trigger Reproduction, Triggerfishes in General, Triggerfish: Identification, Selection, Selection 2, Compatibility, Behavior, Systems, Feeding, Diseases, Triggerfish Health 2,

Related Articles: Triggerfishes (Family Balistidae), Red Sea Triggerfishes, Triggers of the Cook Islands,

/The Best Livestock for A Marine Aquarium (Series)

Triggerfishes of the Genus Rhinecanthus, Picassos, Humas, Assassins, Natural Reef Animals All


Bob Fenner

Rhinecanthus assasi
The genus Rhinecanthus: seven valid species.
Undoubtedly the most utilized genus of Triggerfishes for their small sizes (maximum about a foot) and relatively easy-going personalities are the Rhinecanthus spp.
| | |
| --- | --- |
| Rhinecanthus abyssus Matsuura & Shiobara 1989, the Deepwater Triggerfish. Western Pacific. To about eight inches in length. | No pic |
The most popular Rhinecanthus species is immortalized in the song of none other than Don Ho himself. This is the Humuhumu nukunuku apua'a (literally "water pig with a needle" in Hawaiian, in reference to grunting noise they make and their spiny dorsal "trigger"), AKA the Picasso or Lagoon Trigger (aka the "Blackbar" to science), Rhinecanthus aculeatus (Linnaeus 1758). Below, one inch baby in the wild (Maldives), two and six inch specimens in captivity shown.
From further out in the western Indian Ocean and the Red Sea comes another "Picasso", or (preferably) the Assasi Trigger, Rhinecanthus assasi (Forsskal 1775). This one in the Red Sea. To one foot in length.

Verticals (Full/Cover Page Sizes Available)
Bigger PIX:
The images in this table are linked to large (desktop size) copies. Click on "framed" images to go to the larger size.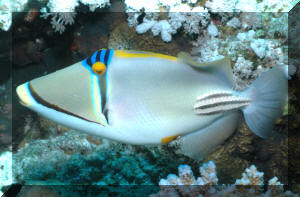 | | |
| --- | --- |
| Rhinecanthus cinereus (Bonnaterre 1788), Strickland's Triggerfish. Western Indian Ocean, Maldives, Andaman Sea and Mauritius. | No pic |
| | |
| --- | --- |
| One of the most rare members of the family, the Halfmoon Picasso or Crescent Trigger, Rhinecanthus lunula Randall & Steene 1983, can be had for a few hundred dollars out of Fiji or Australia. | No pic |
| | |
| --- | --- |
| The Rectangle or Reef Triggerfish ("Wedge-Tail Triggerfish" to science), Rhinecanthus rectangulus (Bloch & Schneider 1801)shares the waters and common Humu name with the Picasso in Hawai'i. Indo-Pacific, Red Sea, east African coast. Shown here as a baby and adult in Hawai'i. To one foot in length. | |
| | |
| --- | --- |
| The very similar Bursa ("Blackbelly" to science) Triggerfish, Rhinecanthus verrucosus (Linnaeus 1758), comes to us from out of the Philippines and Indonesia. | No pic |
| | |
| --- | --- |
| A new species! It's Rhinecanthus cookensis Fenner 2000, the "Humuhumu nukunuku a Pot Holder". Amazingly, I found this specimen in the kitchen! To about a foot in length, and very handy for picking up hot objects. | |