FAQs on Betta Diseases: Diagnosis 2

Related Articles: Betta Diseases, Betta Systems, Anabantoids/Gouramis & Relatives, Betta splendens/Siamese Fighting Fish, Improved (Better?) Products for Bettas!,

Related FAQs: Determining/Diagnosing 1, Disease Diagnosing 3, Disease Diagnosing 4, Disease Diagnosing 5, Betta Disease 1, Betta Disease 2, Betta Disease 3, Betta Disease 4, Betta Disease 5, Betta Disease 6, Betta Disease 7, Betta Disease 8, Betta Disease 9, Betta Disease 10, Betta Disease 11, Betta Disease 12, Betta Disease 13, Betta Disease 14, Betta Disease 15, Betta Disease 16, Betta Disease 17, Betta Disease 18 , Betta Disease 19, Betta Disease 20,

Betta Disease 21

Betta Health 22

, Betta Health 23, Betta Health 24, Betta Health 25, Betta Health 26,

Betta Health 28

, Betta Health 29, Betta Health 30, Betta Health 31,
Betta Disease Causes/Etiologies: Determining/Diagnosing, Environmental (By far the largest cat.), Nutritional, Viral/Cancer, Infectious (Bacterial, Fungal) , Parasitic: Ich/White Spot, Velvet; Senescence/Old Age, Cures/Curatives/Treatments,
FAQs on Betta Medicines: Betta Medicines period, Antibiotics/Antibacterials, Anti-Protozoals (Metronidazole, eSHa...), Copper, Formalin, Malachite Green, Anthelminthics, Organophosphates, Salts, All Other Betta Med.s,



Betta Success


Doing what it takes to keep Bettas healthy long-term

by Robert (Bob) Fenner
Beta fins 7/1/16
<...1.4 megs....>
I have 3 beta fish in an Aqueon waterfall aquarium.
<Male Betta's don't live communally; nor in continuous view of each other>
My beta fish have adjusted to the flowing water, all of them except my rose petal fish. He has in a way adjusted to it, but I'm very worried about him, because I saw this(look at picture attached). A few of the strands on his rear fin are
missing,
<Torn off>
when I purchased him this wasn't there, and I've had him for 2-3 months now. I saw this yesterday I had turned off the filter for a few days and 1 day he was fine and the next day I look at him and he's like this, all of this happened when the filter was turned off. All three beta fish are separated. What happened to him?
<... as stated. READ here:
http://www.wetwebmedia.com/fwsubwebindex/bettasysart.htm
and the linked files above. Bob Fenner>
Looks like trauma to me.
Beta fins /Neale 7/2/16
I have 3 beta fish in an Aqueon waterfall aquarium.
<Two gallons for three Bettas? Would need to know about water quality before discounting Finrot, the usual cause for raggedy fins once you discount physical damage. It's a clever aquarium design for sure, but whether it works as good as it looks is unknown to me. I'd need proof in the form of, at minimum, a nitrite test result. I'm also staggered
something sold for Bettas doesn't have a heater. That's insane! These are tropical fish that will die at room temperatures (unless of course your room is a constant 25C/77F or warmer!). It sucks that companies that should know better are misleading inexperienced fishkeepers into thinking Bettas don't need a heater. That'd be like telling someone a dog doesn't need walks! So I assume you've installed a heater, otherwise environmental stress and consequent Finrot are extremely likely. For sure this fish is sick before the others, but any Betta kept at room temperature is a Betta that's going to die sooner rather than later.>
My beta fish have adjusted to the flowing water, all of them except my rose petal fish. He has in a way adjusted to it, but I'm very worried about him, because I saw this (look at picture attached). A few of the strands on his rear fin are missing, when I purchased him this wasn't there, and I've had him for 2-3 months now. I saw this yesterday I had turned off the filter for a few days and 1 day he was fine and the next day I look at him and he's like this, all of this happened when the filter was turned off. All three beta fish are separated. What happened to him?
<As Bob F. suggests, physical damage is one possibility. Bettas aren't adapted to flowing currents. They come from ponds and ditches, and the long-fin forms are artificial fish at that, selected for looks rather than swimming ability. In tanks with currents they're easily "sucked" into inlets or washed against rough objects by the current, and the result is
damage to their fins. The ideal system is something around 3-5 gallons per Betta, with an air-powered sponge filter and a heater. Cheers, Neale.>
Betta; dis. diag. 3/14/16
Hi
<Yvonne>
I have had my Betta since just after May last year. I came home this afternoon to see what looks like a greenish/ greyish under his chin.
<Mmm; likely not pathogenic in nature then... unless you've been feeding live freshwater food/s, added live plants, other livestock...>
He seems to be swimming ok and eating fine, but I have also noticed he seems to be handing more than normal, he is in a tank with angelfish who seem to keep themselves to themselves.
His tail also looks like it has shredded.
<Mmm; the Angels>
It colouring under his chin I have only notice today.
Last week we cleaned his big tank out and put him in a tank on his own which in he seemed to be a bit sad and seemed lonely so we put him back in the tank with his angelfish friends.
Please can you advise what could be wrong with him, could he be sick or just getting old.
<Possibly either; or both>
If sick could you also please advise what treatment I could use.
<In case this is an infectious agent at work, let's have you read here:
http://www.wetwebmedia.com/fwsubwebindex/BetDisInfeF.htm
Bob Fenner>
Thank you very much in advance for you help in making my boy better
From Yvonne
Betta; health; Neale's turn 3/15/16
Hi
<Hello Yvonne,>
I have had my Betta since just after May last year. I came home this afternoon to see what looks like a greenish/ greyish under his chin. He seems to be swimming ok and eating fine, but I have also noticed he seems to be handing more than normal, he is in a tank with angelfish who seem to keep themselves to themselves.
<Sometimes do. But as usual, the standard caveat: Bettas don't mix well with other fish, not because of aggression, but because they're ill-suited to community tanks.>
His tail also looks like it has shredded.
<Could be physical damage from the Angels (which can/do peck at fins, despite being long-finned themselves, the hypocrites!) or from an over powerful filter, or simple stress of some sort.>
It colouring under his chin I have only notice today. Last week we cleaned his big tank out and put him in a tank on his own which in he seemed to be a bit sad and seemed lonely so we put him back in the tank with his angelfish friends. Please can you advise what could be wrong with him, could he be sick or just getting old.
<Depends on his age. Assuming you got your Betta "from new" he was something like six months old when you bought him, and you've had him another ten months. So let's say he's a little under a year and a half in
age. That's not old-old by Betta standards, but certainly well into middle age. They can live 3-4 years in captivity, though in the wild they're more like annuals than anything else. A lot depends on his mood. If he's
swimming normally and feeding happily, I'd treat as per Finrot, review his living conditions and tankmates, and see what happens.>
If sick could you also please advise what treatment I could use.
<Do avoid the cure-alls (some would say cure-nothings) like Melafix and instead use a decent antibiotic or antibacterial that doesn't rely on tea tree oil or some other nonsense like that. Here in the UK, I'd be using
eSHa 2000, but in your part of the world other options may be available. As always, remember to remove carbon during usage.>
Thank you very much in advance for you help in making my boy better
From Yvonne
<Cheers, Neale.>
Betta Tumor /RMF 12/18/15
Hey guys, thanks for this forum. I really cannot find anything to help my Betta, Luna. I noticed about 6 months ago (June) that his one eye seemed to have a "fuzzy" look to it at the top only. It hasn't gotten better or worse and I use a magnifying glass to see it. I did a round of Melafix with no change.
<Worthless>
Then I did a round of Pimafix with no effect.
<Ditto; these are "homeopathic" scams>
I surmised he might have hurt his eye swimming around and while it didn't get better, it never got worse. Then his gill covers started sticking out some…. I couldn't figure it out! I worried about parasites but I have introduced NOTHING into the tank since I got him 1 year earlier and I can't see a thing - there is no mucus, no film, he isn't rubbing against anything… Ultimately a tumor seems to have formed between his gills under his head and I am wondering if that is why his gill covers are out a bit. He keeps his mouth open all the time too. He lives in a 5 gallon, heated filtered tank with perfect water parameters (except the pH is a 7.4 to 7.6. ) I am really worried about him and have been since this summer. I have had him about a year and a half. At thanksgiving, I started to add .5 tsp per gallon of salt. This week, I started tetracycline because he has some red on his head above his eye but again, he bumps (not rubs) against the glass, the log, the filter grate, the pump valve… I figured that if he was hurting himself the antibiotic couldn't hurt. Now, I am wondering if I should top the antibiotic and try an anti parasitic. I can't see anything on him like in the pictures all over the web. He is a pink pearl Betta with burgundy so keep that in mind when you see the pics. The bump between his gills looks like a blister, it looks puffy and soft, not hard.
He has been gulping air for about 3 months but he seems to have become worse in the last two weeks because he is eating less. I also think his dorsal fin is not expanded like it normally is when he drifts. He stays at the top of the tank with his head up and body arched downwards. I have yet to see him lying on the bottom of the tank. These pics were taken on Tuesday of this week. Do you think this can be something else besides a tumor.
I am going to be devastated if I loose <lose> him. He has turned me into a fish nerd.
I am eager to hear your thoughts and suggestions. I just want to take the best care of him that I can. Thank you! Kathy
<This fish looks like it is suffering from a goiter. Do please use the search tool on WWM, and avail yourself of a commercial iodide-ate product (or Lugol's solution, or...) applied to foods, the water. Bob Fenner>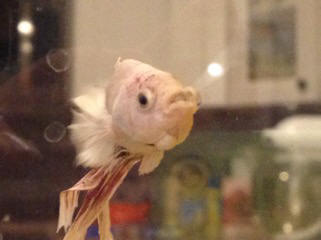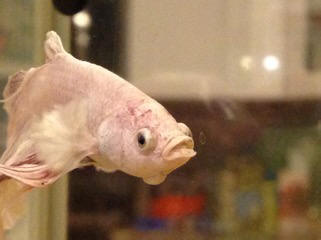 Betta Tumor /Neale 12/19/15
Hey guys, thanks for this forum. I really cannot find anything to help my Betta, Luna. I noticed about 6 months ago (June) that his one eye seemed to have a "fuzzy" look to it at the top only. It hasn't gotten better or worse and I use a magnifying glass to see it. I did a round of Melafix with no change. Then I did a round of Pimafix with no effect. I surmised he might have hurt his eye swimming around and while it didn't get better, it never got worse. Then his gill covers started sticking out some…. I couldn't figure it out! I worried about parasites but I have introduced NOTHING into the tank since I got him 1 year earlier and I can't see a thing - there is no mucus, no film, he isn't rubbing against anything… Ultimately a tumor seems to have formed between his gills under his head and I am wondering if that is why his gill covers are out a bit. He keeps his mouth open all the time too. He lives in a 5 gallon, heated filtered tank with perfect water parameters (except the pH is a 7.4 to 7.6. ) I am really worried about him and have been since this summer. I have had him about a year and a half. At thanksgiving, I started to add .5 tsp per gallon of salt. This week, I started tetracycline because he has some red on his head above his eye but again, he bumps (not rubs) against the glass, the log, the filter grate, the pump valve… I figured that if he was hurting himself the antibiotic couldn't hurt. Now, I am wondering if I should top the antibiotic and try an anti parasitic. I can't see anything on him like in the pictures all over the web. He is a pink pearl Betta with burgundy so keep that in mind when you see the pics. The bump between his gills looks like a blister, it looks puffy and soft, not hard.
He has been gulping air for about 3 months but he seems to have become worse in the last two weeks because he is eating less. I also think his dorsal fin is not expanded like it normally is when he drifts. He stays at the top of the tank with his head up and body arched downwards. I have yet to see him lying on the bottom of the tank. These pics were taken on Tuesday of this week. Do you think this can be something else besides a tumor.
I am going to be devastated if I loose him. He has turned me into a fish nerd.
I m eager to hear your thoughts and suggestions. I just want to take the best care of him that I can. Thank you! Kathy
<Not going to disagree with Bob F. on this. Iodine deficiency seems likely given the position of the swelling. Can be corrected using appropriate feeding... iodine-rich foods, marine aquarium iodine supplement, etc. On the other hand, will make the observation that Bettas, especially the more inbred varieties like yours, have all sorts of problems built into them through the lack of natural selection winnowing out less useful genes. End result is not that these fish are intrinsically doomed to die young, they're not, but that anything short of proactive, preventive healthcare is more likely to lead to problems. Do read elsewhere on WWM re: Betta care, in particular diet and the importance of extrinsic factors such as airborne pollution, cold air, etc. Cheers, Neale.>
Betta question 12/15/15
Wondering if anyone knows what is ailing my plakat half moon Betta. He's in a heated cycled 3 gallon tank, water quality is excellent (I test weekly)
<How much NO3? Any NH3/NH4OH?>
and I do slow 50% water changes matching pH and temp. PH is 6.8-7.
Temperature is 80 degrees Fahrenheit.
Four days ago I woke up to find my little guy lethargic and not eating. I fasted all day and did his regularly scheduled water change. The next morning he was acting his normal hungry active self, but I noticed a swelling on his forehead between his eyes and his lips are badly swollen.
<?!>
Tissue is normal blue-gray color, not red nor white.
<... could be... bacterial, protozoal, water quality, a trauma...>
Since then I've been doing small daily water changes of 25% with 1/8 th teaspoon of aquarium salt added. I can't see any fungal growth. His head has always been blue and gray, but nothing fuzzy. He continues to be active and eats. I ordered KanaPlex in case it's bacterial, but it won't be shipped to my address for another week or so.
Could a tumor show up so quickly?
<Not likely; no>
Could it be bacterial or a parasite?
<Yes>
Any ideas?
<All sorts; mainly to direct you to WWM for reading, review. See the articles, FAQs, SubFAQs files on Betta Diseases?>
I have only had him for 6 months and I have another Betta in a cycled 5 gallon who is in excellent condition.
Thank you for any help you can send my way. Should I discontinue the aquarium salt and try Epson salts?
<The printer co.? Maybe Epsom, MgSO4>
Susan
<Bob>
Re: Betta question 12/16/15
Hi Bob,
ammonia is 0, nitrite is 0, nitrate less than 5 ppm (tank cycled and stable for last 6 months).
<Ah, good>
Epsom salt (not Epson the printer :)) baths were recommended (1 tsp per gallon of tank water) for up to 15 min.s.
<I'd just leave a modicum in the system, as prescribed on WWM>
Some people recommend SeaChem Paraguard, others Kanaplex (but not to mix the two). I don't feed live food, only Spectrum pellets and freeze dried brine and daphnia.
<Good>
I think I checked the articles on Betta diseases, nothing close to what he has. Yes, it could be trauma, he has a resin driftwood ornament in his tank, only 2 weeks old. Do you think that a course of Kanaplex would be the way to go if he doesn't improve?
<Won't likely do any harm...>
Thanks,
Susan
<Welcome. BobF>
Photo and update on Plakat's Betta with swollen lips and head 12/17/15
Hi Bob and crew,
I managed to get cu photo of my little guy.
<I'll say!>
He is still eating although with a little difficulty (lips are still swollen) but he is still swimming around although he is resting more inside his resin cave. Fins not clamped and he still comes to surface to greet me.
Stopped salt as not convinced it is fungus. Only added salt because I thought the swelling could be due to trauma (he is normally very hyper guy).
<This is what I would have done as well>
Ordered KanaPlex in case it's bacterial (amazingly LFS doesn't carry antibiotics).
<Strange... though I will state w/ high confidence, that most all such use w/ ornamental fishes is a waste (of time, resources); much more than half in humans as well>
Kanaplex won't be here till next week.
Continuing gentle water changes of 25% every other day, ammonia=0, nitrate=0, nitrate <5 ppm, pH=6.8-7, temp=80.
Haven't tried Epsom salts yet because didn't want to add to tank if you all didn't think it would be of benefit.
Have you seen anything like this before?
<I have.... but w/o sampling, 'scope use; possibly culture; perhaps even sacrificing, embedding, sectioning/staining for histological examination.... can still only guess. Is this viral (Lymphocystis), tumorous from whatever cause?
Bacterial? Bob Fenner>
Susan
Betta With Unknown Illness /RMF 12/9/15
I was wondering if you could help me with my Betta. I can't figure out what may be wrong with him. I am thinking a bacterial infection. Over a week ago, our Betta was not being as energetic as he normally is and wasn't too excited about food. At first, he would spend most of his time either on top of his tank in different areas in the floating water sprite or he would be in his log. He would occasionally swim down to the bottom of the tank in the morning and evening, but usually just stayed at the top the rest of the day. The past two days, however, he has been staying around the same area at the top of the tank in the water sprite and barely moving. I can get him to eat a piece of food a day, but that is about it.
<What re water quality tests, temperature? Maintenance notes? Foods, feeding?>
His fins have been somewhat shredded for awhile, it started as occasional pinholes in his fins and turned to his fins being shredded. I tried to first treat that with more water changes and cappata leaves. When that wasn't helping, I started to add Seachem StressGuard (this was about 3 weeks ago). After about a week of StressGuard, he seemed to slow down some
but would perk back up after a water change. So I stopped the StressGuard just after 1.5 weeks to see if it was affecting him. But about a week ago, he starting to slow down and start staying at the top of the tank. First, I was doing daily water changes and added the Betta Spa packets in his tank.
I had also added a poly filter pad to his filter in case there is something in the water (it turned tan/brown). I have since removed the PolyFilter since I am medicating his tank. Since I have already lost a Betta this year to what first seemed like constipation but I believe may have been a bacterial infection (which was housed in the same tank), I first added
Metronidazole to some frozen brine shrimp for him to eat in case he also has a bacteria infection. He had the Metronidazole for 3 days until he wouldn't eat it and after a day, I switched to Kanaplex and added that to his water. I added the second dose of Kanaplex this morning and he hasn't really moved. Look wise, I cannot see anything wrong with him except for the shredded fins. He has not lost any color, his fins aren't clamped and he is not bloated. He does have some disfigurement from birth, I am assuming. He does not have his ventral fins and his right gill has stuck some. He is about 9 to 10 months old, from a local fish store that gets their Bettas from a local breeder. We have had him for 2.5 months.
His tank is a cycled 15 gallon tank. The temperature is between 79 and 81 degrees. He lives with ember tetras, cherry shrimp, MTS and Spixi snails.
Everyone else is doing well and the MTS and shrimp are continuously breeding.
<Good signs>
He usually eats Omega One Betta Buffet flakes (2 to 3 small flakes), twice a day, since he has trouble eating the pellets. He also gets his diet supplemented with frozen brine shrimp, bloodworms
<I'd skip these; implicated in disease>
and mysis shrimp about 3 times a week. Right now, I am trying to give him some flakes and/or brine shrimp to see what he will eat. We do weekly water changes of 25% to 30%.
Water parameters are:
Ammonia: 0
Nitrite: 0
Nitrate: 10
pH: 7.6
Hardness (GH): 5
Alkalinity (KH): 6
<These are all okay...>
His tank has Seachem Onyx Sand Substrate with live plants, driftwood, ADA Dragon Scale stone and PetSmart decor. The filter is an Aqueon QuietFlow 10 power filter. We are thinking of changing to a stronger filter.
<Mmm; should be fine as is>
Could something be wrong with the tank itself since we had another Betta in this tank that got bloated and then died a couple of months later?
<Possibly; though what I cannot say>
Everyone else in the tank are doing well. Or could it be something else besides a bacterial infection? Right now, I am treating him is his normal tank since everyone else is doing well with the treatments. Am I using the right medication? If there is a harmful bacteria in the tank, would a UV sterilizer help?
<Possibly>
He is still a young fish and I really want to save him. If need to, we can set up another tank for him but that still doesn't tell me what the problem may be.
Thank you for any help you can give me.
--
Thank you,
Stacy
<Am going to pass on your note to Neale Monks here, in the hope that he has some suggestions.
Bob Fenner>
Betta With Unknown Illness /Neale 12/9/15
I was wondering if you could help me with my Betta. I can't figure out what may be wrong with him. I am thinking a bacterial infection. Over a week ago, our Betta was not being as energetic as he normally is and wasn't too excited about food.
<First thing to do when tropical fish stop eating is check the heater. If the water is cold, their appetite stops. Bettas should be maintained at around 25-28 C/77-82 F. They also need warm air since they're air breathers. If the tank has a hood, the air will become warmed automatically, but open topped tanks (unwise with Bettas because they jump out) won't have this air warming facility, so placing the tank away from cold draughts is important. If you're happy the water temperature is within that range, the next thing to check is filtration. Grab an ammonia or nitrite test kit, and measure one or the other. Ammonia is sometimes misleading (tap water can have ammonia in it, rendered harmless by good quality water conditioner) so checking your tank water with a sample of tap water will indicate whether the ammonia levels are the same (fine) or the aquarium has more ammonia than the tap water (bad). Nitrite test kits are easier to use, but assume there's some biological filtration in the tank, since making nitrite is the first step in the filtration process. If you have a tank without biological filtration then nitrite tests might come our "safe" even though the water quality is terrible. That's because none of the waste produced by the fish has been turned into nitrite. But if you have biological filtration of some sort, the nitrite result is a very good indicator of what's going on. Anything above zero indicates the biological filter is overwhelmed: too few bacteria, too much waste. Increasing the flow rate can help, so can replacing some of the media with better quality media (Siporax and other premium brands will cram in more bacteria per cubic inch that standard sponges and noodles). But it may well be the filter is simply too small, or else some of the filter capacity is being filled with basically useless junk (carbon for example). Review, and act accordingly. Almost all mystery health problems with tropical fish are environmental, at least initially, so reviewing heating and filtration go a long way towards nipping problems in the bud.>
At first, he would spend most of his time either on top of his tank in different areas in the floating water sprite or he would be in his log. He would occasionally swim down to the bottom of the tank in the morning and evening, but usually just stayed at the top the rest of the day. The past two days, however, he has been staying around the same area at the top of the tank in the water sprite and barely moving. I can get him to eat a piece of food a day, but that is about it.
<So long as he's eating something, that's promising.>
His fins have been somewhat shredded for awhile, it started as occasional pinholes in his fins and turned to his fins being shredded. I tried to first treat that with more water changes and cappata leaves.
<I would remove these leaves while the fish isn't well. They're decomposing, which is why/how they release "good acids" into the water, but in the process the bacteria decomposing them are using up oxygen. Save them for when the tank is fine again, sure, but for now, they're a random factor you can't adequately assess.>
When that wasn't helping, I started to add Seachem StressGuard (this was about 3 weeks ago). After about a week of StressGuard, he seemed to slow down some but would perk back up after a water change.
<A good sign the environment is amiss.>
So I stopped the StressGuard just after 1.5 weeks to see if it was affecting him. But about a week ago, he starting to slow down and start staying at the top of the tank. First, I was doing daily water changes and added the Betta Spa packets in his tank.
<I would lay off these, too. Bettas don't need magic water. They are thoroughly domesticated fish (like Goldfish) that can/do thrive in properly warmed and filtered tap water. Adding extra potions is yet again another unknown factor that makes assessing the tank difficult. Let's cut to the chase here. Fish product marketers know that the majority of Betta owners
are inexperienced aquarists who don't want to spend much money. They know these people try to keep Bettas in very small tanks or bowls, and then avoid buying heaters and filters. But what the average Betta buyer will do is spend money periodically on stuff that will supposedly keep their Betta healthy despite the shortcomings of their aquarium or bowl. Easier to get these folks to spend $10 every month for a year than $100 up front, hence the massive range of Betta-specific but low-cost items out there. None of which are necessary! In, say, an 5-8 gallon tank with a heater and filter, a Betta is really no harder to keep than a Guppy, will eat plain vanilla fish food, needs nothing added to the water beyond water conditioner, and is not even remotely fussy about water chemistry. Make sense?>
I had also added a poly filter pad to his filter in case there is something in the water (it turned tan/brown). I have since removed the PolyFilter since I am medicating his tank.
<Correct move. Ditto carbon. Both these, as well as large quantities of decaying organic matter, can affect the efficaciousness of medicines.>
Since I have already lost a Betta this year to what first seemed like constipation but I believe may have been a bacterial infection (which was housed in the same tank), I first added Metronidazole to some frozen brine shrimp for him to eat in case he also has a bacteria infection. He had the Metronidazole for 3 days until he wouldn't eat it and after a day, I switched to Kanaplex and added that to his water. I added the second dose of Kanaplex this morning and he hasn't really moved. Look wise, I cannot see anything wrong with him except for the shredded fins.
<Typically a sign of Finrot, but can also be fin damage. Is the shredding clean, like someone chopped his fins with a knife? Or are the fins patches with dead which patches and some orange or red areas of inflammation? The latter is bacterial Finrot, the former physical damage.>
He has not lost any color, his fins aren't clamped and he is not bloated.
He does have some disfigurement from birth, I am assuming. He does not have his ventral fins and his right gill has stuck out some.
<This is a quite common birth defect, yes.>
He is about 9 to 10 months old, from a local fish store that gets their Bettas from a local breeder. We have had him for 2.5 months.
<Do bear in mind Bettas are near enough annual fish in the wild. They should live a bit longer in captivity than this, perhaps 2 years on average, with odd specimens living well past that. Yours is middle aged rather than old then. Bettas do become less active with age though.>
His tank is a cycled 15 gallon tank. The temperature is between 79 and 81 degrees. He lives with ember tetras, cherry shrimp, MTS and Spixi snails.
<Can you move out the Ember Tetras? Characins generally are sometimes nippy towards Bettas, and Ember Tetras have been confirmed as occasional fin-nippers. If you must mix fish with Bettas, stick with peaceful bottom dwellers such as Corydoras, or harmless surface dwellers like Hatchets.>
Everyone else is doing well and the MTS and shrimp are continuously breeding.
<Good.>
He usually eats Omega One Betta Buffet flakes (2 to 3 small flakes), twice a day, since he has trouble eating the pellets. He also gets his diet supplemented with frozen brine shrimp, bloodworms and mysis shrimp about 3 times a week. Right now, I am trying to give him some flakes and/or brine shrimp to see what he will eat. We do weekly water changes of 25% to 30%.
Water parameters are:
Ammonia: 0
Nitrite: 0
Nitrate: 10
pH: 7.6
Hardness (GH): 5
Alkalinity (KH): 6
His tank has Seachem Onyx Sand Substrate with live plants, driftwood, ADA Dragon Scale stone and PetSmart decor. The filter is an Aqueon QuietFlow 10 power filter. We are thinking of changing to a stronger filter.
<A decent little filter. A bigger filter might not be necessary here if ammonia and nitrite are zero. Of course more filtration is always nice, but the flip side is that Bettas dislike currents, being adapted to ponds and ditches.>
Could something be wrong with the tank itself since we had another Betta in this tank that got bloated and then died a couple of months later? Everyone else in the tank are doing well. Or could it be something else besides a bacterial infection? Right now, I am treating him is his normal tank since everyone else is doing well with the treatments. Am I using the right
medication? If there is a harmful bacteria in the tank, would a UV sterilizer help?
<No. UV kills planktonic phases of various life forms, primarily algae and protozoan parasites. It doesn't cure already sick fish, and even though it suppresses the life cycle of things like Whitespot, it rarely eliminates them 100%. Outside of retail/wholesale situations where slowing the spread of disease saves money, there's little to no use for UV in freshwater
aquaria.>
He is still a young fish and I really want to save him. If need to, we can set up another tank for him but that still doesn't tell me what the problem may be.
Thank you for any help you can give me.
Stacy
<If the fins are clean shredded, I'd be looking at the Ember Tetras. Try removing them or the Betta, and see what happens. Medicate as per Finrot, and if he gets better, then that's the problem! Cheers, Neale.>
Re: Betta With Unknown Illness 12/10/15
I have a picture attached from today so you can see his fins. His fins have red in them, so it is hard to know if there are red inflamed areas.
<You're looking for pale red, pink even... rather than the deep cherry red to purple-red you see on Bettas.>
Does that look like fin nipping or bacterial fin rot?
<Physical damage certainly; fin-nipping a definite possibility.>
Can fin rot cause a fish to be listless?
<Yes; more psychological than anything else... lack of security, so the fish feels nervous or unsettled.>
That is my main concern of his symptoms.
<Understood.>
What would be the best medicine for fin rot? I am treating with Kanaplex.
Is that a good medicine? I haven't seen any change yet and he has one more dose. Should I do another round of Kanaplex or try a new medicine after this one? I need a medicine that is also safe for shrimp and snails. I also want a medicine that won't kill the beneficial bacteria.
<Some type of antibiotic should be safe with shrimps and snails. Avoid, specifically, medications with copper, formalin and organic dyes (such as Methylene blue, malachite green, etc.). Ideally, separate the snails/shrimps from the fish during treatment. All this said, once the fin-nippers are removed, the fins should heal without medication.
Cheers, Neale.>
Sick Betta 9/18/15
Hello Crew!
<Hello Gabby>
First of all, I would just love to thank you for your wonderful site, which has more than once saved the lives of my fish. Your work is amazing. I can only hope to one day know enough about fish to be able to spread the love.
<Ahh; I hope for this as well>
I am writing to you because I am fortunate enough to work in a pet store, and I recently exchanged a Betta I'd owned for several months for a beautiful white-and-purple delta tail. My Betta had grown large and healthy with me after I healed him of fin rot (thank you, salt dips), he was enormous compared to the other Bettas and was in tip top shape, always eating and not easily rattled.
This new fish, however, has something the matter with him. He seems active enough, but red spots have begun to appear on his head and the top of his body, and he won't touch food (he'll follow my hand when I drop it in, but won't eat it). He will sometimes bend his tail sideways and swim in a circle, and small round holes have appeared near the edges of his fins which become ragged as the holes spread. Salt dips do not appear to have helped much. He seems alert and active, but I'm concerned--I don't want to lose him, and he is so gorgeous, I don't want him to lose any more fin!
<Mmm; the "red spots" worry me.... What could this be? Parasitic perhaps; bacterial?>
He is in a 2.5 gallon tank which I clean daily, in the company of two small Cryptocorynes and some white silica sand. He has no heater, but since I live in Cancun, he sure doesn't need one.
<I would add for the duration of treatment here>
Other than at the holes, his fins appear intact, his colors are bright and when he isn't doing his weird spinning act, he swims normally, exploring the tank. I am going to add more plants soon.
<I would leave off w/ live plants here for the while>
What can I do? I only have salt, malachite green, Methylene blue, and Furan-2 capsules, all of which were already tried in combination when the red spots first appeared (for every liter I added 1 drop of malachite green, 4 drops of Methylene blue and half a teaspoon of aquarium salt; then I took a Furan-2 capsule, broke it open and made a paste with the powder which I then rubbed on the red spots. I put a drop of the paste into his water and mixed that in too. It didn't appear to do anything for him.) Since then, I've given him a daily 5-minute salt dip in a liter of water with a teaspoon of aquarium or non-iodized table salt dissolved in it; even though it doesn't appear to be doing anything, at least the fin rot seems to be progressing very slowly.
What can I do? Please, I don't want to lose him :( I've been told to try Sulfast 3, but can I use it in conjunction with Furan-2? Should I give that to him again? Why won't he eat? (I just brought him home two days ago; he was at the pet store where I work.) Our water here is quite hard, but I keep it clean, and my other Betta lived without a problem.
<I would treat w/ a dose (single) of BOTH Metronidazole and Praziquantel (administered to the water as the fish is not eating; while raising the temperature of the water to the mid-80's F>
Thank you in advance for your reply! :)
<Welcome; thank you for sharing. Bob Fenner>
Sick Betta 9/18/15
Thanks so much Mr. Fenner!
<Welcome Gabby>
I just have a couple more questions your answer raised in my mind... Those medicines you mentioned... The vet here has them in injectable form for dogs and cats, or in suspension. There's also General Cure which has Metronidazole, should I use that?
<Yes to the powder form/s; not injectable>
Or how much is a dose?
<Please search, read on WWM Re.... need to dilute if treating in small volume/s>
My tank is 10L, but to treat him I'd move him back to the LFS where I work. How long should
I keep him at eighty degrees?
<Mid-80's... for the duration... likely a week or two>
Thank you once more! You guys are awesome!!!
<Certainly welcome. BobF>
Re: Sick Betta 9/18/15
Hello again, Mr. Fenner! :)
<Ms. Reyez>
I was only able to find Metronidazole, in 500mg tablets (for people), or in General Cure; but Praziquantel remains elusive. Can I use the tablets?
<Yes; crush up with two spoons; to hasten dissolving>
Will it work without Praziquantel?
<The Prazi is for worm diseases of many types.... works independently of the Metro (which is for Protozoans, some bacteria). Really need both>
Only the vet seems to have that, and she has it in injectable form or in suspension.
<Not the same>
The Betta's eyes now look swollen and strange. I don't wanna lose him :(
<See WWM re adding a bit of Epsom Salt>
Sorry for the bunch of questions. I've never treated a fish before with anything not meant for fish, and I'm scared to kill him :(
<No worries>
Thank you again!
<Welcome. B>

My beta fish needs help! No data; child 2/19/15
Got my birthday I revived a blue male beta fish. His name is Minho. The problem is we have a cat, a cat who likes fish! While I was at school my cat got into the tank and I don't really know what she did! When I got home no his fins looked very droopy, and he's been staying at the bottom of his tank. I watched him earlier and when he tried to swim he barely moved!!!
Please tell me what I can do to help him! PLEASE!
<Is the aquarium heated? Bettas are tropical fish, and won't heal properly if conditions aren't right. Of course if you live in Singapore in an unheated flat, then ambient air temperature (around 80 degrees F) will be fine, but if you live in the US or Europe, then a heater is essential. Oh, and a filter too, and at least 4-5 gallons of water. Any aquarium that satisfies these criteria will have a hood or lid of some sort... or if it doesn't, you can get a piece of glass or clear acrylic cut to size to fit
on top. Simple. If you don't have heat, filtration or enough space, well, this fish was going to die sooner or later, and all the cat is doing is speeding up the process. Without wanting to sound callous, we do get a lot of "OMG my Betta is sick" messages and they're from folks who don't provide heat, proper water quality or enough space. Maybe you've met these people?
They keep Bettas in jars or bowls, stick them under an angle-poise lamp, that sort of thing. Maybe voice some baloney about Bettas living fine in jars (true, if you're a breeder in a heated fish room who changes the water daily, but not true otherwise). If you're teeth are on edge hearing such things, then great, you and I are going to get on well. Your Betta will recover in a heated, filtered aquarium. My advice: keep the hood on. Cats aren't good at opening aquarium hoods. If the Betta gets white or grey specks on its fins, they could be Finrot or Fungus, both common on damaged fish, and both eminently treatable. Something like Kanaplex will do the job nicely. Avoid the tea-tree oil remedies like Melafix as they tend to be good money after bad. Ditto salt; it's irrelevant here. Remove carbon from the filter while medicating. Keep the Betta nice and warm (in fact, upping the heat to around 82 F/28 C would actually speed the healing process up a bit). Hmm... does this help Maddie? Meantime, read here: http://www.wetwebmedia.com/fwsubwebindex/betta_splendens.htm
In a heated, filtered aquarium your Betta has a good chance of recover. By the way, it's Betta to rhyme with "better", not "beater" or the Greek letter Beta. Comes from a Southeast Asian (Thai, perhaps?) name along the lines of "Bettah". Now you can impress your friends with your correct pronunciation of these lovely fish! Cheers, Neale.>

Thick white stripe on Betta fin?

12/28/14
Hello WWM.
<Laura>
I would like to inquire about my Betta fish which I have had for about 2 years.
He is in a 30 gallon heated tank (80 C), with a filter.
There are also 6 Corydoras and 5 tetras in the tank, and I do weekly 25% water changes.
<Good>
My concern is a thick white line that has been forming along his anal fin for several months.
There is a very similar picture on your website to the one I have attached, although after reading the post and independent research, I am still unsure as to diagnosis and treatment for my own fish.
>Okay<
(If you are interested in the other post, entitled "white stripe Betta", here is the link: http://www.wetwebmedia.com/fwsubwebindex/betdisfaq7.htm)
<Real good>
My Betta has also been quite lethargic, and lies at the bottom of the tank.
I don't really see him swimming around anymore.
(I am carefully monitoring that the current from the filter isn't too strong. He is not bloated.)
His face area seems paler, but he is still eating.
I am assuming it is not fin rot, because the site is localized, and not ragged or dark.
It does not appear to be fungus, as it is not fuzzy or an external growth.
Please correct me if I could be wrong about the following information.
There is no past stress or injury to my Betta fish that I am aware of, and I have not observed any tail nipping from tankmates.
Any input as to what is wrong or possible treatment would be greatly appreciated!
Thank you for your time,
Laura.
<Well; the decolonization is a concern, but especially the "jaggedness" of the rear portion of the anal concerns me... That and some loss of pigment to the head area and the behavior lead me to consider a bacterial involvement here; but not primary. Something is more at root/base... Likely some aspect/s of water quality and/or nutrition which you give no details of. Are you using some chemical supplements here? An algicide? Are all the decor items aquarium-safe? Please list/detail. Please supply this data. Bob Fenner>
Re: Thick white stripe on Betta fin? 12/29/14
I purchased a water test kit today. Here are the results...
General hardness: 0
Carbonate hardness: 0
<? No hardness? I'd check this kit against a sample that you know has GH, KH... can add baking soda for the carbonate>
pH: 6.5
Nitrate and Nitrite: 0
I usually feed him 2 beta pellets, and occasionally a dried bloodworm
<Mmm; I'd be reading re Betta nutrition on WWM>
instead. I also fast him once a week.
I do not use chemical supplements or algicide.
<Good>
Aquarium decor consists solely of sand, java fern, and soft driftwood.
<The driftwood may be toxic. I'd remove it for now>
P.S. Now he DOES look bloated, and his stomach is silvery and pale.
I will do another 25% water change and clean the filter media (using tank water) tomorrow.
Once again, thank you for your time.
<Glad to help. Bob Fenner>
Re: Thick white stripe on Betta fin? 12/29/14
OK. I have read up on beta nutrition, and will be changing the feeding
routine :)
<Ah, good>
I plan to give him a pea tomorrow.
Would it be a good idea to move him to a hospital tank and treat him with antibacterial meds?
<Mmm; am typically very conservative re these sort of choice, but if this were my Betta, I would do so... Likely a broad spectrum gram negative... See WWM re these as well>
P.S. What would make the aquarium driftwood toxic?
<And this... there are MANY compounds (akin to cigarette smoking) that can come out of decomposing woods of many kinds>
-L
<B>

Re: Thick white stripe on Betta fin? 12/29/14
All right. Thank you for your expertise Mr. Fenner. I will take into account everything you have shared with me in this process.
I will also keep your website in mind for myself and any other fish keepers as a valuable resource in the future.
-L
<Cheers, BobF>

A Betta turning grey-is he sick ? 12/21/14
I have 3 adopted Bettas. All imported privately, the owner downsized and I took them on. They'd all had fin rot but were cured. He kept them in bare tanks and was sloppy with water changes.
<Indeed.>
I keep them in 2.5 G tanks.
<Would recommend larger, with filters. Air-powered sponges the ideal.
Bettas in 5+ gallon tanks rarely get sick.>
Heavily planted, bare bottoms, usually with oak or almond leaves. After experimenting for some time, using daily water tests, discovered water parameters were remaining very stable. 0, 0, <10. I have concluded that enough BB are colonizing the tank surfaces to handle the output of one fish. If not, I don't think I'd be seeing nitrates. I do partial changes every week or two mainly to clean the bottom much and refresh minerals, buffers, etc. pH is slightly acidic, just below 7.
<Do try and maintain pH at 7 or slightly above. Filter bacteria thrive best between pH 7.5 and 8.5, and below 7 they are demonstrably working less well, and below 6 barely at all. A pH around 6.5 to 7 is not a big deal in a spacious aquarium with light stocking, but I would only recommend if you absolutely needed an acidic pH. Do remember that fish don't feel pH, they
feel hardness, so soft, neutral water chemistry is often the ideal for Southeast Asian tropical fish because it balances osmoregulation (low hardness) with acceptable water quality (non-acidic pH).>
I feed almost entirely live or frozen. One of them won't touch dry foods at all.
<Worth persisting with... how to state clearly?... mixing frozen foods is okay but hard to ensure total array of vitamins and minerals unless a marine aquarium vitamin supplement is used. But modern flakes and micropellets are excellent staples, and the premium brands, such as New Life Spectrum, accepted by virtually everything.>
Blackworms, brine shrimp, fruit flies and their larvae, springtails, all live. Frozen daphnia, brine shrimp, blood worms sometimes. They don't much like the frozen bloodworms. Live mosquito larvae if I can catch them in summer.
<Good.>
Room is very warm, tanks not heated or filtered.
<Do not approve of this. Never understood why Bettas are supposed to "magically" not need filters where other fish do. If water is changed daily, pretty much all of it, then yes, breeders do keep Bettas in jam jars, in Asia and elsewhere that vast numbers are maintained and mortality of individuals is not a major concern. But pet Bettas need consistently better conditions. Heat, filtration, swimming space for exercise.>
Temp usually 78-80F. Run fans if it gets much warmer than this, have lighting on timers, 12/12. Heat in this apartment is a ongoing pain, rotten landlord.
<Shouldn't be a major problem, but higher temperatures mean faster metabolism, which means more dissolved metabolites in the water... again, filtration would help.>
Ruffles is a deep blue/mustard gas Dragon HM. He was fine 'til days ago. He is still eating normally, his behaviour has not changed, I don't see anything alarming other than this colour change. Started on the head, pinky size spot. Two days later, dime sized. Spreading over his back and downward now. Blue scales are a darkish grey colour.
<Does occasionally happen for no apparent reason (perhaps genes) but do consider ammonia "burns" as per Goldfish in unfiltered tanks, as well as excess mucous production, which can be caused by all sorts of things, from Costia through to dramatic dives in water quality. Without a photo, hard to be sure what you're even describing.>
No raised scales, no bloat, still eating, but this grey colour is not what I associate with health. I don't like to medicate unless I'm fairly sure what I'm medicating for. If this is bacterial, what would be most likely as a cause ? I can't seem to find out if this kind of colour change is normal.
He's a very handsome fish, won't be two years old for a few months yet.
Any help appreciated.
Thanks, Karen
<Various concerns about the environment and maintenance as outlined above would be my first line of investigation... nothing you've described clearly defines one particular problem, less so one specific parasite or infection. Law of big numbers with sick fish means environment is always the prime suspect, especially where there are obvious shortcomings. Review, read, and act accordingly. Cheers, Neale.>
Re: A Betta turning grey-is he sick ? 12/21/14
Thanks for the quick reply. I can provide sponge filters if you think that's best, I have some that should be finished seeding by now, sitting in cycled tank for a few weeks now. I was planning on dividing a 10G for these 3 fish, as it happens. I do not have room for three 5Gs.. one other Betta is in a 5G and ideally I'd prefer to give them each a 5. Thanks to ongoing problems with a landlord, I can't do that at the moment. But if Ruffles is sick, I don't want him sharing water with two healthy fish in
the 10G either. I'm working on the tank dividers now.
<Given the situation, that sounds like a good workaround. Though until the "Ruffles" Betta gets better, you won't want to mix him with the healthy fish.>
Just so you know, I do not think that Betta fish 'magically' don't need filters.
<Good!>
When I first took them on, I did 3x weekly partial water changes, as I did not have filters on hand at the time. Due to a new, badly torn shoulder tendon, it became very difficult to maintain those changes. I had already added a large number of plants to their tanks, which grew very well and my daily testing showed the parameters, [ and I do mean daily testing]
remaining at 0, 0 and <10. I spent about two months experimenting with the number of water changes, always testing every day, because I sure didn't want to expose the fish to ammonia. I've never had any ammonia or nitrite show up. So I did fewer changes, but continued daily testing to be sure.
<Sounds like you're doing your best.>
If I'm dead wrong in doing fewer water changes, even with the tested parameters, ok, I'll find some way to do more of them.. I'm doing a one third change every other day now for Ruffles. But given the consistent test results, I did think doing fewer changes was not harming the fish.
<Possibly, but it's really hard to be sure. Nature doesn't hand out 'get out of jail free cards' unfortunately, so even when we're unable to do certain pieces of aquarium maintenance, the fish will carry on polluting the tank anyway. Finding what works for you is important of course, this is meant to be a hobby, not a chore. But at the same time keep an open mind, and think about ways you can optimise water quality within the constraints you have... less food, slightly cooler water to reduce metabolism, use of air-powered sponge filters, stocking tanks with fast-growing plants to absorb NH3... various options.>
Tap water here is hard and alkaline. pH about 7.5. GH very high, KH quite high. Don't recall the exact numbers, but I recall thinking the stuff was like liquid rock. But lately, all my tanks seem to be down to a pH of 7 and sometimes just slightly under 7. The tests are not 100% accurate, I know. The tap water is still 7.5, so the drop is puzzling to me.
<Generally speaking, you can ignore pH. Focus on the (general) hardness. So long as the carbonate hardness is above, say, 5 degrees KH, any pH changes between water changes will be minimal. Hardness ("soft", "medium hard" or "hard" for example) is what matters to your fish. If that's stable, your fish will be fine.>
Other tanks are filtered, I clean them regularly, do regular, fairly large water changes using a Python, which won't reach the Betta tanks. Fish and shrimp [ I have a lot of shrimp, Bamboo, Vampire, Cherry, Babaulti ], are all healthy, having babies, moulting without problems. Snails, about 16 species, all healthy, good shells, reproducing, except those needing brackish water for reproduction.
<I see.>
I'm aware the BB don't function as well in acid conditions. I was thinking of adding a tiny bit of crushed coral in a bag to see if that would push the pH slightly upward.
<It will, by raising carbonate hardness, and thereby buffering against pH drops.>
I feed the shrimp and snails calcium blocks, and feed a mix of dry and live food. I'm no expert on water chemistry, but I thought hard water like ours was supposed to be pretty resistant to pH dropping. Tap water source is Lake Ontario.
<If carbonate hardness is high, yes, pH drops are rare. But of course very high rates of acidification can use up the buffering capacity of even carbonate hard water. High nitrate and phosphate are good proxies for acidification, but so also are accumulations of organic detritus and excessive use of wood, peat or dried leaves for decor.>
I'm not opposed to dry food, but two of the Bettas are. One won't touch it, the other only takes if it he's starving. That's why I feed them live/frozen. I can soak frozen stuff in vitamins if that's going to improve nutrition, I'll try to get some today.
<Worth a shot. Farmed Bettas were presumably reared on dried foods, so why your chaps are so awkward escapes me.>
I will try to send a pic, I simply have zero experience at getting them off the camera into the computer. The grey area is spreading, but I see no necrosis, no redness, no swelling, no changes in behaviour. Just more deep
blue scales turning dark grey every day. Activity is as usual, eating well still.
I'll see if I can figure out how to get pics to you.
Thanks, Karen
<Welcome. Neale.>
Re: A Betta turning grey-is he sick ? 12/21/14
Many thanks for the comments on water chemistry. I did have leaves in the Betta tanks, though not at the moment. So I won't replace them. Will get vitamins and put in sponge filters. Tomorrow they're coming for another
round of pest control, so I have to seal up all the tanks, among other preparations. Such a pain!
<Indeed.>
Hoping for the best where Ruffles is concerned.
Karen
<Glad to offer some food for thought. Good luck, Neale.>
Re: A Betta turning grey-is he sick ? 12/21/14
<PS. Airborne toxins are especially dangerous to Bettas. Insecticides and other poisons (anti-fungals for example) can be lethal to all fish, but because Bettas breathe air directly, they're far more exposed to such airborne chemicals as most other fish. If this/these chemical/s have been used previous, I would not discount them as a possible cause of health problems. Cheers, Neale.>

Unidentified Betta infection /RMF 12/12/14
Dearest WetWebMedia,
I'm writing in regards to my male Betta splendens, who is afflicted by some sort of infection. I have spent days and days doing research and reading all over the web, as well as even posting my fish's condition on a few forums. No one seems to really know what the deal is with my little guy, nor what to do next. I'll give a bit of background history about his
environment, as well as the condition, and try to be as specific as I can.
<Good>
First, he was brought home and introduced into a 6 Gallon Fluval Edge (cycled), received water changes each and every week (religiously, for sure), and dechlorinated with Seachem Prime. All was well until I purchased, or "saved" rather, a second Betta. The second purchased Betta was on his last leg, and clearly suffering with fin rot, and lying on the bottom of his cup when I brought him home.
<? You didn't put these two together I hope/trust>
After a few weeks into introducing the second fish, and sharing water changing equipment with my first Betta purchased, I noticed that he then developed some signs of rot on his anal fin, despite the pristine conditions in his tank?? And so I read a bit, and realized that it was certainly possible that the bacteria was simply spread to him via the water changing equip. That was that. I increased water changes throughout the week, and he soon cleared up. The next appearance of deterioration is what is baffling me.
<Mmm>
He then started showing signs of, what I can only describe as, streaking?
He literally started to lose the colored tissue between the rays only(edges of fins completely normal and healthy). I thought perhaps it was a rip or minor tear from a decor item, however, the streaky loss of color/fin tissue continued to disappear in a vertical pattern all the way across his anal fin, as well as the dorsal fin. No amount of water changes were improving his condition, and as this rot-like deterioration continued to get too close to his body for my liking. I was recommended to try Kanaplex, as it was a good, broad spectrum medication said to be least harmful to organs and such.
During treatment the deterioration did in fact stop, and when the round of dosing was complete it seemed that he was successfully regaining the color/membrane by the day. Unfortunately, approx. 18 days after the last dose the same deterioration began all over again. A section of his dorsal fin, again between the rays only, started to lose color and deteriorate towards the body, as well as a bit of area just inward from the edge of his tail. Whatever this is shows up at first as a small speck of "emptiness" between rays, looking to be a small tear, and gradually eats its way downward and upward, section by section. Regardless of a clean, cycled tank, it still rapidly gets worse. It appears that the gram negative medication is in deed targeting the issue, but it's coming back regardless.
<Mmm; what re your water quality... particularly water temp.? What do you have the heater set at? What do you feed this fish?>
I've never seen another example of this kind of infection, (nor have some very experienced/high level members on some well known forums) as most fin rot I've researched always hits the edges as well, and doesn't happen in a pattern-like deterioration. Unfortunately, the medication had caused a mini cycle, and when I realized I would have to try the Kanaplex again I decided to put him into hospital tank. The Fluval is finally back on track, but I'm just not sure how to proceed. He's showing improvement (again) with use of the Kanaplex, but I can't just keep medicating him should it return once again. Any idea what this condition is?
<Mmm; some "tattering" of unpaired finnage does "just happen" with this species; but the white-ness in the first pic... does concern me>
I'm now hesitant to even put him back in his main tank again once the med. is complete, for fear that the bacteria is somehow lingering around and will just attack him once again. I've attached a few photos for you to see the damage afflicting him. Hopefully you may know more about what could be causing this, and whether or not his main tank will even be a possibility again once he's through his round of meds this time. I'm a new fishkeeper and am not really sure how the bacterial infections affect the tank.
Perhaps that's what made him come down with this again?
<Much more likely there's an environmental, nutritional component/s at play here>
Thank you for your help. I certainly look forward to hearing what you think.
Best regards,
Ashley Whitzell
*The first photo was the first round of this infection before treating him.
The next two are the return of the infection, and the increased spreading over a span of
just 3 days!*
<Data please. Bob Fenner>
Re: Unidentified Betta infection /Back to RMF 12/13/14
Hello, Bob,
First, thank you so very much for responding to my question, and so very promptly ; ) I'm at a loss regarding how to proceed with my little guy, and any assistance/guidance is most, most appreciated.
<Well; please allow me to state from my practical and academic background how one might proceed. Sampling of the whited out area, culturing on a few stock media (ala Bergey's Manual), microscopic examination w/ some staining (H and E likely will do)... and sensitivity trials with just filters hole-punched and soaked in dilute solutions of commonly available broad-spectrum antibiotics. Now, these years, some decades later, maybe there's some sort of Star Trek tri-corder or such that can/will do the above in short order. What doesn't bear doing is just pouring in medication/s and hoping for the best>
I have lost a many nights sleep over this, and despite much research, and post reading from others' Betta experiences with infection, I still have no sense of peace/assurance that he's going to be okay, and I'm resolving the issue completely.
<Good>
Okay, so here's the requested data:
- He is in fact alone/not even in the same room as my other Betta's aquarium
<Good>
- The tank is heated with a Fluval shatterproof heater that stays at a consistent 78/79 degrees, as it's non-adjustable
<Mmm... I DO like such units as they're relatively fail-safe and useful for small volumes, I DON'T like them in that when one really needs to raise the temp., they cannot>
- Upon first purchasing him, I chose Hikari Bio-Gold pellets, and alternated w/Hikari freeze-dried bloodworms about once/twice a wk. and one day of fasting
<Ok>
When he fell ill, I read that protein/quality was pertinent to boost immunity, and so we switched both fish to New Life Spectrum's Thera+ pellets
<A good choice>
As for the tank itself, I've faithfully changed water each wk. and tested w/an API master kit each time (which is also how I noticed the spike in Ammonia, then ultimately Nitrite) mini cycle? which I'm assuming was an affect of the medication,
<Too likely so>
as it happened shortly after his round of Kanaplex dosing. I then started testing
each/every day, and doing appropriate water changes to keep parameters safe for him. The PH has always been about 7.6, and high PH 7.4/7.5 He actually showed the signs of illness returning before the mini cycle occurred, so I can say with certainty that it unrelated to its return. When left with no answers, and no real direction as to how to proceed next, I decided to put him into a hospital tank before starting the Kanaplex again, as my tank was still reading .25ppm nitrite,
<Toxic of/by itself... could be the major source of trouble here... "just a burn">
and I wanted to let things take their course in his main tank before adding more med. to the water, and possibly altering things all over again. And so he's been in a makeshift hospital tank, unfortunately uncycled, since Tuesday, as my water has only now since finished cycling after he was put in there, but I've been performing diligent water changes/maintaining medication within, as to keep his hospital tank water free of ammonia/nitrites
<Good; just partials though... to not forestall the establishment of nitrogen et al. cycling... AND I'd utilize other means of bacterial supplementation. Read here: http://wetwebmedia.com/FWSubWebIndex/fwestcycling.htm
We're really just at a complete loss here, as I've followed a strict routine/maintaining water quality and testing, and even started keeping a log of his tank parameters when we first got him in good practice. It's very unfortunate to think that the introduction of the second Betta has caused all of this, but it's the only thing that changed, and coincided with the time of his illness appearing. It seems as though the Kanaplex is successful in treating whatever
<No>
the infection is, but I obviously know it's not a solution, and can't keep repeatedly medicating him should he be put back into the main tank, and ultimately be reinfected.
Saying that I'm "upset" over the situation would be a great understatement. We literally feel helpless, and inexperienced, as far as how to proceed at this point. I tried to do everything correctly from day one. It's very discouraging, as we just don't know what exactly is wrong in the first place. On a personal note, the fact that I had spent the last 2 months at my Grandmother's bedside, as she passed slowly from Cancer, (which we knew was terminal/untreatable), I was going back and forth from the facility and my home to also care for my fish (water changes, medication dosing, etc.) So it hasn't helped to feel helpless in one situation, and yet again in this circumstance. You're knowledge and help is very much appreciated. I can't thank you enough for coming through to assist. We're just not ready for yet another loss, and want to do everything we can.
Most sincerely,
Ashley Whitzell
<So; what would I do; given the information provided, the apparent situation? All you are presently doing, PLUS get/use a heater to raise the temp. to 83-85 F. This of and by itself will very likely effect a cure as well as hasten cycling.
Bob Fenner>
Re: Unidentified Betta infection 12/14/14
Hello, Bob,
So I've read over your advice as to possibly curing my fish, and had a few questions regarding the steps. I'm currently reaching out to a few local aquarists in regards to the whole microscopic testing, as there's no way we could purchase our own microscope right now, unfortunately. As for establishing the cycle within my hospital tank, I wanted to get more info.
I was under the impression that, because the KanaPlex caused mini cycling in my main tank previously, it would be pointless of cycling his hospital tank, no? Or are you saying that I should in fact cycle because the main tank, with the presence of the infection, can't be used again? The mini cycling in my main tank has since completed, but I was hesitant to treat him within it, again dosing the KanaPlex, as it would just create another crash. Would it be beneficial to us the cycled media from the main tank in my hospital tank? Or would this just spread more infection into the hospital/temp. tank?
Again, thank you so very much for your assistance here.
Ashley Whitzell
<I would not continue antibiotic treatment on this fish; but place it back in the main tank, elevate temp., encourage cycling. B>
Re: Unidentified Betta infection 12/14/14
Okay, so the main tank did in fact finish cycling a few days ago, but I didn't want to put him back in, as the antibiotics would just cause another crash. I elevated the temp, as I did have a manual/adjustable heater on hand. But I'm wondering, if he'll simply be back in the tank with no medications, won't he just succumb to the illness, whatever it is?
<No; else I wouldn't suggest the move>
I also wanted to add that, the deterioration on fins has in fact gotten better (again) with the Kanaplex, but this time it appears differently than the first time it showed up. The areas of deterioration now almost look like there's yellowish lining the areas of rot? Do you think this could be a fungal infection that causing the rot in the first place? I don't know what it is, but I sort of feel like I'd be just waiting for him to pass if I don't try medication.
>Again, the 'scope, rdg<
Re: Unidentified Betta infection 12/16/14
Hello, again, Bob, Okay...So I should've thought of this sooner, but I suppose in all of the stress and worry over this fish I simply didn't think about it. My boyfriend is friends with a urologist in our area, and thought to ask him about the scope. He said "of course he has a microscope", and sure, we can use it. I hadn't even thought of him, and his line of work/using a scope probably fairly often. So my next question for you is in regards to the actual testing. I'm sure he more than likely has the H & E stain, as you said they're pretty basic stains. The issue at hand now would be how to go about this.
<This sampling procedure is archived, gone over and over on WWM... you can search there. But, you might want to invest in an e version of Ed Noga, Fish Disease; Diagnosis and Treatment. I believe Amazon has the 2d ed. for about ten US>
Do I simply put him on a dry,
<... not dry>
stable surface and snip a piece of the infected tail?
<No snipping>
Assuming he would be out of water for a moment, would I also need to use a utensil to gently do a skin scrape as well?
<The angled edge of a new glass slide>
It all seems very intimidating, and if at all possible, I'd want to try and avoid doing any kind of sedation/clove oil solution, if I don't have to.
<... don't have to>
Just wanted to see what your thoughts might be about proceeding with the sample.
All this for a simple Betta fish! Some would not go to such lengths to save a mere fish...but I suppose the vegetarian in me just makes me all the more persevering, and emotionally driven to help him. I've certainly grown attached to him, and would will do all I can as his owner, whether he lives for another 2 years, or just another month. Funny how a small creature in a box of water can still touch our lives. It's been hard, but it's also been a great learning experience.
<Yes; esp. about one's self. B>
Re: Unidentified Betta infection 12/16/14
Bob, Sorry, I forgot to ask...once a piece of tail is removed, how would one safely preserve the sample in transit from my home to the office?
<Take the fish with you, sample, observe then/there>
Just not sure if keeping it in a sterile/clean container with some of the tank water would alter it, and if a smear from the body were also taken, how to properly store that as well? Our friend's office is close by so the transit wouldn't be lengthy, but not sure how oxygen and/or temp. would affect the actual sample so I wanted to ask. And you had mentioned before something about sensitivity testing. Would that mean having to buy different medications to add to the sample to see how it would affect
whatever might "swimming" on the slide?
<A simple H.S. experiment. You can search the Net re>
I sure hope not. I definitely don't have enough money this month to purchase several different kinds of medications to experiment with.
Regards,
Ashley
Strange gunk on Betta 11/26/14
I came home from school for Thanksgiving break. I went in to see my Betta male that I left home. I noticed he wasn't looking very well. He was sitting on the ground and his color looked faded. I checked his water temperature and the thermometer said it was 68 degrees and I also checked the under-gravel filter and it was filthy.
<Aquarium much too cold. Turn the heater up (or heaven forbid, "on" if someone has switched it off in your absence). As you hopefully know, Bettas are tropical fish, any anyone who tells you they can survive at room temperature is either (a) misinforming you or (b) living in the tropics where room temperature is tropical! Anything below 25 C/77 F is bad for Bettas, and below, say, 22 C/72 F quickly becomes lethal. I'm only stressing this point for the benefit of others reading this... you'd be surprised (saddened) how many people believe they don't need to provide their Betta with a heater, instead spouting out such nonsense as "this angle poise light over the top warms it up" or "it's bred to live in an unheated tank" or some such rubbish. Your Betta is almost certainly getting sick because of lack of heat. Fish are ectotherms, meaning the heat energy they need for normal metabolic processes comes from their environment (not internally, as it is with mammals and birds). If they're too cold, chemical reactions slow down below the necessary (safe) rate, and things like digestion and immune response stop working properly. Bacteria in the water that would normally be fended off by their immune system can run amok if the immune system is running at half speed, and the result is, of course, a sick fish. Finrot and Fungus are two classic responses to tropical fish being kept too cold, as are Whitespot infections.>
I did a 75% water change and cleaned the filter. I let him float in the new water for 20 minutes and then let him back in it. I then noticed he has some "gunk" on his left fin. I don't want to go out and buy a lot of chemicals if it isn't very serious and that could harm him even more.
<Indeed, that's a concern, but at the same time, medicines shouldn't be seen as an expense that can be avoided. In this situation though increasing water temperature and ensuring good water quality (as always, zero ammonia and zero nitrite) should do the trick, and if the fin damage/infection doesn't get worse, it should heal up in time. Using a reliable Finrot medication (Melafix wouldn't be my first choice here, despite its low cost and wide sale, but a proper antibiotic instead) is definitely worthwhile though. As ever, remove carbon from the filter during use otherwise the medicine probably won't work.>
I've had him for a year. I'm wondering if this is normal for older Betta fish or of it could be something serious.
<In an aquarium a Betta should live 2-3 years after purchase without too much trouble if given decent care. If the aquarium heater was turned down low, it may well be that over summer his water temperature was adequate, if not ideal, but now it's colder, he's really feeling the chill. Review, and act accordingly.>
I have a picture of it. I also noticed some black spots on his fin that i never noticed before. Are they normal or should i be concerned.
<Any dramatic changes in a fish are cause for concern, especially when linked to obviously bad environmental stress (such as lack of heat). Let me also direct you to Bob Fenner's book on keeping Bettas, here:
http://www.amazon.com/Betta-Success-long-term-Successful-Aquariums/dp/1494867818/ref=tmm_pap_title_0/185-1577819-1364304
For under $10 (or $6 on Kindle!) you get pretty much everything you need to know about Bettas in one place. Since Bettas are so widely kept, we know everything that's needed to keep them healthy. Heat, filtration, a decent sized aquarium (I'd argue at least 4-5 gallons, anything less being pretty pointless) and an appropriate diet. Read, understand, learn and reflect.
Cheers, Neale.>
Re: Strange gunk on Betta 11/26/14
Thanks Neal. I got him a heater and he does seem happier. i plan on changing up his diet to more then pellets for a more happier Betta
<Most welcome and glad he's a better Betta (which is alliterative in British English!). Cheers, Neale.>
Re: Strange gunk on Betta 11/28/14
Hi Neal. I'm happy to report that Ash (my Betta) is doing much better. He is happy in his 80 degree water and is eating and swimming around. I did buy the Melafix and put it in the tank and it is helping with the gunk on his fin (still not sure what it is).
<Do be careful with Melafix. It promises a lot, but as I've said many times on WWM, it doesn't always deliver. Because it's cheap, it's popular, but it isn't much beyond a half-decent preventative. Once fish actually get sick, I'm not convinced it cures anything with any certainty. Do remember fish, like humans, heal by themselves in many cases, where infection is only slight. So adding Melafix and seeing your fish get better doesn't mean Melafix cured the fish. In fact I'd place money on the heat being the helpful factor here.>
The spots I realized have been there the whole time (looked back at old photos and they were on his dorsal fin then to). I also got him some bloodworms as a treat and he loves them. Thanks for all your help.
<Most welcome. Neale.>