FAQs about Mussid Coral Identification 4



Related Articles: Mussid Corals,

Related FAQs: Mussid Identification 1, Mussid ID 2, Mussid ID 3, & Mussid FAQs 1, Mussid FAQs 2, Mussid Behavior, Mussid Compatibility, Mussid Selection, Mussid Disease, Mussid Systems, Mussid Feeding, Mussid Reproduction, Stony/True Coral, Coral System Set-Up, Coral System Lighting, Stony Coral Identification, Stony Coral Selection, Coral Placement, Foods/Feeding/Nutrition, Disease/Health, Propagation, Growing Reef Corals, Stony Coral Behavior,
Brain ID 9/12/13
Hello crew,
<Karen>
I have written many times for input on my reef aquarium. Today I need some help identifying this coral that came growing on a seven pound live rock that I purchased yesterday. I believe it to be a maze brain.
<Ok>
It is between the Percula clown and Heraldi angel in the photo. It is a beauty and firmly attached to the rock. Should I attempt to break it loose in order to place on the sand?
<No; lives on rock... >
I really lucked out with this hitchhiker. Thanks for all you do.
Karen
<Let's have you search through Mussids, Mycetophyllia starting here:
http://www.wetwebmedia.com/mussids4.htm
Bob Fenner>
full size pic.
Re: Brain ID

9/12/13


Bob,
So right again! Looks like the Ridged Cactus Coral. Thanks so much.
<Ah, cheers, BobF>
Karen
which LPS is this? 9/21/12
Hello ☺
I got this fist sized coral [photo attached] about a week ago.
It looks like a maze coral but when I read-up from the Aquarium corals book [by Anthony Calfo I think], there are 3-4 varieties that look almost same.
Would you be able to suggest at least an educated guesstimate for this coral??
<A Mussid of some sort, perhaps a Lobophyllia species: http://www.wetwebmedia.com/mussids3.htm
Also, the picture shows a whole fish being ingested by the coral while the cleaner shrimp seems to be grabbing a free meal.
The fish is a 2.5" small orange spot goby who was just one day old in the tank.
Is this very common? Would the coral have eaten the whole fish?
<Can happen>
Are the sweeper tentacles out so much due to being in high flow area [photo 1 attached]?
<Could be other stimulus... read the linked files above where you've been referred (above)>
I tried feeding this coral 2 nights ago using Cyclop Eeze
<http://www.google.com/search?hl=en&q=cyclop+eeze&spell=1> using a syringe. The cleaner shrimps come rushing and get all over the coral. Would the coral get anything in its sweeper tentacles or do I need a feeding hat to keep the shrimps out while I feed this coral?
<... keep reading. Bob Fenner>
Cheers
Ranjith
LPS ID 6/5/12
Hello, I am having a little issue identifying this LPS I got 3 days ago.
The previous owner insists that he got it from a reputable online site (he never said which one which makes me wonder) and is trying to convince me that it is called an "Aussie Neon center Lobo". From all of the pictures I have seen of Lobos, this one just doesn't quite seem right. Other than a Lobo, I figured it might be a candy cane coral. It looks an awfully like
one. But at the same time it doesn't. It seems too inflated during the day (Second pic. Has a mark on the top left from accidentally getting stung by my Torch coral... oops), much like a Lobo, and at night it opens up REALLY wide and sends out short and long sweeper tentacles (First Pic)! Not quite like any candy cane that I have ever seen. I keep jumping back and forth guessing if it is a Lobo or a Candy cane. It even has some people on a forum I am on stumped. Could it possibly be something else maybe? Acan maybe? I need a much more experienced eye to ID this for me I think.
Thanks! LPS IDView photos Download all You are invited to view Holly's album. This album has 2 files.
Holly, please give us an actual link to the album or attach the photos to your email. Using your information leads to Buddy Holly's record albums.
James (Salty Dog)
Re: LPS ID
Oh, I am sorry about that. I thought I attached the pictures. Here they are.
LPS ID – 6/6/12
> Hello, I am having a little issue identifying this LPS I got 3 days ago.
> The previous owner insists that he got it from a reputable online site (he > never said which one which makes me wonder) and is trying to convince me
> that it is called an "Aussie Neon center Lobo".
<Mmm, maybe Lobophyllia sp.: http://www.wetwebmedia.com/mussids3.htm
From all of the pictures I
> have seen of Lobos, this one just doesn't quite seem right. Other than a
> Lobo, I figured it might be a candy cane coral. It looks an awfully like
> one. But at the same time it doesn't. It seems too inflated during the day
> (Second pic. Has a mark on the top left from accidentally getting stung by
> my Torch coral... oops), much like a Lobo, and at night it opens up REALLY
> wide and sends out short and long sweeper tentacles (First Pic)!
<The one w/ the long tentacles looks like a Phyllangia (P. mouchezzi?) to me>
Not quite like any candy cane that I have ever seen. I keep jumping back and forth
> guessing if it is a Lobo or a Candy cane. It even has some people on a
> forum I am on stumped. Could it possibly be something else maybe? Acan
> maybe? I need a much more experienced eye to ID this for me I think.
> Thanks!
<All guesses are tentative... Bob Fenner>
Query
Bob,
I put a query in your inbox to get your input. I believe this is a Lobo species of some type but not positive on this.
<Have Bcc'd you on my resp.>
There are so many colors and shapes that it's hard to pin point, at least for me anyway.
Thanks,
James
<Thank you, BobF>
Re: LPS ID – 6/6/12
Thanks Bob.
James
<Thank you James. B>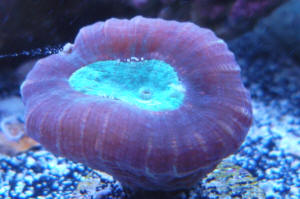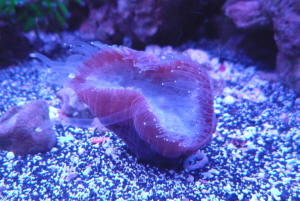 Brain coral ID 11/20/11
Hi Crew,
<Abhishek>
Need your help again, been sometime since needed help of this sort, but no other source is better than the WetWebMedia !
<Ok!>
Just got this piece around 3 days back and was labeled as tooth coral, while had ordered for Blastomussa Wellisi.
<Mmm, wellsi>
Now am confused whether it is Lobophyllia Hemprichii or Cynarina lacrymalis?
<The former... the corallite is too large to be Blastomussa (9-14 mm max.), Cynarina re monocentric, circular overall...>
If you notice there are some tooth like serrations protruding on the right side, when it had come in it did resemble like it had teeth all around the skeleton.
First pic is under dimmed MH lights and the second one is without lights just room light.
Please let me know which one is this so that I can proceed with the correct placement and care for this.
Thanks a lot for the wonderfull site and information.
T&R,
Abhishek
<Welcome. Bob Fenner>