| | |
| --- | --- |
| | All "framed" images are now linked to desktop sizes. |
| We ask that, before submitting a query, you refer to Neale Monk's: Before You Write; A Checklist of Common Problems with Freshwater Aquaria, Bettas, Goldfish, and Freshwater Turtles (Terrapins), Tips on Asking Questions, Ask the WWM Crew a Question, FAQs on FAQs. EDFP, TBPFWFAQs, Last Few Days Accrued FAQs, Subscribe to the Daily Pics | Pangasius hypophthalmus (formerly sutchi) (Sauvage 1878), the Pangasius or Sutchi Catfish or Iridescent, Asian, Mystic... Shark. To 130 cm. (yes, more than four feet) in length, 15.5 kg. Cond.s: pH range: 6.5 - 7.5; dH range: 2.0 - 29.0; tropical; 22 - 26°C. Shown: A large normal/wild individual of about a foot in length and some juvenile albino sports in captivity of about 3 inches. A very hardy aquarium species, but does inhale smaller tankmates.. |

Updated 5/19/2013
Other Specialized Daily FAQs Blogs: General, Brackish, Last Few Days Accrued FAQs,
Daily Q&A replies/input from the WWM crew: Rick Novy, Sue Garrett, Darrel Barton, Neale Monks, Marco Lichtenberger,

Sabrina Sharp, Eric Russell,

Chris Perivolidis,

Chuck Rambo, Bob Fenner, are posted here. Moved about, re-organized daily

Current Crew Bios., Not so current Crew Bios
____________________________________________________________

"Red Leg" in ACFs 5/19/13
Hi Crew,
<Guten tag, Julia!>
this is not a question, but I´ve just read about the ADF with possible "Red Leg" infection, so I wanted to share my own experiences with this syndrome (if this is of interest; if not, feel free to ignore this Email ;)).
<Ah, not our style.>
A few months ago, I wanted to get a few buddies for my two ACFs (an adult pair, 42 gal tank, filtered, fully cycled, planted. No problems). I was able to acquire three frogs from a lab (one male, two females), which I moved into a 30 gal quarantine tank first. Smooth sand bottom, two terracotta pots, floating plants, an adequately sized canister filter. I checked the water daily (0 NO2, << 25 ppm NO3, pH 7.2, temp. about 68 °C, moderately hard water).
<All sounds good. But do read this excellent summary by the RSPCA on the care of Xenopus spp in labs, here:
http://www.rspca.org.uk/ImageLocator/LocateAsset?asset=document&assetId=1232712646624&mode=prd
Among other things, a somewhat warmer temperature is recommended, around 22 C. I mention temperature because many tropical animals are sensitive to opportunistic infections when chilled, and even if otherwise tolerant of cool conditions, warming them up can get their immune systems working better.>
They settled in just fine and for the first few days, everything was ok; they were active and always hungry just like my other frogs. But after six days, the new male suddenly became listless and had two tiny red spots on his feet as well as slightly swollen hind legs. I had a bad feeling about that and immediately separated him from the females before doing a large water change in the 30 gal tank. The next morning, he was barely moving and had several severe hemorrhages (he spent the night in a clean tank without any decor, so an injury is out of question). I took him to a vet, but it was too late and he died in the evening of the same day.
<Very sad.>
Because of the very fast progression of this infection (36 hours from a perfectly healthy frog to death), the vet gave me some Baytril to treat the females which didn´t show any symptoms yet preventatively. Luckily, this was successful and I could move them to the display tank four weeks after the end of the treatment.
<Good.>
In this case, I can rule out environmental problems as a cause. The frogs have lived under stressful conditions in the lab and I know of some deaths due to Aeromonas hydrophila in the colony before; I think the inevitable stress from being moved was just too much for this frog.
<Could well have been, particularly if they were handled a bit roughly when moved. Capturing frogs can damage their skin as they rub against the gravel, net or your hands.>
I just wanted to show that this is a very dangerous disease which requires a prompt reaction. The photo shows the frog shortly after its death.
<Thanks for sharing. Hope your other frogs do better. Cheers, Neale.>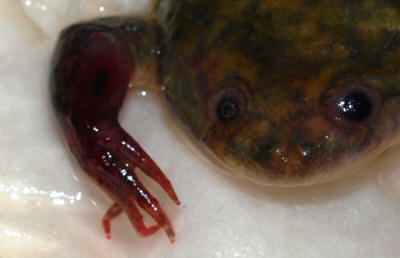 Discoloured Goldfish 5/18/13
Hi,
<Briana>
We are currently keeping our four goldfish in a 100 litre water
<Need more volume than this... See WWM re goldfish needs... and DO measure metabolite accumulation (nitrate) here, as an indication of system viability>
butt <bucket?> because we decided to move them out of the pond while the frogs were spawning. When we removed them, we discovered that two had strange white growths on their heads, and we are currently treating them with anti fungal fish medicine.
<Mmm, please send along a well-resolved image or two... Too likely these marks are natural, and treatment more dangerous than useful>
A third fish appeared to have a blood red discolouration around its gills and flecked over its body.
<... environmental. Poisoned by their own wastes. Very common>
The discolouration is no longer
red, but dark purple and the anti fungal medicine doesn't seem to be having any effect so my guess is that it doesn't have a fungal infection. Do you have any idea what might be wrong with it?
<Yes; as stated... Do you need help using our search tool, indices?>
Also, if a picture would help I'll send one in.
Thanks
<Welcome. Bob Fenner>
Columnaris or Fungus or Other? Please Help! 5/18/13
Dear Wet Web Media Crew-
<Alisha>
1st: I really
appreciate your site, and the help you provide to others in need: Thank you!
Thank you! Thank you! And please know
that I'm coming to you as a last resort, hoping not to have to put-down a fish.
<Ok>
2nd: The stats: I have a 30 gallon long, freshwater tank, with Fluorite/gravel substrate, bogwood, 3 granite hide-aways, and lots of live plants with dense growth.
<Looks very nice indeed>
I have an Aquaclear 50, 3 airstones, and an Aquaticlife 2x39 watt light (which I have on 9 hours a day). I have 3 German Blue rams, 4 Julii Cory Cats, 2 Platys, 3 Balloon Mollies, 3 Otos, 1 Bushynose Pleco,
1 Far<lo>wella.
<Mmm, well, a comment... the Rams, catfishes really like quite different water conditions (quality) than the livebearers... warmer, softer, lower pH versus cooler, harder, and higher pH. Pleasing everyone by trying to present a "middle-ground" can be done, but no real overlap here>
I feed them a variety of fresh veggies, flake, small ml pellets, algae wafers, and frozen bloodworms
<I'd dump these. Search WWM re these sewer fly larvae>
and brine shrimp twice a day. My current water stats are: PH 8.2,
<Yikes; high for the first group as mentioned>
Nitrite 0, Nitrate 10, Ammonia 0, my temp is 78/79. I do 30-40% water changes every 6 days,
<Good>
and I lightly rinse the filter in the discarded water at the same time.
<Very good>
I also dose plant ferts, and Excel. I have been keeping fish for 1.5 years. Whewww…3rd: The issue: The first fish I ever purchased, a yellow Balloon Molly, has sadly been my learner fish, and I've learned how to be a good fish keeper, by the things I've done wrong to her...nothing horrific, the usual learning curve, no matter how hard I researched beforehand. And I feel a strong since <sense> of duty to do right by her, especially since she's been with me all along. (And it's been a challenge, because she's kinda ornery, the tank bully.) So, on 4/13/13 I removed her from the above mentioned tank into a 10 gallon empty QT tank (with filter and heater), because of her physical appearance. She has been consistently swimming and eating actively, showing no behavioral changes at all. No other fish in the display tank is showing any signs of trouble or stress, still, over a month later. It started with a white discoloration on top of her head, then one of her fins turned orange, then a small black dot appeared in the middle of the white discoloration, this all happened over the course of, maybe, 2 weeks. Truth is, there had always been the white discoloration, which we figured was slight scarring from previous environmental factors, (too small a tank) a year previous.
<Likely so; and very common to have these issues with "modern" mollies>
Anyway, the discoloration grew, and so did my concern, so I removed her from the population into the QT. In addition to adding Epsom, we dosed the tank with Pimafix
<Garbage>
for a week, with no change. Then I dosed Kanaplex for 6 days, with no change except the addition of orange edges to the white discoloration, and a gray/darkening outline on her back, around her dorsal fin. On 5/11/13 the Methylene Blue and Furan 2 I ordered online arrived and I started this treatment. I am giving her 2 baths a day, AM and PM, in a quart container with the Methylene Blue and Epsom for 30 min, and dosing the QT tank with Furan 2. I followed the boxes instructions for the Furan, with 1 packet on day 1 and 2, rest on day 3 with a water change, and 1 packed on day 4 and 5, and today completed this cycle. There is no improvement. All the while she is swimming fine, eating fine, but of course now she is very skittish of me approaching the tank and hides behind the HOB filter. I was thinking it must be Columnaris (which I thought acted much quicker) or something fungal, but I can't tell which.
<Mmm, can very likely be "cured" by simple addition of marine/saltwater synthetic aquarium salt/s. Really; this is more of a marine fish than fresh>
I don't see any telling hair-like growths out of the white discoloration. It actually looks hard, not soft and fuzzy, like a humans severely dry/cracked knuckles. But then there's the black spot in the middle, which sits up higher than the discoloration, like a wart, or a tiny snail sitting on her face. I am including a picture I took of her, taken from above at feeding time, and also one of the display tank to show that I am serious about this hobby, and not cutting any corners.
<Very nice images>
In conclusion: I was hoping you could offer a suggestion of what the problem is: Columnaris, fungal, or other?
<Principally "other"; environmental>
Please offer a treatment strategy, should I be doing something that I'm not?
<The sea salt>
Or how long should I continue what I am doing?
<I wouldn't treat otherwise>
Or confirm the worst, and tell us to put her down. I've only put down one fish previously, and of course I would rather not have to if there is hope. But I don't want to continue her isolation and pain if I it's not the right thing to do. Thank you so much, in advance, for your advice and help!-Alisha
<I do so wish that other folks were as conscientious, concerned and caring as you. Again, what you're experiencing is quite common; the rule rather than the exception. Mollienesia are not freshwater fish species by and large... and almost always have issues when kept in freshwater. This one (and others) need to be kept in a different system... one that is brackish. See WWM, the Net... reputable sources like Fishbase.org re. Cheers, Bob Fenner>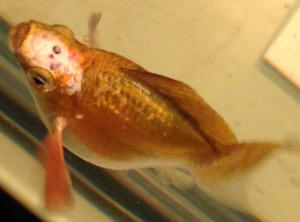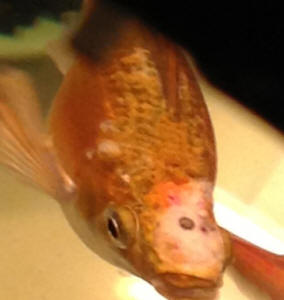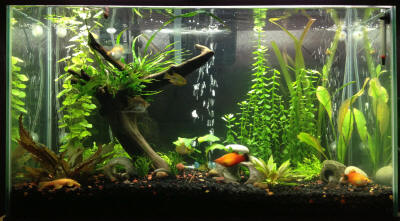 Re: Sickly Oranda…bloated but not porcupine 5/17/13
Hi again,
<Stacey>
Thanks for all the help and advice you have given us. We have started the baking soda cycle. We did this for two weeks then found that the water PH was settling? (7.2) but our goldfish is still very sick and I am afraid she is on her last legs (or fins).
<Mmm>
she now struggles to stay upright and lies on the bottom of the tank on her back. (well his…this is a boy, sorry old habits!)
and she appears to be gasping (breathing) rapidly. (all bad signs I know).
<Yes>
she's being fed peas 2-3 times a day in small portions…but the last two days she's stopped eating as when she tries she end up upside down.
I tried her in shallow water in an old tank as I had herd this may make it easier for her to swim if it was dropsy.
<Yes>
but it didn't help, so to avoid stress I put her back in her old tank.
Is this dropsy? I have read that antibiotics may help?
<Can tell re the dropsy... antibiotics do (but rarely) help. Please read here:
http://www.wetwebmedia.com/FWSubWebIndex/dropsyfaqs.htm
she also had what appeared to be a bump (as I walked about earlier last month to you) this grew in size until it suddenly disappeared…(any relation? who knows?)
<The latter>
I am feeling so helpless any advice would be much appreciated!
Thanks,
Stacey
<When in doubt, run in circles, scream and shout... No; actually, better most times to keep reading, delving into the subject/s at hand. Bob Fenner>
Red Feet/Safe Plants... for...? 5/16/13
Hi!
<Hello Amanda,>
I have three African Dwarf frogs that I keep in well-water only in a medium-sized terrarium jar.
<Very far from ideal.>
Typically I am very adamant about changing their water as soon as it begins to appear cloudy, but this week I was stupid and lazy and didn't until it was really icky.
<A good reason why an aquarium with a simple filter, even one as small as 5 gallons, would be an improvement. These little frogs are not messy animals, and an air-powered filter does an excellent job keeping the water clean.>
When I change them, I put them in a small vase with clean water to allow them to swim and rinse themselves off. Usually it's only for several hours, but I noticed one of my frogs were shedding so I left them in there until it was done--this took two days. Tonight I was letting them move around in our kitchen sink--we rinse it and put a little well-water in the bottom--when I noticed one of them had red feet.
<Very bad.>
So I picked him up and was holding him on a paper towel and saw his feet are bleeding! :( What does this mean, and is there anything I can do?
Right now he's in the little vase in some clean water with a handful of the river rocks we keep in the big jar.
<There's something called "Red Leg" in frogs that's often a death sentence.
It's an opportunistic infection that usually comes about when the frogs have been physically damaged and/or kept in dirty water. There's an excellent summary here:
http://www.xenopus.com/disease.htm
Early on the infection can be treated, but once established it's very difficult to cure.>
Also, we have an abundance of spider plants at our house, and we were wondering if we could use one of those with the frogs. Are they safe?
<Spider Plants (assuming you mean Chlorophytum comosum) aren't good choices for aquatic frog habitats because Spider Plants do best in free-draining soil, so don't like their roots being somewhere damp all the time. Only a few houseplants really thrive in vivaria, mostly those that like humidity.
Classic choices are Syngonium and Philodendron, which can be potted above the waterline but will happily grow down to the water and may even put a few leaves below the waterline without complaint. "Lucky Bamboo" can do well with its roots in the water and the leaves above, but it's very demanding about light, but brightly lit spots in the house may get too hot for your frogs, so approach with caution. In any case, do an online search references "vivaria" with "plants" and you'll find dozens of alternatives.
All this said, because Hymenochirus spp. frogs are fully aquatic, and prefer floating plants best of all, a clump of Floating Indian Fern is probably the best bet.>
Thanks, --Amanda
<Welcome, Neale.>
Re: Red Feet/Safe Plants 5/16/13
Thank you!
<Welcome.>
I noticed today that the redness that was encompassing his feet has gone down to mostly be in the webbing of the feet. I've noticed names of various medicines that have been used or recommended, but for my situation which would you recommend?
<Try a combination of Maracyn 1 and Maracyn 2; use as directed on the packaging.>
Also, my mom and currently live with my grandparents--they do not like animals, so I'm lucky to have my frogs and hermit crabs--and so our current situation does not allow an aquarium for them since I already have two for my crabs. We are working on getting our own house, and we've already decided to get the frogs a nice, large aquarium with a filter when that happens. And thank you for your plant advice. We actually have a lot of spider plants that are in jars of water and have been for months now, so that's why we were wondering if they could be used for the frogs, but I'll certainly look into getting one of the plants you recommended! :)
--Amanda
<Do start reading, planning:
http://www.wetwebmedia.com/fwsubwebindex/FrogsArtNeale.htm
http://www.wetwebmedia.com/fwsubwebindex/dwfafsys.htm
…and follow the links. Cheers, Neale.>
Goldfish question. :) Env. dis. 5/16/13
Hey! I've had a Goldfish for about 20 years! Just in a small bowl with just water and nothing else, (s)he's just recently developed a hugely swollen stomach. Only one fish in the bowl so not pregnant, also has dark patches under it's otherwise golden orange scales. Any ideas? Cheers, Benedict
<Hello Benedict. Well, the fish sure isn't pregnant! Almost certainly Dropsy or similar; do read here for treatment and causes:
http://www.wetwebmedia.com/fwsubwebindex/dropsyfaqs.htm
As impressed as I am that your Goldfish is its second decade, the immediate cause is likely environmental. Bowls aren't good homes for Goldfish. Do read:
http://www.wetwebmedia.com/fwsubwebindex/gldfshsystems.htm
http://www.wetwebmedia.com/fwsubwebindex/goldfish101art.htm
Cheers, Neale.>
A quick pearl gourami question 5/16/13
Hello WWM crew! I am so thankful for your website and the time you spend answering our questions. That said, I do not want to waste your time so I will get right to it. I have a 25 gallon tank with an AquaClear 50 that has been running for approximately 6 months. My ammonia is 0, Nitrite is 0, Nitrate is between 5 and 10, temperature is 76, and Ph is 7.0. I have 4 peppered Corys (plus a couple fry and juveniles), and three Otos. Five days ago I added a female pearl gourami. She is coloring up beautifully, and although a bit shy, still interesting to watch. I was under the impression that gouramis would be comfortable kept singularly,
<Mmm, though not nearly as interesting...>
but am second guessing my sources when I see how shy this particular gourami gets when I approach the tank. I am wondering if it would be in this fish's best interest for me to return her, and if so, do you recommend a particular gourami that would do well by itself?
<Well, smaller species would be happier in this setting, though still better in groups... Colisa lalia (given you can find healthy specimens); C. chuna... Do see the Anabantoids (stocking/selection FAQs) sections on WWM>
Would a few of the smaller gouramis be a better choice for my tank size?
<Ah yes. Bob Fenner>
Thank you in advance,
Bailey
Platy Plague 5/14/13
Hello,
<Steve>
I've been having issues with the Platies in my 55 gallon tank dying off.
It is an issue that has been going on and off for several months and only seems to be effecting the Platies and none of the other fish in the tank.
<Mmm, a good clue. What are the/se other species?>
One day they seem to be doing fine the next they are gasping at the top of the tank, will have one or two white spots on their body (similar in size and color to Ich), and long stringy clear white stool. After a while they will become emaciated and occasionally show fin rot before death.
<Good descriptions>
The tank has been running for nearly two years, and shows 0 Ammonia, 0 Nitrites, and only low levels of Nitrate, it is heavily planted as well. I have researched and asked the folks at my LFS, nothing seems to add up. I have treated with Erythromycin, Furan 2, Triple Sulfa, and Quick Cure (in case it was protozoan parasite).
<Yikes... contains formalin... a biocide... kills all life; and only "good" for external parasites. This is likely internal>
All attempts to cure the fish that come down with this mystery illness have passed away, none of the drugs I've used have seemed to do any good.
One or two Platies will get sick at a time, I will quarantine them in another tank and the mystery illness seems to disappear for a couple weeks before another fish starts to show signs. Other inhabitants of the tank include Harlequin Rasboras, Peppered Cory Cats, a Siamese Algae Eater, a Dwarf Pleco, and a mated pair of Dwarf Gourami's. Again no other inhabitants seem to be effected by this disease. Only female platies live in this tank to prevent unwanted breeding.
I perform 40% water changes weekly. Any suggestions, insight or knowledge would be greatly appreciated.
Steve
<Am guessing (again) that this might be an internal/luminal issue. I'd lace foods w/ an anthelminthic (vermifuge; likely Praziquantel) and Metronidazole. Please search, read on WWM re both and their use here. Bob Fenner>
Post septicemia Ryukin 5/14/13
My 2 yr old Ryukin seems to have gotten septicemia post trying an algicide
<... toxic; not worth "it"... As gone over and over on WWM.>
the pet store recommended. I didn't want to treat him with antibiotics if not necessary so I did 50% water change and put in stress Zyme as well as a new filter pack.
<Good>
He seemed to be on the mend losing his red streaks and coming up from the bottom but today I noticed he has lost a patch if scales and has become "twitchy" at times. He is still a little more lethargic then normal and being "antisocial" but is eating and better then a few days ago. He is a single goldfish in a ten gallon tank
<Needs, or will need more room than this. Goldfish are sensitive to metabolite accumulation; and very messy>
with a generic filter which I change at least once a month but do frequent small water changes. I have live plants ( java ferns) and a couple small aquarium pieces. Should I just get the antibiotics???
<Mmm, no; won't help and may hurt>
I am not noticing any fungus or external parasites.
<?... Bob Fenner>
Re: Oranda with curved spine (RMF, thoughts?)... <<Genetic... and developmental... common for the breed, folks in the west/feeding. Would refer to Sab's Floaty GF pc... no "trt.mt needed or desirable">>, now floating, ensuing hypochondria 5/13/13
Hi Neale-
<Hello Gina,>
Long delay since my last question but I am frantic right now.
<Really?>
The Oranda has very suddenly begun floating upside down at the top of the tank and has been this way for three days now- this is bacterial, not swim bladder: her belly is so mushy between the ventral fins and is slightly pink (like bruising) with a couple bloody spots starting to show.
<Sounds a systematic bacterial infection of some sort. Treat promptly, preferably after consulting with an experienced vet (find one who caters for Koi, as these are often the best for Goldfish too). Feeding antibiotics is the next best thing to injecting, while adding the water is the least good, though much better than nothing.>
What antibiotic provides the best "bang for the buck" so to speak- I can do Kanamycin or Metronidazole or both or perhaps Baytril injections.
<There's no single magic bullet. But a combination that treats gram-positive and gram-negative bacteria is a good starting point, e.g., Maracyn 1 and Maracyn 2.>
I am assuming gram negative but of course it could be positive.
<Quite so, and without doing microscope work and/or culturing samples, you can't tell.>
I am on the way to the vet to see if I can get Baytril to have on hand. Is there ANYTHING I can do? Would heat help?
<Above room temperature, no, not really.>
I had this happen with one other fish several months ago and managed to save it by stuffing it full of Kanamycin-laced gel food but this may not work as well for this large fish.
<May work.>
Is it safe to feed Kanamycin while on Baytril?
<Ask a qualified vet; I honestly don't know. Should be safe, but can't be sure.>
I am sorry I am firing all sorts of questions out there but I am really upset at the moment.
Thank you for all of your help:
Gina
<Hope this helps, Neale.>
Re: Oranda with curved spine 5/13/13
Hello Neale:
Thank you for your very prompt response- I am on my way to the vet right now. Unfortunately there is only one aquatic vet about 1000 km from where I live but I phoned the local Koi garden and they recommended Baytril injections.
<Fair enough.>
Thank you for not suggesting peas- this is most certainly bacterial!! This is my beloved 10 year old Oranda- I can't bear even the thought of losing her.
<Quite so.>
I may be able to enlist the help of the local biologists at the University of British Columbia- they are studying trout but may have some equipment I could use. I do have a microscope but no stains.
<I see. Yes, they may be helpful people. Do bear in mind many bacterial infections are difficult to diagnose, and oftentimes opportunistic anyway (e.g., Pseudomonas, Aeromonas spp. infections) so identifying the bacteria doesn't help much because they're in all tanks, all the time. Trying to identify the cause of the problem that allowed the bacteria to get started may be more useful.>
Thank you again:
Gina de A
<Good luck, Neale.>
Re: Oranda with curved spine (Bob, am I being unfair to Goldies?) <<More bio. less tech...>> 5/13/13
Hi Neale:
O, I wish I could identify the cause!! If you could see all of the fancy filters, UV sterilizers, monitors and equipment I have on my tanks (I am a retailer's dream) you would be amazed. I clean my tanks twice a week and each tank has an individual vacuum system to avoid cross contamination. All my fish get homemade gel food etc...
<Which all sounds grand. But as Bob has mentioned before, "fancy" Goldfish suffer from a disproportionate degree of built-in weakness thanks to the necessary inbreeding that produced their deformed spines, aberrant skin structures and so on. Plus, those traits often deform or exaggerate aspects of Goldfish anatomy, and you could well imagine that structures (like swim bladders and digestive tracts) that end up being bent into odd angles thanks to the deformed (egg-shaped) body may well have problems that standard Goldfish don't. A fancy Goldfish is, in truth, a handicapped Goldfish, not just in terms of some odd anatomical abnormalities, but likely physiological ones too. Put another way, if you want sturdy, disease-resistant Goldfish, it's best to pass over the fancy Goldfish, particularly the most extreme ones. To be fair, Black Moors in particular seem to be pretty tough, as are the Shubunkins, but beyond them, it's the normal, single-tailed pond-quality Goldfish you can expect to do best in aquaria, given space. Indeed, if space is a problem, you might consider things like Rosy Red Minnows, which are very tough little fish, or even some of the subtropical barbs.>
Re: Pseudomonas and Aeromonas... a lady named JoAnn Burke (aka Goldfish Guru) has done experiments on these and said that they will die off at a temperature of 86 degrees. I had a fancy with a huge tumour on its dorsal muscle so I tried this and the tumour shrunk to about 1/4 of the size in warmer temps. I don't know if it killed of the bacterium but maybe they were the source of the tumour.
<Difficult to say; like any single data point, open to interpretation.
Warmer water speeds up the metabolic rate, which means the immune system works better and faster. It also allows better digestion of food and transport of nutrients around the body. Any of these could account of a positive recovery from a given disease or syndrome. As a total aside, I do remember being taught at university that fish will, when sick, actively seek out warmer water -- the implication being that for cold-blooded animals, this is their way of running a fever (one interpretation of fevers in mammals is that they boost the immune system above its normal rate, while potentially stressing those pathogens that cannot adapt).>
Cheers!
<Likewise, Neale.>
Re: Oranda with curved spine 5/13/13
Hi Neale:
FYI Kanamycin is okay to use with Enrofloxacin (Baytril).
<Good to know. Cheers, Neale.>
Re: Oranda with curved spine (Bob, am I being unfair to Goldies?) 5/13/13
Ah, yes, that does make sense- some of the varieties are just wrong (i.e.: Bubble eyes and Celestial eyes. Yikes!). We have done the same thing with some dog breeds, too.
In the case of the Oranda, though, would this apply?
<Yes. By definition, all fancy Goldfish are deformed and inbred. True, Orandas are less extreme than, say, Celestials, the genetic manipulation is basically the same, and compared to an average non-pedigree common Goldfish, the average Oranda will be less resistant to disease and more sensitive to environmental stresses.>
She is about 10 years old and weighs 600 grams- she hasn't grown appreciably an 3 or 4 years: it is probably more likely something that I am doing (or not doing).
<Would be my assumption, too.>
Overcrowding is not an issue: 2 of my 50 gallon tanks have one goldfish each, the Oranda is in a 75 and I have 2 fish together (a Black Moor and a Lionhead) in another 50.
<Okay.>
I did finally get the pH of the water down to a reasonable 8.0 from 9.2 and will try playing with my RO mix to get it to 7.8 if I can.
<As you seem to realise, this could easily be a factor. Goldfish do best between 10-20 degrees dH, pH 7-8.>
I am sure that my water is not quite right- something is off. I've tested for all the basic parameters except for phosphorus and dissolved O2 and I even have ORP meter (the use of which baffles me). Anyways- I have given the Oranda her first of ten Baytril injections and hope that this will work! I will let you know if I am successful in treating this infection.
-Gina
<Cheers, Neale.>
Re: Oranda with curved spine (Bob, am I being unfair to Goldies?)<<No>> 5/18/13
Hi Neale:
Just wanted to let you know that the Baytril is working- after two days the Oranda was no longer bobbing upside down like a cork at the top of the tank.
<Excellent.>
She was still upside down but at the bottom. This morning she was upright. She still has more injections to go but this confirms what you suspected- an infection as opposed to a swim-bladder issue.
<Indeed, but do understand that an infection *can* be a swim bladder issue.
What Bob and I normally refer to as "floaty, bloaty Goldfish syndrome" is where the swim bladder isn't able to compensate for constipation, a deformed spine, or some other problem. So while it seems the swim bladder is at fault in such situations, it isn't; the fact the Goldfish can't swim normally a symptom of a problem, not the problem itself. Hence, it's absolutely possible your Goldfish had a bacterial infection that meant its swim bladder no longer was able to "float" the Goldfish at the proper level or orientation. Make sense?>
I fear that a lot of bacterial infections may get labeled as such and fish lost that could be saved- the hallmark was the soft belly and an almost bruised appearance on the belly in addition to flotation issues.
<Agreed; and also the difference seeing a vet can make when it comes to using antibiotics.>
Gina
<Cheers, Neale.>
Fish eggs 5/13/13
Hello!
I just returned home to find hundreds of eggs in my black moor's tank. There have adhered to everything and are all through the substrate! They are not fertilized and I need to get them out before they rot. Is there an easy way to do this? Do I need to add a bit of salt or anything to the tank?
Thank you:
Gina
<This can be trouble for the livestock... I'd remove them to elsewhere pronto, and dump the tank out completely... rinse the gravel, scrub the sides down... Granular salt can be use on glass tanks... Bob Fenner>
Re: Fish eggs 5/13/13
Thanks, Bob-
I got them all out but that was NOT fun- those eggs are stuck like glue. I hope this doesn't happen often!
<Ah yes... a mess; that with decomposition can really be trouble. B>
Territorial Female Swordfish 5/13/13
I have a 26 gallon tank with 8 neon tetras, 2 black neon tetras, 2 male guppies, a male molly, a Pleco, and a female swordfish. My temperature and water quality are great (I bring samples to my pet store for testing regularly, and I monitor my thermometer).
<Ah, but the values mean more than the word "great" does. For example, Neons and Black Neons prefer soft, slightly acidic water, whereas Guppies and Swordtails prefer hard water with a pH above 7. Mollies may even do better in slightly saline conditions. In other words, what's "great" for Guppies will be "barely tolerable" for Neons, and vice versa.>
The female swordtail was given to me yesterday by a friend who was unable to care for her any longer. She was living with neon tetras in her last home. I introduced a small amount of my tank's water to hers and set her bag in my tank to adjust for a while. After introducing her to the tank, she seemed happy and quickly claimed one corner of my tank as her own. I noticed last night and this morning that she continues to chase my molly away every time he comes near her corner.
<Not unusual.>
She is fine with the guppies and tetras coming close, only chases the molly.
Do I need to worry about her becoming aggressive?
<She won't get any worse than she is now.>
I have yet to see her nip at anyone, but I love my molly and I hate to see him stressed. What can I do?
<Not much. Swordtails are naturally a bit boisterous, as are Mollies, so in a relatively small aquarium, a bit of friction is more than possible.
Swordtails rarely do much harm, but bear in mind they come from fast-flowing streams whereas Mollies prefer still water habitats, so Swordtails are much better (stronger, faster) swimmers. Needless to say while both species need a fair amount of space (26 gallons is only just enough for them) the Swordtail will want to rush about much of the time, so prefers a long rather than deep tank, and may even be a bit jumpy (literally as well as figuratively) in small aquaria.>
Sent from my iPhone
<Sent from my computer. Cheers, Neale.>
Rift Valley Salt Mix - safe for Pearlscales? /Neale 5/13/13
Hello,
I have a two-year old Pearlscale goldfish, about the size of a Macintosh apple, that has had a number of problems, some or perhaps most due to my initial ignorance in providing the correct care (despite my best intentions and doting habits). I have continued to educate myself through your site's FAQs and others to provide the best conditions possible with my present set-up. He is currently alone in a 20-gallon tank (started out in a 10-gallon with an Oranda friend who died after several months) until I can afford his next upgrade, hopefully 40 gallons, and later adding one or two friends if/when he remains without issue for an extended period . Without going into the entire history of Eggbert's various problems, my mistakes and the corrective actions I have taken (upgraded tank size, upgraded filtration with 10x GPH, frequent 50% water changes, daily when problems occur, and two to three times weekly when doing well; vegetarian-based diet, etc), I have a question I hope is simple.
Is the recommended Rift Valley Salt Mix, which contains a small amount of marine salt, safe for Pearlies? My Pearlscale has intermittently had blisters that appear to be filled with clear fluid -- at times one or two small ones, other times sudden outbreaks of multiple larger blisters, which I've read is a common problem for this particular fancy goldfish. One of the stronger theories for the cause of these blisters that I have read is that Pearlscales are more sensitive to salt than other goldfish and may have a more difficult time with osmoregulation. Therefore I never use regular aquarium salt for him anymore should an issue arise, as most fish forums tend to recommend this for stressed or ill fish, among other measures. Would the marine salt be safe for him as part of the Rift Valley recipe, or should I just use the recommended amounts of Epsom salt and baking soda, minus the marine salt?
Thanks very much,
Mary Kay
<In a word, yes, at the concentrations recommended, Rift Valley salt mix, whether home-brew or store-bought, will be perfectly safe with Goldfish.
But if you want, you could leave the salt out altogether and still receive the benefits of buffering the pH and raising the hardness. Cheers, Neale.>
Rift Valley Salt Mix - safe for Pearlscales? /RMF 5/13/13
Hello,
<MK>
I have a two-year old Pearlscale goldfish, about the size of a Macintosh apple, that has had a number of problems, some or perhaps most due to my initial ignorance in providing the correct care (despite my best intentions and doting habits).
<Ahh! Good traits for an aquarist>
I have continued to educate myself through your site's FAQs and others to provide the best conditions possible with my present set-up. He is currently alone in a 20-gallon tank (started out in a 10-gallon with an Oranda friend who died after several months) until I can afford his next upgrade, hopefully 40 gallons, and later adding one or two friends if/when he remains without issue for an extended period . Without going into the entire history of Eggbert's various problems, my mistakes and the corrective actions I have taken (upgraded tank size, upgraded filtration with 10x GPH, frequent 50% water changes, daily when problems occur, and two to three times weekly when doing well; vegetarian-based diet, etc), I have a question I hope is simple.
<Me too>
Is the recommended Rift Valley Salt Mix, which contains a small amount of marine salt, safe for Pearlies?
<Yes it is>
My Pearlscale has intermittently had blisters that appear to be filled with clear fluid -- at times one or two small ones, other times sudden outbreaks of multiple larger blisters, which I've read is a common problem for this particular fancy goldfish. One of the stronger theories for the cause of these blisters that I have read is that Pearlscales are more sensitive to salt than other goldfish and may have a more difficult time with osmoregulation.
<A possibility, yes>
Therefore I never use regular aquarium salt for him anymore should an issue arise, as most fish forums tend to recommend this for stressed or ill fish, among other measures. Would the marine salt be safe for him as part of the Rift Valley recipe, or should I just use the recommended amounts of Epsom salt and baking soda, minus the marine salt?
<I would include the marine (synthetic sea) salt>
Thanks very much,
Mary Kay
<Cheers, Bob Fenner>
Help for sick turtle 5/10/13
Dear Crew,
<Hiya - Darrel here>
We got 4 Red ear turtles kids of around 3 months old. Earlier 2 were not looking normal so we got guidance from VET & gave booster shots then all was fine. But after another 3 months 1 kid stopped food for almost now 15 days. Gone pale & just every 15 mints makes click sound & heads up to yawn like. He always bask under UV & remain away from water.
Please guide at the earliest, We are very much worried. Other 3 are fine & well grownup.
<Yes it sounds like the little one needs some help. He probably has a respiratory infection and should be seen by a veterinarian and likely a course of antibiotic treatments.>
<Please read here about treating at home:
http://www.wetwebmedia.com/FWSubWebIndex/treating%20RES%20Dis%20DarrelB.htm >
We change water 3 times a day & feed 2 times a day & bask UV 15 hours a day.
PH water chemistry question 5/9/13
Hi Neale (if you're working tonight), I moved my Betta back in the 10 gal planted tank on Saturday. Well I'm having problems already. His fins healed up good, when I put him back in the bottom fin was healed completely, the tail fin was about 90% healed, the top had a tiny split. I figured he was good to go since it was healing up with the daily water changes and salt in the 1.5 gal. Well the split is a little more now and the back tail has two tiny holes. The back tail is starting not to look good.
<Oh dear. Do make sure the filter current isn't too strong… a common flaw in Betta aquaria. Do use air-powered sponge or box filters; do not use anything with an electric plug. Fancy varieties of Betta splendens do poorly swimming against water currents, and the stress and strain from doing so can cause fins to become frayed.>
My tank filter flow was too strong with the HOB. I put a baffle on it, but the space was too big. He swam through it like a cave and played in the waterfall! Yesterday I put filter media in the intake tube and out flow. Now it's basically no flow. Now I'm concerned about the plants in terms of distribution of the Ferts. I have a heavy dosing regime and I wonder if that affects him too.
<Unlikely, but do try something out. Halve the dosage of all your plant supplements. Shouldn't cause your plants to die, or even to slow their growth enough to cause problems. See what happens over a few weeks. If the Betta heals better, and the plants are still good, then maybe there was a link. I can't see why there should be, but putting your idea to the test is worthwhile. At the end of the day plants grow back better from stress than fish, so it's a sacrifice worth making.>
NPK, iron, excel daily. I had a look of my tank and saw the debris at the bottom and cleaned more a couple days ago. I hate to take him back out the tank he hated it in the QT and got very depressed. I can clean/ change the water every other day say 15-30%maybe that would help. It's hard with live plants. If I had a regular set up I would clean it spotless. It's tough with this layered gravel, roots etc. I do have meds but don't want to go there just to put him back and start all over. Please help I'm concerned and frantic. Sorry for the drama, but it's true. Also considered a sponge filter, but the loud air pumps drive me nuts. Thanks for who ever is able to respond.
Donetta
<Hope this helps. Cheers, Neale.>
Re: Numerous medicinal treatments, fish still ill 5/8/12
Hello Neale,
Thank you to you and Bob for your responses. I really appreciate your time and expertise.
<Most welcome.>
This is where I am at; everyone is still alive (Honey Gourami, 2 albino Corys). I actually threw away the BioWheel to the filter about a month before emailing you last. I didn't know the wheel could contribute to nitrate production though.
<Pretty much any oxygen-using (aerobic) biological filter will add to nitrate production as time progresses. By their very nature, they convert ammonia to nitrite then to nitrate, but as they become more and more dirty, a whole other ecosystem develops inside the filter that adds further to this nitrate production. Provided you regularly clean a filter, this nitrate issue is, for most freshwater fish, irrelevant. Keep nitrate below 40-50 mg/l and you'll be fine; for more sensitive fish like Dwarf Cichlids, and you need to keep below 20 mg/l. Still not an onerous task compared to marines. I find stocking generously with floating plants (which absorb nitrate rapidly) is an easy way to manage nitrate.>
What happened was, I replaced the HOB for a short while with a Fluval U2 internal filter. I really liked the design but the current was too strong for the 10 gal tank.
<Current drops with time as the media becomes clogged, rarely a problem after a few days of use! Failing that, use a spray bar to spread out water flow, and also try directing the current at the glass or some big tall rock -- this will dissipate some of the energy.>
One time when the Gourami came up for food, I saw her slowly careen to the other side of the tank. Knowing that a high current could also be stressful, I decided to remove and return this filter and put the HOB back on, without the wheel since it was in the garbage at that point. I do not use the cartridges made for the filter. I put Fluval plain sponges in the box, and I also have AquaClear BioMax sitting on the bottom of the box (I don't know how efficient this set-up really is though. Before I used polyfiber and BioMax inside a media bag and I think that may have been better).
<Have you tried a plain vanilla sponge filter driven by an air pump? Something like the Interpet Airstream? Good value, and work well. Ideal for use with fish that dislike strong currents. Very easy to maintain, too.>
I have increased filtration since your email. I installed a Hydro Sponge Pro II. It's been in for 5 days and I installed it without an airstone. I wonder, should I still have an airstone installed separately for the Corys?
<No need if they aren't repeatedly and frequently diving up to the surface for air; Corydoras are facultative air breathers, and will gulp air if needs be, but otherwise aren't demanding in this regard.>
Also, will I be able to remove the HOB entirely and just rely on the sponge filter?
<In time, yes; I'd allow a 4-6 weeks "handover" so any new filter can be fully cycled.>
I've noticed that the water seems clearer; not that it was cloudy before, but there seems to be more clarity now. I've also considered removing the HOB and installing a second, maybe smaller, sponge filter, if you think that's a good plan? I'm not looking to purchase an external canister filter, but I would purchase a new HOB to use with the sponge filter or a new internal filter if you think that would be better. I need to do more research about filtration because I don't know what chemical filtration is.
<Ah, do read here:
http://www.wetwebmedia.com/fwsubwebindex/fwfiltrmedart.htm
In most cases, chemical filtration is not necessary.>
I believe biological means the good bacteria, but I wonder, do sponge filters provide for chemical filtration? Now on to water changes. Since I live in an apartment, I don't store water since I have limited space, but I will find a way to do this if you believe letting water sit is a better way to go.
<Or else, do frequent small water changes using freshly drawn water. Try this: do two 10% water changes a week, each time adding water conditioner and stirring well. I find this approach works fine.>
What I do now is this; I take temperate water from the tap, treat it with water conditioner, let in sit for 3-4 minutes, then add.
<Yes.>
Now that the nitrates have been under control, I am doing 25% weekly water changes. Do you think my procedures are okay?
<For sure.>
Also, I use Tetra AquaSafe Plus water conditioner, and I've recently been wondering if it's any good; any thoughts?
<Yes, a good product.>
It's hard to calculate the amount of conditioner to use for such small water volumes, and I realized that in the past I wasn't using enough, which I'm sure has confounded my problems, especially since there is a lot of chlorine in my city water.
<Within reason, water conditioner is forgiving, so don't be worried about overdosing. Any excess is quickly metabolised by the filter bacteria.>
Now I believe I am using the correct amounts (I use 3 drops for every quart of water). Also, according to my lease, I can't have a tank larger than 10 gal, so that's that for now. As far as their health; the Gourami now sits under the sponge filter. She eats and is probably 50% active, 50% sitting.
<What they do, especially as they age. Some become notoriously lazy!>
The 1 Cory, that only has a sliver of a fin left due to fin rot; he swims around, then stops for a bit and breathes hard. I thought maybe this was because of the extra effort it takes for him to swim, but of course I'm worried it could mean something tragic as well? I guess the fins can grow back, it'll just take a long time?
<Can do, but do look for potential fin-nippers that are preventing new growth. Ordinarily, they should have signs of fin growth within a week or two, and a whole new fin within a couple months.>
I feel bad for him, but he is getting food, so that's good at least, and what's left of his fin has remained constant. It seems the other Cory guides him a bit; maybe its my imagination, but he seems to be helping him out a little.
<Yes, are social.>
Oh, well he also has an eye problem; it's white on his eye. You can slightly see red from the actual eye. The white went away a little bit, but now what's left has remained constant.
<Damage to the cornea; again, look for signs of fighting, fin-nipping, etc that might be causing problems.>
That eye looks smaller too but maybe I'm mistaken; it's hard to tell.
<The eye itself shouldn't shrink.>
I'm not sure what is going on with the eye but I don't believe he can see out of it. I just figured with continued improved water quality, that maybe it would get better, but I really don't know. The other Cory is doing well. I guess that's it for right now. Thanks again! Your insight and help has been tremendous support!
-Lorie
<Good luck, Neale.>
Re: Numerous medicinal treatments, fish still ill- Missed Something! 5/8/12
Neale,
I was just re-reading my last email to you from April, and in that I stated the albino Cory had a front fin and a sliver left of the other front fin. Which means the fin rot has progressed! That front fin is now gone! It only has the sliver left and that is it. What was left of the tail is gone too. I thought once the nitrates were under control, the fin rot would stop. Should I do anything?
<If the Finrot is right down to the bone, the fin may never regenerate.>
I have a 2.5 gal tank that I can move him too, but of course medicines would be too hard to treat in that. Maybe move him there and try salt? Or just leave him alone?
<Unless you have a better idea, yes, leave him in the main tank. I'd medicate as per Finrot with something reliable, like Seachem ParaGuard or the ever popular Maracyn 1 and 2 combination.>
As a side note, I believe the medications were the actual cause of the Peppered Corys dying. I can't say I've ever successfully medicated my fish.
<Many reasons for why this might be the case. Do remember to remove carbon (otherwise the medicine is neutralised). Do dose as required, and use on the stated days. Do clean the tank before use if possible (more organic "gunk" in tank and filter will reduce efficacy). Do ensure aquarium is basically sound (zero ammonia, zero nitrite) else fish won't recover. Do use a trusted medication rather than tea-tree oil and other new-agey meds.>
I was wondering too, in your last email you mentioned aquarium sterilizer.
Is this an actual product you can purchase? Or did you mean something like peroxide?
<It's a device to minimise spread between tanks or between fish; typically UV and/or ozone. Not a cure, and not economical and/or practical for most home users.>
Well obviously the water is still not where it should be. Please advise.
Thank you, Lorie
<Hope this helps, Neale.>
Red gills and strange swimming? Env.... NH4OH and high pH 5/8/12
Hello crew!
Before I get into my question, I'd just like to say that I love your website! I've used it a couple of times and I've always been able to solve any problems I had with your information. I'm really glad you guys are able to help answer our questions, so thank you! :)
<Thanks for the kind words.>
My question is about my angels and platies in my 30 gallon. I have a single 3" tall angelfish and four platies, three only being about an inch long and another full-grown 2" long sunset wag. The three younger platies are the newest additions, just got them about two weeks ago, while I've had the older platy for several months and the angel about two years. I recently did a water change, close to 50% like most of my water changes. All other times my fish would have been fine, but soon after the water change all of my fish started acting strangely. Ever since I added the three new platies, their gills have been slightly pink and I figured it was just from being moved into a new setting. After the water change, though, their gills
became very dark red.
<Does sound like a reaction to the water changes, possibly the water conditioner isn't working (or given enough time to work). Perhaps the water conditioner isn't adequate (make sure it treats chlorine, chloramine, ammonia and copper). Try this: do smaller, but more frequent water changes.
Instead of a 50% water change, do 25% per week, or better still, 10-15% twice a week. Moderate feeding to keep nitrate levels down. Stock moderately (though it sounds like your tank is moderately stocked to be honest, one Angel and a handful of Platies). If smaller water changes elicit less of a reaction, then there's your answer. Check the tap water and water conditioner, and act accordingly.>
Of course one of the platies is black, so I could not see but I figured like the others, it was in the same condition. They all began this strange, spastic swimming pattern, where they'd dart around the plants and up and down the sides of the tank My older platy and my angelfish were also acting the same way. Even when my tank was at its worst condition, the angelfish
was always the one to show no signs of illness out of all the other fish.
So when she went from perfectly fine to darting around and gulping air like a drowning man, it was more than just a little concerning!
Right now, my water parameters are:
Ammonia- .2 ppm
<<Trouble w/ a capital "T". RMF>> 5/9/12
Nitrate- 0ppm
Nitrite- (unknown, ran out of chemicals for testing last week)
Ph- 7.6 or higher
<<Causing/indicating the ammonia to be MUCH more toxic. RMF>>
For some reason, my ph is unusually high. The scale stops at 7.6 with my test kit and the readings say the Ph is at 7.6, but I cannot tell if it really is 7.6 or if it is higher. I'm trying to find a way to slowly drop the Ph to a more ideal level, like 7.2 or 7.0.
The fish are doing a lot better than they were on Monday, the second day after the water change. Their gills are still really red but the angel and three of the four platies have all started to act a little more normal, not gulping air or darting around.
Could it be the Ph that's causing the problem? If it is, then how should I be lowering it? I've tried to use "Correct Ph" tabs recently but they have little to no effect in lowering the Ph. Any suggestions?
<<...? Don't think Neale saw this part of your email; so am jumping in here. Do read:
http://www.wetwebmedia.com/FWSubWebIndex/pHAlkAdjF.htm
You NEED to eliminate all measurable level of free ammonia, AND assure the pH is more neutral, stable. I would hold off on ALL foods/feeding till this is accomplished. Bob Fenner>>
Thank you for taking the time to read my email!
-Jenny
<Hope this helps, Neale.>
Power outage/filter media 5/9/12
Hello. My neighborhood is currently experiencing a power outage and it is projected to be restored in 3 hours. Will this negatively affect the beneficial bacteria in my filters (HOB and sponge filter)?
<You should be fine here. It's the sealed container type filters (canister, cartridge e.g.) that can pose anaerobic products issues; not open to the water types>
I'm at work so I can't do anything now, but if there will be an impact, what should I do?
<Nothing>
Thank you, Lorie
<Cheers, Bob Fenner>
baby goldfish 5/9/12
Dear Crew,
I have recently brought inside into a 2 gallon tank, some eggs from my goldfish outside pond. I know very little about baby goldfish. I tried to buy a book on them and they were all sold out at the pet stores.
They were born about 4 days ago-so incredibly tiny & vulnerable - I don't know how any of them live. I have an air driven filter but I took out the filter so the babies can have plenty of algae to eat.
<... not all types of algae are useful...>
1)Should I put the filter back in to keep the wastes down?
<Yes...>
2)Do they need food besides algae?
<... Rotifers, other life are cultured (ahead of time) by many folks; others use commercial dried and liquid foods>
3)How old are they when they turn orange?
<A few months usually>
I have a baby from last year he is 9 months old and he has not colored yet.
<Some individuals never color up>
He is alone and I was wondering if I can get a beta in the same tank or 4)should I only keep goldfish with goldfish?
<No... see WWM re... in fact start reading here:
http://www.wetwebmedia.com/FWSubWebIndex/gldfshreprofaqs.htm
and here: http://www.wetwebmedia.com/PondSubWebIndex/pdfshbreefaqs.htm
Bob Fenner>
Sincerely,
Barb K.
Re: baby goldfish 5/10/13
Bob,
Thanks so much for your interest in our pets well being!!
<Thank you for sharing!>
By the way, I would love to see photos of just hatched babies-
1)any photos out there?
<Ahh, I don't. Am sure you can find on the wider Net>
I don't have a macro lens to do it myself.
My hatchlings were inactive for about 24-48 hrs, so completely vulnerable!!
I am glad I brought them into a tank, from outside my 800 gallon fish
pond.
2) Last year I had a couple dozen goldfish babies and I did not move them out of the big pond and they all but one got eaten, by a visiting frog I think. The one I saved is 9 months old. I captured him in a crystal clear mug(drinking beer mug), so that I did not touch their fragile bodies.
3)When can I move him/her to the big pond. Yes we have winter here in Arkansas.
<Oh yes>
4)This year, I decided to get the eggs, since it is NOT good to net catch the babies, since this kills them.
<Mmm, do a bit more reading. Folks move the sticky fertilized eggs on spawning media>
I have about 20 hatchlings-babies in a 2
gallon tank, all healthy and active, 6 days old. With a giant magnifying glass, I have seen that They are eating algae. You said something about Rotifers? Sorry I'm an idiot what are they?
<Again, the search tool>
5)What is the proper gallon tank size for this many babies?
<As large as available>
Sincerely,
Barb K
Thanks again
<Welcome. BobF>
Re: baby goldfish 5/12/13
Bob ,
Just one more question.
My goldies are spawning again.
Is it OK to put new eggs with the week old hatchlings?
Sincerely,
Barb K
<Not usually a good idea... all need room, differential growth, and food needs... B>
Worm identification, pond... 5/7/13
Hello WWM,
I arrived here through this page http://www.wetwebmedia.com/fwsubwebindex/fwwormidf.htm , it seems a forum for freshwater worm ID
<Mmm, well, the "fw" stands for Freshwater... but we have/there are other "subwebs" on the site (WWM) with other guides, input re many other worms>
but I didn't found the way to register in it, only a standard contact by email.
So I send you this email for see if you can help me in the ID of these creatures. Firs one (two photos) are an annelid (probably) of about 10-12 mm long, that appeared in my garden pond in NE Spain.
<... these look like Sipunculids, Peanut Worms... in freshwater?>
The pond is completely quiet and the water is a bit alkaline. The ground of the pond is covered with some decomposed detritus, and the worm seems to have constructed a species of soft "coach" with it, to cover itself.
The second one is a small leech found in Ebro river in NE Spain. Totally stretched it measures about 2 cm long.
<Does look like a Hirudinean>
Any help in identification is welcome. Thanks!
<Can't help you w/ any further, more detailed identification... You might contact local universities with biology departments, to ask around re specialists in worm taxonomy. Bob Fenner>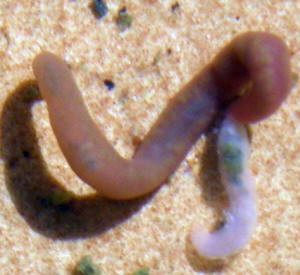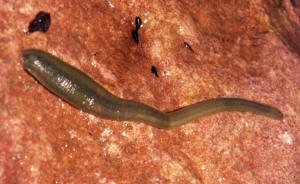 Re: Worm identification 5/7/13
Thanks Bob for quick reply. For sure this tiny creature is not a sipunculid.
<Mmm, well... could well be some other worm group... as you state/d, perhaps an Annelid, Oligochaete species... I've just never seen such in freshwater, ponds or otherwise>
Well, I will check the others section of the forum as I also have several marine creatures for ID!
<Ahhh! Good hunting and thank you for sharing. BobF>
Spot on my Res 5/7/13
Hi guys!
<Hiya Lauryn!! Darrel here>
I just recently purchased a Red Eared Slider who is about an inch and a half in length. I've noticed his shell is a little soft so he is definitely gonna get more sunlight from now on!!
<UV-B lighting is required>
His tank is a 40 gallon with a filter and a heat lamp and dock.
<Read here, Lauryn. It's all you need to know about giving little Nirkus a good home: http://www.wetwebmedia.com/FWSubWebIndex/RESCareBarton.htm >
Though I noticed a strange dot on him. Can you tell me what this is?
<Yep - that little numb is what's left of his umbilicus -- that is the dried remains of what was once an egg sac that hung underneath and fed him all the time he was in the egg. If will dry up and either fall of or wear off as he gets older. No worries>
Thank you so very much!
Lauryn
Red Eared Slider, hlth. 5/7/13
Hello there, Crew!
<Hiya! Darrel here>
I have a few questions about a Red Eared Slider I got for my daughter about 3 weeks ago. She is roughly 4 inches, in a 30 gallon tank for the moment, and getting moved to a 75 gallon tank as soon as the table I ordered for the tank comes in next week. She has river rocks on the bottom, a floating basking dock, and a basking log. I have both a heat/VitA bulb and a VitB bulb in Zilla 8.5inch domes for her.
<I'm not sure what bulbs those are, so I'm guessing you mean any time of heat emitting incandescent bulb and a specific UV-B bulb as well>
She has a Fluval U4 filter and we do a 50-75% water change once a week and 100% water change the other day the tank gets cleaned.
<That's more than she needs - but it sure is clean. Just make sure you don't burn yourself out with chores.>
She is also taken outside for real sunshine when the sunny South Carolina weather permits for short periods.
<A word to the wise here. Turtles are slow and ponderous creatures … until we let them out of our sight for over 10 seconds. Then they seem to sprint, jump and fly. Seriously, they can be extraordinarily fast when they want to be -- and they are remarkable fence climbers!>
She feeds mostly on the ReptoMin floating sticks or the All Living Things floating sticks, with the occasional dried shrimp, romaine, tuna, or dandelions. I have a few aquatic plants in her tank with her that I can't remember the name of right now, but she thoroughly enjoys playing in them and making a mess with them. She is just as active as ever, her eyes are bright and wide open, and doesn't eat much, but eats as much as when we brought her home so her appetite has not changed. Now that I think you have all the background info and the specifics, here are my concerns:
<OK>
Roughly a week ago the skin on the top of her head and neck turned a very light pink color. The skin there seems to be getting darker, but the skin also appears to be a different texture now. The color has also not returned completely to normal and poor Lily, the RES, doesn't have red ears!
<The skin on her head looks pretty normal -- their skin color darkens as they get older. The only thing from the texture is that she looks a little sun-burned. Back up the heat lamp a few inches perhaps?>
I have also noticed a spot on her shell that has flaked off and appears white underneath. The spot is not soft and has no odor to it, but does not seem to be in a logical place for her to begin shedding her scutes (sp?).
<That looks almost like mechanical damage -- meaning that she chipped or scraped it on something. Is that possible? In any case, it's not to worry as long as it's the one small area.>
Am I doing something wrong?
<It doesn't seem like anything is wrong>
Is this a simple, easy fix or do I need to get her to the vet pronto?
<No vet at this point. As long as she hauls out to bask long enough for her shell to get completely DRY from time to time, I wouldn't worry about the damaged scute -- let's just watch to see that it doesn't spread.>
I've attached pictures, and please let me know if you need any additional information! I appreciate any and all help!
Sarah
<Sarah - I think you're being a great turtle mom. Lily looks healthy (AND BIG!) in the pictures, her coloration is right about what I'd expect for someone her size … so as long as the skin changes and the shell damage don't spread and as long as she's bright, active and eating, my best advice is keep doing what you're doing and just worry a little less!>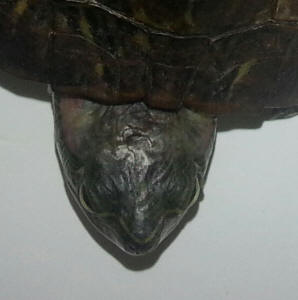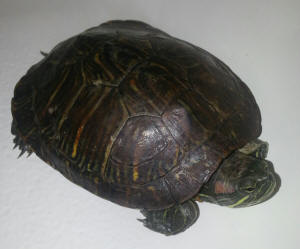 FW, reading 5/6/13
Hello again.. i have another question to ask.. ok like i said i have a 500 gallon freshwater fish tank.. Ok well i have added sand to my tank bout 10 days ago. So at first it was really cloudy but it settled but now it still has a touch of cloudiness to it... So would you have an idea what could be causing this . My pump is a 2000 gallon a hr.. so i know my pump are good ones for the size of my tank.. Thank You for your time again...
<Could be a few things; but most likely particulates and/or incomplete recycling....
Please follow directions: Search, read on WWM ahead of writing us... Start here this time:
http://www.wetwebmedia.com/FWSubWebIndex/cloudywaterfw.htm
BobF>
Re: Black Skirted Tetra can't eat 5/6/13
Hey! Thank you so much for responding to me! I treated the tank for fungus and it helped my tetra. He is swimming around, happy and eating well. He looks shiny and colorful.
I'm so relieved that s/he is OK! I'm truly grateful for your advise.... And so are my fish:)
Best!
Reese
<Hi Reese. So glad things turned out so well! You must be doing a good job!
Cheers, Neale.>
Re: Should I Reintroduce? Stkg. f' 5/5/13
Dr. Monks,
<Dawn,>
Thank you again and again for the insight. :) I don't have access to a lot of knowledgeable aquarists around here, so I really appreciate your help with all of my little miscellaneous questions. I caught the young male in an observation cup the day you sent your reply and to my surprise, his caudal was almost completely regrown already! I introduced him at lights out that night and so far, so good. :)
<Good news.>
Thanks for the info on the Rams. I have heard they can be quite delicate in comparison to some other dwarf cichlids. I think I'm going to set up a dedicated tank for them, as I'd really like to try my hand at keeping these lovely creatures.
<For sure worth keeping. Farmed stock is pretty poor on the whole, but there are exceptions, and home-bred stuff can be excellent. Do contact your local or national forum (many have online forums) if you have trouble
getting stuff other than the mostly rubbish Southeast Asian stuff.>
I do really like some Apistogramma species too, so maybe I'll take a trip into the next state sometime - they sadly don't carry them at any of the local places.
<Again, contact local/national cichlid association for tips.>
Well, I think I'll stop saying "just one last question" because they seem to keep popping up! I hope it's alright! It's a quick one though: I have a faux aquarium ornament that strikingly resembles bogwood that I'd like to add to my Guppy aquarium, but am unsure if it's wise to do, since this particular ornament was in my 20 gallon during the Ich outbreak two months ago. I have since sanitized it, of course, and ever since I removed it it's just been sitting out of water unused. What do you think? Any precautions I should take?
<Sit the think in a dilute (just smellable) bleach solution, then rinse many times, and leave to air dry. Should be good to go.>
Given that the life cycle of Ich is only a few days without a host, it *seems* as though it would be alright,
<For sure. That's why leaving a tank fallow (fish-less) for a month should kill off all Whitespot parasites.>
but I'd like an expert's opinion before I plop it in with my healthy fish.
Thank you for donating your time to this great site, and those of us who value your input. :)
Regards,
Dawn
<Most welcome, Neale.>
Re: Should I Reintroduce? 5/16/13
Dr. Monks,
I don't expect you to reply to this email, as it's only sent to let you all know that I appreciate the wonderful insight and advice that I have received. Thank you, and have a lovely day!
Kind Regards,
Dawn
<Glad to be of help, and thanks for the kind words. Sincerely, Neale.>
Once a bully always a bully? P. scalare 5/4/13
Hello:
<Judy>
I have a question. If a freshwater angelfish is a bully to another angelfish does this mean he will bully any angelfish unless he runs into a female he wants to mate with? Thank you
<Depends. Angels (Pterophyllum scalare) are territorial so it's best to get several very young so they grow up together. If you try to import new angels into an established territory inside too small a tank there will be violence. If you want to import a new fish you could try removing the existing fish, rearranging the tank layout, then acclimating all fish into the "new" tank at the same time. As for mating, angelfish are like Klingons. Fighting is part of the mating ritual. They lock lips and wrestle, presumably so the male can prove to the female he is healthy and strong enough to be the father. - Rick>
Last ever..... GF... 5/3/13
Hello Neale , this will be my last email ever, I am taking my fish to my
local privately owned fish store, I have been getting water from them
(better source then softened) I still am dealing with the floaty fish and
they want me to ask
If this fish has been doing this for 3 months or better and Not digesting
food would he be thin and sick by now?
<Certainly thinner, yes; Goldfish can go weeks, months without food when
kept cold (they more or less fast throughout winter in iced-over ponds) but
indoors will be metabolising much faster, and you'd expect Goldfish to
quickly lose apparent bulk (within weeks, a month) if not eating anything
at all.>
He took a piece of 2 inch by 3 inch algae sheet and pulled entire piece off
of clip, before I could get it he swallowed it then about 30 minutes or
less later threw up almost entire piece, does this mean it was just too
much or he cant digest food, reason I am asking is I gave him a pea and
some brine shrimp the other day and it is coming out (poop) almost as it
did when he ate it?
<Likely means nothing at all. Does he eat anything else?>
The pet store lady just wondered if there can be problems with fish not
being able to digest food and this is why he has thin poop
<I'm sure fish can have situations where they digest food poorly, just as
humans can; but Goldfish produce a lot of faeces, often in long brown
strings, and "thin" doesn't really tell me much. Pale faeces (not brown,
more clear or off-white) typically contain a lot of mucous, and these can
indicate protozoan parasites in the gut, which irritate the bowel, and that
in turn produces the faeces.>
He is a good eater. I am taking them on Monday (here) she set up a new tank
for them, she also uses salt, which I know is yes or no to a lot, but I
have to get them used to that too as this is one of her protocols The tank
is a bit bigger and her water is not from a softener, it is hard water.
<Good.>
Well any advice on this would be appreciated, little detail if you can
offer it as I only have the weekend to get him a bit better, she will feed
and care for the tank but she is not going to watch over him constantly as I
do, I have obligations coming soon and wont be able to care for them, I
will be gone a lot, and am hoping this is a better choice overall for them,
I am hurting all the time with worry and even now the concern for them when
they leave
Thanks
Cathy
<Good luck, Neale.>
Visit 5/14/13
Hello, I thought I wouldn't have to mail you again but I had the goldfish
that kept floating and did for about 2 months, I moved them (2 of them ) to
my local private fish store, they are friends and I can visit, so today I
did, they were acclimated to new water before I took them, they were in my
water from water softener for 12 yrs, so they are now in water that is NOT
from softener and is hard, Upon visiting today I noticed that the floating
fish is no longer floating at all at the top of tank, he swims great and
eats well,
<Yay!>
However he stops at times and sits on gravel, for about 2 minutes then
starts swimming again, what does this mean,
<Could be many things, but my guess would be some sort of problem that
means his buoyancy is not neutral (i.e., he doesn't float in midwater) but
has negative buoyancy (i.e., he sinks). In other words, if he stops
actively swimming, he sinks down, and because that's hard work for a
Goldfish, he prefers to sink to the bottom. Now, negative buoyancy can be
caused by various problems, but constipation is by far the commonest.>
No ammonia as we tested it today, The fish store lady does use aquarium
salt, and said she put the last dose in last night, so today with thinking
it might be they aren't used to 1 tsp per gallon of salt, she took some out
and added fresh unsalted water, I went back a few hours later to see and it
did seem a bit better but right before I left I looked in on him again and
was sitting on gravel, then started swimming again
<A small amount of salt does no harm to Goldfish though whether it actually
cures anything is open to debate.>
Thanks
Cathy
PS I have to say when he sits on gravel it at one side of tank or the other
and a few times it looked more like sitting at a bit of an angle, not
laying on side but not straight up either, sometime leaned on glass and one
time just sitting sorta leaning its tail down with body upright and tail
laying on side
<Quite so. Since Goldfish have round undersides, they don't easily sit
steadily on the ground, and may well lean over. Cheers, Neale.>
Re: Visit, GF... 5/16/13
You mentioned negative buoyancy can be caused by a number of things, I
don't understand if he is still constipated how is it that he don't float
on top anymore??
<Constipation affects the ability of a fish to swim normally; it may cause
the fish to sink, to float, or simply to roll over. It's all to do with the
mass of faeces in the colon and the relative positions of the centres of
mass and buoyancy.>
he still eats and his belly is not swollen on sides like it used to be, he
is not a round body goldfish , it is a common or comet with long tail, no
round belly, so when you say he sinks, it looks more like he goes to bottom
on purpose to sit, not sink, he swims well, it seems so now, What can we do
to help him now, as before we did all the Epsom salt and peas etc, He went
from floating on top to swimming great, with some sitting at bottom a few
minutes, you have to watch him for about 20 minutes straight to catch him
stop and sit on bottom. Just wondering as now he looks so much better and
went from one problem to a possible new one!! They tell me that freshwater
with salt added as they do with this fish is called brackish, do goldfish
like this?
<Goldfish do not particularly like or need brackish water. But adding a
teaspoon of salt per US gallon does not create brackish water! Brackish
water contains around 3-4 teaspoons of marine aquarium salt mix per US
gallon of water, and in many case two or three times that much. When you
add very small amounts of salt, like a teaspoon per US gallon, you're using
salt as a therapy. Won't harm the Goldfish used that way. Cheers, Neale.>
buoyancy
Just read an article on fish anatomy and negative buoyancy in fish, it was
written for wwm and makes a lot of sense, It stated that gas in the
swim bladder is what makes fish keep neutral buoyancy, can changes in water
hardness and using salt affect the blood of fish to make the gas in
swim bladder out of sorts, this one that floated all day and now swims and
will sit at times, does this mean he will not correct his swim bladder with
gas exchange needed??
<Goldfish, like all cyprinids, have a connection between their throat and
their swim bladder. In effect, they can gulp extra gas (air) if needed, or
burp out any excess.>
He does go straight up after he eats to the top and gulps air a few times
before he settles to swim around, I suppose he is trying to adjust it, but
can it actually get better from the ups and downs he has been having with
it, one time too buoyant then next time not buoyant enough!??
<Adjusting buoyancy takes time, and if the problem goes deeper than simply
too much/too little gas in the swim bladder, it may take some days, weeks
to recover. Cheers, Neale.>
Interpet 13
what are ingredients in Interpet 13, I read on it but it don't say what it
is, sounds like only available in UK??
<A widely cited list of fish medicines states that Interpet Number 13
("Anti Swim Bladder Disease") contains Bronopol (1.045%), Formaldehyde
(1.8%) and Benzalkonium Chloride (0.5%). Formaldehyde is pretty nasty
stuff, so approach with caution. Bronopol is a widely used antibacterial
medication; same for Benzalkonium Chloride. Interpet medications do seem to
be sold primarily in the UK. From my limited experience of the Interpet
alternatives to antibiotics (such as Maracyn) they generally work
moderately well in slight infections, but much less effectively for serious
or persistent infections. I wouldn't go out of my way to use Interpet
Number 13 if I had something like Maracyn 1 + 2 at my disposal! Cheers,
Neale.>
Harm??
Okay , did my moving my fish cause this negative buoyancy??
<You can damage the swim bladder of the fish if you bashed it around while
moving it, or dragged it up from a depth of a couple hundred feet below the
surface! But otherwise no, it's unlikely that this is the problem.>
1- when with me always floated at top after eating, till morning and would
swim fine, then eat and float
<It is what it is. Maintain and treat the fish as best you can, medicate
sparingly but judiciously, and if it can get better, it will.>
2 when we moved him we lowered water in tank and took it to the pet store,
on the frame, with tank fish and water, then she took them out with net and
put in the new tank, already filled and ready, we got fish ready for new
water with water changes of water from new home to old tank before taking
it to the pet store
3 after 3 days I visited and fish were swimming fine, only noticed this
sitting when a customer come in and said something wrong with fish , it was
just sitting in corner, then before we could see it was swimming fine,
4 we feed it and it comes to top and gulps air after eating, swims
throughout tank fine , until it wants to go to bottom and sit for about a
minute??
5 it eats twice a day, flakes in am and shrimp pellets every evening
I should have done this with first email, sorry, I explained it all better
here in this one, What do you think , did we harm the fish when moving it
making it go from floater to possible sinker?
<Unlikely. Cheers, Neale.>
| | |
| --- | --- |
| Aquarium Articles & FAQs Index | |
Site Navigation-The navigation through the site is designed to allow you to go through the pages following the blue links o get to the information you need. This website has over a thousand articles and FAQ's. To: Freshwater Links,